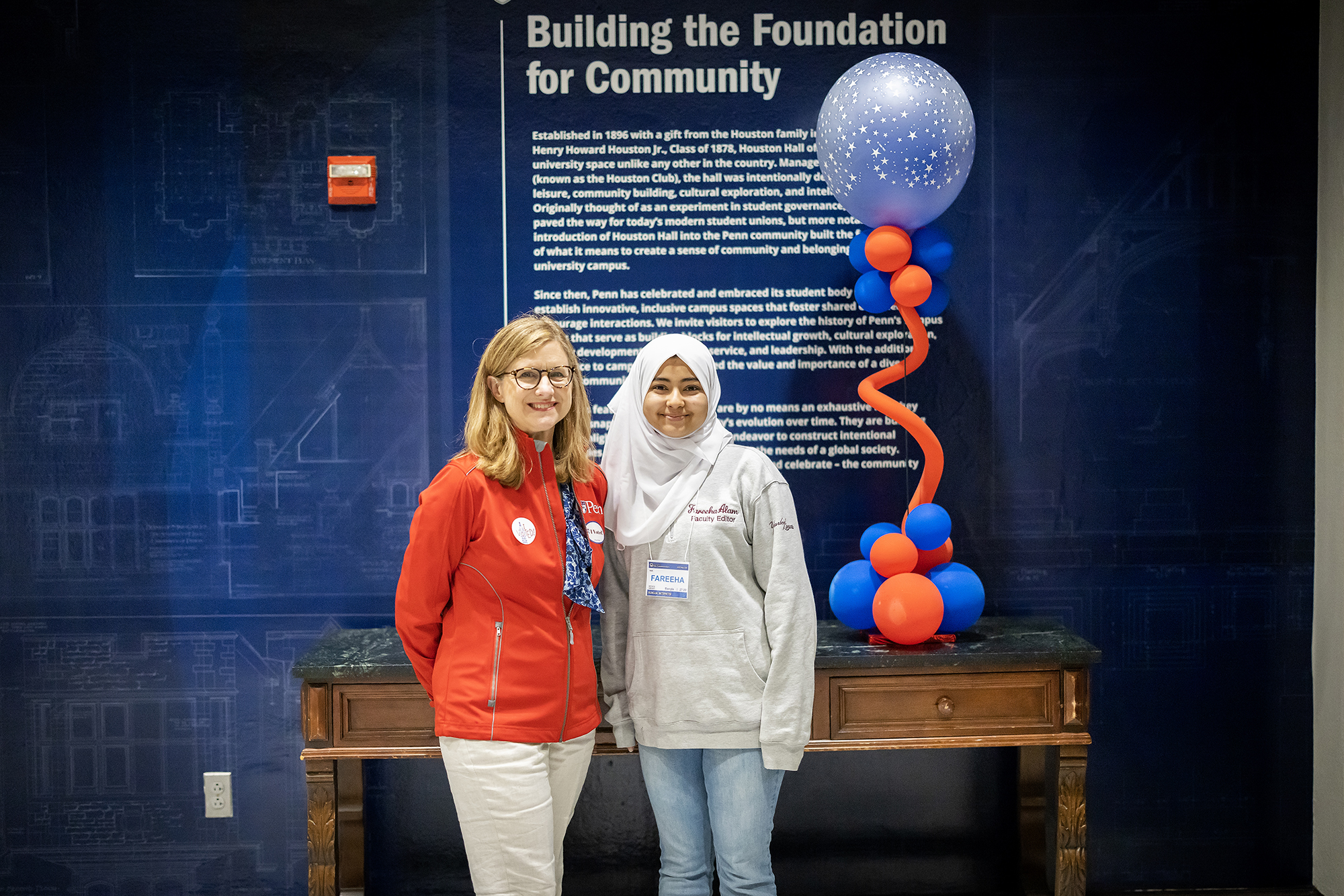 For the Penn community, the primary election on May 16 lands amid a buzz of activity, bookending Alumni Weekend and one day after Penn's 267th Commencement.
But the in-person voter turnout will likely be modest for the Houston Hall polling location. On campus move-out is in progress, and with the spring semester over, and friends and family of graduates having left town, campus is nearly devoid of students.
"This year will be a small turnout because of the date, but Penn Leads the Vote did an excellent job with outreach near the end of the semester to get students to sign up for mail-in ballots. Whether they return them, however, is up to them," says Dawn Maglicco Deitch, executive director of Penn's Office of Government and Community Affairs.
In Houston Hall's Bodek Lounge, Penn staff, alumni, and neighbors are serving as this year's volunteer poll workers. Houston Hall is also President Liz Magill's polling location. Fresh off the heels of her first Penn Commencement the previous day, Magill prioritized her civic duty to vote before 9 a.m. One benefit of a small in-person turnout: no line.
This year's municipal primary ballot is a long one: In addition to voting for the Democratic Party's nominee for mayoral candidate on Nov. 7, there are four ballot measures, and residents will be voting for City Commissioner, Register of Wills, and Sheriff, plus seven at-large Council members and 10 district Council members. Nine candidates are vying to be the Democratic Party's nominee for mayor. "There is a sizable Democratic majority in the City, so it's fair to say the Democratic candidate will be elected Philadelphia's 100th mayor in November," says Maglicco Deitch. "But you never know—turnout matters in every election."
This is Fareeha Alam's second year as a Philadelphia poll worker. The high school senior at Philadelphia's Central High School will be a Penn first-year student this fall, and will serve as a poll worker again for the municipal election in November. Alam volunteered last year as a Bangla-language interpreter. "To be honest, it's pretty cool. I love learning how things work and the whole voting system." She plans to study psychology at Penn in the fall, but won't know her polling location until she receives her housing appointment.
Alam is looking forward to voting in November, but not in today's primary: She doesn't turn 18 until next month.
"I haven't actually voted yet because I'm still 17. I'm excited to vote in November."