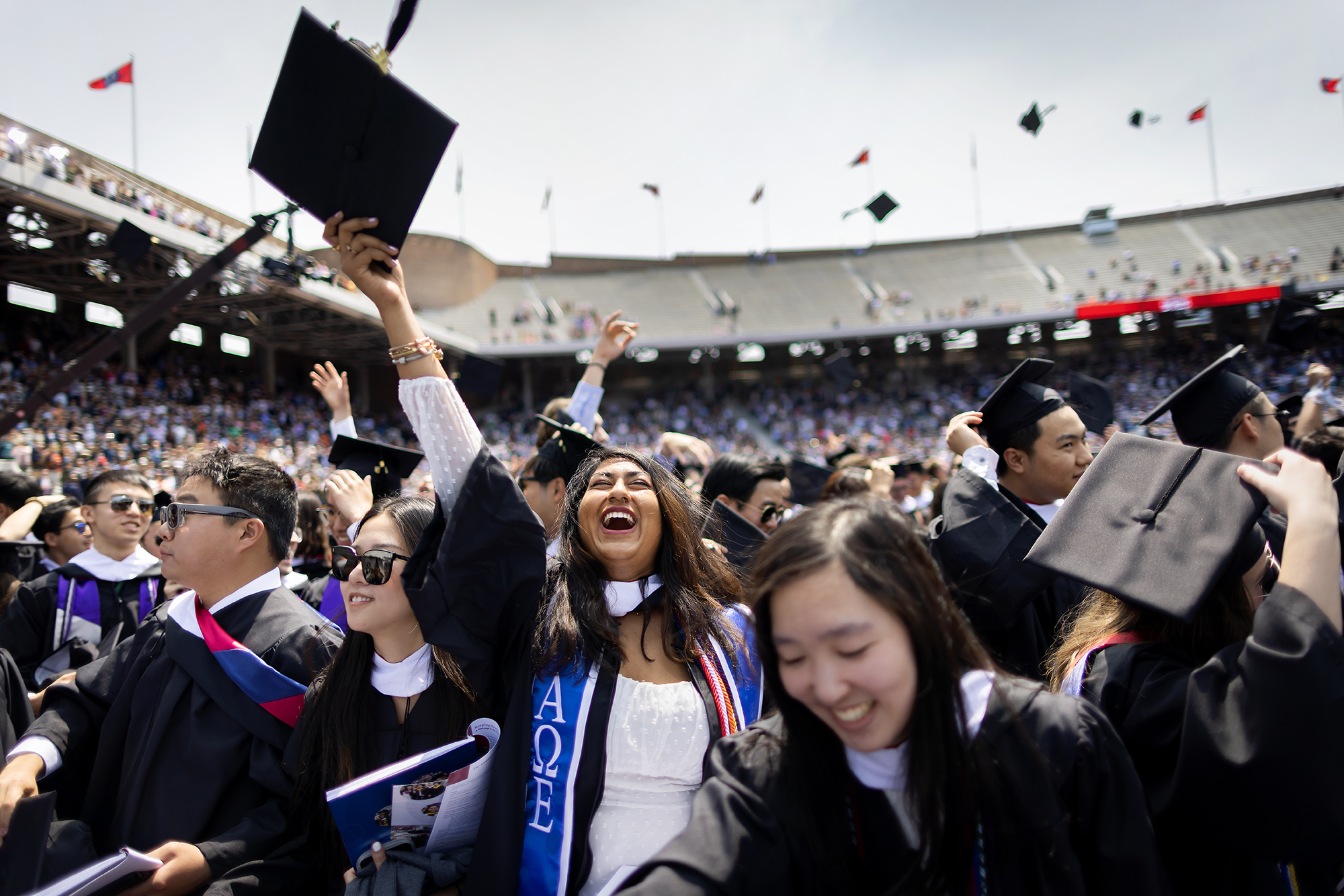 Taking a rest on a bench next to a towering statue of Penn's founder Benjamin Franklin, John Sherman, from northern New Jersey, beamed with pride early Monday morning. His son Justin, dressed in his cap, undergraduate gown, and mustard-colored hood (representing his degree from the Wharton School), would soon process down Locust Walk for his Commencement—the University's 267th.
"This whole experience has been incredible," said John Sherman, with a nod from his mother, and Justin's grandmother, Phyllis. "The campus is beautiful, the education is second-to-none. Justin has said he's learned a tremendous amount here. 'Community' is the word I would use to describe his experience."
Inside a red and blue decorated Franklin Field, equipped with massive video displays and a stage, Juliet Sjoborg, a two-time Penn alumna and member of the board of advisors at the School of Engineering and Applied Science, already had taken her seat in the stands with family, ready to watch her son Claes earn his second degree from the University—his master's in systems science and engineering.
"To be here to celebrate with our children for such a momentous occasion is so moving, so satisfying, and so thrilling," said Sjoborg, who traveled from her home in London for the celebration. "The students are full of hope, they are full of excitement. There's just so much positive energy here."
Thousands of attendees in the crowd—which included U.S. President Joe Biden and First Lady Jill Biden, keeping a close eye on their graduating granddaughter—erupted in applause as the official ceremony began around 10:30 a.m. An opening proclamation by Trustees Chair Scott L. Bok was followed by a rendition of the national anthem by graduating student Ashley Santaniello and an invocation by the Rev. Charles "Chaz" Howard. President Liz Magill, joyously noting how proud she was to share her first Penn Commencement with the Class of 2023, encouraged the nearly 6,000 students seated on chairs lined up on the field to stand, turn, and recognize the family and friends who helped them get to this day—one that was met with perfectly sunny, late spring skies.
"The volume of your cheers, the scope of your army, the community that helped carry you here, they illustrate my message today: Success is not solitary," said Magill. "Our ability to do the big things, things that are great and things that are good, depends on the community around us."
Magill's remarks invoked ancient Greek inventor Archimedes, who was the first to discover the mathematical proof for what, in physics, is known as a force multiplier. She said the force multiplier goes beyond our mechanical inventions, extending to our social inventions. Our community, our family—both related and chosen—are force multipliers, Magill said, helping us achieve our goals. But it's not a one-way street.
"You benefit but you contribute as well," Magill said. "You are a force multiplier for others, helping to amplify the strength and reach of those around you. This kind of community is what Penn is all about. We get the word 'university' from the Latin 'universitas,' which means 'the entirety' or 'the whole.' We all bring our insights, our skills, ourselves to the table and together, we are able to do so much more than one of us could do alone."
"Community," Magill concluded, "is our place to stand and our means to move the world."
In a similar fashion, Tulia Falleti, chair of the Faculty Senate, provided a greeting for the Class of 2023 that homed in on "collective good," specifically as it pertains to supporting democracy, as well as supporting those who have historically been marginalized.
"Let's do this good together until dignity for all becomes the social norm," Falleti said.
The ceremony continued with Interim Provost Beth Winkelstein's recognition of faculty and students who achieved various awards and distinctions this past year, and Magill conferred honorary degrees to Abhijit Banerjee, Esther Duflo, Jean Bennett, Jocelyn Bell Burnell, Brent Staples, and Idina Menzel. Menzel, a Tony award-winning actress, singer, and songwriter, who notably starred in Broadway musicals "Rent" and "Wicked," and was the voice of Elsa in Disney's Oscar-winning movie "Frozen," provided Penn's Commencement Address.
Intertwining inspiring spoken words with a few belts of singing, Menzel encouraged the graduating class to "play every role you were put on this Earth to play" and to "let your voice be heard," while not holding back, even when you have "stage fright."
"While perfection is elusive, humanity is certain," she said. "It will get you where you want to go, where you need to be."
She told students to channel their emotions into determination, find exhilaration in repetition, and "put all of yourself into this role of a lifetime."
"We all have a voice," Menzel added. "Inside each of us, there are lengths of ligament and muscle and tissue. And when those cords are brought together, and air flows over them, the tension creates vibration. And when you harness that tension, you can sigh deeply, or speak out loudly. You can even sing."
After the degrees were conferred by Magill, Howard offered a benediction highlighting the importance of "deep social consciousness." Sticking to tradition, "The Red and Blue" was sung (this year, led by the Penn Glee Club), before students dispersed throughout the field, tossing their hats in the air and posing for photos with friends. Afterward, many would grab lunch or, for some whose ceremonies didn't take place over the weekend, head to their individual college graduations.
Searching for her family, Santaniello, a psychology major and chemistry minor, breathed a sigh of relief.
"This whole weekend I was nervous, leading up to singing the national anthem today," she said. "When I was up there, I just tried to pretend I was with my voice teacher, rehearsing it like I had been for the past few weeks. I have grown up loving singing and to get to do something like this, in front of all these people, is such an awesome opportunity. It's such a great way to end my time at Penn."
A Broadway lover, Santaniello, originally from the Scranton area, was especially thrilled to hear from Menzel, too. She said: "She had such a great message."
PJ Davis, an architecture major, agreed with Santaniello.
"The speeches were spot on," he said, holding his cap retrofitted with a laser-cut design of the city on top. "They were inspiring, and I am like, wow, I am ready to move out into the world."
Davis, from Rochester, New York, said during Commencement he sat with a friend he met his first year on campus—a "full circle moment." As for his plans for the remainder of the day? Meeting up with his mom, dad, and brother, and probably getting a steak for dinner.
Hannah Gu, a nursing major, was waving to her mom, dad, brother, and sister from the field. She had just gotten home from her study abroad experience in Spain the day before. Although a bit overwhelmed, she said she was also excited, describing the day of celebrating with friends from her academic program and various clubs as "amazing."
Emily Brandon took photos on the Penn track with her friends who've become family—Francis and Sydney—who flew from their homes in Omaha, Nebraska, (where Brandon is from, too) to be with her to celebrate. Earning her master's in social work, Brandon said she had never experienced such a big graduation before, as she received her undergraduate degree in 2020, when the pandemic forced such gatherings to scale back.
"This has just been fantastic, getting to celebrate this way," she said. Before grabbing lunch on campus, she planned to show her friends around Penn and Philadelphia, and, of course, take more photos.
Jonathan Palomo, a physics major and statistics minor from Los Angeles, met up with his girlfriend, sister, mom, dad, and niece on Locust Walk. Sporting a La Casa Latina sash, and chatting between family photos, Palomo noted how grateful he was to find a community of friends on campus early on through PennCAP.
"They have been my support group and friends for the past four years, even through the pandemic," he said. "Some of them are even my roommates now."
Speaking of his biggest supporters, too, Palomo looked endearingly at his family, who flew from the West Coast to be with him for his graduation.
"I couldn't do this without them," Palomo said. "Sacrifice is the first thing that comes to mind, definitely. They are always there for me."
He added that one of the best parts of the day—a feeling he'll try to never forget—was beginning the procession on Locust Walk.
"Seeing the sun shine through the leaves one last time," he said, "to appreciate the nature at this school—it's hard to find an oasis like this."
View the entire Commencement photo album on Flickr.