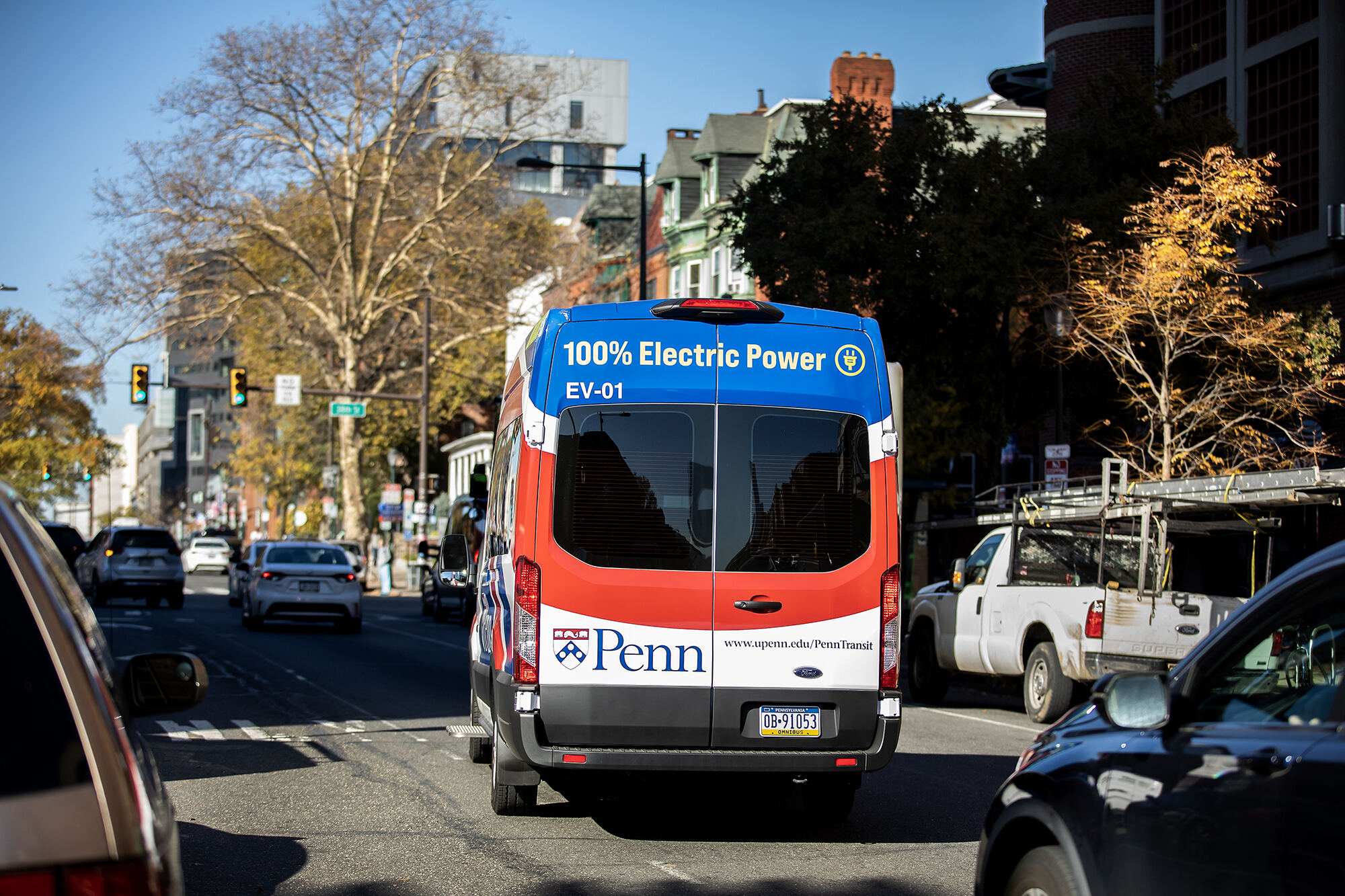 Between achieving a 46% reduction in carbon emissions since 2009, replacing 92 inefficient ultra-low temperature freezers in labs, adding four electric vans to Penn Transit's fleet, and much more, the University of Pennsylvania has been meeting the goals of the Climate and Sustainability Action Plan 3.0 (CSAP 3.0), the plan for 2019-24.
In 2021, President Joe Biden set a target for the United States to achieve a 50% reduction in greenhouse gas pollution from 2005 levels by 2030. And Penn is set to surpass the goal six years early, says Nina Morris, director of Penn Sustainability. When a solar project comes online in January, the drop in emissions will reach approximately 60%. The project is part of a power-purchase agreement Penn signed in 2020 for the largest solar project in the state.
"While the climate emergency is one of the largest challenges in front of us, here at Penn, we are uniquely positioned to bring together global and local knowledge to create a community that builds solutions together," Morris said, updating the Board of Trustees recently about progress on CSAP 3.0.
Penn has been producing five-year climate action plans since 2009. Anne Papageorge, senior vice president for Facilities & Real Estate Services (FRES), said staff members have begun initial discussions about the next CSAP, slated to launch in the fall of 2024.
The current plan laid out more than 100 tactics in academics, utilities and operations, physical environment, waste, procurement, transportation, and outreach and engagement. Morris said a few procurement goals are being addressed in earnest this year, while tactics in the other six areas have been completed or involve ongoing efforts that are underway.
The key partner on the academic side has been the Environmental Innovations Initiative (EII), established in 2020. Faculty Lead Kathy Morrison said EII recently completed a major report on the state of climate, environment, and energy research across Penn. The group also maintains an inventory of environment-related courses and a faculty database to foster education and collaboration on environmental topics and worked with the deans of Penn's 12 schools to develop public-facing Academic Climate Commitments, laying out goals and aspirations for climate-related research and education.
Campus-wide efforts
"I think what's most important to highlight is the collaboration across all facets of the institution," Morris told Penn Today. "We're working closely with faculty to really pull the best knowledge into our practices on our campus, and students are also key to us identifying new ideas and being part of the solutions for climate."
She says a great example of this is how PennPraxis, the research and engagement arm of the Weitzman School of Design, collaborated with FRES, Business Services, Human Resources, and the Center for Safe Mobility to disseminate a commuter survey in March. Morris says it garnered more than 4,000 staff and faculty responses, which showed that 72% of trips Penn employees make to work on average are not in single-occupancy cars.
Michael Fichman, senior research associate at PennPraxis and associate professor of practice at Weitzman, says he met in 2020 with the former sustainability director, who wanted to understand how subsidy programs could help employees make more sustainable travel choices. He and colleague Megan Ryerson, UPS Chair of Transportation and associate chair of the Department of City & Regional Planning at Weitzman, "proposed we use some transportation planning survey techniques to build a richer picture of how people get around," Fichman says. "COVID-19 made it difficult to find a time to launch the survey, but it finally went out early this year."
He says they used routing algorithms to examine travel alternatives and identify geographic areas where people said they wanted to make sustainable choices but lacked options. They got help from several master's and Ph.D. students, which Fichman says gave them a "taste of client relations, project management and some critical soft skills."
Jasmine Siyu Wu, a Ph.D. student in the Department of City & Regional Planning at Weitzman, was responsible for analyzing survey data and producing final deliverables. Wu says she used spatial data analytic skills to profile commuter behaviors and composed a final report for administrators. 
The survey "was designed to allow FRES and its partners at the University to work towards decreasing the University's carbon footprint using incentives to promote lower-carbon travel" and to fill information gaps on travel behavior, Wu says. She believes the information from the survey will help the University "make more informed decisions about programs to encourage sustainable community choices."
Another example of collaboration was the enactment of a University-wide air-travel carbon-offset program and the creation of an Air Travel Working Group to gain the expertise of Penn's faculty to help select carbon-offset projects.  
The group, comprised of expert faculty and staff from Penn Sustainability and Procurement Services, was formed to help determine the structure of the program and Penn's carbon-offset purchasing guidelines. Last year, Penn offset 9,138 metric tons of carbon dioxide equivalents, selecting a project that captures and destroys nitrous oxide—a potent greenhouse gas—at an adipic acid industrial plant in Florida. The working group reviewed the project to ensure it met purchasing guidelines. 
"There are many, many people across Penn that work on sustainability," Papageorge said, recognizing the Environmental Sustainability Advisory Committee, schools and centers, EII, Business Services, Penn Transportation & Parking, Penn Dining, Procurement Services, the Office of the Vice Provost for Research, PennPraxis, the Center for Environmental Building + Design, and student and staff Eco Reps.
By the Numbers