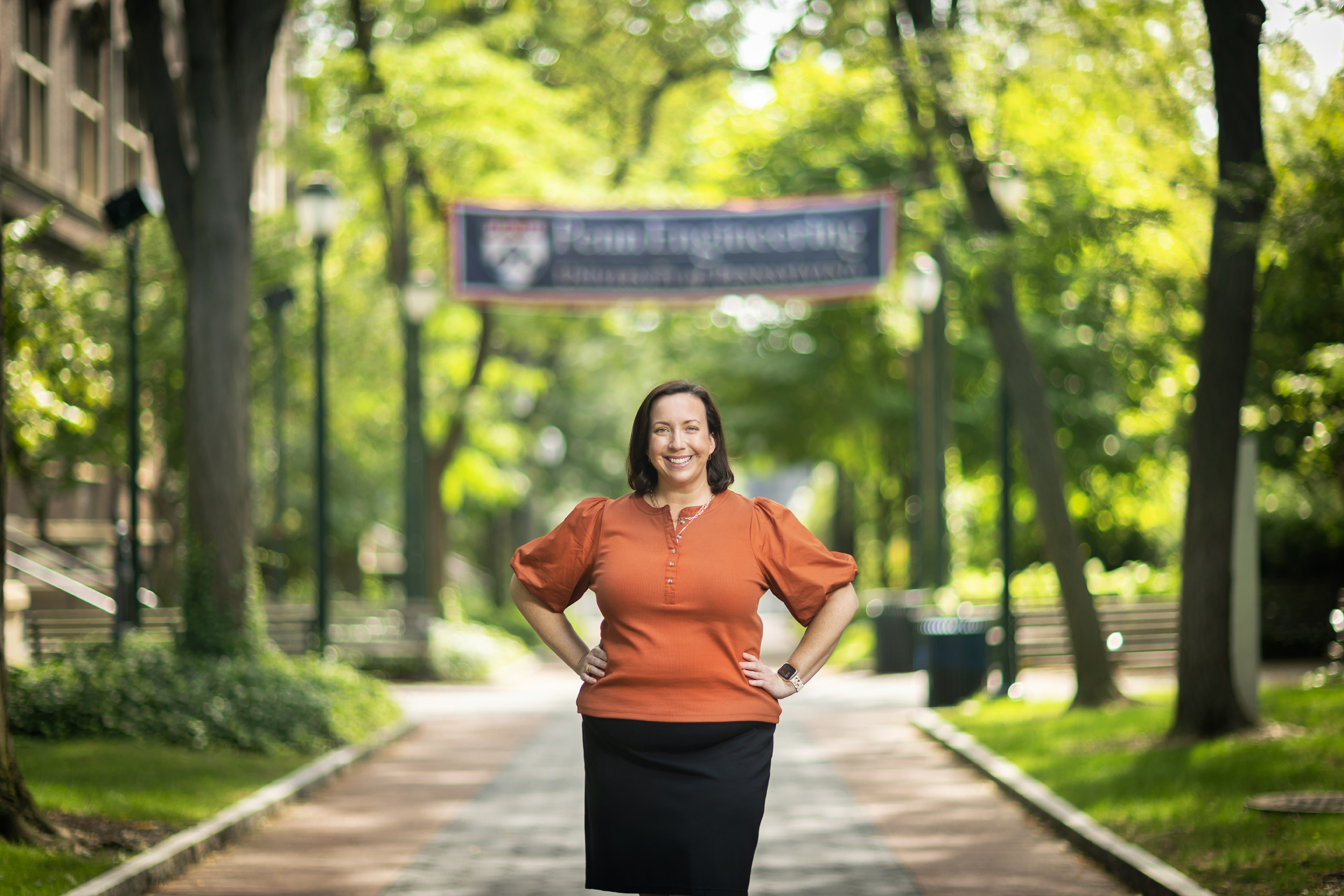 Chambrel Jones, chief of staff to the dean of the School of Engineering and Applied Science, was able to have $87,215 in student loans forgiven thanks to a free service offered by Penn to help faculty, staff, and postdoctoral researchers and fellows navigate the federal Public Service Loan Forgiveness (PSLF) Program.
As a first-generation, low-income student, she had to take out loans in order to attend college. She can recall signing her first promissory note at age 19 and seeing a projection that she would pay it off at age 45.
"As a young 19-year-old, it seemed unbelievable that it would take me that long," she says.
Yet, as she was approaching her expected payoff date, Jones was still carrying a hefty student loan balance.
"Honestly, it felt like I would be paying my student loans off for the rest of my life," she says.
After seeing the Division of Human Resources' offer for the Penn service last fall, Jones decided to give it a try. She says she began the process with low expectations. One of her friends had tried to take advantage of the PSLF Program on their own but had difficulties and did not receive loan forgiveness.
Still, she gave it a shot. In October 2022, she contacted PeopleJoy, the financial wellness benefits organization that administers the service. By February, they were still evaluating her eligibility. But on a Friday in late April, she received notice via email that all of her student loans had been forgiven.
Unsure if the email was erroneous, she emailed her PeopleJoy rep Jessie and wrote in all caps, "IS THIS REAL?" 
Yes, Jessie confirmed, it was. Her student loan balance was zero.
"I was at home at the time, and it just felt like an unbelievable reality," Jones says. "It still is amazing to think about it."
Jones recently celebrated her 20th anniversary working at Penn and says this service is by far the best benefit the University has offered.
"It ultimately is lifechanging," she says.
Collectively, Americans hold around $1.75 trillion in student debt, which is almost equal to the GDP of South Korea and more than the GDP of Mexico, Saudi Arabia, and Spain.
To help Penn employees take charge of student loan debt, the Division of Human Resources engaged with PeopleJoy in September of 2022.
"We saw the opportunity to connect with PeopleJoy for this process because this is a process that employees can do on their own through the Department of Education, but it's very tedious, very time-consuming," says Elena McClelland, director of HR programs in the Division of Human Resources. "We looked at ways to help employees alleviate the financial burden and mental health burden of having debt and going through the PSLF process, so it just made sense to us to offer this service to our employees."
The PSLF Program, as the name suggests, forgives federal loans for individuals employed in public service, such as employees working for the government, municipalities, or not-for-profit organizations. Penn is a not-for-profit organization so benefits-eligible employees may be eligible to have their student loans forgiven through the PSLF Program. Eligible Penn employees must have worked full-time at a not-for-profit or governmental organization for 10 years, be on an income-driven repayment plan, have Direct Loans (as opposed to private loans), and must have made 120 qualifying payments (10 years). If someone worked at a not-for-profit or governmental organization before coming to Penn, those years count as well.
So far, 29 Penn employees who have signed up for the program through PeopleJoy have received more than $2 million in loan forgiveness. Currently, 563 additional employees are inquiring with PeopleJoy about student loan debt relief. There is no minimum or maximum amount of loan forgiveness; Penn employees have received loan forgiveness ranging from $5,000 to $300,000. The minimum amount of time from the opening online assessment to loan forgiveness is about six months.
Christopher William Edwards, an attending physician in the Department of Emergency Medicine at Penn Presbyterian Medical Center and chief of Presby's Department of Emergency Medicine, was able to have around $40,000 in student loans forgiven.
Edwards, also vice chair of the Department of Emergency Medicine at Penn Medicine, had started the process through the Federal Student Aid website but was frustrated by the lack of communication he was receiving. As soon as he heard about the service offered by Penn, he signed up.   
He says the service is fantastic and helped him navigate the entire student loan forgiveness process, providing prompt and timely follow-up to any questions he had and clearing up any confusion or conflicting information he received from MOHELA, the student loan servicer for the PSLF.  
At the end of April, Edwards received notice that his student loans were forgiven.
The first thing he did, he says, was call his wife with the good news.
"It was huge load off my mind," he says. "I have a daughter going to college and another one in private school who is going to be a freshman in high school, so the savings from having my loans forgiven are going to let us stay on track and not go into more debt to live the life we want to live."
For more information on how to use Penn's service, register for the Student Loan 101 virtual webinar on Tuesday, August 29, at noon or visit upenn.peoplejoy.com