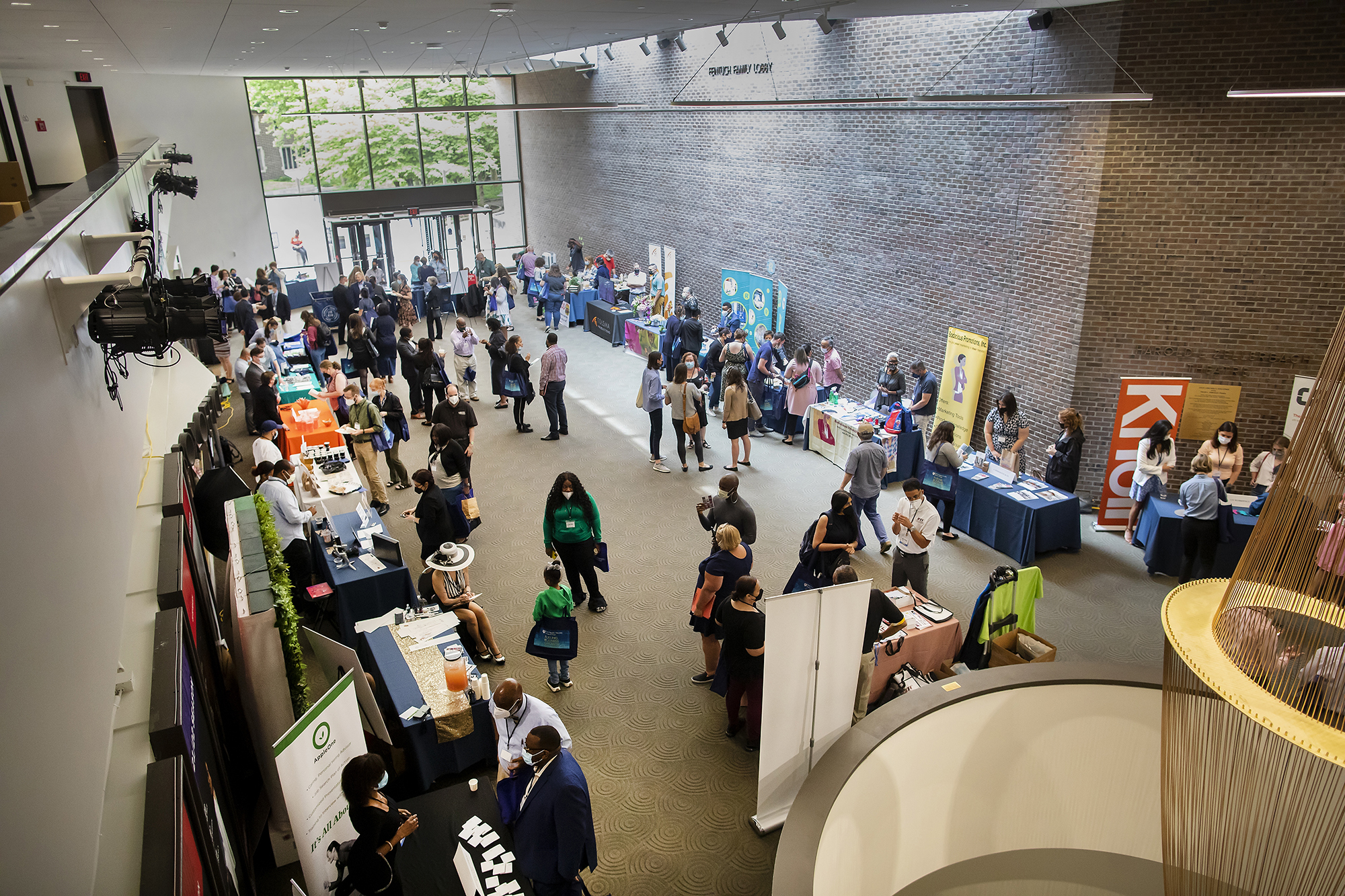 The 2022 Penn Supplier Diversity Forum & Expo was hosted on Thursday, June 16, by the Office of the Executive Vice President, Office of Government and Community Affairs, Division of Business Services, and Facilities & Real Estate Services.
The event was virtual and in-person at the Annenberg Center for the Performing Arts for the first time since the pandemic. It brought together local and diverse suppliers, Penn buyers, and local agencies and organizations to celebrate supplier diversity, showcase the resources available to those businesses, and provide a unique opportunity for networking.
The forum began with a video featuring welcoming remarks from Interim President Wendell Pritchett.
"Urban communities depend on local businesses, small businesses, and diverse businesses," he said. "Local businesspeople anchor our neighborhoods, lift people up, and bring opportunity across the city. Today's event celebrates the talents, experiences, and services that are available right here close to home, with a particular emphasis on diversity."
Pritchett was followed by Senior Vice President for Institutional Affairs and Chief Diversity Officer Joann Mitchell, as well as Senior Executive Vice President Craig Carnaroli.
"Social science research shows that diversity and inclusion works well and helps teams to yield better results," Mitchell said. "And each of us has to challenge ourselves, and to challenge conventional orthodoxies, in ways that will help us make breakthroughs and break down barriers."
Carnaroli said the University's long-standing Supplier Diversity & Inclusion Program achieves its goals for economic inclusion by purposefully identifying and prioritizing local and minority-owned businesses and leveraging Penn's purchasing power accordingly.
"Adding new suppliers is a way to grow the economy," he said. "And proudly we are growing our pipeline of women-owned and Black-owned businesses. Fueling business growth lies with spending. Not just any kind of spending, but Penn's intentional spending with diverse-owned businesses."
Since the University's inception of its "Buy West Philadelphia Program" in 1986, more than $1 billion has been spent in the aggregate among local and diverse businesses.
The forum, moderated by Penn's Chief Procurement Officer Mark Mills, featured three dynamic speakers who offered their perspectives on how this period has impacted Philadelphia's business community and the ways they intend to propel their respective business and organizations forward based on the insights gained the past two years.
"It's important we have these public opportunities to share and discuss experiences," Mills explains "Our hope is that everyone can draw one or many new valuable pieces of information, insight, or inspiration, and bring it to the work they do."
The panelists included Ken Anderson, vice president, civic affairs, The Chamber of Commerce for Greater Philadelphia; Joy De Jesús, senior associate athletic director, finance and internal operations/CFO, Penn's Division of Recreation and Intercollegiate Athletics; and, Donna Allie, founder, president & CEO, Team Clean, Inc.
The forum culminated with the announcement of this year's recipients of the Penn Supplier Diversity Impact Award, which went to Nathaniel "Nat" Graham, the associate head coach of the University's men's basketball team. This award recognizes the leading actions of University individuals or teams that drive intentional impact in the area of supplier diversity and economic inclusion at Penn.
"Nat intentionally makes choices as he directs business to local and minority-owned companies and establishments," said Mills. "The relationships he has developed are driving diverse spending to the University's neighboring community and throughout Philadelphia, and exemplify the work that this award was designed to recognize."
The forum was followed by the popular expo and brought together local and diverse suppliers showcasing their services among Penn's community of buyers. In the lobby of the Annenberg Center, more than 30 suppliers set up shop at tables and stands. They passed out brochures and office supplies, as well as food and beverages from several of the University's diverse caterers for the Penn buying community and business representatives to sample while networking.
Local agencies and organizations were also on hand to celebrate supplier diversity and showcase their resources available to local, diverse, and small businesses.
Penn spends more than $100 million annually with over 1,000 diverse suppliers. In categories ranging from facilities maintenance, office supplies, technology, life science supplies and equipment and professional services, Penn has strategically directed diverse spending to continually expand its impact.
To conduct business with Penn, suppliers must be approved by the University and be listed as an approved supplier in a process facilitated by Penn Procurement Services.