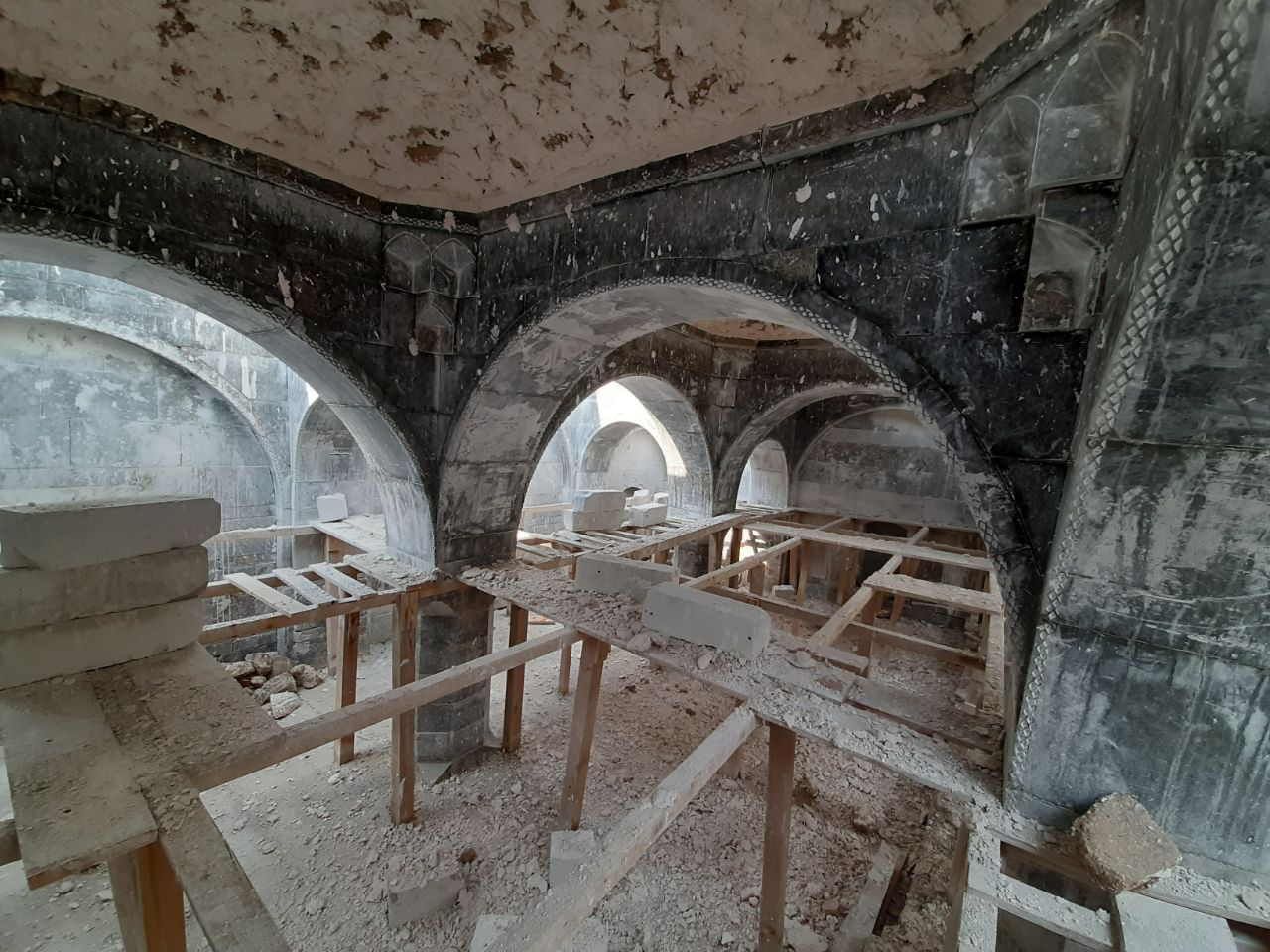 For the past four years, a team led by Penn archaeologists Richard L. Zettler and Michael Danti have collaborated with partners in Iraq to restore cultural heritage sites there in various stages of disrepair.
When on-the-ground work began in 2019—supported by millions of dollars from the U.S. State Department, the International Alliance for the Protection of Heritage in Conflict Areas (known as ALIPH), and others—the Iraq Heritage Stabilization Program (IHSP) centered around six sites, small and large. Most are still ongoing, with repair of one church complete and another project, known as the Tutunji House, about 60% finished, according to Zettler.
Since IHSP began, the Penn researchers have been tapped to help with much more.
ALIPH provided an additional $1.1 million to rebuild the Mashki Gate, one of 18 in the fortification wall of ancient Nineveh. Another organization, the German Gerda Henkel Foundation, gave about $100,000 for the team to survey historic non-religious architecture in Mosul's old city. And in collaboration with Iraq's State Board of Antiquities and Heritage, they've begun efforts to stabilize a site just south of Baghdad called Taq-i Kisra, the largest single-span vault of unreinforced brickwork in the world and a major area landmark.
As with anything this past year, the pandemic has played a role in the overall progress of these efforts. Initially, everything shut down. Although that didn't last long, the virus's effects have lingered all these months, with case numbers surging at times and people associated with the project falling ill. COVID-related travel restrictions also meant that Zettler and Danti haven't been to Iraq since late 2019.
"For this kind of thing, personal relations and in-person contacts are really important," Zettler says. With the pandemic starting to wane, the researchers hope to be back on location soon, to assess advancement at each place, including three of the newest projects.
A vaulted hall
Located about 20 miles southeast of present-day Baghdad sits Taq-i Kisra, a large, vaulted hall that existed in the ancient city of Ctesiphon, capital of the Persian Sassanian empire. It likely dates to the 6th century, a contemporary of the famous Hagia Sofia in Istanbul. In fact, Danti says a Sassanian ruler—most likely Khosrow I, who ruled during that time—wanted to build a palace to rival that cathedral; Taq-i Kisra was the result.
In late 2020, heavy rains caused part of the vault to collapse. After visiting the site, Iraq's Minister of Culture called ALIPH, which then asked the Penn team to conduct an assessment on the structure. The organization subsequently provided substantial funding for Zettler and colleagues to stabilize the vault and its 120-foot ceilings.
"We will be doing some geophysical surveys to see what's going on under the walls of the hall. We'll be installing crack gauges to monitor movement, and we'll be installing scaffolding for access to the vault and for safety and support," he says.
Everyone jumped at the chance to work on such a landmark, according to Danti. "It's a famous monument in the history of architecture and for archaeology and the history of the ancient Near East," he says. "In some ways it's a daunting project, given the scale of the monument and the sensitivity of the situation. Everyone is really distraught each time more of the brickwork collapses."
Yet the team already received some positive news: The crumbling parts are mostly modern reconstructions, meaning they should be easier to fix than if the same had been happening to the original brick masonry.
That said, the best preservation for Taq-i Kisra would likely be an entire rebuild of missing masonry, Danti says. "It really merits that kind of treatment. It's the only way we've identified that could prevent these collapses over the longer term. Taq-i Kisra is an incredible monument, and it's really important not only to the Iraqi people, but to the Iranian people, too."
A fortification gate
In what Danti describes as a "widely publicized act of deliberate destruction," in April 2016, the Islamic State bulldozed Mashki Gate, one of a dozen-and-a-half ancient gates that surrounded the Assyrian capital city of Nineveh, in what is today the eastern part of the Iraqi city, Mosul.
"They targeted this gate because in their opinion, it was symbolic of a period of pre-Islamic ignorance," Danti says. "They also did it as a form of psychological warfare against the people of Mosul, since it's a prominent monument. It's considered a source of pride by almost all Mosul residents and many Iraqis."
In the late 1960s and early 1970s, a team of Iraqi archaeologists had previously reconstructed the gate based on archaeological records and what remained of its foundation. "They rebuilt this incredible building that was emblematic of Nineveh's role as the capital city of a massive empire in the early Iron Age, in the 9th through 7th centuries," Danti says.
After the gate's demolition five years ago, the Nineveh Inspectorate of the State Board of Antiquities and Heritage requested help from the Penn team. "Restoring the Mashki Gate in Nineveh is an initiative that really came from inside the city, not something we went out to impose on them," Zettler explains.
"Which is how we try to go about all of our projects," Danti adds. "We do it all in consultation with the Iraqis."
When complete, the restored gate will become a visitor's center for the surrounding archaeological site, what the researchers hope will become a starting point for tourists, school groups, and anyone else who wants to learn more about Nineveh in its prime.
A survey of historic architecture
During the fighting that led to Mosul's liberation in June 2017, the old city located on the west side of the Tigris River took heavy fire. To date, assessment and repair has focused on religious heritage and famed archaeological sites, Danti says.
Historic private houses and other secular architecture, on the other hand, have received little attention. "We find that distressing because addressing those is how we'll restore communities and encourage people who have been displaced to return to the region," he says.
Under this project, the researchers will assess the area writ large to identify properties that require emergency action now or restoration in the future. Zettler says the list could eventually include hundreds of houses in the old city of Mosul alone, and that having such an inventory could help them prioritize.
"We want to start with the most significant properties where we can make a difference," Danti adds. "A lot of properties have been totally destroyed. In those cases, we'd salvage what we could of historic architectural elements for the Mosul Museum, so that those objects don't end up on the international art market."
That's a big concern: Architectural pieces from historic houses—everything from window ornamentation to carved wooden doors—sell well on the black market. "It would be a bit like going into an old Victorian house and taking the mantels, all the elaborate woodwork," Zettler says. "There is definitely demand." Once those pieces disappear, they're nearly impossible to recover and it becomes all that much harder for archaeologists to prevent individual properties from total demolition.
The more of these historic homes that disappear, the less likely people who once lived there will return. "The old city of Mosul was traditionally an area of middle-class Iraqis, a place characterized by ethnic and religious diversity," Danti says. "That's in jeopardy now by the really devastating combat damage throughout that area. It's sad because it was such a well-preserved late 19th, early 20th century urbanscape."
Other projects
For each new site the Penn researchers take on, others come to their attention. They helped stabilize a 13th-century palace called Qara Serai and will soon begin similar efforts on a former Ottoman military headquarters and armory called Barood Khana.
"Qara Serai and Barood Khana and all these sites, even if they weren't attacked by the Islamic State and they weren't directly hit in a major airstrike or artillery strike, they were just shaken constantly during the battle of Mosul," Danti says. "That accelerated the damage cycle in buildings that are already somewhat unstable. We've got to go in and assess and take measures to stabilize them. At any point, they could collapse."
Zettler lists a half dozen or so other ongoing projects, including restoration of two churches of the Monastery of Saint George in Mosul (where they already finished the chapel), repair of three churches in towns around Mosul, and of course, Beit al-Tutunji—the Tutunji House—an Ottoman-period home that had, at one point, become a base for ISIS. "We've pretty much finished the first floor on three sides," he says.
And so the work continues, through a pandemic and in concert with partners in Iraq, to preserve as much of this history as possible before it disappears for good.
Richard L. Zettler is an associate professor in the Department of Near Eastern Languages and Civilizations in the School of Arts & Sciences at the University of Pennsylvania. He is also associate curator-in-charge of Penn Museum's Near East Section.
Michael Danti, who earned his Ph.D. from the University of Pennsylvania in 2000, is program manager for the Iraq Heritage Stabilization Program, a consulting scholar in Penn Museum's Near East Section, and a fellow of the Society of Antiquaries of London.
Images courtesy of Ninawa Inspectorate of Iraq's State Board of Antiquities and Heritage.