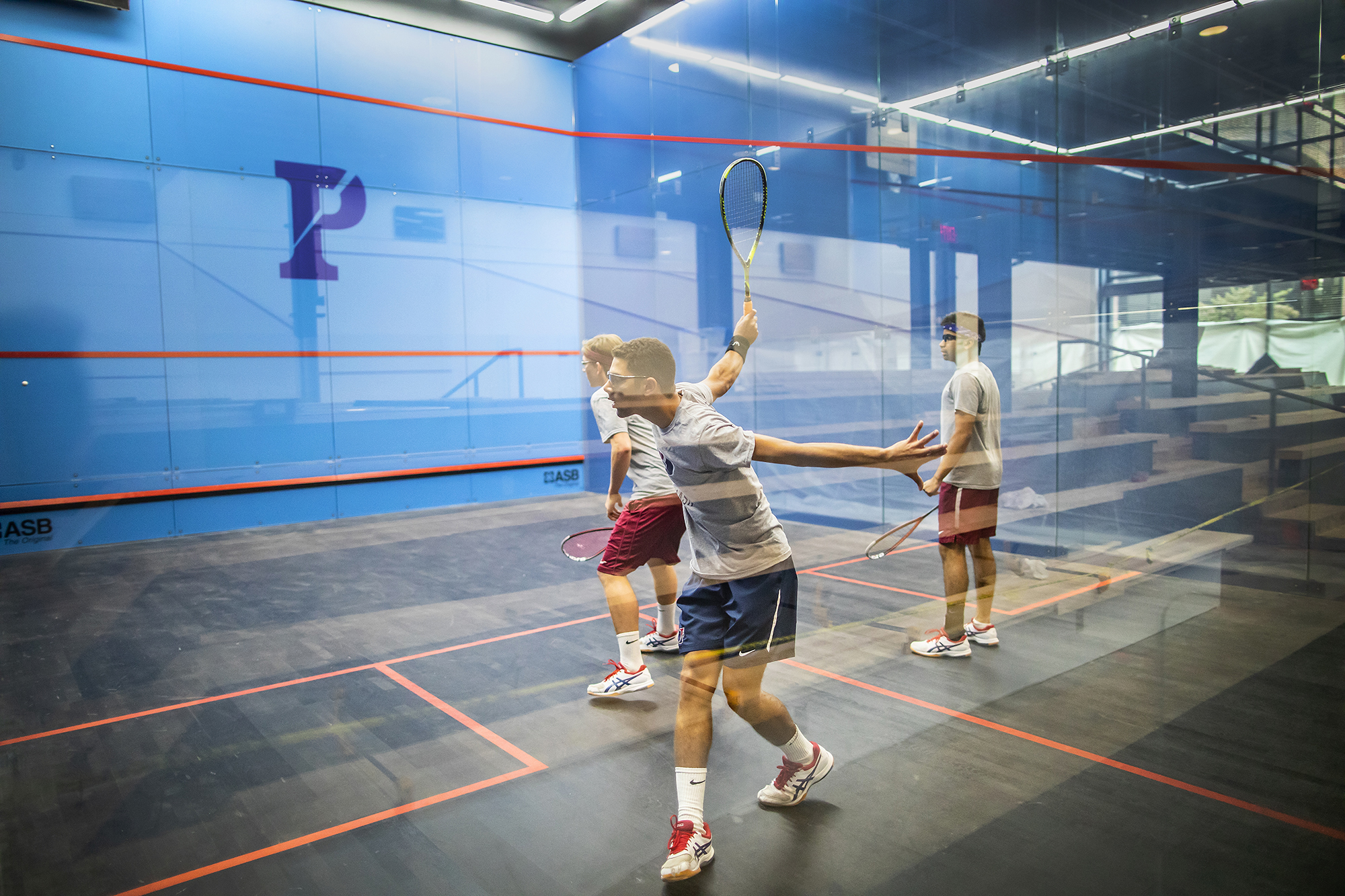 Land between the Palestra and Franklin Field is sports holy ground, abutting two historic athletic venues. 
Since 1959, the Penn Squash Center has resided on this sanctified section of campus, first as one building, before being adjoined by a supplemental structure in 1968.
Over the past year, the Squash Center has been invigorated and revitalized, transformed into what Director of Squash Jack Wyant calls "if not the best squash facility in the country, certainly one of them."
Through a partnership involving Penn Athletics, the Division of Facilities & Real Estate Services (FRES), EwingCole, and LF Driscoll, the former Ringe Squash Courts have been replaced with a new structure that is aesthetically pleasing, technologically sound, spectator-friendly, and ADA-compliant.
Noah Gustkey, associate AD, facilities at Penn Athletics, says some of the major concerns with the previous facility were its lack of air conditioning, archaic heating system, and poor connectivity between the two squash structures.
"One of the real issues when they built on the second building in 1968 is there wasn't very good connectivity between the two buildings," he says. "Even though it was one building, it still had a feel of being two buildings. I think one of the real big improvements with the renovation was the connectivity of the two sides. It really feels like one building now."
Mike Dausch, executive director of design and construction management at FRES, says the new heating and cooling systems will enable the center to be operated year-round.
"The facility before was not usable through the summer," he says. "And even in the spring and fall, if you had a lot of people in there, it could get very hot."
Reconstruction has also opened up the building and let in more natural light, increasing visibility.
"There's a large expanse of glass, a curtain wall, that looks out onto Franklin Field and then that looks out toward Center City," says Jim Palka, senior project manager of design and construction at FRES. "Those are quite nice views. You can see the whole facility now; you can see light coming in from any part of it you stand in, and that had not been the case."
At night, people standing outside the Squash Center can look inside the building and view people playing squash. 
"That is not something that you get at any other facility," Wyant says. "I can assure you of that."
New team rooms, coaches' offices, restrooms, two extra international courts, and a pair of four-glass-wall courts are also fresh amenities in the redesigned center, as well as an upgraded seating and viewing area.
Wyant, who is also head coach of the women's squash team, exudes excitement when talking about and showing off the new facility. He particularly fancies the new glass courts. 
"These would be our show courts, so if you think of those like Center Court at Wimbledon," he says during a tour of the building. "By having two show courts of the same size, right next to each other, will allow us to play the men's matches and women's concurrently."
In early October, the Arlen Specter Philadelphia Junior Championships, featuring 300 of the country's top junior squash players, was held at the Penn Squash Center. Wyant says everyone raved about the playability of the courts and the way the building was able to handle such a large group. 
"There are a lot of sports facilities or squash buildings that don't handle crowds well and don't support the numbers that you would have on those rare occasions," he says. "Supporting what we have at practice every day is easy because that's 35 people. But when you have 300 or 500 people in a building, that's a totally different equation."
During Homecoming Weekend, the Penn Squash Center played host to the Ivy Scrimmages to open the squash season, and the College Squash Association Individual Championships will be held at the facility in March.
"We're off to a flying start in terms of hosting league, junior, and huge intercollegiate tournaments, which is our goal," Wyant says. "It's part of the reason why we made the investment, one, to give our student-athletes the best facility in the country, but then also to allow Penn to once again host big, national, junior, and even, hopefully down the road, maybe some international events as well."