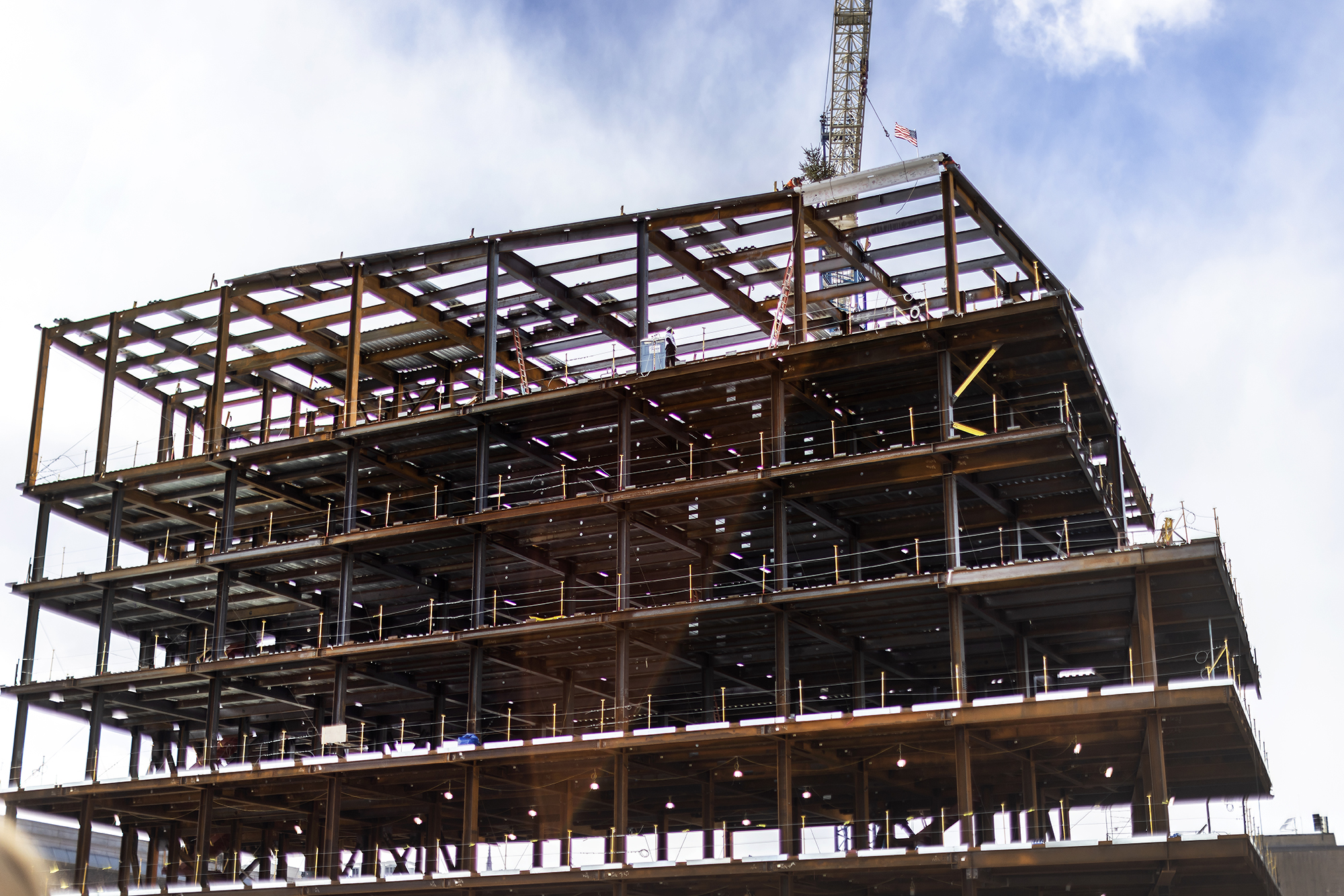 Penn President Liz Magill joined School of Arts & Sciences Dean Steven J. Fluharty, School of Engineering and Applied Science Nemirovsky Family Dean Vijay Kumar, and the Vagelos Professor of Energy Research Karen I. Goldberg in welcoming alumnus and longtime supporter of Penn P. Roy Vagelos near 32nd and Walnut streets for a special topping off ceremony of the Vagelos Laboratory for Energy Science and Technology (VLEST). Members of the Penn community gathered to sign the final steel beam before it was hoisted atop the building, a time-honored builders' tradition, and to celebrate all the progress made and all that's to come.
Talking inside a heated tent, Magill noted the significance of a day that signals "Penn's rise as a global leader in energy science.
"The Vagelos Laboratory is going to help us generate the knowledge and solutions that the world requires," she said. "Our faculty and students, especially our Vagelos Integrated Program in Energy Research students, are already leading in this space. Now just imagine what we will be able to achieve with the support that this new building will provide."
Vagelos noted, to the crowd, how humans' reliance on fossil fuels is causing "catastrophic climate problems at a global scale, problems we need to solve fast," he said.
"But I'm convinced that we've got the goods to address these and many others, and with this new building we're going to play a major role in supporting sustainable energy and make a real difference," Vagelos said.
The new $173 million facility at 3200 Walnut St. will house the next generation of energy research programs that integrate expertise from the School of Arts & Sciences and School of Engineering and Applied Science. It will also serve as a home base to the Vagelos Integrated Program in Energy Research, known as VIPER, a dual degree undergraduate program run jointly by both schools. The interdisciplinary program equips future researchers with the tools to tackle technical challenges in sustainable energy. The state-of-the-art facility will provide 112,500 square feet of laboratory space to accommodate and adapt to the ever-changing needs of innovative research from the Vagelos Institute for Energy Science and Technology.
"This building exists thanks, first of all, to Roy and Diana Vagelos, whose vision of sustainable energy solutions fuels our commitment to finding those answers," Fluharty said. "Knowing that energy solutions are among our world's most pressing needs—and that Penn is the place where they can be discovered—Roy and Diana made the gift that brought this laboratory into being."
"The Vagelos Laboratory," Kumar said, "will be a tribute to Penn's interdisciplinary strength, with state-of-the-art laboratories and workspaces that bring chemical engineers, electrical engineers, materials scientists and mechanical engineers together with chemists and physicists to respond to scientific and technological challenges in the rapidly changing energy landscape. I could not be happier to see these plans taking shape in front of us."
With completion slated for January 2025, VLEST will include both a flexible wet chemistry and optics lab serving the research needs in both schools. The facility, designed by Behnisch Architekten, will also include a complement of collaborative spaces and offices with a newly landscaped courtyard linking the Walnut Street gateway and Shoemaker Green to the southwest.
Goldberg expressed gratitude to the Vageloses and added, "We're all so excited to see the progress on this magnificent research and collaboration space, and we just can't wait to move in."
Bringing the event to a close, Magill raised a glass of warm apple cider in a toast. "Some might think that by signing the top of the beam today that we're leaving our mark on history," she said. "I prefer to think [that] the names that we put on that beam just now [are] placing a bet on the future, a future that is better and brighter for everyone."