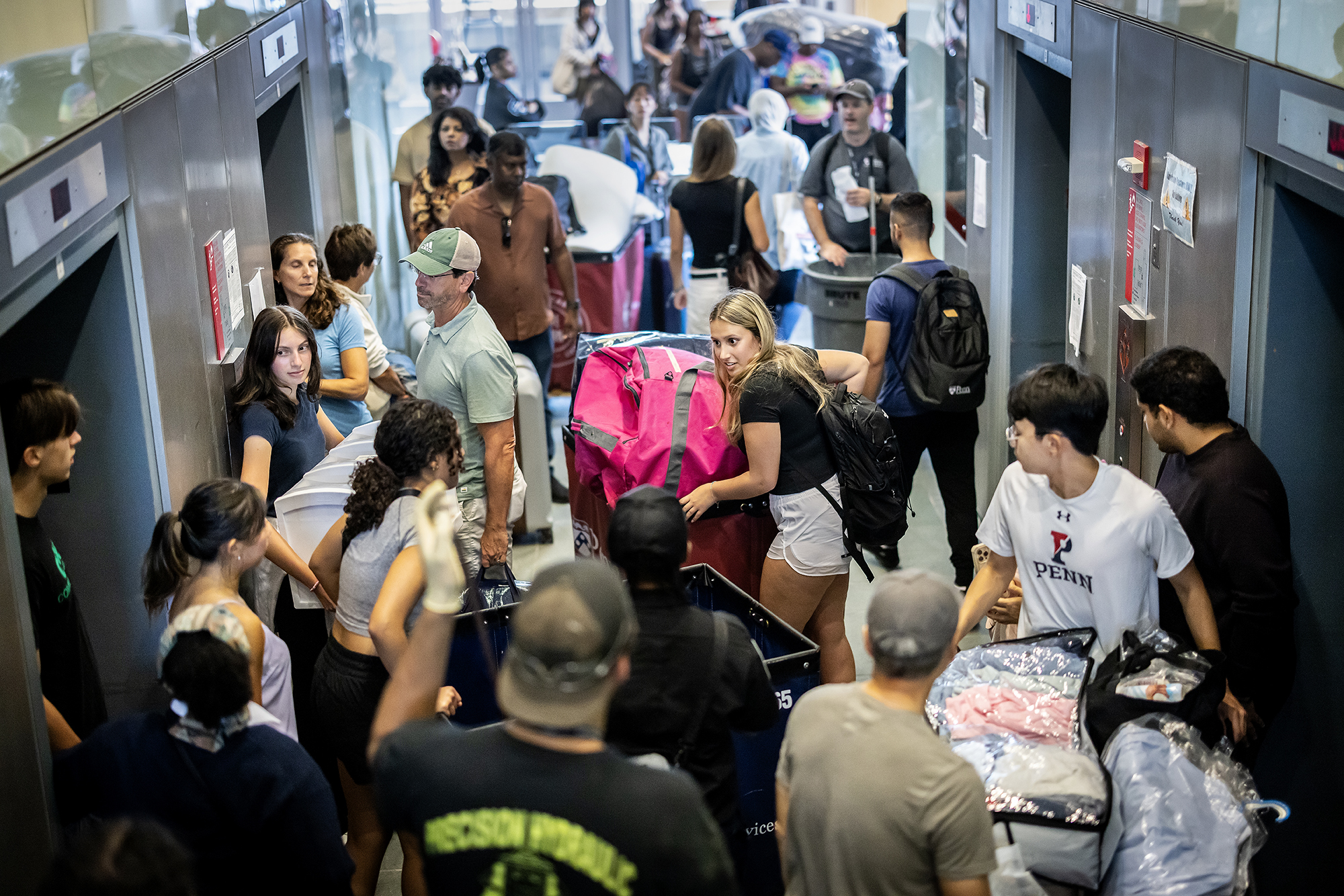 One of the world's few undisputed truths is that no one can eat quite as much or quite as well as a college student. Kathryn McDonald knows this, and likes to bake to boot. In a sunny, open kitchen on Gutmann College House's second floor, a beaproned McDonald, long hair tucked into a low bun, uses a cookie-baking session to introduce herself to the students newly moved in to Gutmann College House. Here, McDonald serves as house director, living and working alongside students.
McDonald is one of 13 such directors, each serving a different building with a mission of fostering residential communities for undergraduate students in Penn's College House system, which includes Riepe (now under renovation), Ware, Fisher Hassenfeld, Hill, Kings Court English, Stouffer, Lauder, Gutmann, the High Rises (Harnwell, Harrison, and Rodin), and the Low Rises (W.E.B. Du Bois and Gregory). Now required for all first- and second-year students, the Houses provide opportunities for students to connect with each other, along with the faculty and staff living in the houses.
In addition to the directors, each College House has a minimum of three live-in faculty members, who host lectures and programs and serve as academic advisers. Ideally, the College Houses are "a community within a community," says Deven Patel, faculty director and associate professor of South Asian studies, who lives in Harrison House with his wife. "We not only live with each other, but we also have a shared experience with residents."
At Harrison, Patel says he has been able to model and mentor the academic life outside of the traditional classroom space. Patel also coordinates a wellness program, teaching basic mindfulness techniques and facilitating peer-to-peer mentorship, an initiative he hopes to expand.
Each College House has its own identity, programs, and traditions, and the faculty and house directors set the tone for their residential communities, offering seasonal programming, intellectual engagement, game nights, and, of course, food.
The programs and co-curricular features of the College Houses are meant to foster academic curiosity and help students engage with lifelong learning, with some professors teaching classes in the College House space that all students can attend. It should feel like home, McDonald says. "That should be the community that everyone should want to come back to and feel like they can be themselves."
Penn Today spoke with three house directors about their roles and what makes their Houses unique.
Eric Cottrell
Harrison College House
"What's fun about the job is it's not the same thing every day," says Eric Cottrell, director of Harrison College House, one of the three high-rise dorms on campus. At any given time, he might be planning a field trip to see a show at the Kimmel Center, doing a team-building session with resident advisers (RAs), playing Quizzo at Harrison's monthly Saturday Night Live event, or discussing college football with students.
"Harrison is a big House with a small community feel," Cottrell says. "We achieve that, I think, through modeling our values," which Cottrell says are curiosity, inclusion, wellness, and service. Armed with those and the motto, "Not for self, but for all," Cottrell and the 24 RAs he supervises design programming aimed at creating community. "What does it mean to live a well-balanced life in this community?" he asks. "How do we be inclusive of everybody on the floor?"
These conversations are vital, he says. Conflict resolution is an important part of the college experience. "A lot of students really just don't know how to communicate their needs and then compromise for a mutual agreement," he says. In these cases, Cottrell and the RAs can help students take the time to navigate and learn these soft skills, he says.
Outside of work, Cottrell is an avid athlete, running, attending fitness classes, and playing recreational sports with the Stonewall Sports, an organization dedicated to creating safe spaces for the LGBTQ+ community.
"I helped lead the 2023 Stonewall Sports National Tournament and summit and I share that with the students and help them understand the bigger picture of being involved," Cottrell says. "All of these values interplay with one another: the wellness, the service, the inclusion … We try to promote that through the House so that our students can engage in the House but bring that further than just Harrison."
Harrison College House
Location: 3910 Irving St.
Opened in: 1970
Number of residents: 801
Motto: "Not for self, but for all"
Special features: Game and resource room, computer room, fitness room, library, 12 laundry rooms, 24 lounges (including the top floor's sky lounge), music practice rooms, seminar room, study rooms
Mitchell Holston
Lauder College House
Like many people working in student affairs, Mitchell Holston was once just an involved student. Originally from Dadeville, Alabama, Holston attended Auburn University (and later Virginia Tech for graduate school), where he was diversity ambassador president and served as a leader for new student orientation. "I did a lot of different things," he says. Eventually, this led Holston to ask university administrators, "How did you get to do what you do?"
Now house director for Lauder College House, Holston "sets the tone," according to his resident advisers, a team of 10 (five undergraduates and five graduate students) who interact with Holston on everything from crisis counseling to programming field trips.
His own experiences as a first-generation, low-income student influence how Holston interacts with students at Lauder, he says. "Knowing the obstacles that I had to overcome and knowing the opportunities that my direct ancestors didn't have; I really want to be in a space where I can push for people."
This means that he encourages conversations relating to diversity, equity, and social justice, Holston says. Every Sunday, Lauder hosts a discussion forum called "What Matters," where a faculty member leads conversation topics ranging from free speech to presidential elections.
Cam Gray, the House's faculty director, leads a walking history program called "Stroll With Me," where students tour different parts of the city, including University City and the Gayborhood. Holston also takes students on field trips. Past excursions have included the Museum of the American Revolution and the National Museum of African American History and Culture in Washington, D.C.
Holston also encourages students to understand how they fit into a broader world. He wants students to understand that they're a citizen of a College House, a part of Penn, and a resident of Philadelphia, he says. "What does it mean to be a part of that? And then once you graduate and leave from here, how are you going to take what you learned not only here at Lauder, but here at Penn, to create a better world wherever you're going?"
At Lauder, "our main focus is helping students understand how to situate [themselves] in the world and how they can change it," and his role is to facilitate this, Holston says. "Knowing that they're benefiting from what I'm doing, even if they don't know it, it's something that's gratifying for me."
Lauder College House
Location: 3335 Woodland Walk
Opened in: 2016
Number of residents: 342
Motto: "Semper ad meliora," meaning "always toward better things"
Special features: Reading room, in-house dining café, dining pavilion, private courtyard, common living room, media room, seminar rooms, fitness room, meditation room, music practice rooms, common kitchens, laundry room
Kathryn McDonald
Gutmann College House
Kathryn McDonald has been working in residential life for more than 20 years. "The thing that gets me excited is the relationships," she says. "I love programming, being creative, having an opportunity to have students sit with me while we have tea. Seeing what those students do, particularly at a place like Penn, it's always so amazing."
McDonald can often be found in the community kitchen of Gutmann College House, putting the kettle on, or whipping up a batch of cookies. "I try to incorporate myself in the programming," McDonald says. "If I'm gonna watch Game 1 of the World Series and I'm excited about it, I want people to share that with me and I want the House to share it with me. It feels more fulfilling that way." After all, the Gutmann House motto is, "Opportunity is invented together."
The newest of the dormitories, Gutmann opened to students in 2021. It has a distinctive red brick horseshoe shape giving way to a sunny interior which, if McDonald has her way, will soon be filled with plants. She's curating a collection in her office, one in a common area, and one in her apartment, which she shares with a cat named Kathryn, Jr. and a guinea pig named Templeton, after the gluttonous rat in "Charlotte's Web."
McDonald heard animal shelters had a post-pandemic influx of small animals, which people purchased during the shutdown only to realize that they did not, in fact, want a small animal. McDonald thought she might, visited a shelter, and ended up with a new pet. "So basically, I'm a sucker, long story short," she says.
Her partner, who never lived in a dorm during his college years, also lives part-time in the apartment. "He loves the cafeteria," McDonald says. "That's like an exciting morning for us. If he has the day off, we'll go to the cafeteria for breakfast. And he's like, just in hog heaven. He loves the waffle iron situation."
McDonald maintains a work life balance in part through permeability and authenticity. She engages students through activities she enjoys—hosting a Superbowl party and a regular crochet craft series ("Scarf & Scarf"). McDonald says, "What I learned is that bringing myself to the role makes it better."
Gutmann College House
Location: 211 South 40th St.
Opened in: 2021
Number of residents by year: 436
Motto: "Opportunity is invented together."
Special features: Quaker Kitchen, multipurpose room, coffee bar, campus green, common living room, tinker space, seminar rooms, fitness room, meditation room, music practice rooms, club rooms with kitchen, laundry room