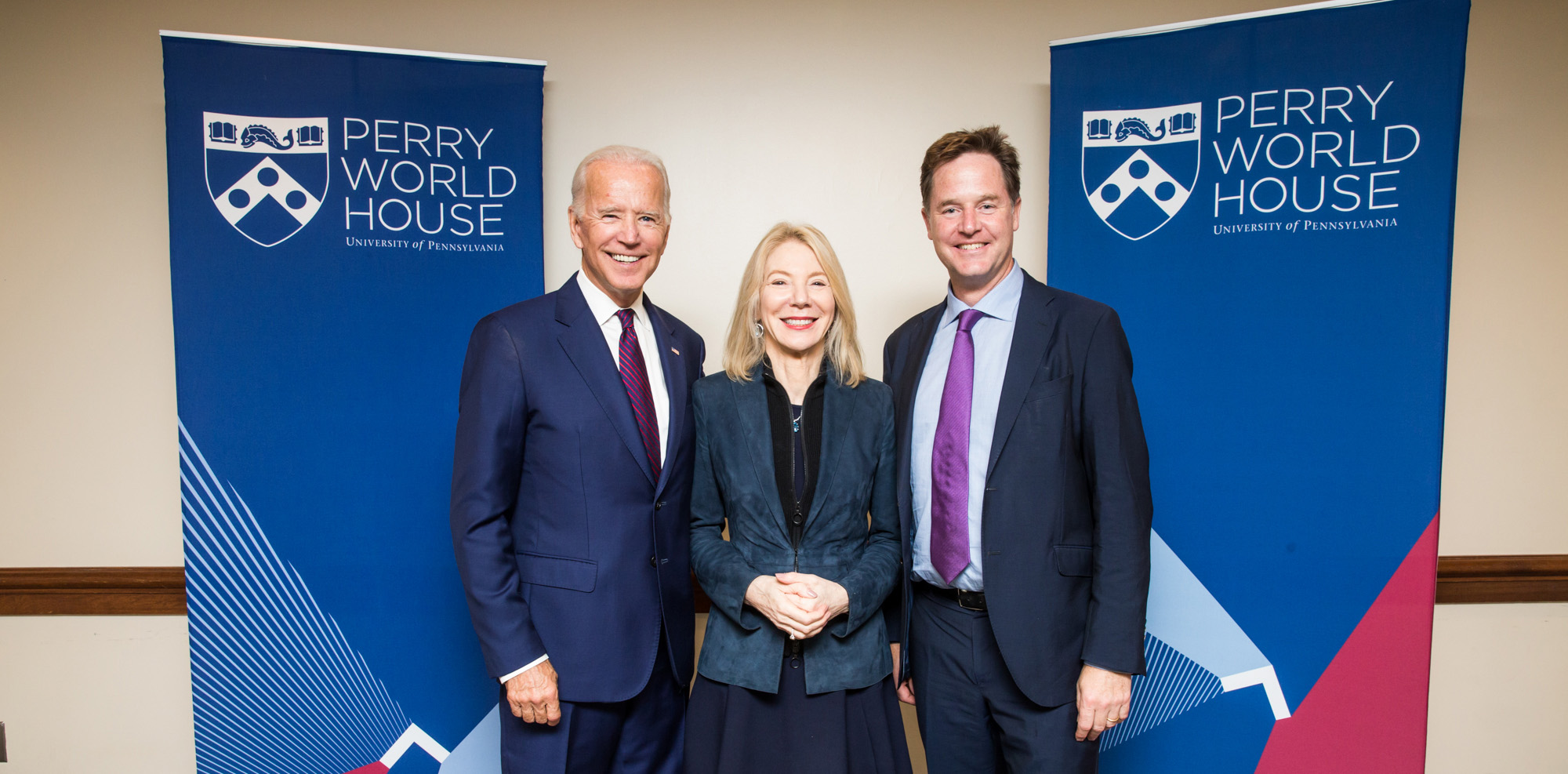 For Lauren Kahn, a senior international relations major, the opportunities she's been exposed to—notably mingling with world leaders—while an undergraduate at Penn have been, as she described it, "beyond my wildest dreams.
"It's so incredible what Penn is doing," Kahn said. "It's bringing the world to you, essentially."
As a Perry World House (PWH) student fellow, Kahn attended and helped run the center's second fall colloquium, titled "Competing Visions of the Global Order," which took place Sept. 24-25. The capstone of the two-day event was a Penn Biden Leaders Dialogue on Tuesday evening, featuring Joe Biden, the 47th vice president of the U.S. and Penn's very own Benjamin Franklin Presidential Practice Professor, in an hourlong conversation with Nick Clegg, the former U.K. deputy prime minister. More than 1,000 students, faculty, and staff from Penn filled Irvine Auditorium for the public event, which was also livestreamed.
Penn President Amy Gutmann introduced the two eminent global leaders, who have both worked together closely in the past, with an apt nod to Lin-Manuel Miranda's smash Broadway musical "Hamilton."
"You all know the show-stopping number that never fails to bring the house down: 'The Room Where It Happens,'" Gutmann said. "For the next hour or so, that's where we get to be."
From Brexit to President Trump, Biden and Clegg's conversation varied widely, thanks to their own curiosities as well as questions from the audience. They addressed issues top-of-mind, and also touched on historical happenings that have led both the U.S. and the U.K. to their current global challenges.
"I have a strong suspicion that if the 2008 [financial crisis] had not happened, I don't think my country would have voted for Brexit, and my hunch is I don't think this country would have voted Donald Trump into the White House," said Clegg. "I think at the end of the day, as [former House Speaker] Tip O'Neill once famously said, 'All politics is local,' and we need to return to a lot of the local and domestic issues, which are the genesis for wider disaffection with the way in which the world works."
Important as well, both Clegg and Biden said, is restoring people's faith in collective action on the global scale.
"One of the things we are trying to do here at Penn is trying to amend that world order in ways that are able to bring back confidence in the average person in the need for collective action," said Biden.
From each country's perspective, Biden and Clegg talked about nationalist movements, continuing education, healthy economies as a means for national security, the importance of young people remaining engaged, and much, much more. They also touched on how politics in the U.S. have an undoubted impact on politics in Europe.
Biden, mentioning that he's been known as a "cockeyed optimist," said he believes Democrats will win the House in the midterm elections—and the Senate, too.
"It's going to liberate a lot of Republicans who know better…and I think you're going to see a significant change in the politics of the country," Biden said, with Clegg responding how such an outcome would "have a dramatic effect on the politics in Europe."
"It will be the first time that lots of voters, campaigners, activists, politicians, think that, 'Wow the pendulum can swing the other way,'" said Clegg. "And I think it would have a really dramatic effect on the politics of both sides of the Atlantic."
These types of conversations—raw and informative—are the basis of what PWH was hoping to achieve throughout the entire colloquium, which kicked off on Monday on Penn's campus with closed working groups for students, faculty, and policymakers. The event continued Tuesday with public sessions featuring a slate of world leaders, speaking together about the past, present, and future of international relations.
'For the history books'
Speaking midday on Tuesday in Irvine, Gutmann said: "Today is truly one for the history books. We are hosting not one but two former national security advisers."
The two former U.S. national security advisers were H.R. McMaster, who served under Donald Trump, and Susan Rice, who served under Barack Obama. In back-to-back discussions with international journalists, they covered myriad topics on the global order, including the reputation of the U.S. in the world, foreign policy, international diplomacy, the military, and the economy. Both touched on relations with Russia, China, and the Middle East.
Rice, who served as U.S. national security adviser from 2013 to 2017 and as U.S. ambassador to the United Nations from 2009 to 2013, was interviewed by Edward Luce, Washington columnist and commentator for the Financial Times.
McMaster, who is originally from Philadelphia, served as U.S. national security adviser from February 2017 to March 2018, and is a retired Army lieutenant general. He was interviewed by Lara Logan, chief foreign affairs correspondent for CBS News and a correspondent for "60 Minutes."
A morning roundtable featured Felipe Calderón, former president of Mexico, on a four-person panel. Calderón, McMaster, and Rice are among nine Perry World House Visiting Fellows on campus this academic year.
The roundtable on "National Visions," with Calderón, was moderated by Deborah Amos, National Public Radio international correspondent. Also on the panel were Catherine Ashton, former high representative of the European Union for foreign affairs and security policy; Aaron Friedberg, Princeton University professor of politics and international affairs; and Richard Verma, U.S. ambassador to India from 2015 to 2017.
Nationalism vs. nativism 
The theme of nationalism and protectionism echoed throughout all the day's sessions.
U.S nationalism breeds a tremendous uncertainty about the U.S. posture, Verma said, as does a military-only approach to shaping the global order, which has "inherent limitations." Verma, whose father is an immigrant from India, said one of America's greatest strengths is the diversity of its people.
Disagreements surrounding refugees and immigration policies in the U.S. and throughout the world was also a main topic of discussion. "We have not been successful in trying to seriously explain the value of diversity of a world in which we live and the benefits of that diversity," Ashton said. "America is nation built on that diversity, yet you too have to remind yourselves that that's what you want."
On global economic trade
Calderón said that for him, the most pressing issue for the global economic order is trade, which is key to economic growth. Trade, he said, is suffering the consequences from America's protectionist policies.
The reputation of the U.S. is being diminished in Mexico and throughout the world, he said, which is "reducing the power of America to do things."
Rice also warned that damage has been done to U.S. international relations by new economic tariffs and decisions to pull out of agreements, like the Trans-Pacific Partnership and the Iran nuclear deal.
"Many say America is in decline; I don't agree with that," said Rice. "I think in the last two years, the current administration has had a self-imposed retreat, and that is different than decline. Retreat can be reversed."
The great strength of the U.S., she said, is its relationships with allies, and those have been put at risk by the decisions of the Trump administration. "We need to be very sober and serious in understanding that we may have inflicted lasting damage on the world trade situation, and international cooperation, and our alliances," she said. "We have put our alliances under enormous strain."
Rice said the retreat of America has left a vacuum that is being filled by other adversary nations, especially in Asia, where China is taking advantage of that opportunity.
"We need to reinforce investments on what makes us strong," Rice said. "What makes us strong is our alliances and partnerships. What makes us strong is the strength of our economy, our openness and our values. We have in one way or the other retreated on those conventions."
U.S. alliances
McMaster said the country has suffered a "crisis of confidence," swinging from "optimism to defeatism" since the 1991 Gulf War.
He said he does not, however, think the U.S. is at crisis with its allies. "I don't think that the United States has stepped back from its responsibilities," he noted.
In contrast, McMaster said the president believes, and he agrees, that the allies have been "free riding" and have "not shouldered the fair share of the burden" regarding defense spending through NATO.
As for the U.S. participating in international organizations and agreements, he said it is appropriate to "reevaluate, based on our national interests," whether to continue participating.
Democracy in danger?
For Rice, domestic strife poses as great a challenge to national security as international factors.
"The greatest threat to our national security today is our own domestic political division," she said. "It is our domestic political division that make Russian efforts to pit us against one another through social media, and spread fake news, and divide us into camps, effective."
She said the American people are at risk of losing domestic resilience and cohesion.
"We need to reinvest in a national unity in a meaningful way, and stop allowing ourselves to be pitted against each other," she said.
Global future
Conversations at Penn between policy thinkers, academics, and students will continue throughout the year, and PWH's next major colloquium—focused on "Global Shifts"—will take place in the spring.
"It's really cool to hear, in person, the things I've been reading about," says Kahn, the PWH student fellow. "I've now heard McMaster and Rice, and being able to ask your own questions and hear it come from them directly is incredible."