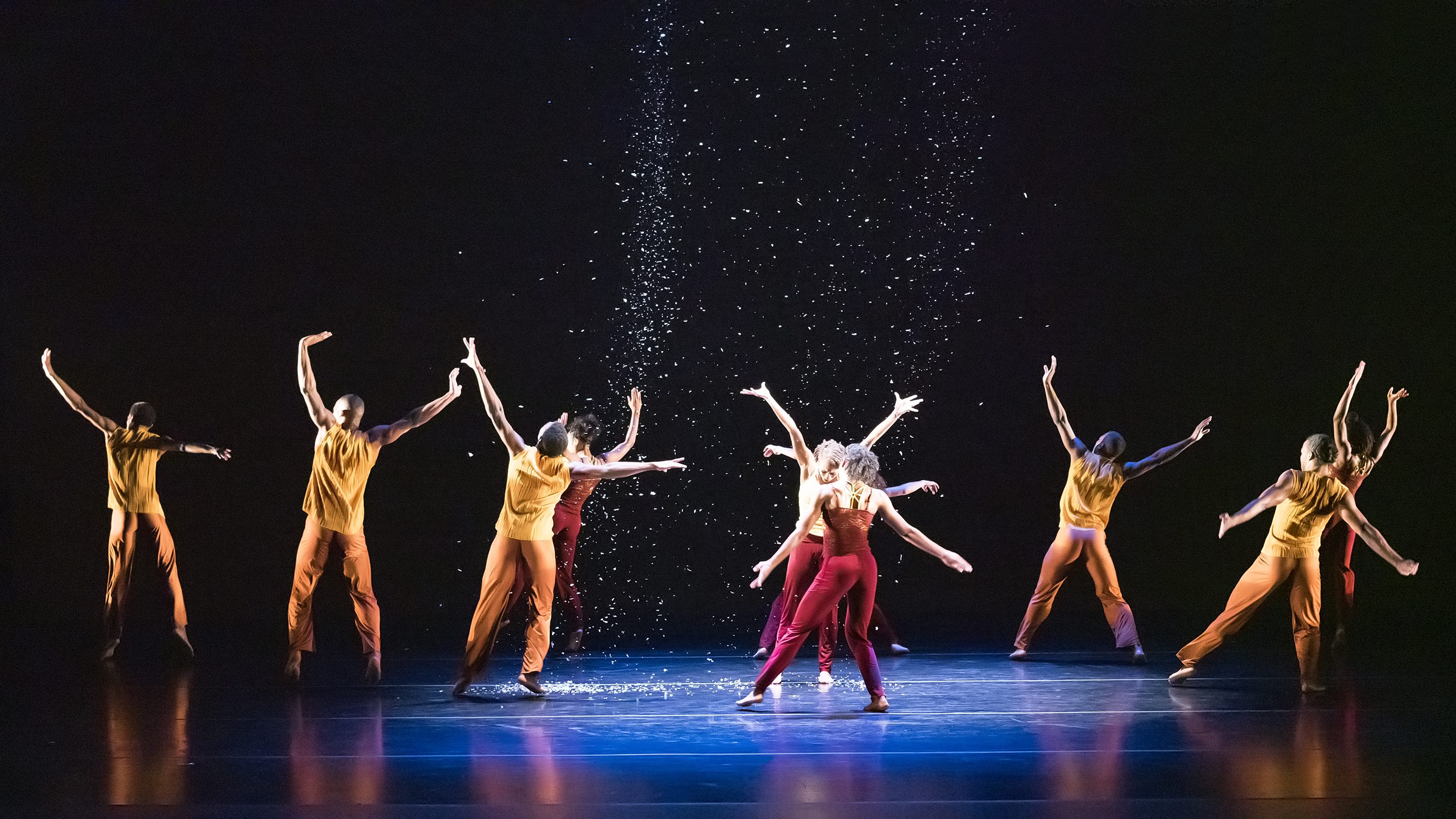 Known as a river deity in the Yoruba tradition of West Africa, Oshun is venerated as the embodiment of the female spirit and celebrated throughout the Black diaspora with gold, copper, honey, and the color yellow. In a live virtual Wolf Humanities Center event, Dancers' Choices, and Choreographers' Choices, principals from Philadanco! paid homage to the deity with a modern dance performance of "Oshun" choreographed by Dawn Marie Bazemore, Rowan University assistant professor and former company member. The March 3 performance—shortened and revised for four dancers—was followed by a discussion on dancing, choreography, and choice with the dancers joining Bazemore and Penn's Jasmine Elizabeth Johnson and Deborah A. Thomas, in a conversation moderated by Dixon Li, doctoral candidate in the English Department. The event was co-sponsored by the Department of Africana Studies, Center for Africana Studies, and Sachs Program for Arts Innovation.
"The idea of the work was to celebrate the many facets of womanhood," said Bazemore. It's important that the audience "can see a bit of themselves and their own story inside the work," she said. "It matters to me that the work transcends movement."
Storytelling is one of the major techniques that is pulled into the practice of dance, said Li. While the Oshun performance was accompanied by spoken word, including a recording of Langston Hughes reading his poem "Mother to Son," storytelling in dance is often nonverbal. "The power of dance," said Johnson, "is to be able to express in spaces where very few words are uttered but where history is alive and really loud if you're listening."
The concepts of conversation and community were repeatedly brought up in this discussion about dancers' relationship to movement. Thomas, whose early dance memories involved seeing the polka at family weddings, is a former professional dancer who has gone on to study Caribbean dance from an ethnographic perspective. "Dance for me has always been a way to enter communities and to develop a conversation over time," said Thomas, and her academic work looks at the ways in which dancers have "understood their dance practice as a political practice."
Johnson's work is rooted in her traditions of family and movement. "Dance has always been central to how my family has shown up in community and to each other," she said. "Even before I began to really think about choreographic dance, dance as being something incredibly generative, precious, and robust, dance has always been a way that I practice family and community."
In advance of the performance and discussion, Bazemore and the Philadanco! dancers led a virtual interactive workshop, which Johnson attended. For all its limitations, there is so much that the virtual format can offer, she said, noting that the workshop group "felt like a community immediately." Johnson noted the "deep work that kind of beauty and grace requires," citing a moment when dancers did a 360° turn on relevé, which she described as both effortless and "full of rehearsal."
Their subsequent performance showcased "all of the things that I was feeling inside of that workshop, which was a lot of joy and also a lot of rigor," said Johnson. "There was space for us all to inhabit it and even moments of a beautiful experimentation that I was also really grateful for."
Watching dance is a "vicarious embodied, participatory, collaborative practice of care," Thomas said. "I experienced the performance as a kind of wrapping around."
Li followed up on the vicarious nature of the dance experience, noting that with the onslaught of the pandemic, dance classes have been disappearing, and those that remain have been transformed by being virtual. Li asked the group if there had been moments in their lives when they stopped dancing, and what ultimately brought them back to the discipline. While a number of dancers spoke about injuries, Thomas and Bazemore spoke of another rupture in their dance lives.
"I had babies!" Bazemore said. Formerly a dancer with Philadanco!, Bazemore spoke about returning to school after having children in order to teach at the university level. She noted that she's come full circle now that she was invited to choreograph with company. "It's just a beautiful thing to watch how dance just keeps reinventing you and reinventing itself," she said. "I remember hearing Joan Myers Brown say, 'I don't have dance; dance has me.' I don't know that I always understood that, but I'm starting to really grasp what she meant."
"I think Dawn's right," Thomas said. "Your relationship to the specifics of a dance practice changes over time, but the fact of dance never really leaves your body."
Bazemore said she choreographed "for fun" during her days as a professional dancer, and recalled saying at the time, "If I choreograph professionally, it'll be because I have something really specific to say." Her "something to say" ended up being a piece about the Central Park Five. It started, she said, with honest conversations with Black men about their experiences with law enforcement, which Bazemore incorporated into the work.
Bazemore described a very collaborative process."I'll come in with a phrase, and we'll work through the phrase, and somebody will mess it up," she said. "And I'll be like, that is so much better than what I did! Everybody learn that; we gon' do it just like that. And that's really how we develop things."
The choreography always starts with something personal, Bazemore said. She grew up hearing her mother recite that Langston Hughes poem to her brother, which spoke to her vision of the motherhood segment of the piece, and the movement evolved from there. "I got to have a very specific idea, but it really depends on the bodies and the energy in the room, and I'm always willing to let it shift," she said. "Sometimes I feel like things come together when I fall back."
Dawn Marie Bazemore is assistant professor in the Department of Theatre and Dance at Rowan University and the artistic airector of dance collective DMB|#dbdanceproject.
Jasmine Elizabeth Johnson is assistant professor of Africana studies at the University of Pennsylvania.
Deborah A. Thomas is the R. Jean Brownlee Professor of Anthropology and the director of the Center for Experimental Ethnography at the University of Pennsylvania.
The Philadanco! dancers performing were Clarricia Golden, Joe Gonzalez, Jameel Malik Hendricks, and Courtney Robinson.