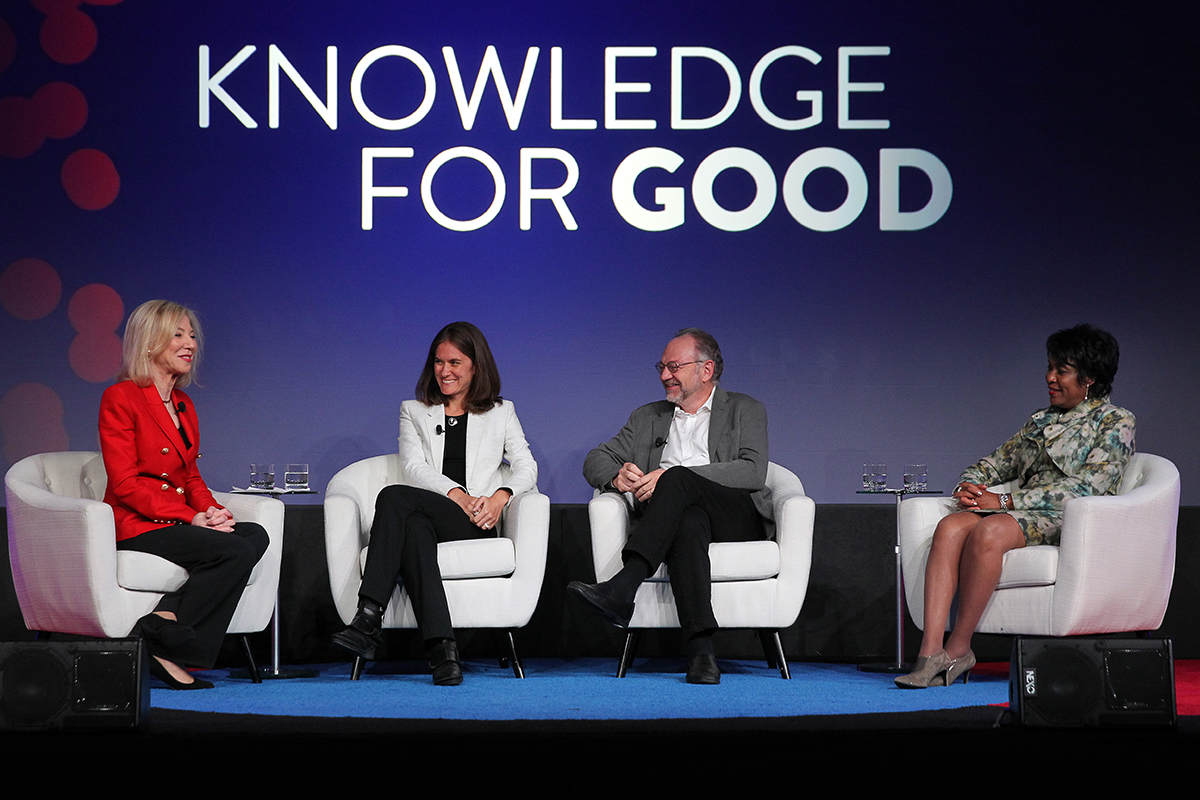 "Swing," a term used in crew, is when all rowers in the boat are in a near-perfect synchronization of motion. Without missing a beat, and only forward to go—together—it's an anecdote apt for describing Penn.
"A team is never more powerful than when it moves as one," said President Amy Gutmann, talking to a crowd in Los Angeles of more than 450 alumni, family, and friends, with an image of Penn's very own rowing team glowing on the big screen behind her. "Right here, today, Penn is in swing."
Although the University is firing on all cylinders—with ever-increasing financial aid for students, FDA approvals for cancer therapies, growing global engagement, innovative and bold campus plans, and much, much more—it's still ready and willing to press forward, Gutmann noted. Taking the University to the next level is the genesis of launching The Power of Penn, the University's new $4.1 billion campaign. 
"How much further can this University go?" said Jane Gutman, a 1973 graduate of what was then the College of Liberal Arts for Women. "It's extraordinary for someone who's been out a long time to see what other campaigns did to transform the University, and to think that it will continue to reach new heights with this one."
One of several Power of Penn celebrations being held in major cities across the globe, the inspiring kickoff event on Oct. 11 at the Beverly Wilshire in Beverly Hills, Calif., helped spread the word of Penn's ambitious priorities for an enhanced future of inclusivity, impact, and innovation. 
It also provided an opportunity for Los Angeles-based Penn alumni spanning generations to connect with each other, as well as thought-leaders at the University. Directors and deans in attendance were M. Grace Calhoun, director of Athletics and Recreation; Constantia Constantinou, the H. Carton Rogers III Vice Provost and Director of the Penn Libraries; Christopher Gruits, the executive and artistic director of the Annenberg Center for the Performing Arts; and J. Larry Jameson, the executive vice president of the University of Pennsylvania for the Health System and dean of Perelman School of Medicine.
A "Knowledge for Good" panel, moderated by an enthusiastic Gutmann, featured Emily Falk, Jonathan Moreno, and Vivian Gadsden, three faculty members at Penn who embody the University's varied culture of innovation and intellectual exploration.
"To them, the world's most pressing problems are challenges, invitations for action," said Gutmann.
Falk, who meshes communication, psychology, and marketing at the Annenberg School to explore how the human brain processes information, discussed her interest in encouraging healthy behavior by looking beyond the individual. Using tools like fMRIs, she and her team, which includes Danielle Bassett from the School of Engineering and Applied Science, try to measure what happens in the brain when a person is exposed to certain messaging, such as an anti-smoking campaign. On the other side, they are mapping people's social networks.
"By putting those kinds of pieces of the puzzle together, we can predict things in ways that weren't possible before," Falk said.
Her work resonated, in a way, with Carlos Herrera, who graduated in 1999 from what used to be the Executive Master's in Technology Management program—intertwining engineering and business.
"When Emily was talking, I was remembering my time with General Electric; I was exactly in that division that manufactures imaging equipment," he said. "So all the MRIs, all the CTs, ultrasounds, even back then I knew the impact we were having, but it's great to hear almost a decade later how the technology is used."
Herrera, a global program manager for Johnson & Johnson, compared Penn's collaboration with industry as part of the "swing" Gutmann mentioned. He noted, after the event, how the new JPod at the Pennovation Center will help his company better "bridge with the other side of research and innovation in academia."
Leanne Huebner, a 1990 Wharton graduate, said she enjoyed hearing especially from Moreno, the David and Lyn Silfen University Professor of Ethics and a Penn Integrates Knowledge (PIK) professor with appointments in the Perelman School of Medicine and School of Arts and Sciences. Moreno discussed the background for his forthcoming book, written with Gutmann, titled "Everybody Wants to Go to Heaven but Nobody Wants to Die: Bioethics and the Transformation of Healthcare in America," as well as his overall work, which inserts ethical, legal, and social issues into the national security conversation.
"For me, it showcased how diverse the innovation that Penn is going for is, and that it's clearly creating an environment that allows for big thinkers to achieve outside the typical silos of academia," Huebner said. "That's what I have always loved about the PIK professors. It's about solving the problem and it's not always going to be under one element, under one discipline."
Moreno, who recently received the American Society for Bioethics and Humanities' Lifetime Achievement Award, said one of the most rewarding aspects the PIK program, which will likely expand with The Power of Penn, is his ability to "cross disciplinary guardrails without guilt. … I'm doing what I'm expected to do."
At Penn since 1988, Gadsden, the William T. Carter Professor of Child Development and Education in the Graduate School of Education, has conducted research in areas that focus on cultural and social factors affecting learning and literacy across the life-course and within families, particularly those at the greatest risk for academic and social vulnerability. Among the many hats she wears, Gadsden co-directs the Penn Futures Project, which interconnects the Graduate School of Education, School of Social Policy & Practice, and the School of Nursing.
The Project, Gadsden explained, is twofold: Think about how graduate education can prepare students to do a better job at engaging the community, and do real research that can make a difference within communities.
"We have the ability to change what goes on in the lives of incredibly vulnerable children and their families," she said. "If we can have local impact, we will have national impact."
Gadsden's mission is particularly encouraging for Jonathan Seiffer, a 1993 graduate of Penn Engineering and Wharton. Chatting at the reception after the panel, he said, "One way to impact communities is through education, and it starts with research really. You can't do it without it."
Seiffler, who works in private equity, mentioned that he and his wife—a first-generation student—have continuously and happily supported the University's goals to improve the possibilities for education for traditionally underserved populations. He's proud, he said, to see the launch of Penn First Plus, the University's new initiative for first-generation students with high need.
"We will create a permanent home for these students in the heart of our campus and we will expand the all-around support that we offer," Gutmann said to the crowd, talking of Penn First Plus. 
Gutmann, a first-generation student herself, announced proudly that half of Penn's students receive financial aid, and "one in seven will be the first in their families to graduate from college."
Applause erupted as Gutmann continued, "That is the American dream."
Gutmann, noting that she's never quite seen such a vibrant congregation of Penn in Los Angeles, closed the evening with inspiring words.
"Penn people are people with fire in their eyes; they stand out in any crowd and they stand out in every possible good way," she said. "The power I've been talking about is here tonight. Everything Penn has done and, much more importantly, the world of good that we are poised to do, that begins at Penn.
"Together, truly, we are The Power of Penn."
Photos by Chris Farina