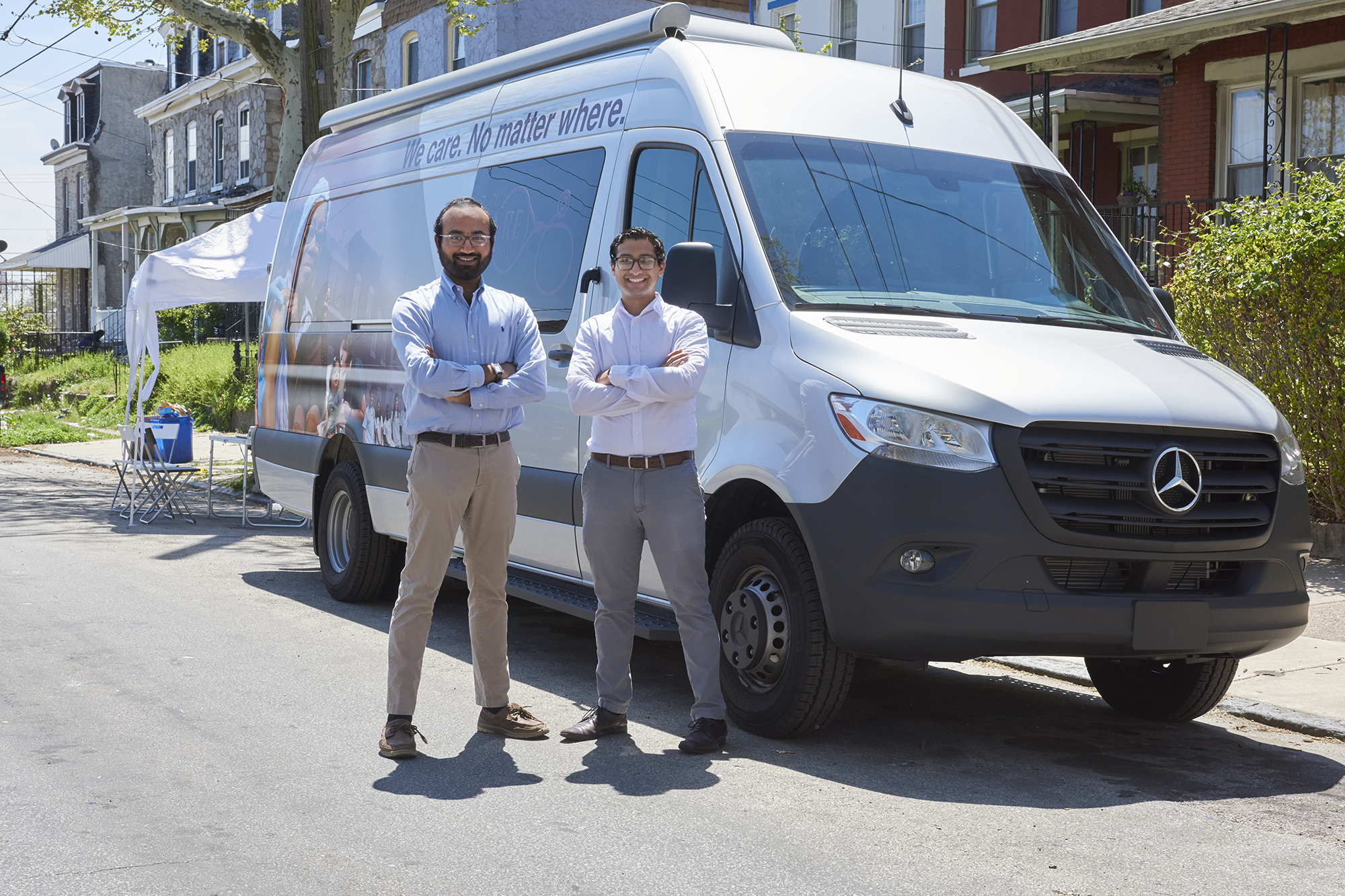 When Santosh Nori and Jay Shah came just short of winning the President's Engagement Prize in April 2019, they were disappointed—but, true to Penn's ethos of resilience, not defeated. 
"While we didn't receive funding, we became finalists and our project was sort of vetted by the entire process," explains Nori. "They got back to us saying, 'Hey, this is something that would definitely work.'"
Feeling determined, and encouraged by mentor Kent Bream, associate professor of family clinical medicine and community health at the Perelman School of Medicine, they kept pushing forward. Four months later, they received funding from Sayre Health Center—a full-service primary care operation in West Philadelphia—to support their primary care mobile clinic, designed to aid people in Philadelphia who are underserved. (The grant, applied for by Sayre, was received through the Health Resources and Services Administration.)
Sayre Mobile Clinic delivers primary care and clinical social work services to homeless shelters and food pantries in the city, as advised by the Philadelphia Office of Homeless Services and community leaders. The idea: Bring physicians to home- and food-insecure populations to develop patterns of consistent care that can fend off chronic conditions like hypertension and diabetes, as well as monitor behavioral health. (In addition to having a physician on the van, patients also see a licensed clinical social worker beforehand.) 
The duo, alongside Sayre physicians, has begun regular visits to five locations: Gaudenzia House of Passage, the Darlene Morris Shelter, SELF Inc. Outley House, Francis J. Myers Recreation Center, and Chosen 300 Ministries. Three more locations will receive assistance later this year. Their services, which have been looped into Sayre's long-term programming, target Philadelphia's homeless and food-insecure populations and aim to cultivate a healthier, happier, more equitable community in West Philadelphia.
The seed of the project was planted in conversations between Nori and Shah, who were roommates for three years at Penn during their undergraduate careers and both spent a lot of time engaging with the West Philadelphia community as clinic volunteers and, in Shah's case, as part of student government. They each agreed that, fundamentally, people should not struggle to access care because of their financial circumstances. And, crucially, they decided to do something about it. 
"[These people] have other needs to worry about like homelessness or just getting to a food shelter and having a lunch or dinner. So, we said 'What if we brought health care to them?'" explains Shah. "And so this is kind of an idea that was always in our minds as something we wanted to do at some point in our careers, and we didn't know we'd have the opportunity to do it now until we came across the President's Engagement Prize.
"We saw the opportunity that we didn't have to wait, that it was something we could do right now."
Though they did not receive funding, they credit Penn with instilling the spirit that ultimately brought the project to realization—identifying a problem and acting on a solution.
"A lot of students have ideas, and it's really exciting to have ideas, but the challenge is the reality that follows," says Bream. "What overcame my initial hesitations—I'm an eternal optimist, and they stuck around, so not only did they show hustle, but they also have commitment. They kept coming back; everyone has an idea, but not everyone has commitment, and they do and I think that was really valuable."
Bream is, in addition to being faculty at Penn Medicine, a medical director at Sayre. He encouraged Nori and Shah to collaborate on a $225,000 project grant, and they were awarded the funds in August 2019. They then piloted the program locally, analyzed community feedback, and proceeded to outfit the van as a medical office in March—right as the pandemic struck. 
COVID-19, then, pitched a curveball. The choice in front of them was whether to delay the program in light of the state-issued lockdowns and dangers of traveling to pick up the then-newly outfitted van in Indiana. They ultimately decided that underserved populations needed the van's care more than ever during the pandemic—especially as they lacked access to telehealth—and they made the risky trip to Indiana to secure the vehicle, alongside Bream. 
"I was impressed by their recognition during COVID that even though it was happening and shutting things down, the homeless population still needed care and they doubled down," says Bream. "Their parents told them to come home and they said, 'No.' They'd provide in-person care to those who need it and they did. That's an incredible part of the story and when they first contacted me, we didn't know that would be part of this story.
"When real people needed real care, they doubled down and there they were."
They began trips to shelters and pantries two days after retrieving the van. 
One shelter that receives visits from the van is Outley House. Frank Richardson, program manager at the emergency housing shelter, emphasized the tremendous need shelters have for consistent health care providers.  
"The WHO and CDC and a lot of their materials talk about social determinants of health, and with homeless populations and especially single men, one of those determinants is access to health care, and so one of the issues these men share—some or most of them—is access to transportation as well as access to health care," Richardson says. "So, one without the other, you need both in order to be successful. This mobile med coming here to our site where our participants only have to walk out the door makes it very convenient and easy for them."
The van sees about a dozen participants each time it arrives—twice per week. Richardson says that the shelter receives about 15 to 20 new intakes each week and it has become a standard to make sure they see the physicians on the van as soon as they can upon arrival. Shelter intakes otherwise would see a single RN, he says, who visits regularly but is limited in what they can offer. "The mobile med takes it a step further," he says. Eighty percent of individuals in shelters like Outley's, he says, otherwise seek medical care from emergency rooms and unnecessarily inundate 9-1-1 lines. 
"Programs like this can alleviate all that and help that system thrive and be more responsive to the needs of residents of Philadelphia," he says. 
Richardson adds that the mobile clinic is needed more than ever during the pandemic, as his shelter exists in a neighborhood with a high rate of infection and the people who reside in the shelter are statistically more likely to be infected. "There is a need for something like this to reduce the spread," he says. (He further notes that new intakes are quarantined for testing before being admitted into the general population of the shelter; the presence of the mobile clinic speeds up that process.) 
The mobile clinic will live on past the involvement of Nori and Shah, who are dispersing to medical schools elsewhere in the country. A new program coordinator has been hired at Sayre to replace them and Penn students will be joining the program as volunteers as safety permits.
Ultimately, they say, studying in an environment that exposed them to the West Philadelphia community was an immeasurable factor to how the project evolved from conversational observation to real-life difference. Engaging with the community as students and being immersed in a can-do academic culture made the van—and the patients' care—possible. 
"Penn has a great culture of telling their students 'Hey, you want to do something? Make an impact? Don't wait. Find the resources and we'll do this now," says Nori. "Having that culture and being in an environment with a lot of like-minded students focused on creating initiatives of value in the community, and sort of being self-starters and ready to serve, that really helped us."