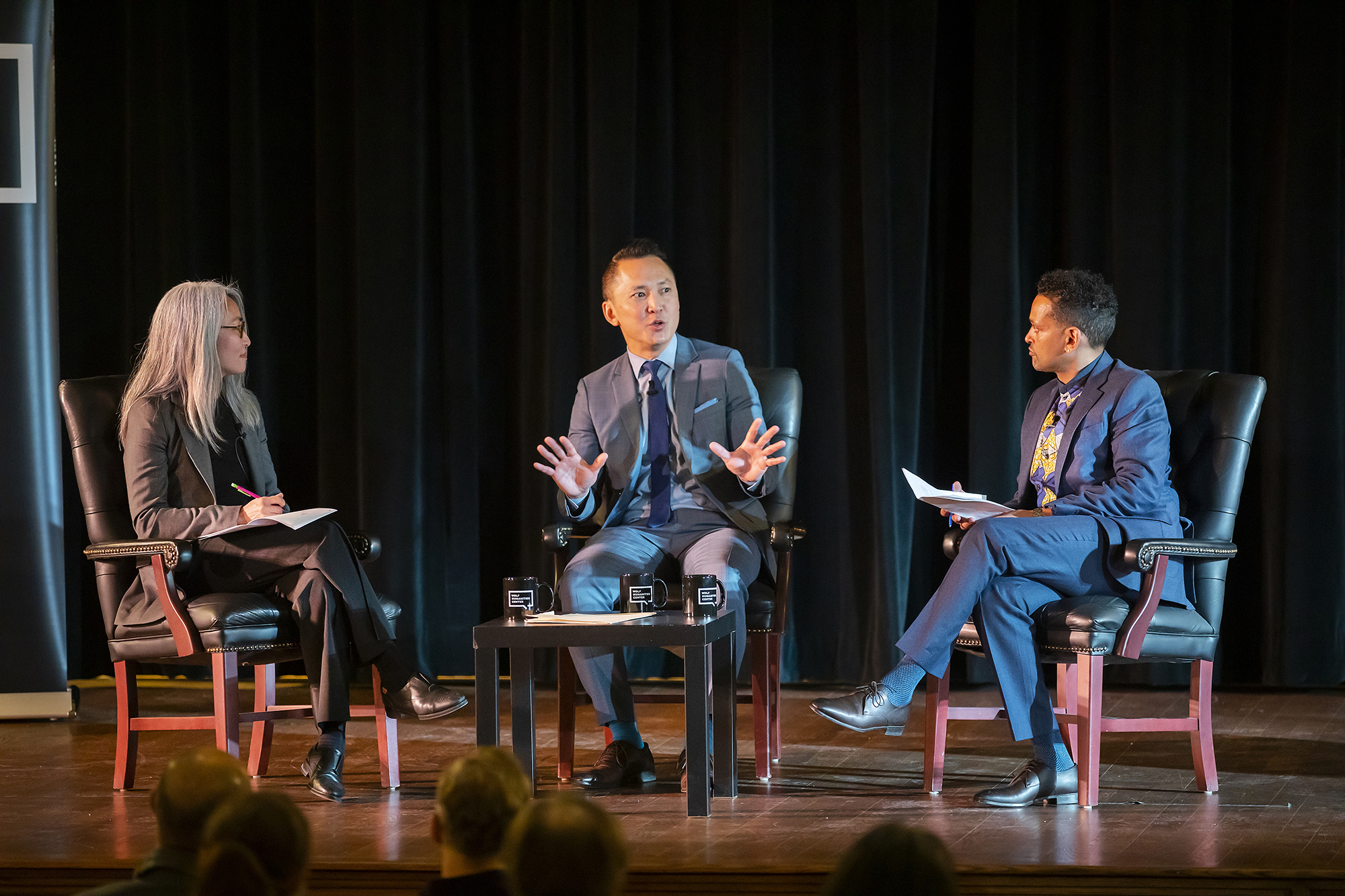 As part of its "Migrations" theme year, the Wolf Humanities Center welcomed Pulitzer Prize-winning author and University of California Professor Viet Thanh Nguyen for a conversation with Dagmawi Woubshet, the Ahuja Family Presidential Associate Professor of English and topics director for Wolf Humanities, and Josephine Park, a professor of English. 
"When we were curating the series of public events, we immediately thought about Viet because both his fiction and non-fiction writings address the topic of war and migration with complexity and rigor, fearlessness and compassion, and wild imagination," says Woubshet of why Wolf Humanities thought to invite Nguyen. "His work is all the more resonant today with what's taking place not just in Ukraine but many other parts of the word where wars are raging and, as a result, millions of people are being forcibly displaced."
Following an introduction by Jamal J. Elias, director of Wolf Humanities, Nguyen read two excerpts from his novels "The Committed," released in 2021, and its predecessor "The Sympathizer," which won the Pulitzer Prize for fiction in 2016. The novels follow an unnamed double agent during and following the Vietnam War who is the son of a Vietnamese mother and French father; the protagonist works for the South Vietnamese army while spying for revolutionary North Vietnam, all the while navigating close friendships he's made with those he's meant to oppose. 
Though "The Sympathizer" is often described as a war novel, it's also undeniably wry. Fielding a question from Park about the sense of humor in the novel, Nguyen addressed how he was able to merge his academic self—critical, knowledgeable, and "repressed," as he lightheartedly put it—with his creative self.
"Everything that I've learned in academia in terms of critical theory, research, war, literature, and everything we know that's interesting to us, and not necessarily outside of academia, I was able to turn into a fictional set of devices in these novels, and that's where the humor comes from," Nguyen said.
"My attempt is to try to apply our critical thinking to situations both tragic and absurd, because that's what I think war can [be], what these experiences are: They're tragedies but also absurd. What's happening in Ukraine is absurd, but also horrifying and tragic at the same time."
The story is also, Nguyen said, one of multitudes. He wanted to create a character who could represent himself as both "an individual and as a collective," he said. 
"On one hand, [Asian people] are perceived by the so-called majority as multitudinous: there are too many of you out here, and yet you're all the same," he said. "So, I wanted a character who was the embodiment of multitudes and yet uniquely singular."
He explained that he created a persona in the novels who could play out the theoretical thinking of academia in fictional settings—albeit historical ones. "The Sympathizer" takes place in Vietnam and the United States, while "The Committed" sees the character confront his French-colonial roots in Paris.
Part of this decision to set the novel in France was personal, he explains, because of his own family's Vietnamese and French backgrounds. Nguyen and his family were Vietnamese refugees during the Vietnam War; Nguyen arrived in the U.S. at 4 years old.
"I wanted to confront my own mental colonization under French culture," Nguyen said. "My parents were born in the 1930s and my father is still alive, but he had a French education, and even at 88 years old he can still remember some French songs he had to sing from that period—and will torture me with them over dinner."
He recalled the feeling of growing up "under the shadow of [French colonization] as a French Vietnamese person," noting that French influences can be found everywhere in Vietnamese culture and language. He noted that this is true of other imperial powers as well, including the former Great Britain and the U.S. 
In offering advice to writers, he recommended always having another project lined up after one is completed—and staying true to your convictions. 
"I think what's important for me to say about 'The Sympathizer' is that it's a novel written completely and purely out of my passions, and out of my refusal to heed expectations of others," he said, citing how his book differed from other accounts of the Vietnam War—and that 13 out of 14 publishers rejected his manuscript. 
Finally, he advocated for remembering the historical contexts surrounding conflicts happening in places like Ukraine and Afghanistan. He described this as a tension between short-term and long-term memory. He also cautioned against the "highly politicized" treatment of refugees, noting that the portrayal of Ukrainian refugees has been different from that of Afghani refugees after the American withdrawal in summer 2021. 
Moving forward, Nguyen said he's working on a third novel in his "Sympathizer" trilogy, a memoir, and is currently reading scripts for the HBO adaptation of "The Sympathizer."