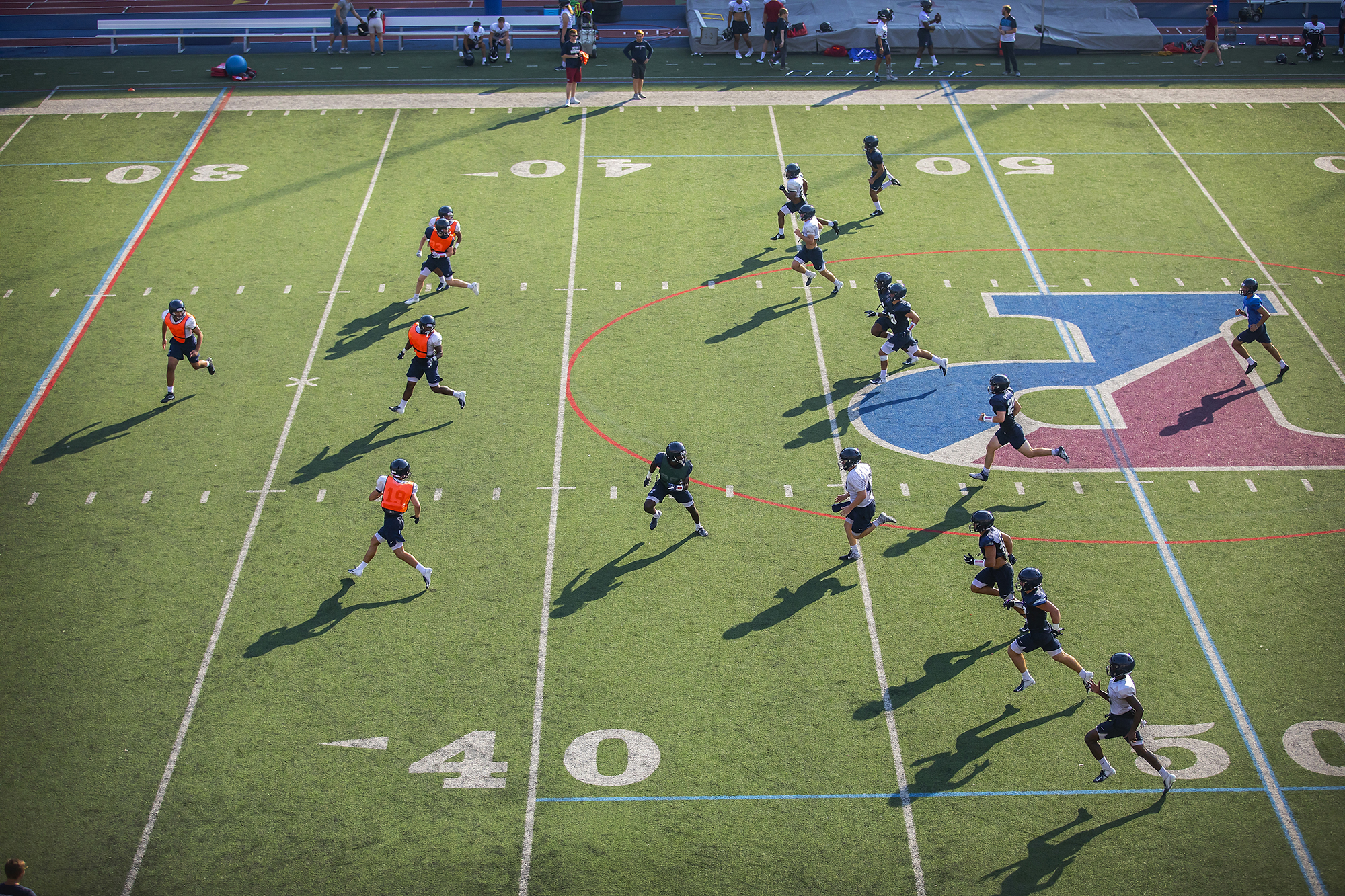 Five times in the last 10 years, and nine times in the last 21, the Penn football team has won the Ivy League Championship. 
The 2018 season was one of the occasional instances when they did not. The team finished 6-4 overall and 3-4 in conference play.
On Aug. 22, the Quakers huddled up for their first day of training camp, aiming to resume their championship-winning ways. The 2019 season begins on Saturday, Sept. 21, versus No. 20 Delaware at Newark's Delaware Stadium.
Boasting veterans aplenty, the 2019 Quakers feature senior running back Karekin Brooks, a Second-Team All-Ivy selection last year and the team's leading rusher; senior safety Jacob Martin, a 2018 All-Ivy honorable mention; sophomore cornerback Mohammed Diakite, also a 2018 All-Ivy honorable mention; fifth-year senior and defensive back Sam Philippi, who missed last season due to a hip injury; and senior Nick Robinson, who has taken over as the starting quarterback. Brooks and Philippi are co-captains. 
Players took part in a Blue vs. White scrimmage on Day 17 of training camp at Franklin Field. Speaking with the media after practice, Ray Priore, the George A. Munger Head Coach, said so far, he likes what he's seen.
"The kids are very, very competitive, very, very focused, and working hard," he said.
Of the 33 freshmen on the team, Priore said camp standouts included defensive back Jaden Key, defensive back Kendren Smith, and offensive lineman Ben Hoitink.
Brooks, who rushed for 898 yards and eight touchdowns in 2018, said he felt "good" and "excited" for the season, with a focus on building off the progress he made last year, such as becoming a better pass protector and route runner. 
He said he enjoys learning and implementing the new offensive system.
 
"There's a lot more variety to it," Brooks said. "We can do a bunch of different things at a bunch of different positions."
On the defensive front, the Quakers return junior David Ryslik, senior Prince Emili, senior Taheeb Sonekan, and junior Benji Mowatt. Replacing all-world linebacker Nick Miller in the middle is junior Brian O'Neill.
Philippi, a Second-Team All-Ivy selection in 2015 and 2016, said he's happy to be back on the field. He spent the summer doing physical therapy at least three days a week in order to ensure he'd be ready for the season.
"We have a lot of talent coming back," he said. "Right now, we're looking fast, everybody's flying around. I think that everybody's really bringing a good energy and mindset to the table right now. I think we rarely have unenergetic practices. Everybody comes out with energy every day and a good attitude every day, and I think that's going to take us a long way this season."
He said his No. 1 goal for the season is to win another Ivy League Championship ring, to go along with his 2015 and 2016 titles. 
"I just want to be able to make the guys around me better, too," he said. "Another [goal] is definitely to have fun—but winning's fun."