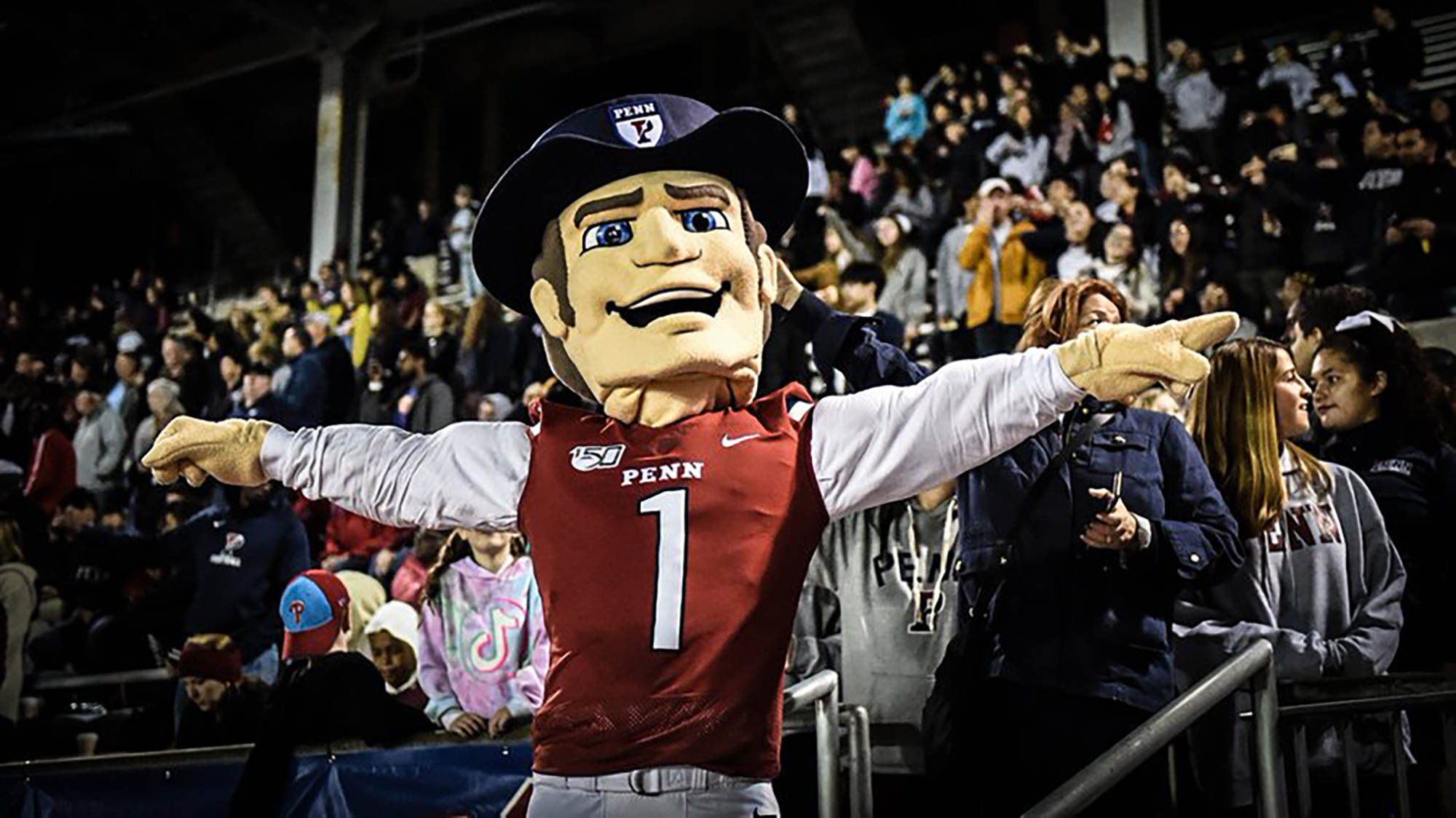 Dripping in throwback red jerseys and helmets inspired by uniforms worn in the 1970s, the Penn football team weren't the only ones stylin' and profilin' on Friday evening against Dartmouth at Franklin Field. Making his world premiere at the game was the new and upgraded Quaker mascot.
The Quaker has been completely redesigned, with a fresh face, a stylish new hat, and most notably, a collection of spiffy new clothes. Gone are the standard red and blue hat and sweater vest, red trousers, and puffy white shirt; the contemporary Quaker has a closet full of new outfits, including a football jersey, football pants, a basketball jersey, sneakers, and street clothes.
Denise Fitzpatrick, assistant athletic director, marketing and fan engagement at Penn Athletics, says they decided to update the Quaker because the previous suit was old, torn, outdated, and in need of constant repairs. The multi-year process of selecting the look of the new Quaker included senior leadership in Athletics and the University, and campus partners.
"When we were looking at options, we wanted something that could be a little more modern, a little more evolved, as well as something that we could build some personality behind," she says. "We wanted a suit that could do more than only have one outfit. He's going to have some outfit change options, which is awesome."
Fitzpatrick says the students who anonymously portray the Quaker have stated that they want to be a larger part of University life and connect better with fans, the community, and students. Accordingly, the Quaker will be seen around campus more often, be more involved in-game, and have increased interaction with fans in-game. He also has a new social media presence, an Instagram account at @Penn_Quaker.
Jessica Stilwell, head coach of the cheerleading team, of which the Quaker is a member, says the mascot's ability to change outfits is the most significant modification.
"He can actually be a part of the game and a part of the team as opposed to just being a bystander and cheering on the team," she says.
Stilwell and Fitzpatrick say Athletics is aiming for a bolder, stronger look for the Quaker, as opposed to the super-friendly Quaker of old.
One of their student staff members who got a sneak preview of the Quaker before the official unveiling remarked, "Oh my god, he actually looks tough." 
"I hope that's everyone's reaction," Fitzpatrick says.