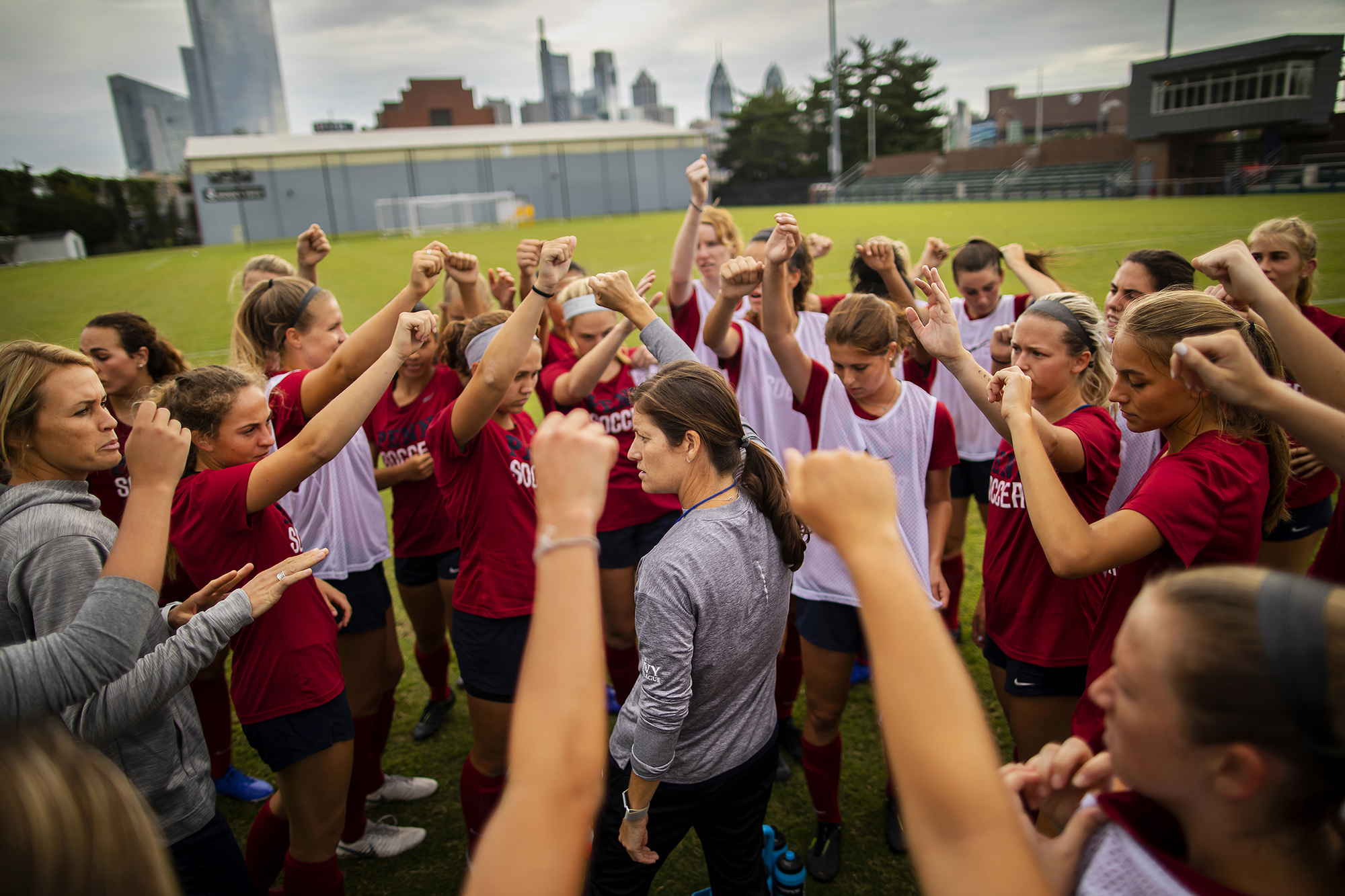 Last year's women's soccer team finished the season with a 13-2-1 record, the third-most wins in school history. They won 12 straight games, matching the longest streak in the history of the program. Together with Princeton, they were co-champions of the Ivy League, their first conference title in eight years.
But the Quakers are not the least bit satisfied.
"Ultimately, we look at last season as a building block because the ultimate prize is being one of 64 teams playing in the NCAA Tournament," says Nicole Van Dyke, the Douglas N. Brush Head Coach of Women's Soccer. "So if you ask us, last year was great, but it was a tad disappointing."
The Red & Blue begin their quest to win the undisputed 2019 Ivy League title and advance to the NCAA Tournament on Friday, Aug. 30, against No. 3-ranked Stanford in California, where Van Dyke was previously an assistant coach.
Van Dyke says preparations for the season started the second last season ended. Preseason practice opened on Aug. 20 with two-a-days at Penn Park. Seven talented freshmen have joined the squad, which features eight returning starters, including senior goalkeeper Kitty Qu, the two-time Ivy League Goalkeeper of the Year; senior forward Emily Sands, a two-time First-Team All-Ivy selection; senior midfielder Megan Lloyd; and junior defender Chase Geffert, both All-Ivy honorable mentions.
Qu anchored a defense that gave up only five goals last year and led the country in goals-against average. With four of the Quakers' five back players returning, she says the aim is to top last season's successes.
"We had a great defense last year. We didn't let in that many goals, so [our goal is] keeping that as part of our identity," Qu says. "We always have this saying, 'No shots, no crosses, no corners,' and just kind of passing that along to the younger kids, making sure they keep that as part of what defines Penn women's soccer. Rhodes is a fortress. We don't want to let them score here. We don't want to let them score ever."
Sands, the leading scorer on last year's team, says the group is really excited about the new crop of first-year players. 
"The freshmen have really bought in and are really clicking with the team already at this early stage, and I think everyone's super pumped for that," she says.
The Quakers return more than 80 percent of their scoring from last season. Sands says while it does add a little more confidence in their scoring ability, the past is history.
"It's like what have you done for me lately?" she says. "All that stuff last year doesn't matter at all."
Both Sands and Qu say in addition to winning the Ivy League outright and an NCAA Tournament game, their personal goals for the season are to beat Princeton, which they have yet to do in their Penn career. 
The Red & Blue battle the Tigers on Nov. 9 at Rhodes Field, the final game of the regular season.
Other games of note include a Sept. 20 matchup at home against Hofstra, an NCAA Tournament team last year, a Sept. 22 contest versus Temple at home, and a Sept. 28 battle against Harvard in Massachusetts.