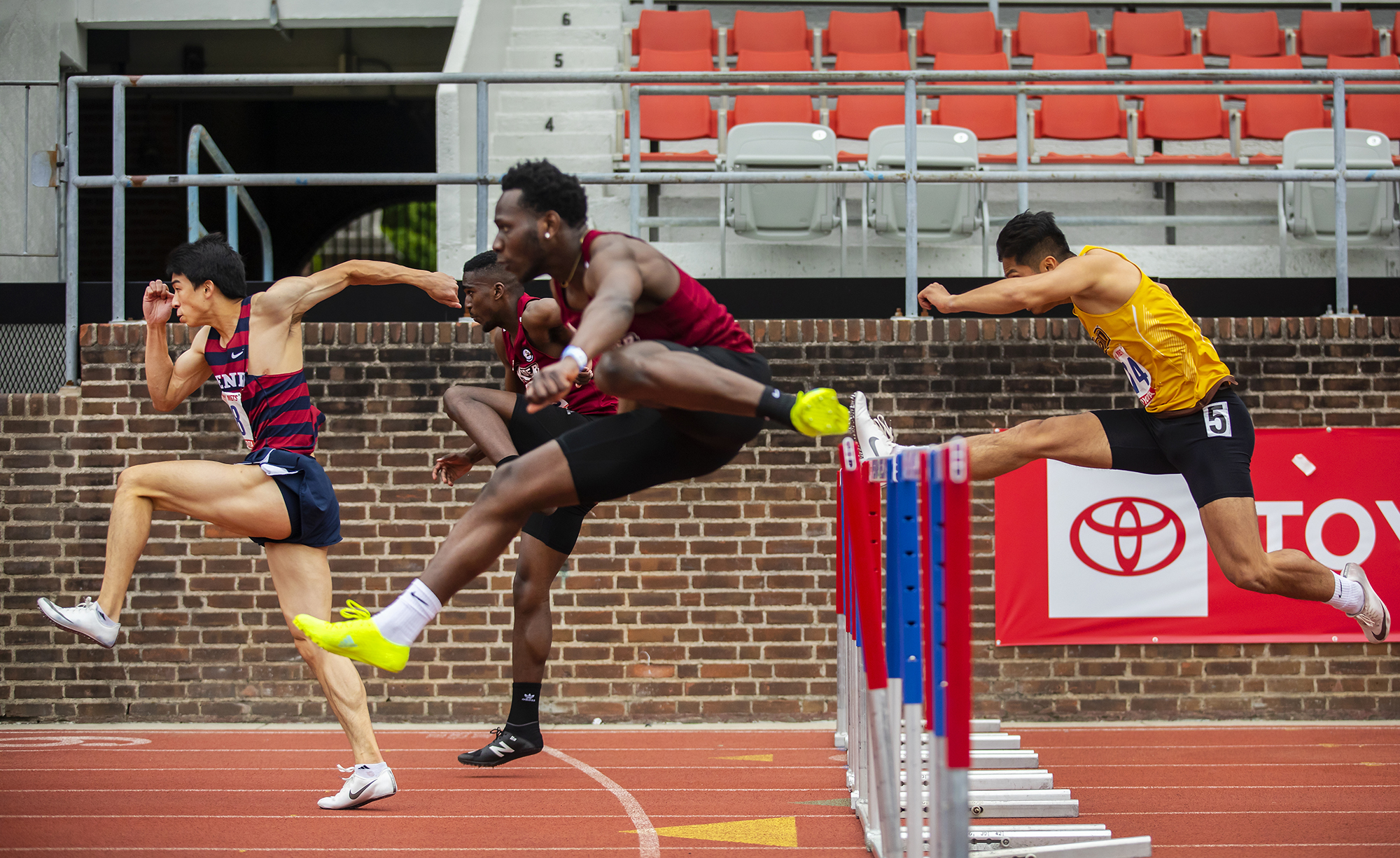 It wasn't the Penn Relays and there were no fans, but the Penn track and field teams still put up crowd-pleasing performances. The Quakers were one of 18 local teams who competed in the Philadelphia Metropolitan Collegiate Invitational on Saturday at Franklin Field, and placed first in a slew of events.
On the women's side, senior Ashley Anumba reigned supreme in the discus with a throw of 55.99 meters (183 feet, 8 inches), a mark that puts her in the top 15 in the country this season. For her feat, she was named the Female Field Athlete of the Day.
With a time of 59.62 seconds, junior Haley Rizek won the 400 meter hurdles, the third-fastest mark in school history.
Freshman Fabianna Szorenyi, junior Ellen Byrnes, sophomore Nikhila Obbineni, and junior Caroline O'Sullivan finished first in the 4x800 meter relay with a time of 9:04.47.
In the long jump, senior captain Camille Dickson leaped to first place with a mark of 6.24 meters (20 feet, 5.75 inches), which broke her own school record. In the triple jump, junior Tamara Grahovac triumphed with a mark of 12.19 meters (40 feet).
On the men's side, senior Chudi Ikpeazu won the discus with a throw of 58.42 meters (191 feet, 8 inches), second-best in school history and one of top 10 marks in the nation this season. For his feat, he was named Male Field Athlete of the Day.
Sophomore Michael Keehan was the victor in the steeplechase with a time of 8:48.54, one of the top 10 times in Division I this season. His achievement was selected Moment of the Meet.
In the 4x400 relay, the all-sophomore team of Alex Ruhl, Emerson Douds, Antaures Jackson, and Robbie Ruppel won with a time of 3:12.16.
Sophomore Olatide Abinusawa was tops in the shot put with a throw of 15.79 meters (51 feet, 9.75 inches). Ben Kioko won the javelin with a toss of 60.28 meters (197 feet, 9 inches).
Freshman Justin Iler won the 5,000-meter with a time of 14:22.62. In the 110-meter hurdles, Enoch Cheung was victorious with a time of 14.68.
In the pole vault, Scott Toney won with a clearance of 4.85 meters (15 feet, 11 inches).
On deck for the Quakers is the Penn Twilight on Friday, April 30, at Franklin Field.