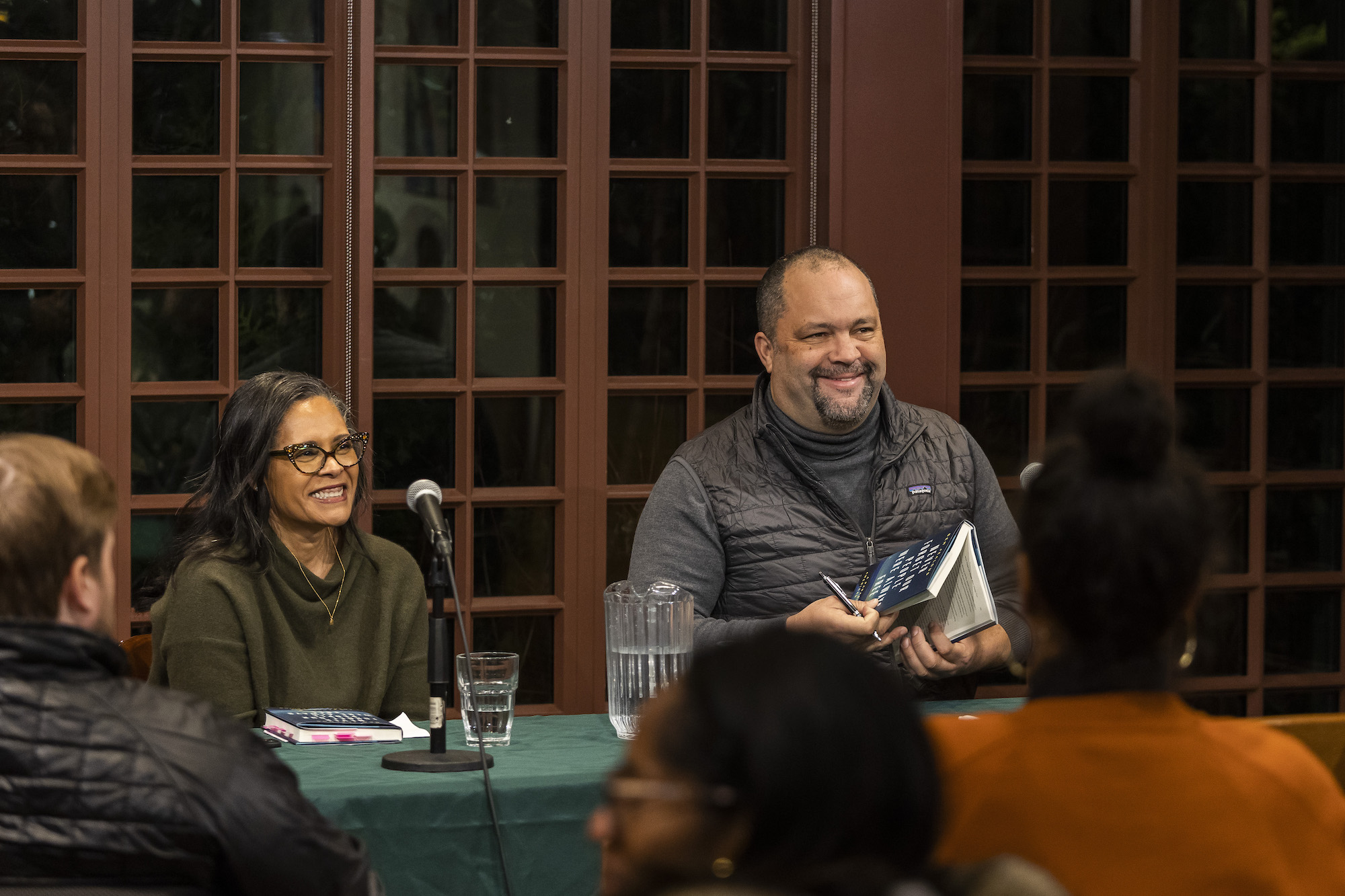 As a child, Ben Jealous got into what his grandmother hoped would be his first—and last—fight. "My first response to having to deal with a racist in the little town that I grew up in was to jump him when he was on roller skates," he said. 
"Oh, baby, just feel sorry for them," his grandmother responded. "For some people, just having to be themselves is punishment itself." This response, Jealous said, started a line of inquiry about "the other side of that hate equation." It made him curious and, ultimately, empathetic.
Jealous, a professor of practice at the University of Pennsylvania, recounted the story at "Beyond America's Racial Fault Line," a Feb. 1 event at Kelly Writers House in conversation with Camille Z. Charles, the Walter H. and Leonore C. Annenberg Professor in the Social Sciences. The event was co-sponsored by the School of Social Policy & Practice, Kelly Writers House, and the Center for Africana Studies. Jealous, discussed race, politics, and his new book, "Never Forget We Were Always Free: A Parable of American Healing."
Sara S. Bachman, dean of the School of Social Policy & Practice, introduced Jealous. Like his book, "Ben embodies hope," she said. "He helps us to see the path forward."
Jealous said that in the South the trauma of slavery, racism, and Jim Crow rises to the surface for everyone, both the descendants of Klansmen and the descendants of enslaved people. "We're all dealing with the same struggle," he said. White and Black Americans don't have to be at political odds; in fact, they're facing some of the same issues, he said. "It's time we start talking about the universality of poverty, addiction, and handgun deaths in American communities." 
Charles, a self-identified pessimist, asked Jealous how he maintains his optimism in the face of an increasingly polarized political landscape and how he talks about this with young people. 
He came by that optimism honestly, he said. Jealous' worldview was shaped by his grandmother Mamie B. Todd, who commuted from West Baltimore to West Philadelphia to attend the School of Social Policy & Practice at a time when the University of Maryland refused to admit Black students. After graduating in 1953 with a degree in social work, Todd went on to set up Child Protective Services in Baltimore with a campaign against gentlemen's clubs that were sexually exploiting teens, Jealous said. "She was a force of nature. Penn helped accelerate that."
Jealous also takes the long view. "I am optimistic ultimately because I choose to look at history in centuries and not in days or years or decades," Jealous said. "This time, it's actually based on numbers."
U.S. Census projections estimate that by 2045, those who identify only as white will be in the minority. Racial and ethnic diversity is on the rise, Jealous said. "The numbers lead us toward a place where we're going to have to figure out how to get along with one group, if not two," he said.
Racism's legacy has led to a depiction of Black people as the portrait of violence, addiction, and poverty, he said. Yet poverty and trauma cut through a wide swath of Americans. The largest group of people who benefitted from welfare? Working-class white people. The group most susceptible to opioid addition? Older adults and those with disabilities. 
"Ask almost any American what group has died most frequently from bullets and how, and they will answer, 'Young Black men from homicide.' The answer is actually: old white men from suicide," Jealous said.
And yet, Charles said, "we have not been able to translate that into anything meaningful." How does a universal policy response gain traction? she asked.
Media—and images in particular—are a big part of that answer, Jealous said, citing drug use and the opioid crisis. Visually showing the full face of the problem and the diversity of people affected shifted public response to the opioid crisis, he said. 
"We have to own how powerful media is in our public debate," Jealous said. "One thing we can do is really insist that media actually show, in a representative way, the class of people that we're talking about. If we're talking about crack addiction, there are stats on who uses crack in America; make sure your images reflect that. If we're talking about poverty, there are stats; make sure they reflect the fact that there are twice as many—almost—whites in poverty as Blacks."
History is another way to bridge the divide, Jealous said. From America's earliest beginnings, white indentured servants and enslaved Africans rebelled together, he said. In the late 1600s and early 1700s, the number of enslaved Africans and indentured Europeans was significant, Jealous said. 
"If those two groups kept coming together, it could just kill the entire colonial enterprise," he said. Culture was used to divide the two groups. "Except that it follows that everybody who is divided is hurt," Jealous said, "because they aren't able to get a big enough group to assert the demand for a better life."  
People continued to come together across racial lines during the American Revolution. In the Boston Massacre, John Adams described the crowd consisting of "negros, mulattos, and Jack Tars," a term for poor white men in the United States Navy, Jealous said.
"Nobody thinks of the Boston Massacre of looking something like a Black Panthers rally, but that's what he described. And why is that important? Because there's a whole history at the bottom of the economy of Blacks and whites coming together that we're not taught. And it only seems to accelerate throughout American history," Jealous said, citing examples from the post-Reconstruction period and the Civil Rights Movement. "I don't think you can keep those two groups apart forever."
At the event's close, Jealous fielded audience questions covering the Rainbow Coalition, gun violence, and storytelling. Jealous' book is constructed as a series of parables, and Jealous was asked about crafting a story to mobilize a lesson. 
"I realized that if I was going to write a book, I needed to write a book that I could hand to my white uncle who watches Fox and that I can hand to my Black niece who, man… She only has one truth, and you better agree with it." Jealous said.
He finally sat down and crafted an arc in 23 chapters, Jealous said, thinking of his grandmother, a storyteller in the Southern tradition, and Frederick Douglass, who composed his books as a series of separate speeches. 
Jealous lined up his bobblehead dolls and gave 23 speeches addressed to the nodding figures on his desk.
"That's the look behind the scenes," he said. "It was me talking to my computer, trying to get out a message to try to help hold my family together and this country together."
 
Ben Jealous is professor of practice at the School of Social Policy & Practice, Annenberg School for Communication, and School of Arts & Sciences, as well as distinguished visiting fellow at Penn Carey Law and executive director of the Sierra Club.
Camille Z. Charles is the Walter H. and Leonore C. Annenberg Professor in the Social Sciences and professor of sociology, Africana studies and education in the School of Arts & Sciences; faculty co-director of Penn First Plus; and director of the Center for Africana Studies Summer Institute for Pre-Freshmen.