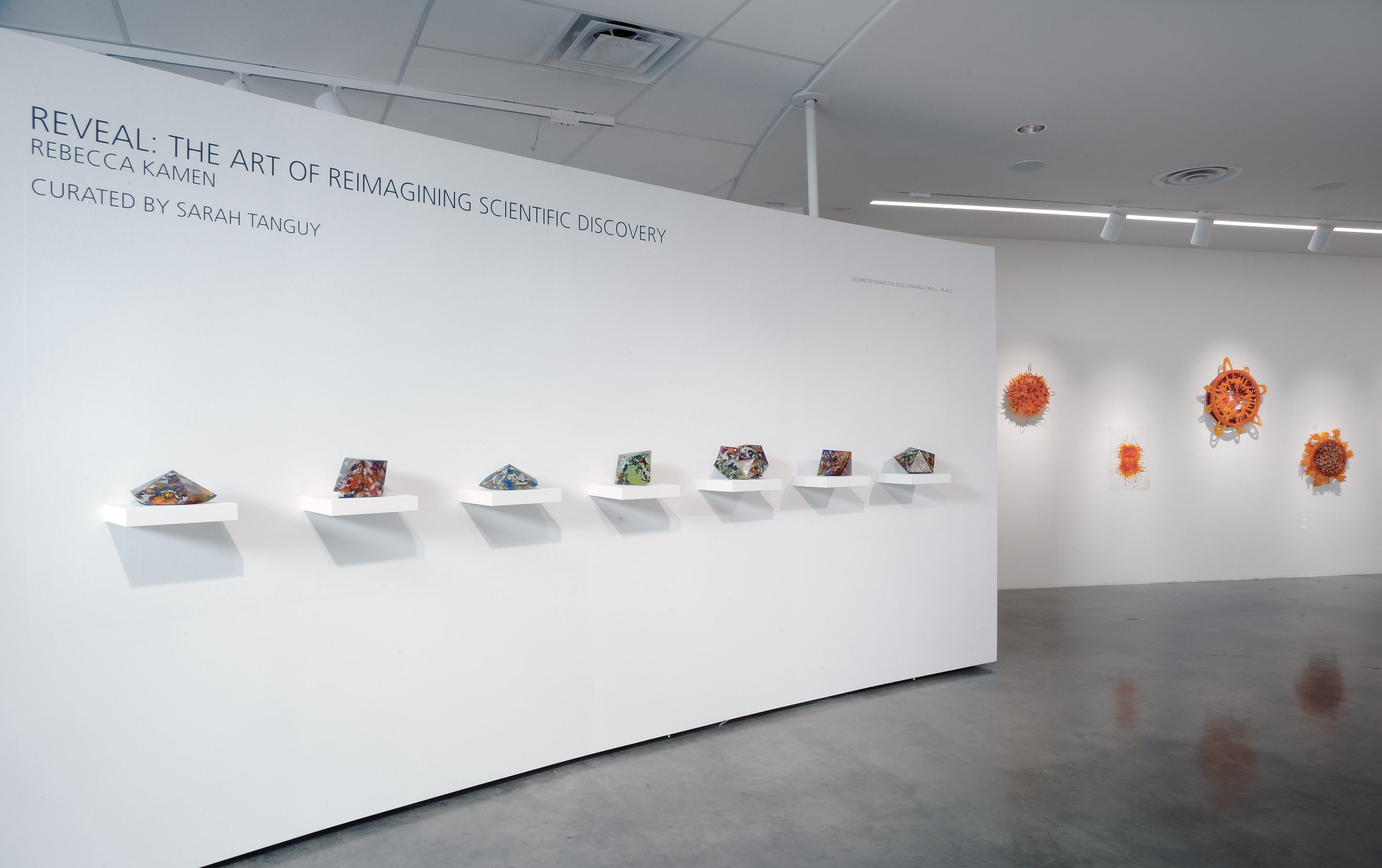 Rebecca Kamen, Penn artist-in-residence and visiting scholar, has long been interested in science and the natural world. As a Philadelphia native and an artist with a 40-plus-year career, her intersectional work sheds light on the process of scientific discovery and its connections to art, with previous exhibitions that celebrate Apollo 11's "spirit of exploration and discovery" to new representations of the periodic table of elements.
Now, in her latest exhibition, Kamen has created a series of pieces that highlight how the creative processes in art and science are interconnected. In "Reveal: The Art of Reimagining Scientific Discovery," Kamen chronicles her own artistic process while providing a space for self-reflection that enables viewers to see the relationship between science, art, and their own creativity.
The exhibit, on display at the American University Museum at the Katzen Arts Center, was inspired by the work of Penn professor Dani Bassett and American University professor Perry Zurn, the exhibit's faculty sponsor. The culmination of three years of work, "Reveal" features collaborations with a wide range of scientists, including philosophers at American University, microscopists at the National Institutes of Health studying SARS-CoV-2 , and researchers in Penn's Complex Systems Lab and the Addiction, Health, and Adolescence (AHA!) Lab.
Curious about curiosity
"Curiosity is a bridge between art and science, a catalyst that informs and inspires both artists and scientists," says Kamen about her interest in curiosity. "I'm very interested in the creative process in art and science and have discovered through lecturing and working with scientists, their process of discovery is very similar to mine as an artist."
In 2018, Kamen was invited to be a guest lecturer in Penn's Network Visualization Program, an art and science program for college and high school students that was led by Bassett. After connecting over their mutual interests, Bassett introduced Kamen to David Lydon-Staley, then a postdoc in Bassett's lab and now an assistant professor in the Annenberg School for Communication, who then began a collaboration toward understanding curiosity.
To do this, the researchers used a framework established by Bassett, Zurn, and Lydon-Staley to measure and describe types of curiosity. Their findings on knowledge networks were published in Nature last November. It showed these knowledge networks use Wikipedia browsing styles to determine if a person is a "hunter," a person who is very systematic in their searching, or a "busybody," a person who is content to explore information more randomly.
As part of their collaboration, Lydon-Staley conducted interviews with Kamen about how she created art. The researchers then used the interview transcripts to create a dataset consisting of the topics Kamen highlighted in the interviews and the extent of conceptual similarity between each topic. Next Dale Zhou, a neuroscience Ph.D. candidate at Penn and second author on the Nature paper, created a visualization that depicts Kamen's idea-generating process.
"In neuroscience, a compelling line of research is reward-driven decision-making, or how much people's actions are sensitive to extrinsic reward," Zhou says about curiosity as a field of research. "I was interested in curiosity as an intrinsic motivation, a reward that's more separated from concrete or tangible ones. The world is complex, and curiosity is thought to be a way to manage that complexity by exploring the unfamiliar, even without promise of immediate use or overt value."
The collaboration with Kamen is the first time that researchers in the Complex Systems Lab and the AHA! Lab have done an individual case study to define what a person's curiosity looks like, with Lydon-Staley saying that their analysis shows that Kamen tends to make large leaps between seemingly disparate ideas. "This isn't just about information seeking in the way it is for the hunters and the busybodies. This is jumping across networks and pulling pieces of information together to make something new, like a work of art," says Lydon-Staley. "I think that's why Rebecca's art is so engaging because it takes disparate concepts and creates something new and interesting out of them."
"Rebecca is a very visual thinker, and things are always evolving on paper or in her hands," says Bassett. "When David and Dale started to show how she was speaking about her process and how that could be visualized, I think it was really eye opening that her process is not just the changing of substances but is also the changing of concepts in her mind."
Working through personal and global crises
While working with researchers at American University for the exhibition during the fall of 2019, Kamen experienced a bout of vertigo and was later diagnosed with a brain tumor on her optic nerve. Then, months after her surgery, the COVID-19 pandemic hit. Kamen found that working on this exhibit was a way to make both a personal and global crisis less terrifying, expanding the breadth of the exhibit by reaching out to scientists working on SARS-CoV-2, the virus that causes COVID-19, and continuing collaborations over Zoom.
"I felt compelled to continue to create art for this exhibit in the midst of the pandemic, since my way of dealing with crisis is to see it as an opportunity," she says. "Like everyone else, I felt a sense of uncertainity. I was recovering from brain surgery, plus the pandemic, but being curious I thought, 'Just, stand back and see what you can discover because this is going to be the core of your exhibition,' and it continues to take me on this incredible journey of discovery."
A journey through the process of discovery
Kamen describes the exhibition space as "intimate," appropriate for pieces that provide insights into both the creative process as a whole as well as Kamen's own approach to developing works of art. "I'm inviting people to enter my process of discovery, and I'm hoping it will be a catalyst for them to be curious and think about their process of discovery," she says.
The exhibit begins with two "cabinets of curiosities" (Kunstkammer in German) full of unique objects from Kamen's personal collection that inspire her work daily. "When you enter an exhibition with objects that are both curious and familiar, it invokes an invitation to start processing aspects of your life," she says.
Next is "Sparking Curiosity," two visualizations created by Zhou that depict Kamen's creative process. The installation includes both a 50x50-inch static network visualization as well as a video that shows how Kamen travels between different ideas. "Reveal" also includes a series of paintings from when Kamen was experiencing episodes of double vision after her surgery, as well as pieces that explore global warming, neuroscience, quantum mechanics, and corona at the micro and macro level.
The exhibition ends with "Silent Spread," a large installation of 28 sculptures inspired by the migratory pattern of COVID-19. Breath artist Dominic Shodekeh Talifero composed a complementary soundscape that reimagines the individual sculptures as a cycle of expanding and contracting breaths that Kamen says "adds a whole other dimension of how you understand the coronavirus."
Reconnection and reflection
After three years spent working on "Reveal," Kamen says that creating this exhibiton amidst both personal and global crises required her to be "really present" during such a complex and challenging time. "I thought why not use this experience as an opportunity, for creating a visual diary of how processing information turns into knowledge," she says.
Beyond their collaboration for this exhibit, the Complex Systems and AHA! Labs will continue their research by refining models to study and understand how others practice curiosity as well as parsing the differences and motivators behind the distinct processes of curiosity and creativity. Specifically, Lydon-Staley is interested in using these insights to understand how people go about seeking information, with this case study providing a starting point for future in-depth studies on how ordinary acts of curiosity lead to different behaviors.
"Connecting the science with Rebecca's art," Lydon-Staley says, "makes the day-to-day work fun and interesting and it ignites my curiosity to keep learning new things, with the art itself becoming a catalyst for new research ideas."
"I find it really interesting and exciting to work with people who are not familiar with the details of the science—it's almost like looking through [Kamen's] eyes at the science," says Bassett. "The process of things becoming strange makes you question the assumptions of your models, and that separation is something that is so valuable to a scientist. Rebecca pulls us out farther so that we can get the science at the focal point and really look at it differently."
For Zhou, working with Kamen has given him a better sense of how much art and science are connected, especially with their shared goal of exploring the unknown. "A goal of both science and art is to communicate connections that the audience may not have considered so that they can reexamine the familiar in a new light," he says. "It also makes me happy that we can apply and depict our work to understand people and their walks of life in a quickly digestible way."
Kamen says she is thankful for the opportunity to work alongside scientists at Penn and elsewhere and to continue her work that connects disparate fields of research and scholarship together. She also hopes that the exhibit will provide a space for self-reflection that can help people think about the curious side of themselves amidst the ongoing stressors of the pandemic.
"We're all curious," she says, "but we never think about how that operates in our brain. For me, I'm curious about how science, philosophy, and art create bridges, for insight and meaning between diverse fields of inquiry to inform new artwork. Now more than ever, it's important to inspire people to be curious as a way of reconnecting them to their creative self."
Dani S. Bassett is the J. Peter Skirkanich Professor in the departments of Bioengineering and Electrical and Systems Engineering in the School of Engineering and Applied Science at the University of Pennsylvania. She also has appointments in the Department of Physics and Astronomy in Penn's School of Arts & Sciences and the departments of Neurology and Psychiatry in the Perelman School of Medicine at Penn.
Rebecca Kamen is a visiting scholar and artist-in-residence in the Department of Physics & Astronomy in Penn's School of Arts & Sciences.
David Lydon-Staley is an assistant professor in the Annenberg School for Communication at Penn.
Dale Zhou is a Ph.D. candidate in Penn's Neuroscience Graduate Group.
"Reveal: The Art of Reimagining Scientific Discovery," presented by the Alper Initiative for Washington Art and curated by Sarah Tanguy, is on display at the American University Museum in Washington, D.C., until Dec. 12.
The exhbition catalog, which includes an essay on "Radicle Curiosity" by Perry Zurn and Dani S. Bassett, can be viewed online.
The Annenberg School for Communication recently posted a video about the exhibit on YouTube.