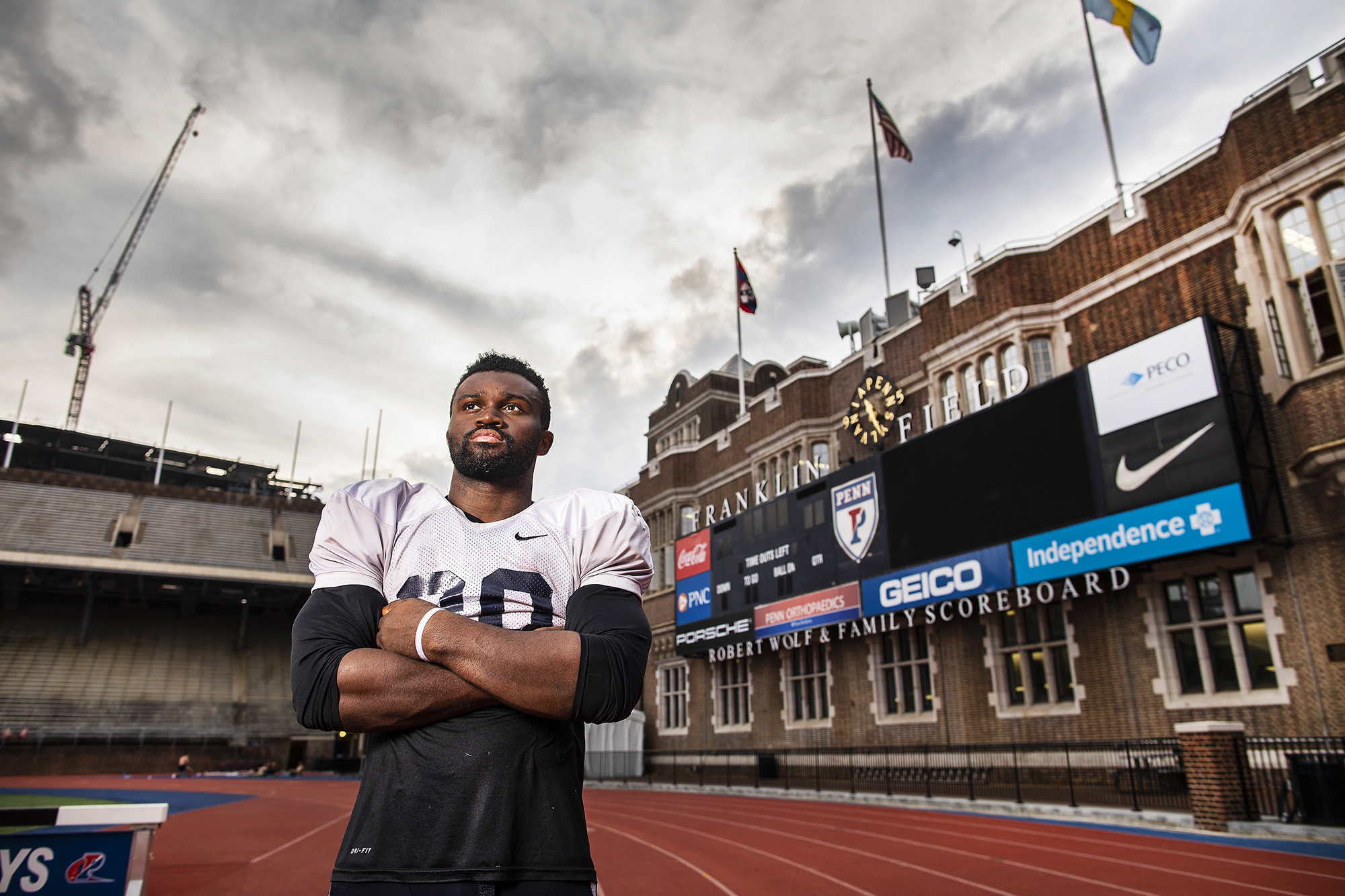 Catch him if you can: Karekin Brooks, a junior running back on the Penn football team, is currently the second-leading rusher in the Ivy League with a conference-high 96 carries for 535 yards and seven touchdowns through five games. The communications major has also caught 11 passes for 126 yards.
DB to RB: Hailing from Marietta, Ga., Brooks, 21, started playing football at age 5 or 6. He was originally a cornerback before switching to running back in sixth grade. "I was the fastest kid on the team, so they moved me to running back," he says. He was a Reggie Bush and LaDainian Tomlinson fan in his youth.
Mama knows best: Brooks says he came to Penn because his mother thought it was the best place for him. "She didn't want me to pass up the opportunity," he says. "And then I came up here and I liked the coaches a lot, so I chose Penn."
Breakout season: During his freshman season, Brooks played sparingly, but exploded onto the scene last season with 125 rushes for 840 yards and nine touchdowns. His 6.7 yards per carry set a new Penn single-season record. ("Last year I did?" he says humbly when he was informed of the record-breaking feat. "I didn't even know that.") Against Lehigh, he had 29 carries for 268 yards—second-most in school history—and four touchdowns.
Perfect practice makes perfect: Brooks credits his improvement across seasons to putting in work in practice. "Getting in a little bit my freshman year helped me find the speed of the game quicker," he says. "I feel like I just keep getting better and better, getting more used to it, adjusted to it."
Work hard, play hard: The keys to being a successful running back, Brooks says, are to trust the scheme, trust your offensive line, work hard, and play hard. He says he is able to withstand the punishment that comes with 30 carries a game through pushing himself at practice and in the weight room. "I think it comes back to working out, just pushing yourself through the workout, and when you get in the game, it makes it easier," he says. "You got the adrenalin going and you don't want to let your teammates down, so you just keep pushing through it."