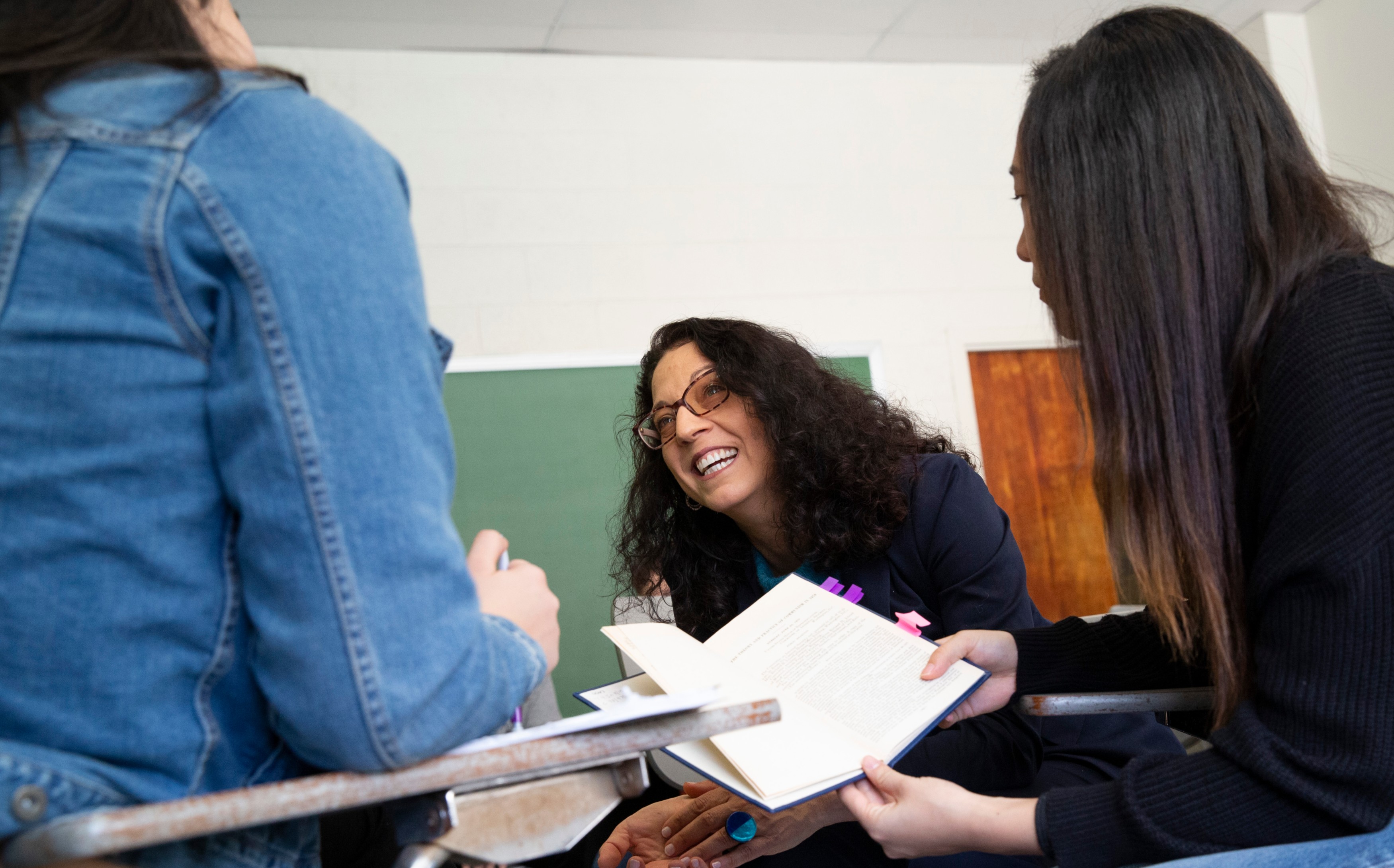 The book is just 31 years old, but to these first-year students it's a relic. 
Leafing through "A Day in the Life of the Soviet Union," a book of photographs, the students are considering how to classify it as a potential source for their final term papers. They declare it a popular source, not an academic one, and decide the photos, shot by photojournalists from all over the world, offer a realistic look at Soviet society. 
Other groups around the room taking part in the freshman seminar Behind the Iron Curtain are scrutinizing different books, from the classic dissident novel "Darkness at Noon" to Congressional testimony from defectors. At the end of the activity, each group talks over their findings with Kristen R. Ghodsee, a professor of Russian and East European studies at Penn.
Outside this classroom, Ghodsee is juggling media requests tied to her recent book, "Why Women Have Better Sex Under Socialism and Other Arguments for Economic Independence." She's been interviewed on the "PBS NewsHour" and featured in The New Yorker.
But on this sunny, chilly afternoon on the final day of fall semester classes, her focus is on a dozen rapt students. She's pushing them to ask a key question: How do we know what we know about Russia and Eastern Europe—or anything, really?
Understanding the reality of life and politics in the Soviet Union and the Eastern bloc, Ghodsee says, is especially tough, because the American government and Communist regimes were so good at the propaganda game. But the idea of credibility extends well beyond this one era in world history, she notes.  
"We always have to be a bit skeptical," she says. "And part of what a freshman seminar is supposed to do is teach critical thinking, and I think personally that there's no better way to teach critical thinking skills than to teach them to ask, 'Where do we get our information about the world?'
"They need to learn. They need to become critical consumers of knowledge. To me, it's just kind of a basic civic education."
Deep roots
Ghodsee, who came to Penn in fall 2017 after 15 years at Bowdoin College, has been thinking about Eastern Europe since she was in her teens. It all started, she says, with her high school Model U.N. club—and being shut out of representing one of the Western nations on the Security Council by the boys in the club. 
The then-Soviet Union became her country of choice, and world events cemented her interest. In November 1989, on a student backpacking trip, she found herself in a Barcelona train station watching live coverage of the fall of the Berlin Wall. 
She saved some money and headed for Eastern Europe in the spring and summer of 1990, traveling through what was then Yugoslavia, East Germany, and Czechoslovakia, as well as Bulgaria, Romania, and Hungary. Ghodsee returned to Bulgaria for her dissertation research, more than a decade later. 
Before she'd even finished her dissertation—and with a newborn daughter in tow—Bowdoin interviewed her for a job in the Gender, Sexuality, and Women's Studies Department. She loved the liberal arts college life, but also found it tremendously challenging to balance work and family. It's a topic that she's turned to frequently in her academic and popular writing. 
Discouraged by the proliferation of stories from women who'd left academia because of the struggle to fit kids into the tenure-track pressure cooker, Ghodsee co-authored "Professor Mommy" in 2011 to encourage female colleagues to stick it out.
"At some point you realize you've got all this hidden knowledge and you can either pull up the ladder behind you, or you can find some way to kind of pay it forward," she says. "I really wanted to say, 'It can be done. It's hard, but it can be done, and it must be done, and it's worth doing.'"
It was a difficult decision to leave Bowdoin for Penn, not least because it meant uprooting her high school-aged daughter. But Ghodsee had always wanted to be at a major research university, and she was eager to be part of the Russian and East European Studies Department's evolution, bringing her social scientist's toolbox to what had been known as the Slavic Languages and Literature Department until 2017. 
"Part of it is about reimagining a program that will draw students in who have interests that are not necessarily languages and literatures because that's a limited way of viewing the region," she says. "I think that my role at Penn in this department is obviously to bring students to our program, but it's also to project Russia and Eastern Europe across the curriculum." 
Life's work
Ghodsee chuckles at the flood of attention that's followed the release of her book. She's been teaching a course called Sex and Socialism since 2003, including the past two fall semesters at Penn, so the elements of the book have been percolating for a long time. 
The titillating title came from a New York Times op-ed Ghodsee wrote in 2017—she never fails to point out she didn't write the headline—that "went crazy." She wants readers to focus on the more mundane subjects in its pages, including work, leadership, citizenship, and motherhood. 
A decade and a half of thinking about Eastern European women, feminism, and female empowerment are part of what motivated her. Her other spur: The post-2016 boomlet in socialism, led by politicians like U.S. Sen. Bernie Sanders and U.S. Rep. Alexandria Ocasio-Cortez. 
"There are a lot of young women who call themselves socialists, or even communists, and I just sometimes don't think they really know what they're talking about," says Ghodsee. 
"Socialism" is a polarizing word, and Ghodsee's book, and her vivacious defense of some socialist policies, squarely confronts the debate. To her, the book is a chance to bring her research to a popular audience and help readers understand the truth behind the political rhetoric. 
Shana Vaid, a Penn sophomore, took Sex and Socialism in the fall 2018 semester and called it her favorite class so far, largely because of Ghodsee. 
"She is incredibly knowledgeable about the subject matter," Vaid says. "I learned much about sexuality in the U.S.S.R. I didn't really know much going in, and much of what I learned in the class was a surprise for me."
For example, Vaid says, she hadn't known that the Soviets were the first to send a woman to space, or that the Bolsheviks decriminalized homosexuality when they came to power.
Younger people, especially those born since the Berlin Wall fell and the U.S.S.R. dissolved, need the context of what state-sponsored socialism looked like just as much as their older counterparts do, Ghodsee says. 
"The most important thing that I want them to know is that the purges, the gulags, the travel restrictions and the consumer shortages were real," she says. "There are a lot of things that weren't good about 20th-century state socialism, and I make it clear, at several points in the book and in every single interview that I give, that I am not promoting a return to any form of 20th-century state socialism."
What she is saying is that some of the policies that gave Eastern bloc women more economic independence—from guaranteed child care to access to contraception—can be incorporated into a modern capitalist society. 
In Norway, for example, 30 percent of jobs are with the government, and the government also runs a sovereign wealth fund, paid for with oil and gas surpluses, which owns 37 percent of the stocks on the Oslo exchange and pays for Norway's generous social safety net. 
"This is socialism. It's a form of socialism," Ghodsee says. "And what I wanted young people to know is there are all these different policy options available, and the only way we can figure out which ones are going to work for us is by talking about the ones that have failed and the ones that have actually worked and to look at the past to help us understand the future. 
"That's the simple message of the book. But the problem is people hear the word 'socialism' and all they think of is Stalin and the gulag."