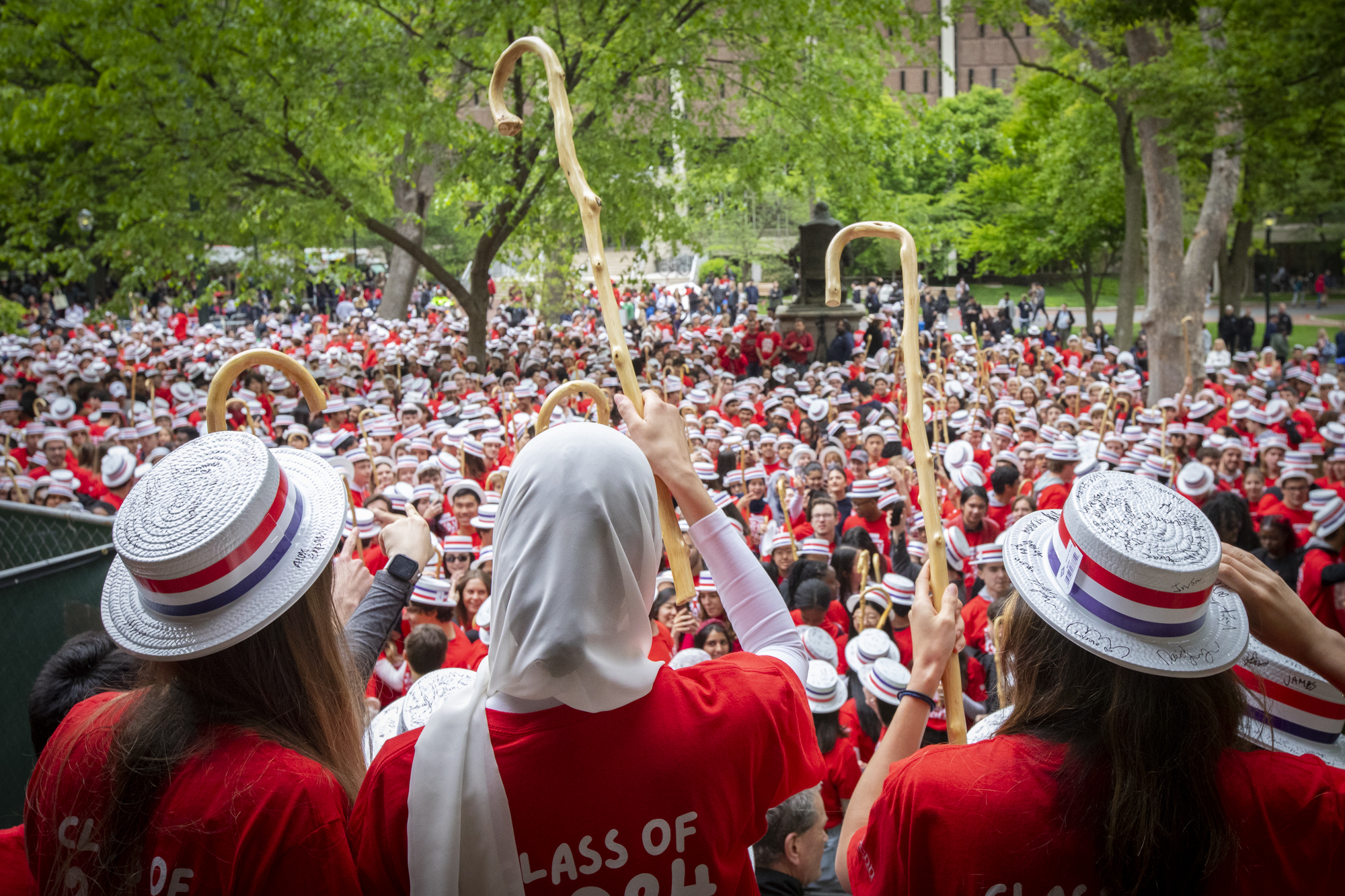 Holding a cane and dressed in her red T-shirt and mock skimmer hat, Mallory Orenstein marched down Locust Walk with hundreds of her nearly identically dressed classmates on Hey Day, a towering 2024 balloon arch overhead. Just behind the Penn Band's roar, she cheered with friends—soaking in the 107-year-old tradition where they ascend into senior year.
"It was a really good moment," said Orenstein, a biology major originally from Fairbanks, Alaska, standing on College Green with friends. "Our class has missed out on a lot, so being able to be together in this capacity and celebrate and acknowledge our accomplishments, it's been really special."
Just moments before, President Liz Magill administered from the College Hall steps an "exam" to the crowd, with a passing grade allowing them to progress into their fourth year at Penn: 1. What are the colors we hold dear as Quakers? (Red and blue, of course); 2. How long is Locust Walk in meters? (804.67 meters—a tough one, but Magill assured the students that they could still pass); and 3. True or false: Is the Class of 2024 the best?
The sea of red erupted in applause, smiling wide with their canes hoisted high in the air.
"You passed! By the power vested in me, I hereby pronounce you seniors," said a joyous Magill, presiding over the event for the first time.
Another Hey Day ritual, the current senior class president—this year, Derek Nhieu—passed the gavel to the new senior class president Toyosi Abu. Shouting from the mic, Abu said to his peers: "If you are all ready to rock senior year, let me hear you scream!"
"It's our time," Abu added. "Nothing, not even a pandemic, can stop us now."
After singing together "The Red and Blue," students took selfies and signed each other's hats with Sharpies. Some mingled with those in the Class of 2023 who were enjoying their Final Toast gathering in front of Van Pelt Library. In previous years, tradition had evolved to include the biting of hats made of Styrofoam, but Orenstein said she didn't mind the change in product.
"I think it's a better memento than just a crushed-up Styrofoam hat," she said. "It's a good alternative, and now I can look at the hat and see all the names of people I've met throughout the years." (She added that the canes were "surprisingly sturdy," too.)
Olivia Szewczyk agreed. The neuroscience major from New Orleans said she enjoys hanging onto keepsakes, items that help you "reflect on what you've been through all those years."
"I think I'm going to look through my closet someday and I am going to see the shirts, the hats, and then I'm going to remember all the great times that I had, that I spent here," Szewczyk explained, gearing up to take another photo with friends.
Before the procession, a picnic for Hey Day attendees was held at High Rise Field, next to Rodin College House. Ian Mills, a biology major from Hershey, Pennsylvania, was enjoying the fun with his fraternity brothers, and friends he's met playing basketball at Pottruck Gym.
"It's an awesome opportunity to spend time with friends, to connect with people who I haven't seen in a while, and just unite as a class as we become seniors and finish off our Penn journey together," Mills said.
A testament to the resilient class, an optimistic Mills added: "We've missed a lot of a big traditions, but at least we get Hey Day, and at least it's not raining."
Jiani Tian and Jessa Glassman, sorority sisters pursuing uncoordinated dual degrees in the College of Arts and Sciences and Wharton, and both hailing from California (Tian from the Bay Area and Glassman from Los Angeles), enjoyed a bite to eat while taking a moment to reflect on their time at Penn—and how fast they feel it's gone.
"It's really weird that we are getting so much older," said Glassman, with a nod from Tian. "But it's really exciting to be with friends and classmates today, and I'm looking forward to creating many more memories together in our last year on campus."
Noting how much pride he feels to finally be a senior, Om Manghani, a sociology and economics major from Pleasant Hill, California, repped not only his red shirt but also his red sneakers for the occasion. Taking in the energy of the day, he described the atmosphere as "pretty sensational."
"It's a treat to celebrate this," he said. Manghani would enjoy the festivities a bit longer, grabbing lunch afterward, but said he would then head home to continue preparing for finals. (Hey Day always takes place on the first day of Reading Days.)
"The grind never stops," said Orenstein. "But today has still been really fun."
For more photos from the day's festivities, visit Flickr.