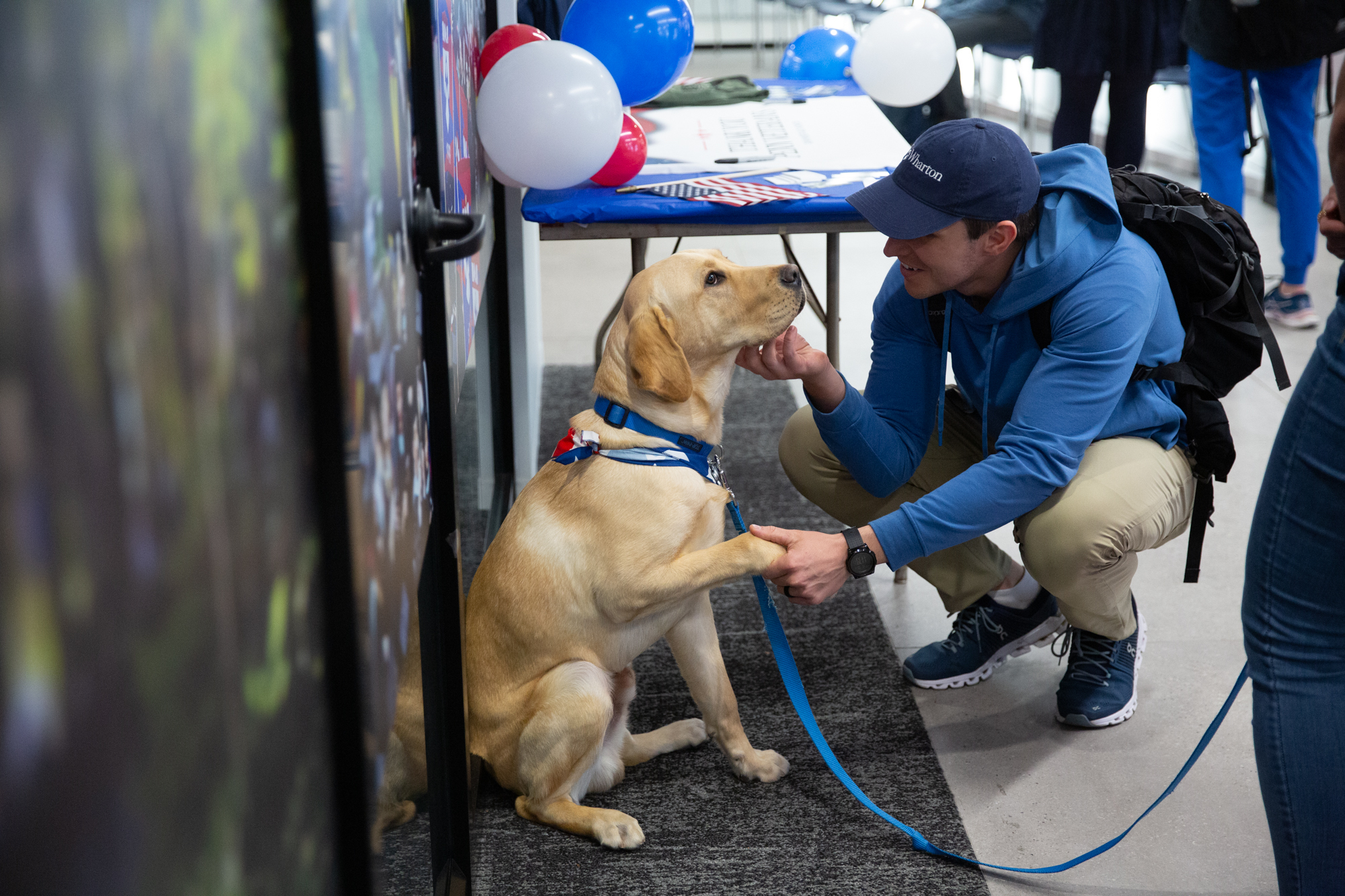 Over 300 Penn students are currently using veteran education benefits, earned through their military service or that of a parent or spouse. Here to make the paperwork—and the transition to civilian life—more manageable is Lynn Manuel, the coordinator of the new Veteran and Military Affiliated Students program at Student Registration and Financial Services (SRFS). Manuel answers student questions, submits paperwork to the U.S. Department of Veterans Affairs on their behalf, and helps students to navigate and transition to civilian life on campus. 
Student veterans are a growing population, Manuel says. Penn's current student veterans range in age from 21 to 63, and use a variety of different benefits, from the post-9/11 GI Bill to Veteran Readiness and Employment (VR&E), an employment program for veterans with a service-connected disability that covers 100% of student tuition, books, and fees, she says. Service members can also transfer their GI Bill benefits to spouses and children, and an additional 80 Penn students are using benefits conveyed to them by a veteran caregiver.
Andrew Yacovone of Hollister, California, served in the U.S. Army for 10 years and is currently earning his masters in business administration from the Wharton School through the VR&E program. "Lynn has pretty much been the decryptor in how to navigate this process and the interlocutor with SRFS and me, Says Yacovone. "She has been the one that's been able to speak on my behalf and fix things when things go awry." 
"It's the ease in which we can deal with Penn," says Wyatt Frasier of Salt Lake City, Utah, who is also a Wharton graduate student. Frasier served in the Army for five years as a medical service officer, leading a medical combat team. 
After graduating from the United States Military Academy West Point, Frasier says he was deciding what to specialize in when a mentor advised him to, "Go to where the people that you think you want to be like are." 
Frasier says he is currently the only veteran in the Wharton Health Care Management program and he hopes to apply his Army leadership to a private sector role. "It's impactful," he says of health care. "Every one of us will deal with medical services at some point."
Lauren Odegaard of Virginia is also going into health care and is currently in the Family Nurse Practitioner graduate program at the School of Nursing. She served as a nurse in the Army for five years. "I felt like I had a lot of opportunity for leadership, more than a new nurse can have outside," she says. 
"In nursing, we talk a lot about how nurses are leaders in health care, and that role is really expanding," says Odegaard. "I think [my Army experience] will really help set me up for my field."
Odegaard, whose military service ended in July, says while the transition to civilian life has gone well, she often feels isolated not knowing other veterans in her program. There's an ease between fellow veterans, she says, "an understanding of like a shared experience that's very unique."
In her role with SRFS, Manuel has added programming for student veterans to meet each other, including the annual Veteran's Day Lunch, which SRFS hosted on Nov. 10. The lunch is an open house, a way to celebrate service and allow student veterans to make connections.
Jiajia "Rachel" Shi, is using a military scholarship to finance her education. Shi is currently at the School of Dental Medicine through the military's Health Professions Scholarship Program (HPSP). Shi moved from China to Davis, California, when she was 16. After graduating from high school, she served in a non-commissioned division of the Army from 2012 to 2016 and was stationed in Germany and South Korea.
As a foreign national service member, Shi says she didn't have the security clearance for many specialties, and worked as a water treatment specialist in countries that she says already had safe drinking water. 
Shi says she felt some disappointment in her posting. "It was kind of frustrating because I feel like, I could have contributed more," she says.
But thinking back to why she enlisted, says Shi, "I wanted to force myself out of my social circle. I wanted to practice English. I wanted to have my own growth, explore the world, and I achieved all that, in a way."
Shi says she heard about the HPSP program from an Army ophthalmologist and decided that she could make a greater contribution through health care. Currently in her third year at Penn Dental, Shi says she will return to the Army as a dentist after graduation.  
Manuel says she hopes to expand services and programming for all veterans at Penn and is launching the "Green Zone" training program next semester. The Green Zone trains professors and administrators to become allies for veterans, who may be experiencing additional stressors on top of their school load. 
"It's a program that kind of tries to bridge a gap in knowledge with either administrators or teachers with the University that helps them understand what the veteran is going through, opposed to their counterparts that didn't serve," says Aaron Autler, in his second year in the Masters of Social Work program at the School for Social Policy & Practice (SP2) who served for seven years in the U.S. Marine Corps. "It touches on challenges with PTSD [post-traumatic stress disorder], challenges with medical appointments, and challenges with family—a lot of us are nontraditional."
Once he graduates from SP2 in the spring, Autler says he plans to go directly into a Ph.D. program for applied physiology at the University of Texas, Arlington, and work on the link between clinical depression and heart disease. "My ultimate goal is to work in therapy, but also do research with veterans and interventions to lower disease risk," he says. 
Veterans "tend to be leaders; they tend to excel," says Manuel. "I want them to see Penn as not only an Ivy League university but a place where veterans are welcome, service members are welcome."
While Manuel is not a veteran herself, she says she was a military spouse for over 16 years, leaving a Ph.D. program in history to follow her husband and support their children. 
"Less than 1% of our population serves. And I think they do a lot. They sacrifice a lot. We, as a country, I think ask a lot out of that 1%," she says. This new Penn program, she says, is a way to give back.