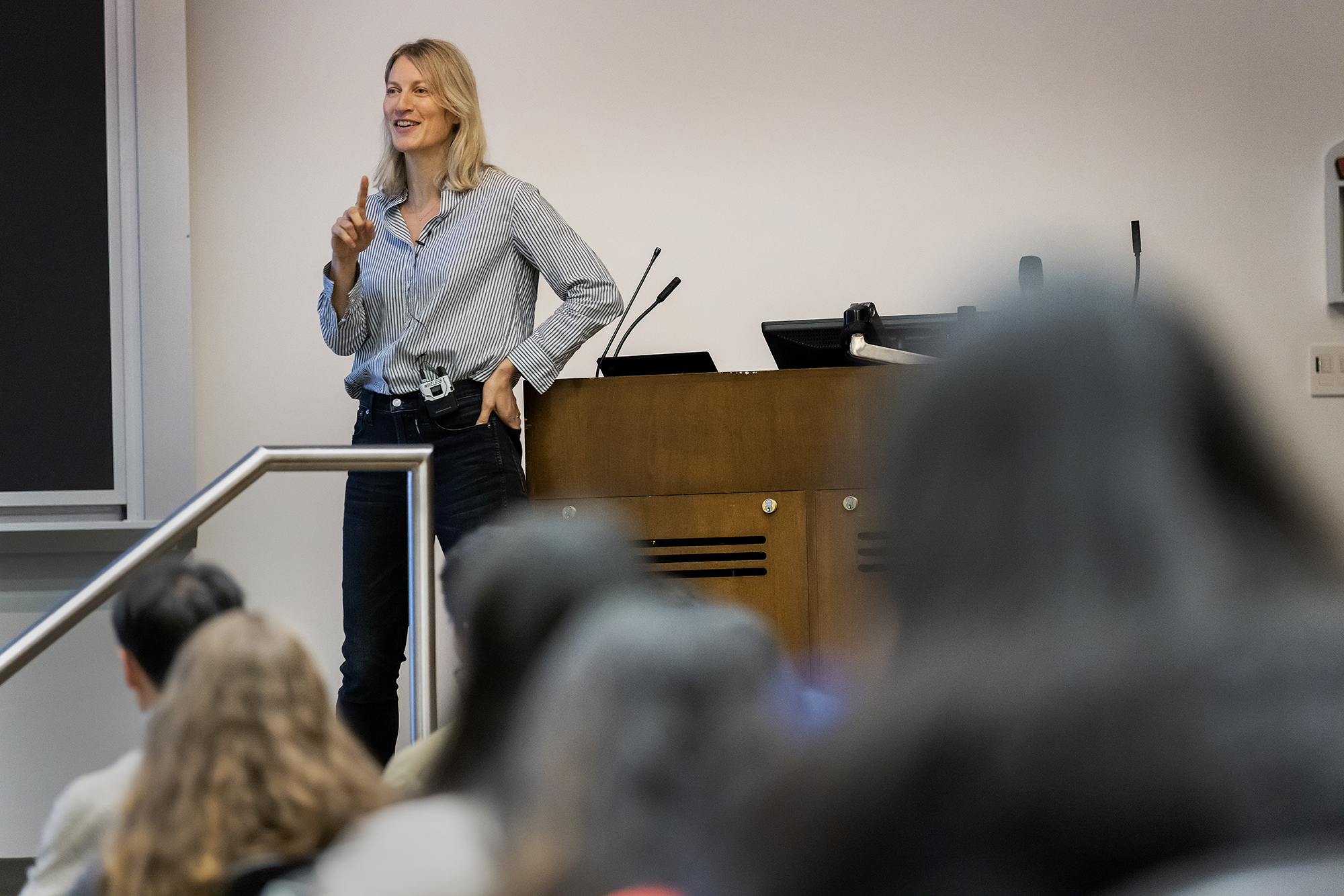 It might be hard to imagine how a professor teaching an introductory-level economics course to more than 900 undergrads a year can have a personal impact on students—hard to imagine, that is, until you've met Anne Duchene.
"She represents what students look for in a professor because she's not only someone who is so passionate about her field, she makes the classroom somewhere where you want to learn and you want to grow," says second-year economics major Elyse Kim. "Her entire demeanor and teaching philosophy sets students up so well for success."
Duchene teaches microeconomics to primarily first-year students, mostly in the first fall semester of their college career: 650 in the fall and 250 in the spring. For many, this is one of their first classes outside of high school, one that gives them a sense of what is expected of them in college coursework.
Duchene is committed to making sure her students not only get a solid grasp of the concepts, how to study, and how to get organized, she also makes time and an effort to get to know students personally and help any and all who come to office hours.
Growing up in France, Duchene had to choose a college major straight out of high school, and she wasn't interested in economics at all. She did a year of architecture and decided she needed to find another major.
"I realized I wasn't very good at architecture," she says.
Her father, a now-retired economist, gave her a book on the principles of microeconomics just to see if she might find it interesting.
"I started reading the textbook just like you would read a user's manual. I had no clue about the topic, but I liked it. I liked the fact that there was math, but it was applied to the real world; it was answering a lot of questions about everyday life and your own behavior," she says. "I ended up doing economics by mistake, but I really loved it."
Hanming Fang, Joseph M. Cohen Term Professor of Economics and department chair, says he's been impressed with the consistently high rating students give Duchene year after year and notes that she mentors many teaching assistants dedicated to undergraduate instruction. She also received the School of Arts & Sciences Dean's Award for Distinguished Teaching by Affiliated Faculty in 2021.
"I could not overstate how valuable Anne is to our department's undergraduate educational mission," Fang says.
Duchene came to Penn from Drexel University, and says she anticipated that the lighter teaching load would allow her to pursue her research agenda.
"What I didn't realize is that having 900 students every year is completely different, and, regardless of how many hours you teach, it's a lot of work behind the scenes," she says. "It's like a big ship that takes a lot of time to get started and you need to really plan ahead when you want to adjust course."
Teaching Penn students makes the job much easier, she says.
"I'm very spoiled with the students I have. I don't have to struggle to motivate them and to get their interest. They are interested already. They want to learn, and it's a pleasure to have that energy in the classroom," she says.
Former students say they benefit from the course since it is very organized, and the syllabus is very detailed, describing exactly what they must do and when they have to do it, providing a framework on how to approach other courses at Penn
"The transition from high school to college can be very challenging. The type of work and the type of approach that we're asking them to have is very different from what they were doing in high school. I think I help make the transition a little bit smoother for them. It's like a routine that they have and, once they are getting into that routine, then they understand what they have to do and that is a positive step for them," she says.
Microeconomics is the study of individual behavior and individual markets. The course covers pollution and global warming to monopolies and market power to minimum wage and labor markets.
"For instance, it's how we behave when we go to the store and make our purchasing decisions, or why Apple introduces a new iPhone every year and why Pfizer spends that much money in research and development," Duchene says. "It's very useful because you can learn more about yourself and how to make better decisions. I'm not just talking about saving money or how much money to spend when you go to the store. It's more than that. It is things like should I go to college? How should I behave in my relationships? Microeconomics can also feel close to psychology, and it has a lot of applications that we can use ourselves in our daily lives."
Former students tell her that they now have a different approach to their everyday life decisions thanks to the course, she says.
"When I was an undergrad student myself, I looked at economics as something happening high in an ivory tower operated by people who have lots of theories but don't have a sense of reality, that their theories would be impossible to apply. But that's not true at all," Duchene says. "There are a lot of people who do economics and strive to make a difference every day."
Elyse Kim, a second-year from Greenwich, Connecticut, came to Penn with the idea that she'd major in communications. All that changed after her microeconomics class with Duchene.
She decided to enroll in the course because she wanted to take something more quantitative, since many of her classes were in the humanities. But she was very nervous going in that it would be too intense or stressful, she says.
"It was definitely challenging, and that's why I started going to her office hours and engaging with her. She's so kind and supportive," Kim says.
Duchene emphasized right from the beginning that economics—like any other difficult class— requires consistent practice. "That was an idea that I hadn't really encountered that much throughout high school, and this guidance has helped me not only in Professor Duchene's class but in every college class since; it was a simple yet foundational insight for me," she says.
The fact that Duchene actually wrote the textbook they use in the course added an extra level of consistency from the lectures to the practice problems, she says.
After taking the course, Kim says she realized she really loved the discipline and with Duchene's encouragement, changed her major to economics in the School of Arts & Sciences.
"So many students across Penn can point to Dr. Duchene as someone who was really integral in their transition to college," Kim says. "Not only does she represent what you want in a professor, but she represents what you want in a community."
Duchene is especially fond of first-year students.
"It's a pleasure for me to have these kids who are right out of high school, who are very enthusiastic about being in college and about learning new things," she says. "Teaching microeconomics is my job, but it's so much more than that. They're not just faces in a classroom. I see them as individuals and individuals who are changing and growing during these important college years. I care about them a lot."
Hannah Liu, a second-year in the College of Arts and Sciences from Lincolnshire, Illinois, majoring in cognitive science with a computation concentration, also took Duchene's class and says felt like it set her up for success in other courses within her major at Penn.
"The course load was definitely a shock to me as a freshman, and I had to make my study habits more efficient," Liu says. "It also taught me the importance of reaching out to professors when you need help. That's what office hours are for."
Once she started attending office hours, not only did her grades improve but she formed a personal connection with Duchene.
"I'm glad that she's here for the freshmen. Maybe that's the way it's meant to be: You see her your first year, and then she kind of sends you off into the world, Liu says. "We have a lot of great resources at Penn and connecting with professors is one of the more subtle ways of utilizing those resources. We obviously see professors as teachers, but I was fortunate enough to meet a teacher who also became my friend."
She says it's hard to overstate how much the microeconomics class and Duchene helped set her up for success.
"I can't express how wonderful she is. She's helped me become more confident in my studies and she really changed my college career for the better," says Liu.