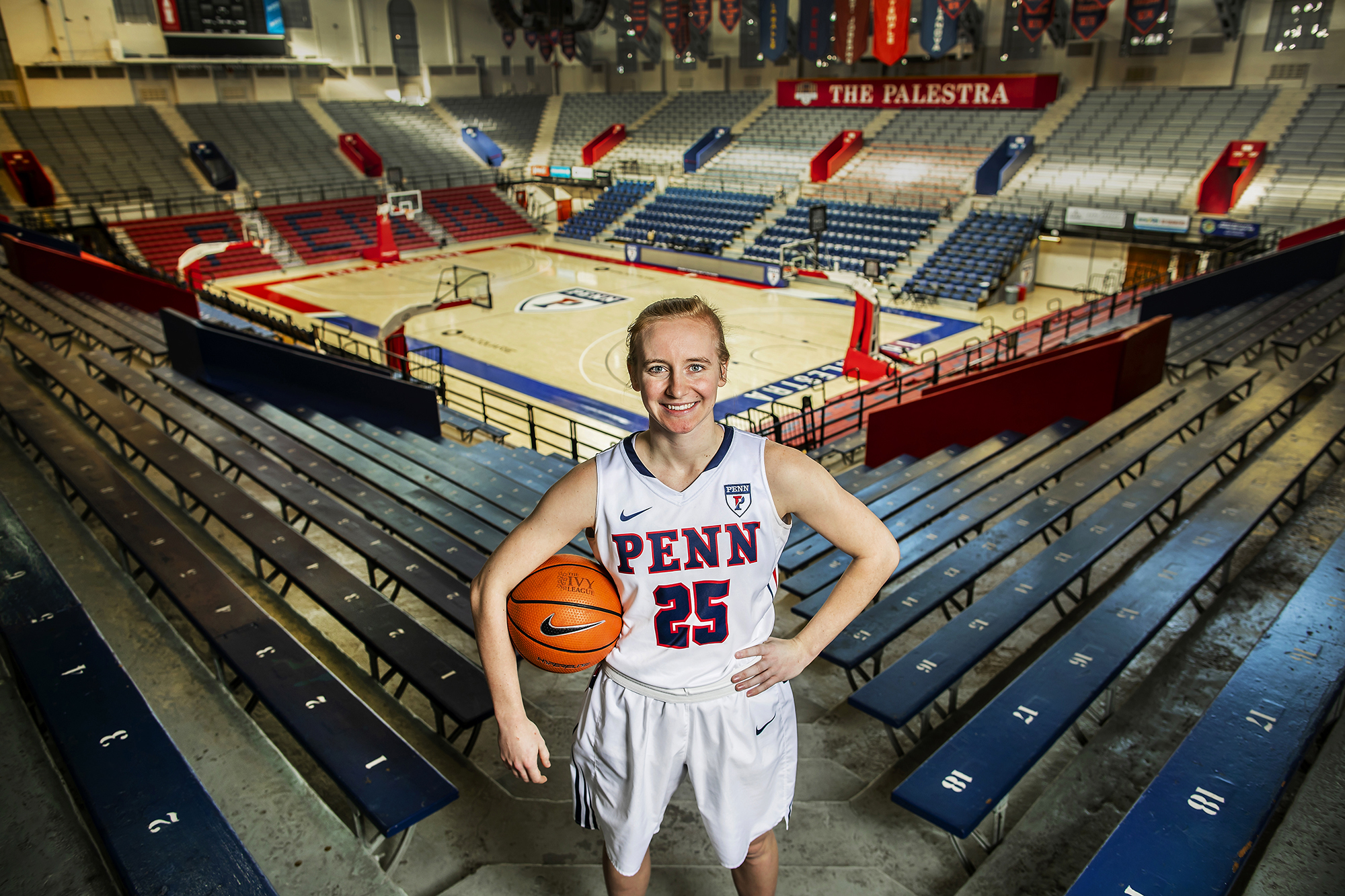 Senior Ashley Russell, a guard on the 11-3 women's basketball team, has a complete, all-around game. She currently ranks 20th in the Ivy League in points (10.0) and steals (1.1) per contest, eighth in rebounds per game (7.0), fourth in assists per game (4.5), and she has the best assist-to-turnover ratio in the conference (2.9).  
Last week, she nearly had a triple-double in the Quakers' 71-62 win over Temple, with 18 points, nine rebounds, and seven assists.
A native of Braintree, Massachusetts, about 20 minutes south of Boston, Russell has been playing basketball for as long as she can remember, and was coached by her father for many years.
She arrived at Penn nursing a torn ACL, and saw her first action over Christmas break of her freshman season in Hawaii. During her sophomore campaign, she played in all 30 games and was a vital contributor off the bench. As a junior, she started 29 of 30 games; this year, she is a co-captain and the team's second-leading scorer and rebounder.
Penn Today caught up with Russell at the Palestra to chat about transitioning from a point guard to a shooting guard, avoiding turnovers, and her aggressive style of play.
Why were you interested in coming to Penn? I was very interested in the Ivy League in general as I was going through the recruiting process. And then going through all the schools, Penn really stuck out to me. The campus was awesome, the coaches were very welcoming, and the team just felt like a family vibe and culture when I hung out with them. It was kind of a very easy pick in regards to where I wanted to go.
Have you always been a guard? Yes. Before college, I was always just a point guard, and then when I came to college, I kind of transitioned out of that position, but I sometimes play it now, mostly not though.
Now you are more of shooting guard? Yes.
They say shooters have a shooter's mentality. Was it difficult to change from a passing guard to a shooting guard? It was different. I'm not strictly a shooting guard. [Junior guard] Phoebe Sterba is like our strictly shooting guard. She's really good at it. I am just a guard. I will take the shot if I'm open but I'm looking to do other things, too. I don't have that shooter's mentality, I guess. I kind of have the point guard mentality but in a different guard position.
Your assist-to-turnover ratio is tops in the Ivy League. What is the key to not turning the ball over? Limiting our turnovers is one of our main keys that we focus on. It's a staple of what we pride ourselves on in Penn basketball. Basically, it's our team mindset and so obviously it's my mindset when I go on the court. When you're playing basketball, you want to have the ball as much as possible. You don't want to give the other team the ball. We really prioritize ball security and our coach just drills that into our heads. You have to take advantage of every possession. Every extra possession is one less possession the other team is going to have, so having that drilled into my mind since freshman year has built up to really taking pride in it myself.
To what do you credit your success in rebounding? I've always been a rebounding guard. My style of play is a more aggressive style. We do a lot of rebounding drills in practice, and in high school it was prioritized as well, so I've always had that mindset. It was a facet of my game that I brought here and it was a big reason as to why I was recruited here in the first place, being able to rebound in the guard position. 
What was the rehab like for your ACL? Mine was interesting because I tore it in like my last lacrosse game my senior year. My recovery was kind of best-case because it was like exactly six months. It took a month to be able to walk normally, then at three or four months you could jog, and then start sprinting, and then start cutting. By Thanksgiving break of my freshman year, I was running, and then I got to go into non-contact drills, and then over my Christmas break I was cleared to play.
You are an economics major. Do you know what you want to do when you graduate? I'm still undecided but I've been looking to pursue a career in sales. I'm not sure where yet. I did an internship last summer in Boston in sales and I really liked it, so I think just going in that direction is where I would want to start.
Any particular kind of sales? Tech sales.
What interests you about tech sales? Just how prevalent technology is in our lives. You really can't do anything without your phone—or people think that they can't do anything without their phone nowadays. I just think with the way people are heading, technology is taking over everyone's lives. It's an industry that has a lot of success within it.