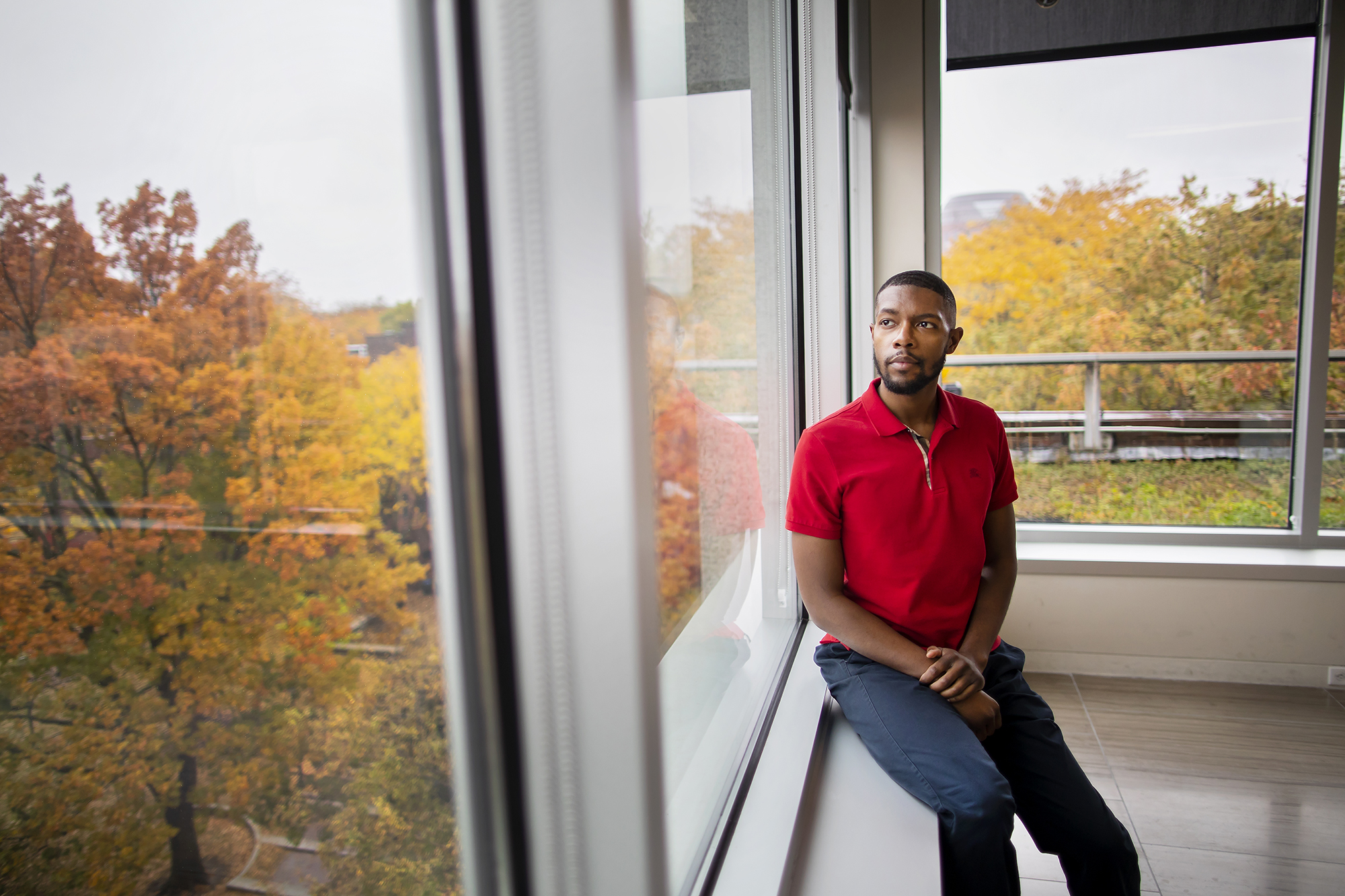 "Since I did not excel in high school, I assumed college was not for me," sophomore James "J.D." Goins says. But, while serving in the Air Force, his supervisors encouraged him to pursue academic development. By taking part-time classes during his off-duty hours, Goins earned an associate degree from the Community College of the Air Force.
"Now, I have what it takes to succeed in a traditional classroom setting," he says.
Honorably discharged in September, Goins, of Nashville, Tenn., was already on Penn's campus, embracing his new mission as a full-time science, technology, and society major in the School of Arts and Sciences' College of Liberal and Professional Studies. After regularly searching through campus events, he says he had a difficult time finding activities that showcased veteran voices.
To change that, he decided to launch a series of campus conversations, bringing veterans who are now involved in business, politics, and other industries to Penn to share their insights on success and the traits they developed in the military that propelled them to their current positions.
The inaugural event is "Believe in the Power Inside You," a free public campus conversation with Kirstie Ennis, a medically retired Marine, actor, public speaker, and Paralympic athlete, at the Inn at Penn, Thursday, Nov. 15, at 6:30 p.m.
Through the event, Goins says, he wants to share the power of self-esteem with anyone who might need a boost of confidence.
"Ms. Ennis never gives up, no matter how many obstacles she faces, which is why it is vital to hear her story," says Goins. "Stories are the best learning tools and everyone at this University, including faculty, has an amazing story to share.
"A lot of people here will enter careers that directly or indirectly impact the military. My dream is to have veterans share their experiences with future leaders across multiple disciplines," he adds. "Once students graduate, they will have a better grasp on how the government, business, and the military affect their lives daily. The future is full of possibilities to change the world, and I am thankful to be among the next trailblazers."
Goins hopes to plan similar events going forward.
Looking back at his own military service, Goins says that lessons from the Air Force have prepared him for a life of enlightenment at Penn and beyond.
"While in the military, I learned to be honest and respect other people's thoughts," he says. "I have experienced situations at Penn where I disagree with students. However, instead of it being an unproductive conversation, I have expanded my view on multiple things that were in my blind spots.
"The strongest contribution veterans make is the ability to be put in multiple organizations and interact with people who are vastly different to achieve a common goal," he says.