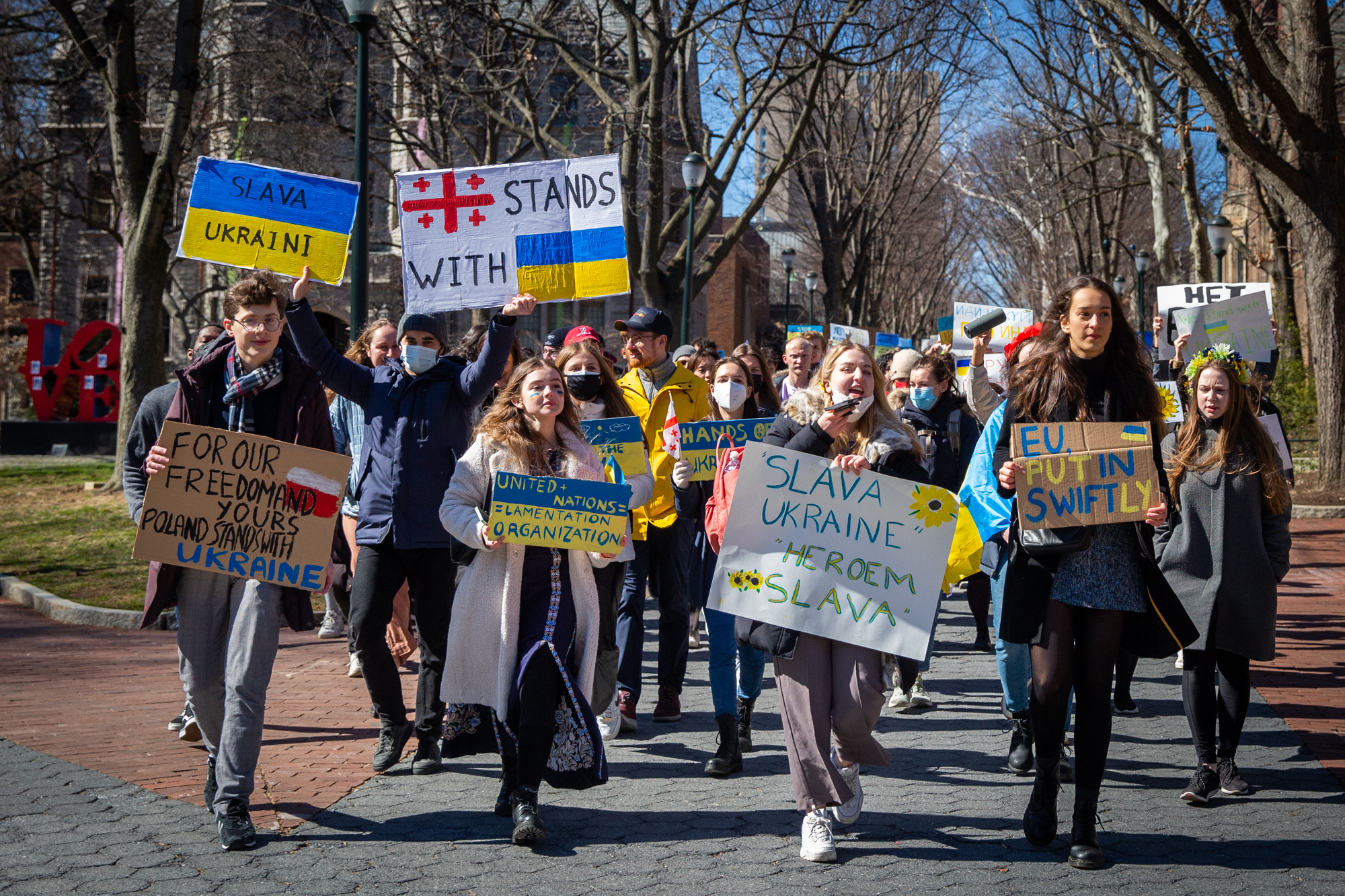 "Slava Ukraini! Heroem Slava!"
This chant, translating to "Glory to Ukraine! Glory to the heroes!" rang out at 37th Street and Locust Walk, kicking off a student-led walk to bring awareness to the war in Ukraine. Under chilly blue skies and a bright midday sun, more than 100 members of the Penn community marched down Locust Walk before rallying at the Benjamin Franklin statue in front of College Hall.
Third-year students and friends Elena Tisnovsky, of Westchester, New York, and Ballina Prishtina of Pristina, Kosovo, organized the event, engaging a number of student groups and other campus entities, including the Penn Polish Club, Penn Albanian Society, Undergraduate Assembly, and departments of history and Russian and East European Studies. Tisnovsky also enlisted political science professor Rogers Smith for help getting the word out.
"The goal," said Tisnovsky, a junior of Ukrainian descent, "was to remind Penn students that you have a lot of power, as Penn students and as Americans, to hold our government accountable."
Several speakers, including students from Ukraine, Lithuania, Poland, and Kosovo, shared their thoughts and experiences related to the conflict, from worries about family members to specific ways of supporting humanitarian and military efforts.
First-year student Olga Loiek of Kolomyia, Ukraine, wearing a dress with traditional Ukrainian embroidery, or vyshyvanka, spoke of her concern for the children, soldiers, and civilians dying in this "difficult, unequal war.
"We wanted to raise awareness and show ways the community can provide support," Loiek said. "There are not many students here from Ukraine, so we wanted to share our stories."
Twice, the organizers played the Ukrainian national anthem, many in the crowd singing along. And before the group disbanded, there were more chants, some through tears.
"Slava Ukraini! Heroem Slava!"