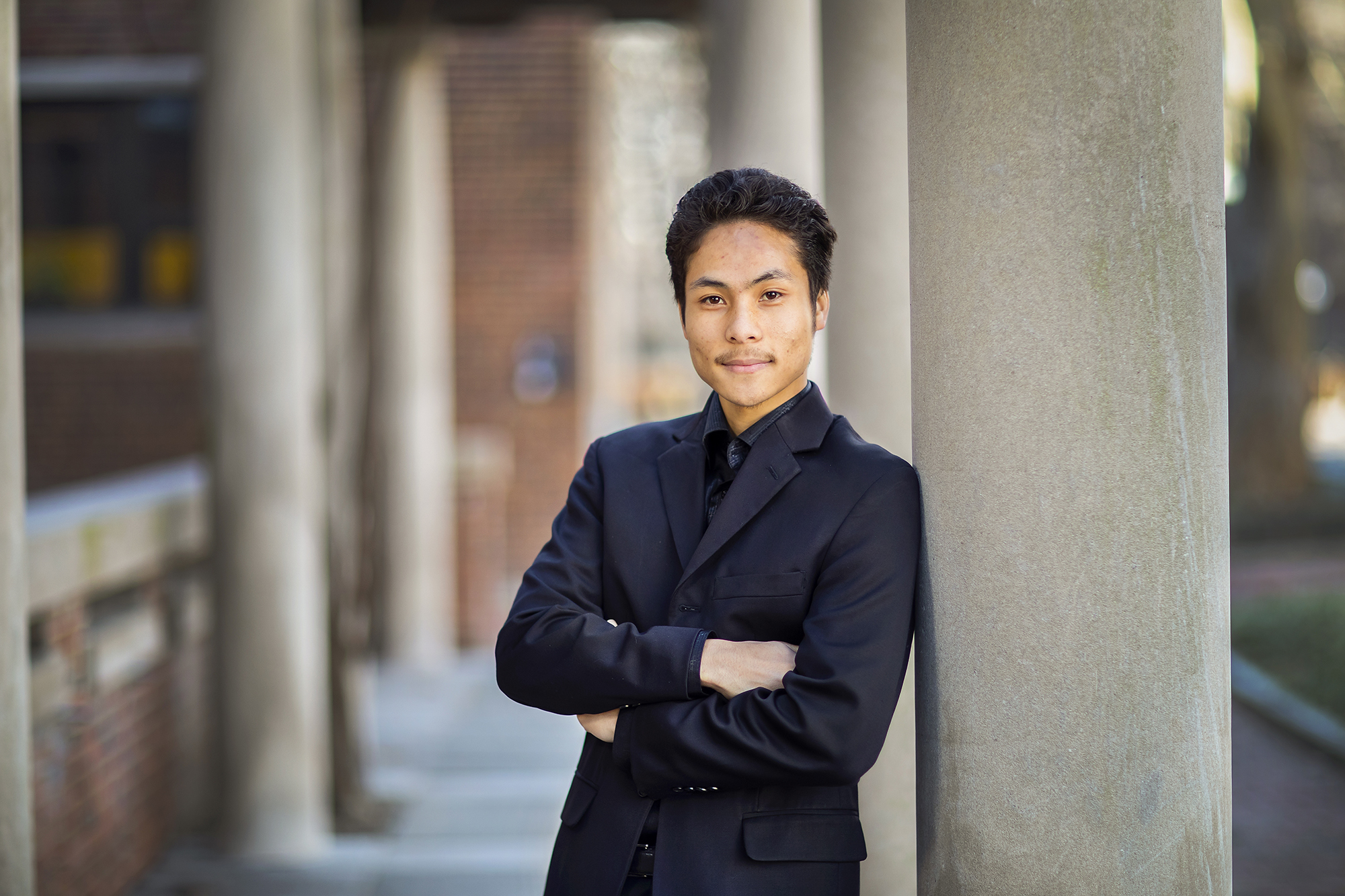 Michael Wong, from Oakland, California, hadn't even heard of Penn until his later years of high school. 
Flash forward to now, and the first-generation, low-income student is about to earn a Wharton bachelor's degree in three separate concentrations—entrepreneurship management, finance, and marketing and operations management. He's also already launched his first full-fledged business, InstaHub, which is gaining momentum by the minute.
"Back in high school, I didn't know anything about the college process," he says, "but I knew I needed to find a school that would support me, not only financially, but for my dreams as well."
Wong caught up with Penn Today over coffee on campus, chatting about his path to Penn, his passion for entrepreneurship, and his plans after graduation.
BUSINESS BUILDER: Starting a business during college was something Wong knew he wanted to do. "I think the concept of building something from nothing always gets me," he says. His freshman year, he made sure to get involved in every startup competition he could—from Y-Prize to the Hult Prize. "I was learning about building teams, brainstorming ideas, understanding problems well, and then tackling the issues," Wong says.
LIGHT-BULB MOMENT: It was a dark, late night. Wong was a sophomore, walking back to Stouffer College House, and noticed many lights on throughout University buildings—even though they were unoccupied. After some detailed market research, Wong realized he wanted to create a new solution to eliminate that energy waste. 
SNAP ON SOLUTION: Wong joined fellow Penn student Dayo Adewole, a doctoral candidate in engineering, to design a battery-powered automation device with occupancy sensing capabilities that attaches over existing light switches. The idea is that the product is easy to install, and eliminates the need for large rewiring projects, while also maintaining cutting-edge sensors and analytics, which turn on lights when people enter rooms and off when they leave. "The philosophy is we need to erase our obvious energy waste ASAP," Wong says. His plan is to market the product to the commercial sector first, and evolve it over time for use in personal homes.
A FAMILY THING: Wong's younger sister Tiffany Wong, who will graduate from Wharton in 2021, has also joined the InstaHub team, leading the marketing side of the business and capturing new customers. Their other sibling, Kevin Wong, is now local, too—attending Haverford College. Wong says he is "grateful for the lucky opportunity to being so close to each other."
TRIED-AND-TESTED: After earning initial funding from Penn Sustainability's Green Fund, Wong and his team, with the support of Wharton Operations' David Mazzocco, began building InstaHub's products at South Philadelphia makerspace NextFab, and beta-tested them in buildings across Penn's campus. With evidence that their device has potential, they participated in various startup programs and competitions on and off campus, including Wharton VIP-X, NextFab's Hardware Accelerator, Penn I-Corps, Hult Prize Accelerator, Fulphil, Westly Prize, Penn's iDesign Prize, and the #YouthStepUp Climate Challenge. The team garnered support from the Wharton Social Impact Initiative and Turner Social Impact Society, traveled to and pitched at various tradeshows across the country, and has already earned significant funding to get the company off the ground. 
LOOKING BACK: When talking about how he got to where he is now, Wong can't help but credit his proud parents and a program he was involved in growing up, called College Track, which empowers students from underserved communities to graduate from college. College Track was co-founded by Penn alumna Laurene Powell Jobs, who Wong had the opportunity of meeting. It was through the program that Wong was exposed to Penn, and also to the Gates Millennium Scholars Program, which he ended up winning. With a full ride to Penn, nothing was stopping Wong from achieving his biggest goals.
UPS AND DOWNS: Like a lot of students, and especially students who are the first in their families to go to college, Wong admits he felt a bit of a "culture shock" when he came to Penn. Things got tough, but he leaned on his encouraging family for support, built up a good group of friends and mentors, and also utilized wellness programs at Penn, including Counseling and Psychological Services. He got involved, acting as a source of encouragement for other students who are feeling alone. For instance, Wong helped organize a workshop for an event that brought 100 students from various universities to Penn to discuss the challenges of being a first-generation, low-income student in college. Wong was also recently featured as part of San Francisco NPR's "Perspectives" series, sharing his very personal experience.
DIPLOMA IN HAND: After he graduates this May, Wong plans to run InstaHub full time, and will likely stay in Philadelphia. He also hopes to continue sharing his story with younger students. When he was flown out for an award a few weeks ago, he stopped in his old high school, discussing with current students how far hard work and determination can get them. "Any time I get the chance, I am going to go back to my school, and always give back," Wong says.