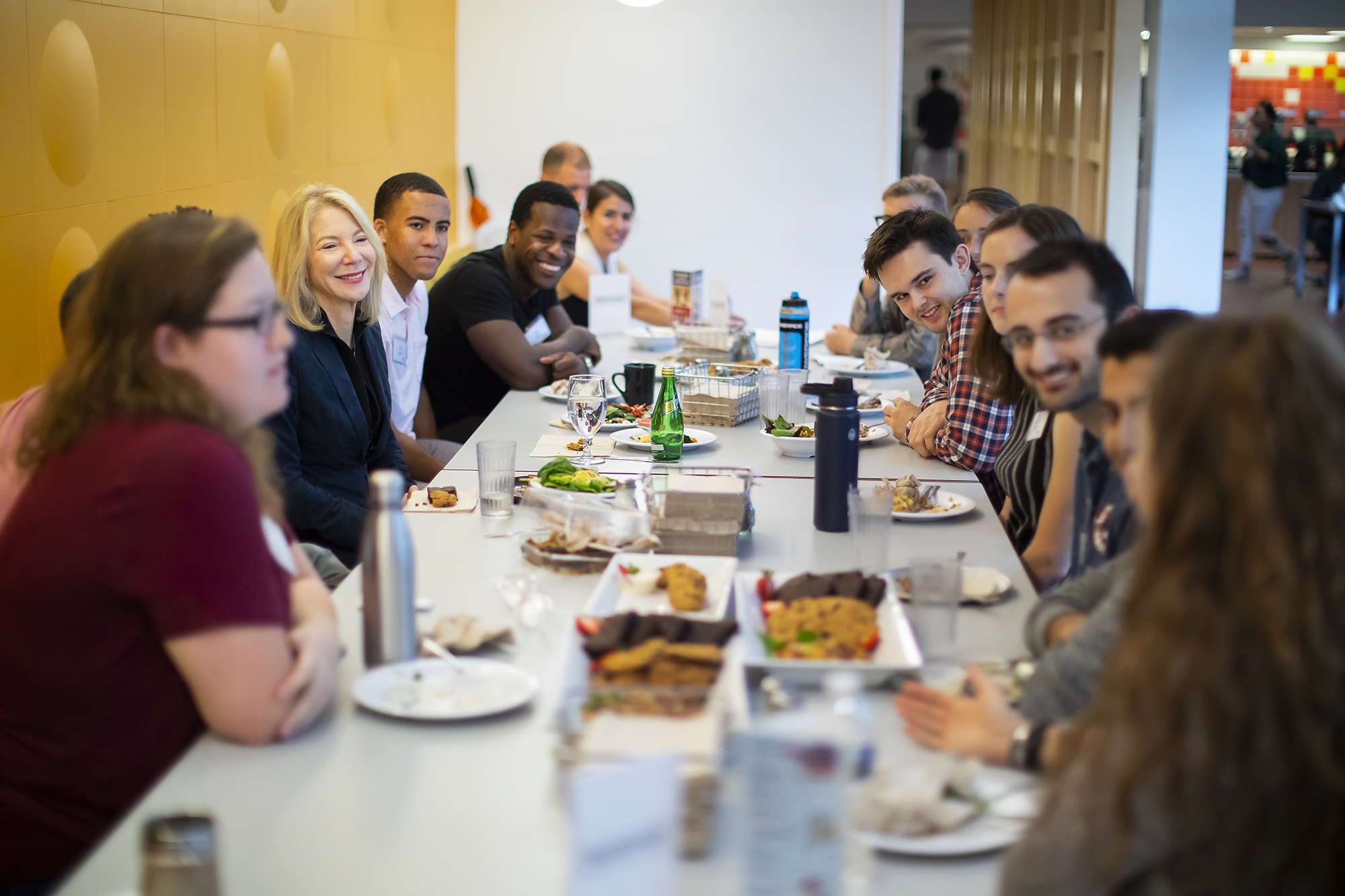 President Amy Gutmann took a seat for lunch at Hill House Café, surrounded by 11 undergraduate students. They were there for the opportunity to exchange interests both academic and personal with Penn's leader, who is also a professor of political science and professor of communication.
This unusual lunchtime meeting of minds is an opportunity made possible by the "Take Your Professor to Lunch" program, a collaboration between New Student Orientation & Academic Initiatives, Penn Dining, and the Business Services Division, which allows students and faculty to extend an invitation for a free lunch together at one of Penn's dining facilities.
The idea: for students and faculty to get to know each other outside the classroom.
On Tuesday, Gutmann engaged with students—with majors ranging from political science to computer science—during a mentor lunch to showcase the good that can come from this type of casual dynamic with professors. That is, trading thoughts on their areas of academic expertise, but also personal interests that may lead to bigger and unexpected dialogue.
David Fox, director of New Student Orientation & Academic Initiatives, who was involved with organizing the program, says that serendipity is, in fact, one of the most valuable elements of the program.
"This program encourages a kind of casual conversation that complements the highly focused, topic-specific discussion in a classroom. Through the program, you can have some of your best encounters with people and get to know them. A lot of it has to do with, 'Did I have conversation with [a student] beyond the seminar?'" he says. "And I just think it's nice for people to realize that our lives are bigger than the 80 minutes you get with [a professor or student] two or three times a week."
As an example, Fox, who teaches the course "American Musical Theater," noted a one-on-one, office-hours chat with a student several years ago, during which time he learned of her interest in actress Bernadette Peters. Together, Fox and the student were able to not only have a laugh about her fandom, but formulate a research paper that studied how Peters approached roles other actors had also taken on. With a chuckle, he recalled a moment when, two weeks after the course ended, the student coincidentally ran into Peters in New York, and emailed him a selfie of the two together.
"I'm not going to say if you use this program you'll get a selfie with your version of Bernadette Peters, but it's an example of how a sort of offline conversation was an ice breaker for me and a student—something that led to some creative thinking, and let me get to know her better as a student who was not one of the more talkative students in class."
Indeed, during the students' lunch with Gutmann, subjects of conversation ran the gamut: from all-nighters to the Eagles' Super Bowl win, personal ties in India, the value of relationship-building, and striving to make the biggest impact. Moreover, students shared their mission-driven work in the West Philadelphia community, prompting Gutmann to explain the President's Engagement Prizes—a demonstration of how story- and background-sharing can prompt valuable exchanges. But, of course, there was also raw value in the students simply getting to know someone else's story.
"Even to hear about her background, I didn't know she was a first-generation [college student]," says Cassidy Gallagher, a Penn Nursing sophomore from Delaware County, Pa., who attended the lunch.
Cole Mattox, a freshman in the Wharton School, from Montclair, N.J., echoed that it was insightful to learn more about Gutmann's background, and also just get general life advice—to talk about the "more human side of someone who's not just an administrator or teacher," he says. He now hopes to take advantage of the program with one of his professors. "This is great because some classes are 200-person lecture halls; your professor might not even know your name," he says. "So, it's sort of a really personal aspect of that, getting there and getting to share a meal, and talk to them about what they've been through, what is next for them, and how to navigate your own life."
Fox is immensely proud of how the program has shaped up, noting that "everybody rolled up their sleeves" and made the program happen. He's hopeful that the Penn community will experience the program and continue to use it—they can use it as many as five times per semester, once per professor, upon registration. Professors are also able to bring their class for lunch.
"Take part in it," Fox says. "Do it. Because once you do it, you'll want to do it again."