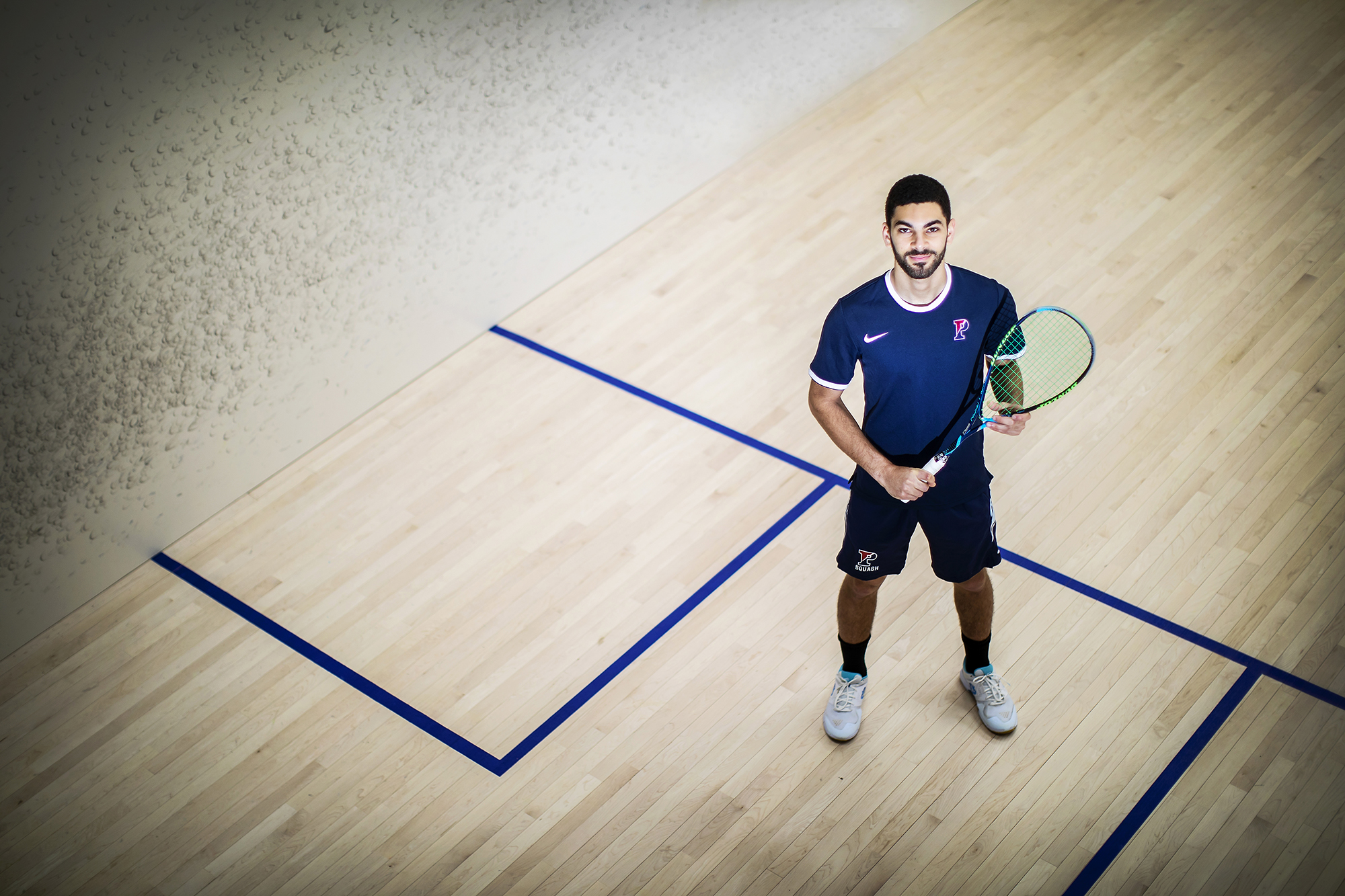 By the age of 10, Aly Abou Eleinen, a senior on the men's squash team, was traveling around the world competing in squash tournaments.
Born in Alexandria, Egypt, he comes from a family of squash players and started taking lessons at age 4. His grandfather was an accomplished player and vice president of the Egyptian Squash Federation and his older brother Seif also excelled at the sport.
After Seif—who Eleinen says was his role model growing up—was recruited to play squash at the Brooks School in Boston and then at Harvard, Eleinen followed in his footsteps, shining in squash at the Brooks School before being recruited to Penn.
In only three years as a Quaker, Eleinen has had an illustrious career. Despite missing last season due the pandemic, he concluded his Penn career with a 53-11 record, making him one of only three players in program history to win 50 games, and the only player to do it in three years.
Eleinen was a First-Team All-Ivy selection and a First-Team College Squash Association (CSA) All-American in each of his three seasons. During his sophomore season in 2019-20, he was the national runner-up at the CSA Individual Championships, making him the first Penn men's player to reach the national final since Stewart Ballard in 1986.
This past season, Eleinen amassed a 19-2 record and helped the Quakers achieve their first undefeated regular season in school history, a program record 18 wins, and the team's first outright Ivy League Championship since 1969. The Red & Blue advanced to the Potter Cup Final before losing a heartbreaker to Harvard.
Penn Today caught up with Eleinen, a Philosophy, Politics & Economics major, to discuss what he enjoys about the sport, his training and preparation, the team's progression and record-breaking season, and the life of a professional squash player.
What do you enjoy about playing squash? So much. It's an individual sport so you get to learn so much about yourself on and off the court. The amount of preparation that goes into becoming a good squash player is crazy. At Penn, you are part of a team, but at the end of the day, you're the only one on court playing. It's interesting because you make your own choices off court. You get to organize your training, you get to see what works for you, what doesn't work for you. I like that aspect of it because I learn so much about myself by playing.
What does your training and preparation involve? I'm planning on playing professionally after college. I've been playing professionally for the last year and a half. Last summer was my first attempt to play professionally and train on a professional level, and I kind of treated it like a full-time job. If I wasn't playing professionally, I would have probably done a full-time internship, so I treated it the same way. I would wake up at 8 o'clock in the morning, go the gym with my coach for about an hour, and then do a feeding session with my coach. A feeding session is when you come in and work on individual shots and technique. Then I'd go home, which is by now around 2 or 3 o'clock, get a meal, rest, and then come back around 5. From 5 to 8, I start doing some match play and some more intense practice matches, and then I would get some treatment on my body and stretch, and maybe do a core workout. You are training from 8 in the morning until maybe 9 or 10 at night. Even if you're not practicing, you're still resting and taking care of your body, getting a good meal, resetting for the next session. It's more than a full-time job when it comes to the professional level.
Squash is very popular in Egypt. Why is that so? How did it become so popular? In the 1990s, there was a player named Ahmed Barada who was one of the first Egyptians to make it into the top five squash rankings, and he started to become very popular. It was sort of like when Egyptians started seeing that someone could make it to the top stage, we started thinking that if he can do it, we can also do it. And then the sport started to pick up a little bit and we started to get more and more Egyptian champions. I want to say five of the top 10 squash players in the world today are Egyptian.
You mentioned that your brother was your role model when you were growing up. Can you talk a little bit about your family and how they impacted and influenced your success in squash? My family has played such a big role in my success. I wouldn't have been able to do any of what I've done without the support of my family. My brother has always been there for me in terms of being a big brother, in terms of knowing a lot about the game, so I always seek advice from him. I'm so lucky to have him in my corner.
When I was younger, my mom would drive me to practice at the most absurd times and she has always been there for me, picking me up from fitness practice, driving me to squash practice, picking me up from school, cooking me meals. Without her, I don't know how I could have stayed so strong. Even when I'm down, she's always there to pick me up.
And my dad does everything to support me and always has the best advice for me. When I wanted to play professionally, I was a little hesitant because it's a little untraditional to go from an Ivy League school to playing professionally after you graduate. I was a little hesitant, and just to know that my parents and my family are fully supportive gives me so much confidence.
What are your thoughts on the season? The team was ranked No. 1 and had a perfect regular season and was on the verge of a national championship before falling to Harvard 5-4 in the Potter Cup Final. The season was great. Last season [2019-20], we finished second in the Ivy League and second at Nationals. And the year before, we finished third at Nationals, so it's good to see the progression that we've had. Over the last five years, Penn has been improving every year in terms of ranking and in terms of squad depth, so coming into this season, we were excited to get back. We knew our team was very strong and we knew that we had so much potential, and we locked it down. We kept working so hard from the very beginning of the season.
On the first day back in August, we had practice, and we all knew what we wanted to do: Win the Ivy League Championship and win the National Championship. We were so close. We were so close.
The Potter Cup Final loss was a tough loss, almost like losing the Super Bowl. Exactly. Twice in a row. It was tough. It was at home, and we had so many fans. I've never seen a Penn match or a Penn game in any sport where everyone was so invested and there was so much Penn pride. And it came down to the wire. Sometimes, it doesn't go your way. I wish it did, but it didn't. We're still very proud of our season; we're still very proud of how we conducted ourselves. It was definitely devastating and it's going to bite for a long time, but the way the season ended is not going to overshadow the success we had across the entire season.
You mentioned the progression the men's squash team has had over the last five years. What do you credit that progression to? I think a big part comes down to our coach, Gilly Lane. He does a great job recruiting some of the best players in the world, and really emphasized team diversity. We have players from Egypt, Canada, Malaysia, England, India. We have such a diverse team that it plays a big role into how we stay close together. Even though we're different, we play towards the same goal. Our players are very good in their home countries so they come in with the mindset of, 'I'm here to play squash, do school, and win for the team.' We all have that mindset. We also have a world-class facility. It's one of the best facilities in the world. During my sophomore year, we added a great coach to our team. His name is Stuart Crawford. He's working with Gilly and he's very good with the technical work. Both of them do a great job as a team.
After graduating, you will embark on a professional squash career. What is life like on the professional squash circuit? It's sort of like tennis in the sense that you get a world ranking and you start playing tournaments based on the world ranking. So, if your world ranking is in the 300s, you'll play smaller tournaments; if it's in the 100s, you start playing bigger tournaments; in the 50s, even bigger tournaments. And then based on your ranking, you see what tournaments you're going to get into, and the better you do, the higher your ranking is going to get. Right now, I'm 78th in the world. My goal is to make it into the top 10 in the world before I'm 27. I'm not putting a lot of pressure on myself; this is sort of a general goal for myself. I'm really excited and I'm proud of what I've been able to do in the last year and a half. I can't wait to travel the world and compete and learn new experiences.