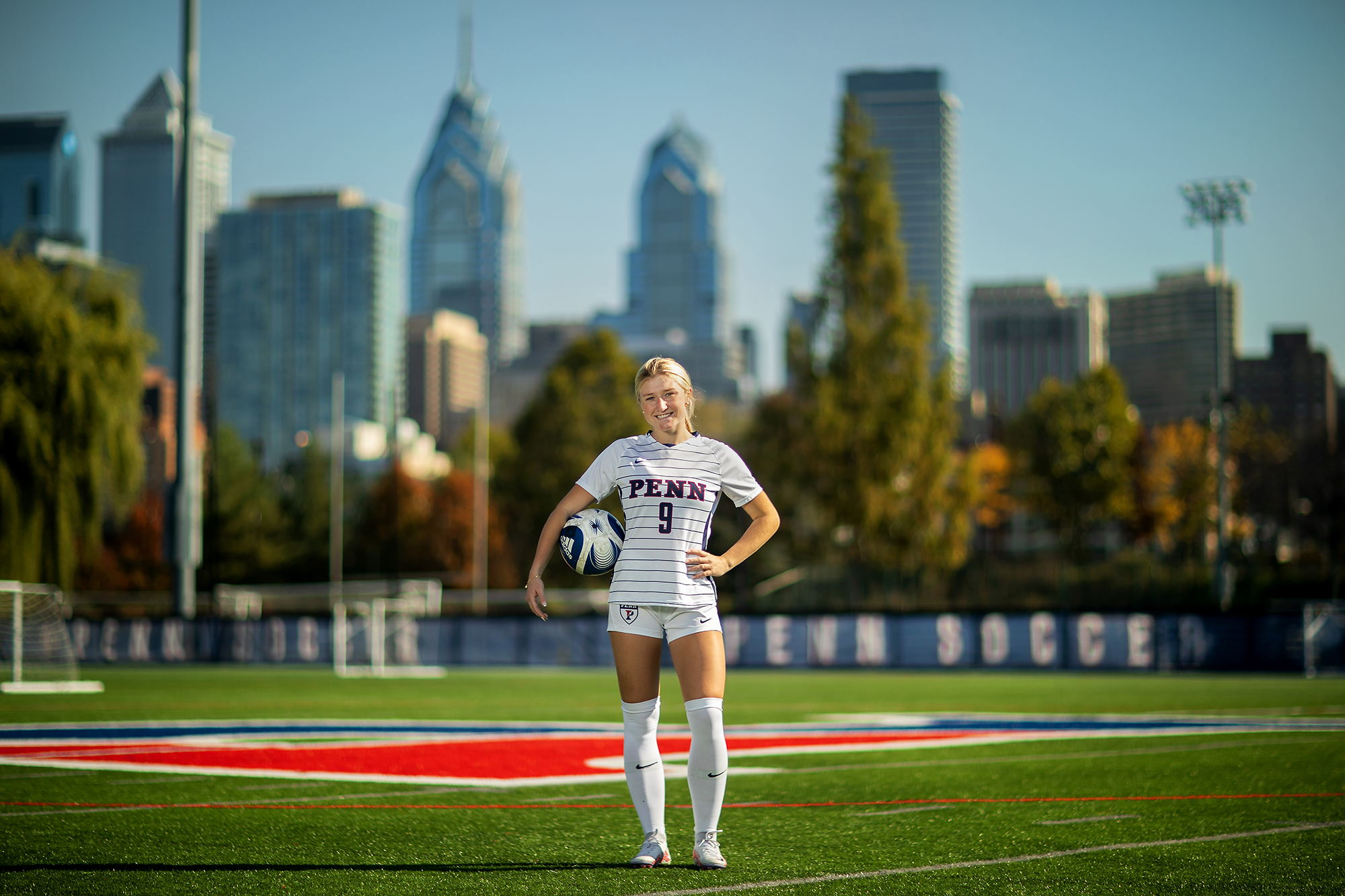 Her older sister could not pronounce "Elizabeth" when she was younger, so she called her "Sister" or "Lizzy," which turned into "Sizzy"—and the name stuck.
Fourth-year forward Sizzy Lawton recently put a bow on her productive career with the women's soccer team, compiling 10 goals, 12 assists, and 32 points in 47 games across three seasons of play (the 2020 season was canceled because of the coronavirus).
This past season, Lawton led the Quakers in points (12), goals (four), assists (four), shots (31), and shots on goal (13), and earned her second consecutive Second-Team All-Ivy honor.
A health and societies major in the School of Arts & Sciences from Flourtown, Pennsylvania, Lawton says she has been playing soccer "probably since I was able to walk." She appeared in 15 games as a first-year and made her presence known right from the jump. She played 58 minutes off the bench in her first collegiate game, a 5-1 loss to No. 3 Stanford. Three days later, she scored her first career goal in her first career start, a 2-0 victory over Towson.
As a third-year, Lawton played in all 16 games and made 15 starts. The Red & Blue finished 9-5-2 and she tied for second on the team with 13 points (three goals and seven assists). She was named Third-Team United Soccer Coaches All-North Region and Second-Team All-Ivy.
Penn Today sat down with Lawton to discuss playing the beautiful game, how to develop a soccer IQ, the importance of knowing your teammates, changing coaches, and her plans for the future.
What do you enjoy about playing soccer? I enjoy just how beautiful it is, playing the ball, swinging it around really well. You can be very creative with it as well. I like how it's OK to make mistakes because of how long the game is, in a sense. I love the soccer community as a whole and seeing the success in teams through a lot of hard work and practice—seeing progression from where you start to where you end is fascinating. I also think I have a high soccer IQ, which can correlate to your performance.
What do you mean by a soccer IQ? Is that knowing where the ball is going to go? Yes, knowing where it's going before you pass it, seeing the field, even when you're defending, seeing the field and reading the pass and where they're going to play it.
How does one develop a soccer IQ? It is something you pick up over time? I think definitely through time, through different coaches, watching a lot of film. Even just watching the game, watching the NWSL, Premier League, or MLS. Seeing how others play can help you increase your game.
What are your responsibilities as a forward? As a forward, my responsibilities are making sure I'm attacking as well as defending, and tracking back and connecting with the other forwards, as well as the midfielders and the outside back to make sure you're being really creative, changing of pace on the dribble with the ball, getting a lot of crosses off to have other people finish the ball, shooting, and making it hard for your defender to play the ball.
Football players get a break between plays and basketball stops play often due to fouls and time outs, but it seems like soccer players are constantly running. Are you able to take a few breaths and get your wind back during a game? Yes, when the ball goes out of bounds, you kind of have a second to reset, or when there's a foul. And also, a lot of it is fast, short burst sprints. A lot of it is like passive running, but there's also short, fast sprints, like change of speed, stuff like that. So there are definitely times when you get to relax.
As a first-year, you made six starts, appeared in 15 games, and were an All-Ivy honorable mention. Why do you think you were able to transition from high school to college so smoothly? I played at the Penn Fusion Soccer Academy. It's a top-level academy league so I didn't play high school soccer. We practiced four to five times a week year-round so I was very prepared. One hundred percent of my team went Division I and this excelled my training tremendously, as well as the high-level coaching staff. Before my freshman year, I was playing with the [Women's Premier Soccer League], which were existing college players. Being able to play with them and adjusting to their speed of play and physicality prepared me very well for the college game.
I read an interview you did with the Daily Pennsylvanian where you said you were interested in coming to Penn because your teammates had similar personalities, drives, and interests. Why was that important to you and how has that helped with team chemistry? I think so much of success comes from off the field as well, and relationships, and the way you treat your teammates. I think that can really correlate to how you play on the field. I think knowing your teammates and the people you play next to outside of soccer is important as well, how they can react and respond to things you say, or the way they want to be talked to on the field or responded to.
I think also just having that same similar interest and passion for soccer is something that is huge. We're all at Penn, we're all very academically driven, but I think also having the athletic piece of soccer as well and knowing what it takes to be a Division I athlete here at Penn is something super special. I think we all have that, so that definitely helps us bond really well and understand each other very well.
You had three different coaches in three years. How was the adjustment? I imagine they all had different coaching styles. It was definitely something I wasn't expecting, but through every change I have learned so much from them and have a lot of respect for all of the coaches. I would certainly say it's been challenging in the sense of having to adapt each year and different coaching styles. COVID wasn't helping any either. But I think it taught me a lot in life, to always not take everything for granted and to have a lot of gratitude. I think having to be very adaptive and versatile and flexible is something that has really been able to help us succeed and help my class in general go through these coaching changes. Having three coaches is unheard of, so I think staying with each other as a team through it all and working hard and pushing each other can really have a huge effect and make a difference.
The women's soccer team had seven ties this past season. What is your view on ties? I guess they could be considered a moral victory or more like a loss, depending on the opponent. I think that sometimes a tie can feel like a loss, or sometimes a tie can feel like a win. I think it depends on each specific game and how well we execute the game plan. I think it's different in a sense where we're not used to having ties compared to last year when we had overtime. Sometimes you can feel like, 'I wish we had 10 more minutes,' and other times you feel like, 'Thank gosh we didn't have 10 more minutes.' It depends on the game.
So, there's no more overtime in women's college soccer? No, they eliminated overtime.
I did not know that. Do you know why they got rid of it? I think it was because a lot of teams play Thursdays and Sundays, so it is taxing on a lot of players' bodies. Adding 20 more minutes each game is a lot for them, so they got rid of it because it was just too much on players' bodies.
What are your plans for next year? You still have a year of eligibility, although you can't play at Penn. I am going to use my extra year of eligibility to play at the University of Tennessee while earning a master's degree in management and human resources.