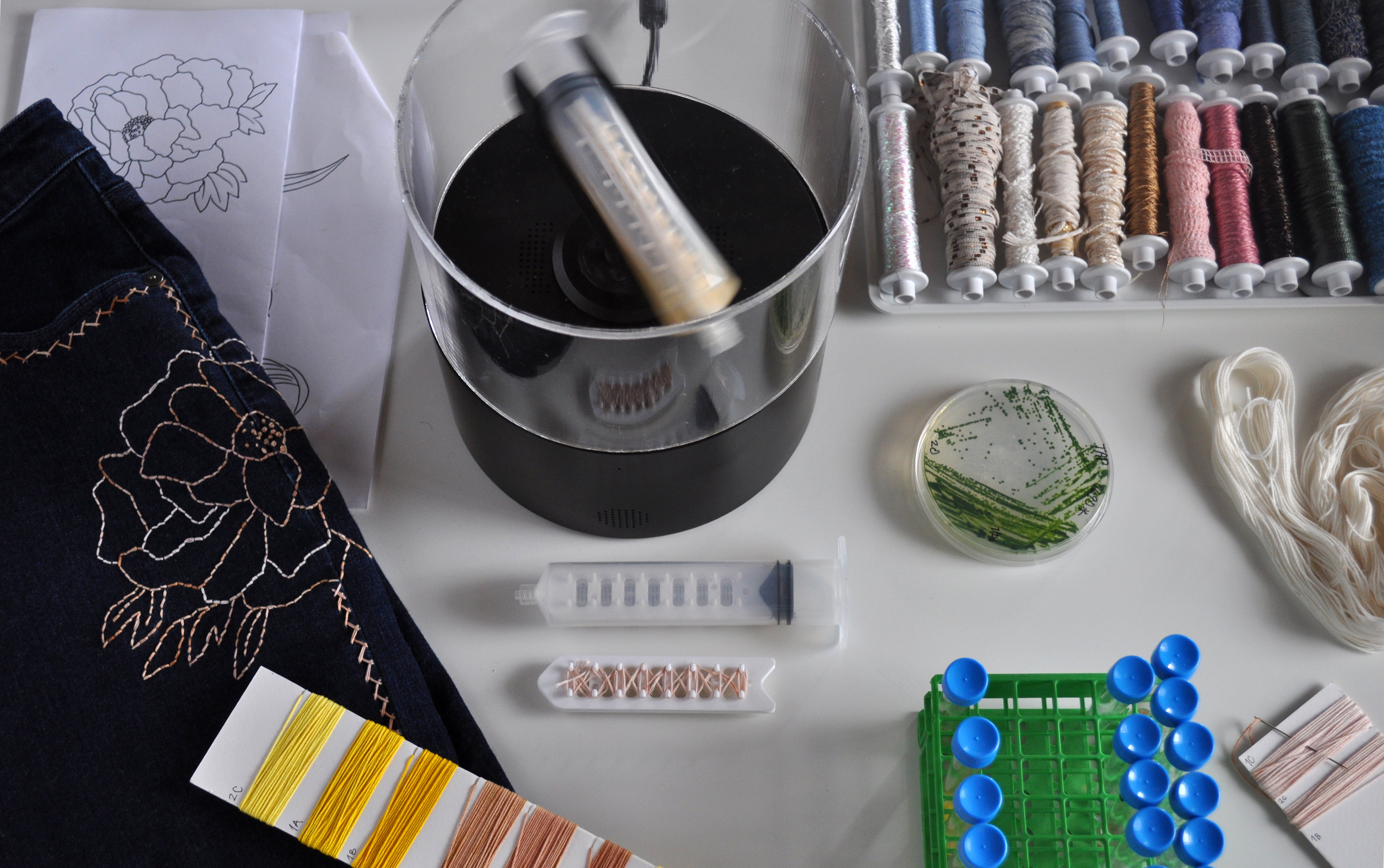 Before the fall of 2012, Orkan Telhan and Karen Hogan didn't even know each other. Fast forward six years, and the Penn duo has created budding startup Biorealize, with not one—but two—transformative products. 
The latest, dubbed B | reactor, is, in simple terms, a portable and affordable prototyping tool for biology. The first of its kind in the world, the reactor works as an end-to-end solution for designers and other folks who want to experiment with biofabrication. Think: biodegradable packaging, biosensors in apparel, and novel fermented food and beverages. 
An advanced research tool, the reactor makes it easier to design new products with biology—a more sustainable option than the alternative—even for non-experts.
"It's a very simple tool," says Telhan, an interdisciplinary designer and researcher in Penn's School of Design, "that lowers the barriers of entry." 
Hogan, who left Penn's Department of Biology this past summer to run Biorealize as CEO full time, brings the scientific expertise to the company; Telhan, still a full-time associate professor at Penn, carries the design know-how as chief design and technology officer. 
The two entrepreneurs first met when Hogan, a lab coordinator at the time, helped find Telhan a lab space for a new unit he was constructing for one of his courses. They got to talking about common interests and passions to bring design and biology closer—and the rest is history.
"Penn has always been this place where everything seems serendipitous," says Hogan, a Penn alumna, chatting at a lounge space within the Pennovation Center, where Biorealize is based. "The University has always valued that intellectual curiosity and that general enthusiasm for exploring the universe."
In the spring of 2013, Telhan and Hogan, knowing they wanted to work together, applied for an Integrating Sustainability Across the Curriculum grant, which gave them a boost to teach their first course together—an integrative design studio on biological design. 
"We ran into this problem where students were coming up with great ideas, Orkan and I were generating great ideas, but getting those prototyped was fundamentally difficult," Hogan says. "We were observing this among our professional colleagues working in the space, too."
Telhan and Hogan quickly realized that in addition to the infrastructure, the lack of tools that designers and biologists can use together to try their ideas was also a major problem—and a problem that needed to be tapped into quickly, as biofabrication is one of the fastest-growing industries in the U.S. and beyond.
"I can take all the designers at Penn into a biology lab and everything is great at a well-resourced University like this," Telhan says, "but if you think about other designers outside the University, they don't really have resources to work with biology."
Their first product, which they produced in 2015 with local technology developer Michael Hogan, a Penn alumnus, was Microbial Design Studio. The idea? "To create a platform that would basically eliminate the need for a biology lab, by bringing different tools together in a portable device," says Telhan. "We wanted to create a tool that you can bring next to your 3D printer or electronics prototyping bench."
One of the first firms to take notice of the Studio was PUMA. The athletic apparel company worked with MIT Design Lab, where Telhan used to work, and Biorealize to design next-generation athletic footwear, clothing, and wearables that can adapt in real time by using living organisms to enhance performance.
Other people who were really excited about the Studio were those "in the know," explains Hogan. "They loved the idea of having a co-bot who could perform multiple experiments for them, but after countless interviews and different feedback from everyone from the scientists to the product designers, we realized there were a couple key features missing."
That R&D was vital—and precisely what led to the more affordable, designer-friendly, smaller, convenient, and flexible bioreactor that exists today. The portable reactor heats, cools, agitates, and tracks microorganism growth in programmable media and culturing settings, and comes with interchangeable single-use vessels for growing microorganisms in 10ml, 20ml, and 60ml volumes. 
"Both scientists and designers love the fact that they can let the device do all the culturing and sensing," says Telhan, "while they can observe the organisms grow from their phones."
Launched in early October, and with a patent pending, the reactor, now in several beta tests throughout the Philadelphia region, is available for pre-order, and will be manufactured early next year for a mid-2019 delivery. 
Telhan and Hogan are also producing various kits that can accompany the reactors. Similar to meal kit service Blue Apron, Hogan muses, "the microbial designer kits provide the raw ingredients, you learn how to assemble them, do some applications with them, which we show you how to do, then you're off to the races, ordering from the pantry and mixing and matching and exploring."
Telhan and Hogan also offer a community to customers where they can participate in showcasing designs and collaborating with other scientists and designers who share similar interests or the same problem-solving goals.
"Initially, buyers will be those who are professionals who are selling something to customers that need to do it better, faster, and have better quality control," Hogan says. But, down the road, Telhan notes the reactor's big-time potential of being in every design studio, every hospital, and even every kitchen. 
"We're talking about consumer biology on a massive scale," he says.
Biorealize landed its first official workspace near campus when it participated in the spring 2017 Dreamit HealthTech accelerator. Soon after, it headed to the Pennovation Center, where Biorealize has operated since, mostly due to its proximity to Penn's campus, accessible labs, and the flexible nature of such a space (the team, which also has two part-time employees and a Penn student intern, jumps from traditional office spaces to co-working desks depending on its needs).
Biorealize also works with the Penn Center for Innovation, the University's commercialization arm, "all the time," says Hogan. It is PCI's officers who talked through the commercialization of Biorealize with Hogan and Telhan, and helped file the patents on their products. 
Hogan and Telhan give immense credit, too, to their respective departments that have supported them through not only the research behind their startup, but also the formation of it, Hogan says, "even though they knew it might mean losing one of us some day."
"Penn has a big vision with its Compact 2020 of innovation, inclusion, and impact, and it's not an easy path to get there," Hogan notes. "But I know if they wouldn't have supported us, we wouldn't have made it this far."
As Biorealize grows, Telhan and Hogan are committed to making transformational products as opposed to more "profit products," says Telhan, noting "our investors will be with us for a longer vision."
"We know Biorealize is going to be a very big company," he adds. "We just aren't exactly how soon we will be."
Telhan and Hogan agree: The future of manufacturing for the health of the planet, and for humans, is going to rely strongly on microbiology. 
"Biofabrication is the future of manufacturing, and ultimately, if we can onboard more designers with biology, that will accelerate the rate of innovation and diversify the products," says Telhan. "We've created a tool that will start a new design revolution."
Photos courtesy of Biorealize.