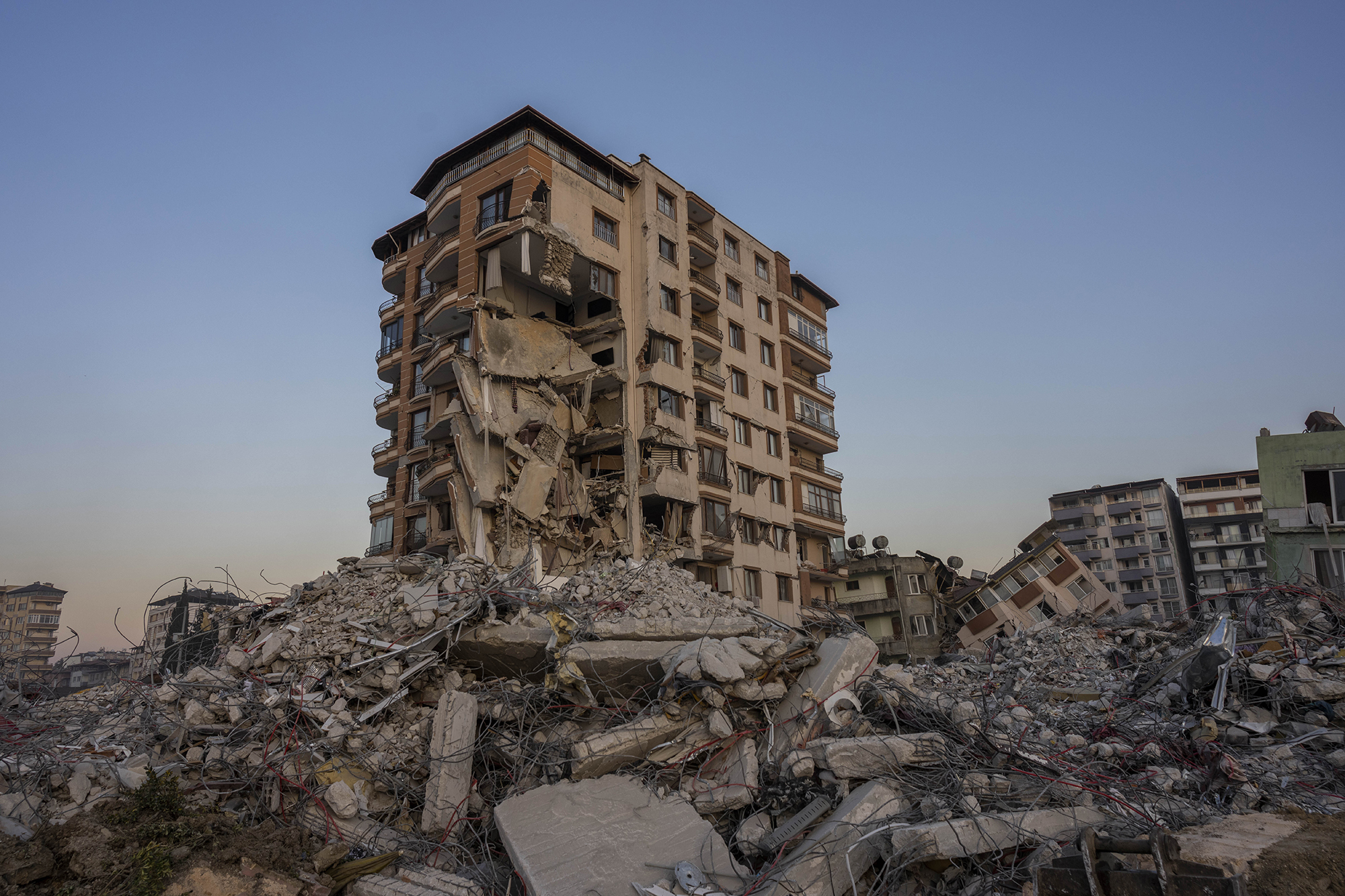 The 7.8-magnitude earthquake that hit Turkey and Syria on Feb. 6 is one of the deadliest natural disasters in decades, with a death toll that's surpassed 41,000 and is expected to continue rising. In the middle of winter, hundreds of thousands of people are without shelter in a region already pummeled by a 12-year refugee crisis. 
"It's an incredibly difficult situation," says Jonathan Bar, director of emergency preparedness at Penn Medicine. "They're facing significant challenges: the weather, infrastructure, geopolitical considerations." Beyond that, "it's a natural disaster on top of a manmade crisis, a conflict that had already led to the displacement of many people," says Kat Rosqueta, founding executive director of the Center for High Impact Philanthropy in the School of Social Policy & Practice.
Ten days out, on-the-ground medical care has likely expanded from treating acute traumatic injuries alone to those Bar describes as secondary, such as carbon monoxide poisoning from fires or generators or exacerbation of chronic conditions like asthma and congestive heart failure. "From a disaster-mitigation perspective, we're probably in the intermediate phase right now," Bar says. From the philanthropic giving perspective, Rosqueta says, the crisis is still in the first, immediate phase. 
"Because the images are so vivid and the need so acute, a lot of fundraising is happening now, when donations tend to pour in from individuals and grant makers," Rosqueta says. Yet, she adds, the need for support—financial and otherwise—remains long after news outlets have moved on.
Rosqueta, Bar, and Penn Global's Rodolfo (Rudie) Altamirano offer guidance on how to help now from afar and what resources are available on campus for those impacted by the disaster. 

1. Understand the best ways to give
Wanting to do something—anything—to ease the suffering makes perfect sense, Rosqueta says, but it's important to go about it in the right way. "Don't start blanket drives. Don't start collecting items," she says. "Such well-intended efforts complicate logistics at a time when roads and other infrastructure have been damaged, and the situation is still chaotic on the ground." 
Instead, she suggests giving money, even a small dollar amount, to two types of nonprofits. The first are "first responder" nonprofits like CARE or International Medical Corps. "Such large nonprofits specialize in crisis response. They have access to global supply chains and bring experience from working in some of the toughest situations imaginable." 
The second are pooled funds like those managed by the Center for Disaster Philanthropy or Global Giving. "Pooled funds combine donations from lots of different sources, individuals, institutions, and donate them to local nonprofits," Rosqueta says. This kind of financial donation allows organizations to remain nimble, she says. "Needs are constantly changing. The big message is that these communities will need support long after the headlines fade. It can take generations before they truly recover." 
2. Seek support locally
On Feb. 10, groups from across Penn came together in a community outreach event spearheaded by the International Student & Scholar Services (ISSS), which Altamirano runs. Sana Saeed from the chaplain's office spoke, as did representatives from the Middle East Center, Student Health and Counseling, and Student Registration & Financial Services. Each offered sympathy, support, and resources, everything from financial assistance, even for those not currently receiving aid, to a space to talk with others who are going through this experience. 
Altamirano says that anyone feeling overwhelmed or scared should reach out to ISSS (by email or phone at 215-898-4661), and his team will get them to the right office or group. "Global events create a ripple effect. Whether they're political, a natural disaster, or something else, in one way or another there's a common theme: We're here in support," he says. "We are here, together, as a unified university, in solidarity. We want to provide you with the resources you need." 
3. Be sensitive to how others might be feeling 
Penn is an international university, with dozens of scholars, students, and staff with ties to Turkey and Syria, according to Altamirano. And those are just the people known to the University; many others likely have connections to that part of the world or may simply feel grief and shock at the enormity of the situation. Understand that no two people will react the same way and that reactions can change daily. 
Rodolfo (Rudie) Altamirano is executive director of International Student & Scholar Services and Immigration Services and Integration Programs at Penn Global.
Jonathan Bar is a clinical assistant professor of emergency medicine and director of emergency preparedness at the Perelman School of Medicine.
Kat M. Rosqueta is the founding executive director of the Center for High Impact Philanthropy, adjunct faculty in the University of Pennsylvania's School of Social Policy & Practice, and faculty co-director of the High Impact Philanthropy Academy.