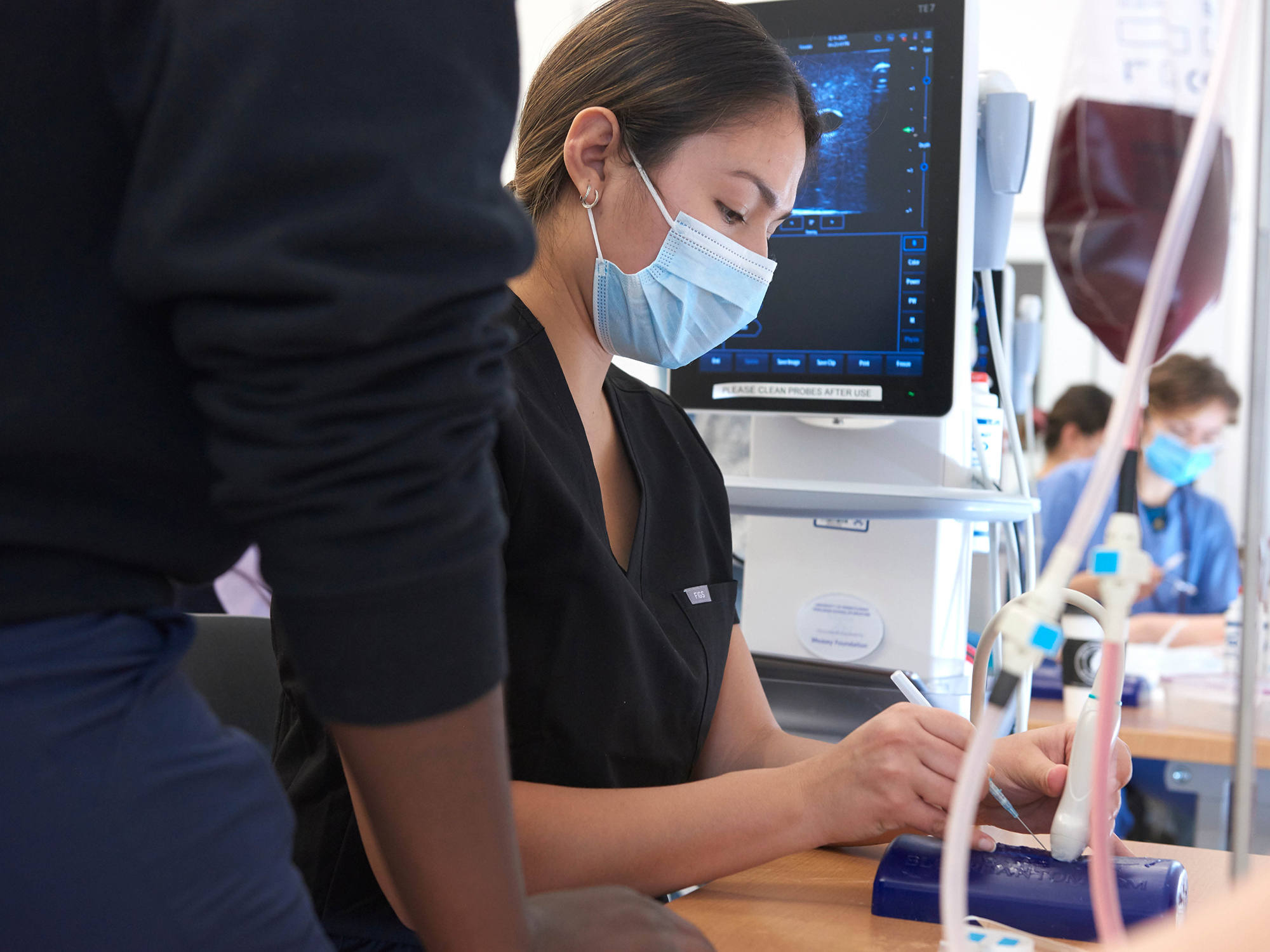 A couple of years ago, Wilma Chan was reviewing discharge orders for a young patient as she began a shift in the emergency department at the Hospital of the University of Pennsylvania (HUP). The woman was experiencing heart palpitations and chest discomfort but had no significant medical history, and after a negative work-up the attending physician from the prior shift had approved her to go home with instructions to follow up with her primary care doctor.
A second-year medical student on rotation asked Chan if she could do an ultrasound on the patient to see if it may add insight into the cause of her symptoms, and discovered that her heart was surrounded by fluid and struggling to function. Chan stopped short.
"Cardiology urgently took her to the lab to have a drain put in and asked me, 'Why did you do an echo on a young, healthy person with no known medical problems?'" Chan recalls. "I was proud yet humbled to tell them it was our student who'd done this and set the patient's care and treatment on the right course—and ultimately led to the diagnosis of her underlying disease."
Proud and humbled—but not surprised. Chan, an assistant professor of emergency medicine, leads the Perelman School of Medicine (PSOM)'s longitudinal ultrasound curriculum, which is fully integrated with instruction across disciplines. It has been growing steadily since its inception in 2015, when Chan was hired as director of ultrasound education.
Across their first three semesters before they begin clerkship rotations in the hospital, today's students have 22 hours of small-group ultrasound instruction covering device use and image interpretation. Hands-on training continues throughout several of their clinical rotations, and during their fourth year, some pursue a monthlong elective emergency medicine ultrasound sub-internship that has become so popular, enrollment is now granted by lottery. This extensive exposure to ultrasound technology is designed to benefit students and patients alike.
"There's a difference between seeing something in a book and seeing it in a dynamic, living person," says Nova Panebianco, an associate professor of emergency medicine and director of emergency ultrasound at HUP. "Ultrasound education can give students a stronger understanding of anatomy and physiology and reinforces the points included in other parts of the curriculum." When it comes time to care for patients, she says, appropriately trained medical students have the potential to make more accurate diagnoses, perform safer procedures, and communicate more effectively with patients—and the training improves their confidence every step of the way.
A sound foundation
An experience when she was a medical student spurred Panebianco's commitment to mastering ultrasound. During her emergency medicine rotation, she evaluated a woman complaining of shortness of breath—a symptom initially attributed to her history of asthma.
"I knew as soon as I put a probe on her that she had a life-threatening condition. She couldn't breathe because of pain caused by a belly full of blood from a ruptured ectopic pregnancy," Panebianco says. "That case sealed my conviction that ultrasound was something I was going to get good at."
And she did, later completing, then becoming director of Penn's emergency ultrasound fellowship. While in that role, she lobbied for PSOM to incorporate ultrasound into its medical school curriculum, citing the technology's numerous advantages. Unlike other clinical imaging options, ultrasound is safe in that it doesn't subject the patient to ionizing radiation, can be easily repeated as needed over the course of the patient's evaluation and care, and can be performed at the bedside, including in the emergency department, reducing the need to move a potentially unstable patient or spend time transporting them for radiology testing. Ever-shrinking probes that can connect to smartphones are driving the adoption of point-of-care ultrasound (POCUS), or the use of ultrasound wherever a patient is being treated—whether it's in their hospital room, in an ambulance, or even outdoors. Using POCUS helps clinicians safely monitor the progress of procedures that were traditionally performed blindly and helps them diagnose a range of conditions swiftly and with improved accuracy.
Panebianco credits Anthony Dean, now an emeritus professor of emergency medicine, for the advocacy, teaching, and research that expanded POCUS within the department. He developed the emergency medicine resident POCUS rotation, and in 2004 created one of the first emergency medicine POCUS fellowships; this work created the foundation for expansion of POCUS outside of Penn Medicine's emergency department.
Subsequently, it was the vision of the late radiologist Harvey Nisenbaum, then the chair of Medical Imaging at Penn Presbyterian Medical Center, that helped convince colleagues to apply for and secure the $1 million Benjamin and Mary Siddons Measey Foundation grant that allowed PSOM to purchase equipment and kickstart a program for medical students. Panebianco designed 10 pilot sessions for second-year students in spring 2015, with Division of Emergency Ultrasound faculty and fellows leading each training.
"At the time, we didn't have a large pool of people who could teach POCUS, and members of the division really stepped up, teaching four-hour sessions over and over. Without their passion, this curriculum never would have happened," says Panebianco, who received the PSOM Special Dean's Award with Nisenbaum in 2015 for their efforts.
The pilot's success, along with remaining Measey funds, enabled PSOM to recruit a dedicated faculty member to formalize the program. Chan, an emergency medicine physician with a master's degree in education emphasizing technology and innovation, was an ideal fit and accepted the daunting challenge of coordinating ultrasound-related activities for 160 first-year and 160 second-year students. She began integrating sessions into existing courses and soon hired veteran sonographer Christy Moore to help develop and teach lessons across a remarkably broad swath of the curriculum.
In recent years, many medical schools across the country have added ultrasound to their students' early training. The technology's clear advantage over other clinical methods—including sometimes even a standard physical exam—is that it is noninvasive, and even a totally inexperienced user is unlikely to cause harm. But while some schools hand first-year students a probe as an early preview of applied medicine, Penn's curriculum gives medical students a broader and deeper training in an essential skill for future physicians.
"In the pre-clerkship space, the most obvious places to teach ultrasound are anatomy and physical exam, and that is where most schools fit it in," Chan notes. "We wanted to integrate it into even more aspects of classroom learning, like in embryology and microbiology, where we introduce the concept of ultrasound before students even touch a probe."
One of the unique elements of PSOM's ultrasound curriculum is that it was designed from the start to be integrated with the rest of the curriculum, notes Dennis Dlugos, the associate dean for Science and Discovery Curriculum, who looks for ways to correlate basic science principles with clinical scenarios in students' pre-clerkship learning. "Every course has a built-in link to ultrasound," he says.
Ultrasound even in a microbiology course, which focuses on bacteria and viruses? Absolutely, says Chan: "Students review images, identify conditions, and talk about interventions. They get so excited when they can recognize something in an image and test their clinical decision-making skills."
Michael Abboud, an assistant professor of emergency medicine who teaches PSOM's first-year microbiology course, emphasizes that knowing how to interpret images helps students understand how diseases impact the body.
"My job is not to teach students to be microbiologists. My job is to teach them what they need to know from microbiology to take care of patients," Abboud says. "Ultrasound connects what's important to know as a microbiologist with what's important to know as a budding physician. It takes us to the human side of microbiology, in addition to the bacterial side."
Once they begin hands-on POCUS training, students cover 17 clinical topics over their first three semesters in sessions integrated within the curriculum so they can see the organs they are studying function in real time. Standardized patients participate in some of these classes so students can have structured, supervised practice of their hands-on skills in a simulated environment but on real people, and students also practice ultrasound on their peers and simulate some procedures, like ultrasound-guided IV insertion, on medical manikins.
Learning to acquire and interpret images takes so much practice that Chan and Moore still hope to add more sessions in the coming years.
"A lot of people think 'Oh, I can do that—just let me just put the probe down [to start scanning],'" Moore says. "But that's not how it works. They might see an image and recognize, 'That's a baby,' or, 'That's a beating heart.' But if I ask them to [capture a clear view of] that image? They don't even know where to start."
Signs within snowstorms
Chan says virtually no medical students come in with ultrasound experience, and many of them initially struggle, feeling awkward and frustrated. "These are brilliant, top-of-their-class students, and learning ultrasound is not mastered quickly," she says. "It requires repetition and pattern recognition—both of which take a lot of time." But by their second semester, they get the hang of it, and by the end of their third, "you cannot stump them with any image. The evolution [from frustration to proficiency] is repeated again and again, year after year."
Ultrasound involves three distinct skills: knowing the indications and limitations of the technology, performing the scan, and interpreting images. The second and third can only be gleaned through repetition, Panebianco explains.
"When students first look at an image, it is a snowstorm. How do you translate a snowstorm into meaningful information? That's about time more than memorization," she says. "So is developing the psychomotor skill of using the probe to create that image. Time to accomplish this is what the curriculum provides."
All that time helps prepare students to go out into the wards halfway through their second year, and their interactions with Chan and Moore don't stop there. Ultrasound activities are scheduled into emergency medicine and medicine core clerkships and pop up in varying degrees throughout other rotations. During the coveted ultrasound sub-internship elective, one student per month scans patients for 200 hours, pursues a lofty goal of logging 100 reviewed scans, attends weekly image review sessions, and presents an ultrasound-related lecture.
"Wilma and I have more interaction with students than most instructors, who generally only see them for their specific block," Moore says. "The students meet with us over their four years here, and they always tell me they love seeing a familiar face."
These relationships extend beyond graduation, with alumni reaching out frequently to discuss their cases. John Li, a 2020 PSOM graduate and now an emergency medicine resident at Northwestern University, identified a rare and dangerous type of ectopic pregnancy called a cornual pregnancy in a patient last fall. He remembers feeling confident in his diagnosis but still texted images to Moore to confirm she concurred.
"I was the only person on my team that day who had the ultrasound skills to recognize a cornual ectopic," Li remembers, ascribing his grasp of those skills to his PSOM education. "It was one of those sobering moments when you realize if you didn't know what you were doing, this patient very well could have died in the emergency department."
Instead, she was discharged in two days and made a full recovery.
Students as teachers
When facing a particularly "hard stick" when trying to insert an IV, nurses sometimes call on residents. That's what happened last year when third-year student Molly Crowe was rounding with an intern who lacked confidence in his IV insertion skills.
"The intern, who had not gone to Penn, asked if I would try it first," Crowe says. "And because we'd practiced simulated ultrasound-guided IVs as MS2s [second-year medical students], I got it—which was awesome."
Crowe remembers squinting at the first ultrasound image she examined during her first semester, describing it as "a fuzzy black and white TV." Now, she's poised to teach POCUS to first- and second-years next fall, after finishing her current year of research.
A shortage of POCUS-proficient faculty instructors has hindered curriculum growth at institutions nationwide, and PSOM students' skill sets have surpassed those of many practicing physicians. In spring 2019, after they both completed the ultrasound sub-internship as third-years, Li and his classmate Megan Chenworth, (a 2020 PSOM graduate and also now an emergency medicine resident at Northwestern), proposed a student-led "ultrasound teaching corps" that would relieve Moore and Chan from running every lesson themselves.
The format they devised has endured. With Moore and Chan supervising and coaching, ultrasound trainings are now led by third- and fourth-year teaching corps members—five "chiefs" who have done the intensive sub-internship, plus 10 teaching assistants the chiefs have selected from a group of peer applicants.
The toughest part of teaching ultrasound, asserts Chan, is resisting the urge to grab a learner's probe when they are struggling.
"To give feedback without touching someone's hand, you have to know exactly what you are seeing and how to make corrections with just a verbal interaction," she says. "That is a fellowship-level skill, and it's something our student-instructors are already great at."
Determined to keep honing students' skills even at the height of the COVID-19 pandemic, Chan and Moore lobbied PSOM's senior administrators to approve on-campus ultrasound instruction during the fall 2020 semester, when most pre-clerkship courses were being taught virtually. Overhauling their usual large-group format, they divided classes among 10 different rooms with separate peer instructors. Since standardized patients from the community could not join them onsite, fourth-year students stood in as models.
"You cannot learn ultrasound virtually. You just can't. So we worked really hard to figure out how to get students into the building safely and how to teach them safely. Everyone wore head-to-toe PPE," Moore says, adding that nobody in the sessions contracted COVID.
Teaching corps members don't just teach fellow students; they also teach faculty—including last December in a student-led POCUS CME session during which facilitators encouraged physicians from numerous specialties to "test drive" probes and consider ways they could fit ultrasound into their courses.
"The intentional consequence of this curriculum is that students are taking this knowledge to the wards, and then faculty see the value in this skill set and want to learn more themselves," Panebianco says. "Students push faculty to learn, rather than the other way around."
During his third year, Li also joined classmates Will Piwnica-Worms and Ryan Zahalka, both 2020 PSOM graduates, in launching SonOlympics, a student-led, gamified ultrasound skills review for MS2s that continues to take place annually before they begin their clerkships. The peers modeled the event after SonoGames, a national ultrasound competition the Society for Academic Emergency Medicine hosts for emergency medicine residents, and SonoSlam, a similar student competition presented by the American Institute of Ultrasound in Medicine. SonOlympics participation is voluntary, but dozens of PSOM students compete every fall, often in costume and with clever team names—like 2021's "Ultrasound of Music" and "L'Eggo My Echo."
Smaller size, bigger impact
A while back, a man came to HUP's emergency department complaining of a persistent cough and shortness of breath. His family physician had prescribed antibiotics twice, but his symptoms worsened. A medical student on duty as an ultrasound sub-intern put a probe on the man's chest, then ran to get Panebianco, the attending physician.
"There was this gigantic mass that was obstructing the flow of blood every time the patient's heart was beating. It turned out he had cancer with extension of the tumor to the heart," Panebianco explains. "This guy had been treated with antibiotics and given an inhaler, but nobody had ever looked at his heart. It was a medical student who picked it up."
Critical discoveries like these can now be made at the bedside in any department, not just in the ED, thanks to the miniaturization of ultrasound technology. Cart-based machines weighing hundreds of pounds and requiring electricity to operate have given way to battery-powered transducers that fit in clinicians' pockets and connect to tablets or smartphones.
Recognizing the value of training students on the most advanced tools, late last year, benefactors Vernon and Shirley Hill connected with PSOM Dean J. Larry Jameson, and made a contribution to the Dean's Innovation Fund to purchase 60 handheld Butterfly iQ+ ultrasound devices. In January, students doing their medicine clerkships began carrying one of these Butterflies at all times; previously, instructors and students relied on 10 cart-based machines and half a dozen handhelds.
"The portability component is groundbreaking," says Chan, noting that devices not in use by students are available for loan to physician-educators from any specialty. "Instructors from all over campus ask to borrow our cart machines, and then they are stuck wheeling them across the building, maybe down Locust Walk. That is not a fun thing to do. Now, they can carry 20 in a case as opposed to pushing one at a time."
The device's mobile app links to a secure cloud network, allowing images to be stored and shared instantly, which Panebianco says is transforming medical imaging.
"I love the donors' recognition that even though ultrasound is not new, this is a disruptive technology," she says. "The fact that they see this innovation—and have provided the support to ensure we can appropriately train PSOM students—is incredible."
More than baby pictures
As part of HUP's Rapid Response Team, Cameron Baston, a pulmonologist and assistant professor of clinical medicine, jumps into action when a hospitalized patient has an emergency. Recently, he was called to examine a postoperative patient who was gasping for breath. Baston grabbed his "scanny pack" and ran to probe the patient's chest for a possible collapsed lung—but when he got to the bedside, a PSOM student was already doing it.
"It's been demonstrated over and over throughout my career that the ability to rapidly make a diagnosis changes the clinical course for a patient, even in the most highly resourced hospitals," Baston says. "And this culture change has started to happen here, where rather than waiting, the medical student knows what we need to do," Baston says. "The way Wilma and Christy have designed things, nobody's being told ultrasound should replace other skills. Instead, they are taught how to integrate ultrasound into the physical exam, the history-taking, and the clinical problem-solving they are learning throughout medical school. Then, when they go into practice, they know how much to use and trust each information stream they have."
Last fall, while rounding with Baston in the intensive care unit, fourth-year student Vivek Nimgaonkar saw firsthand how often POCUS is used to complete everyday tasks—like assessing patients' fluid volumes by observing pulsations in their internal jugular veins.
"Volume assessment can be challenging—a brilliant cardiologist and a brilliant nephrologist can totally disagree about the degree to which there is extra fluid in a patient," says Nimgaonkar, who is going into internal medicine. "Dr. Baston emphasized that with ultrasound, this is super easy to do. It's a real illustration of how ultrasound can be used on a day-to-day basis."
Nimgaonkar admits that before enrolling at PSOM, he had no idea how extensive POCUS's applications were, noting, "At first, I frankly thought it was a little bizarre that Penn was so hyped about ultrasound. I didn't have any context to appreciate that it could be used beyond obstetrics. I was wrong—it serves the field of medicine as a whole."
The presence of student sonographers can influence patient care significantly, says Nadia Bennett, an associate professor of Clinical Medicine who also serves as associate dean for the Clinical and Health Systems Sciences Curriculum at PSOM—meaning she oversees the clinical curriculum for medical students. Bennett is an enthusiastic supporter of increasing students' POCUS training, working closely with Dlugos, who champions the inclusion of ultrasound in basic science learning.
Once students wielding POCUS devices arrive on the wards for their clerkships, "for a hospitalist like me who doesn't use ultrasound very well myself, has been amazing," Bennett says. "They are becoming indispensable," she says. "Diagnostic accuracy is important to everybody in every specialty. We make important clinical decisions based on what we see on ultrasound. I wish I'd had it during my own training."
Physicians seeking specialized experience can pursue Penn's ultrasound fellowship program, which is housed under the Department of Emergency Medicine but accepts applicants from various areas (the five current fellows span Emergency Medicine, Internal Medicine, and Family Medicine). When overseeing the fellowship before she became director of the Division of Emergency Ultrasound, Panebianco also encouraged teaching and mentoring relationships with Surgery, Critical Care, Nephrology, Trauma, Pediatric Emergency Medicine, and more in recognition of the number of physicians who'd begun adopting ultrasound technology.
"In Emergency Medicine, we adopted ultrasound because time is our most valuable resource. But our fellowship is unique in that it offers collaborative training across multiple specialties," she says.
POCUS has proved particularly useful throughout the COVID surges of the past two years. Transporting patients suspected of having the virus to get X-rays or CT scans often is not feasible or optimal for safety, and pulmonary ultrasonography enables clinicians to quickly identify "COVID lung"—an indicator of infection in the form of thickened or irregular pleural lines—and get patients to the best departments for care. Similarly, a point-of-care echocardiogram can promptly detect the cardiac complications commonly associated with the novel coronavirus.
Pandemic or no pandemic, Panebianco says that whether it's performed by a student or a physician, POCUS fosters meaningful bedside connections between providers and patients: "You can tell someone, 'Your heart isn't pumping as well as it should.' Or, you can turn the screen toward them and point out, 'This is your heart, and this is what it's doing, and this is why you need to take your blood pressure medication and your diuretic.'"
Learning and growing
An influx of new devices, the backing of senior administrators, and instructional collaboration from her "teaching corps" have left Chan more motivated than ever to grow her curriculum. Either she or Moore attends every PSOM ultrasound session, whether they are actively teaching or there to supervise, and they meet weekly with course representatives whose feedback they incorporate into the following year's lessons plans. Each fall, they coordinate content, timing, location, instructors, and standardized patients for pre-clerkship sessions involving 320 students, since both first- and second-years are in the classroom (in the spring, second-years move into the clerkships), but they always want to do more.
"I want our students to be comfortable and confident going into the wards knowing how to handle probes and machines and how to take care of patients in any setting, even if it's resource-limited," Chan says.
Chan is equally focused on equipping her students to train others in ultrasound technology.
"Personnel is the biggest resource gap we have," she explains. "I need 10 more Christys of her same caliber, because our program is not just about having machines. It's about machine-to-instructor ratio. Students can't teach themselves, nor can one person teach this effectively to 20 people at a time."
As associate dean for curriculum, Bennett supports the idea of enhancing the program.
"I see opportunities to expand these experiences during clerkship years as we think about more specialty-specific clinical training," she says, adding, "If we can get more resources, hopefully we could expand the ultrasound sub-I elective to more students, since it is such a highly rated experience."
After finishing that elective last December, Nimgaonkar, who came into PSOM incredulous at the school's emphasis on ultrasound, declared the curriculum among its greatest strengths.
"All this exposure is going to be so valuable in my career and will help me deliver the best possible care to my patients," he says. "The full scope of the use of ultrasound is still evolving, and the greater comfort level you have with the technology, the greater your potential is to identify where it could be used in a novel or creative way. Penn has had the vision to see that ultrasound is only going to become more important in the coming years, and I am just so grateful to everyone involved."
Photo credits: Graham Perry, Peggy Peterson, Megan Tidmor