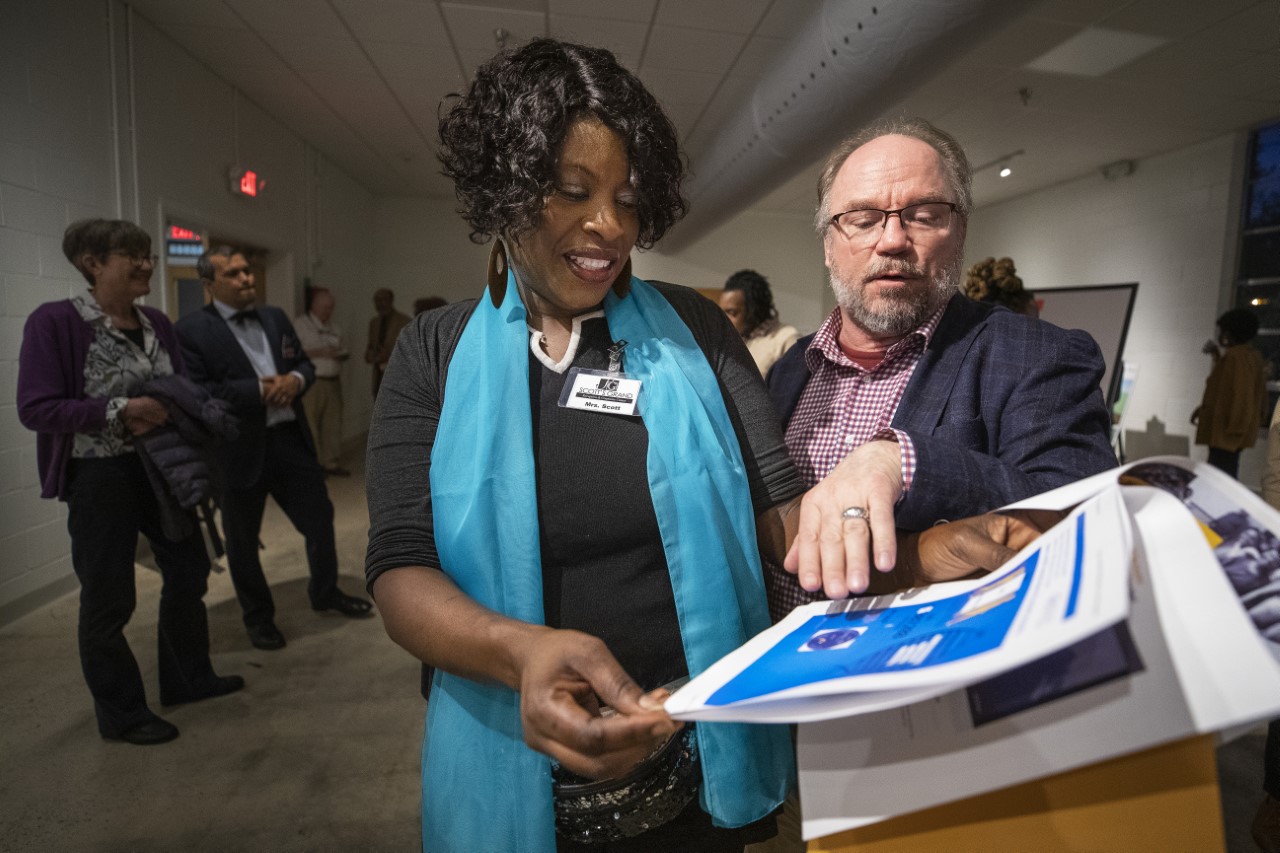 When the city of Charleston, South Carolina, began renovations to a cultural center downtown, construction revealed an unmarked burial site for 36 people.
"In the middle of the 18th century, this would have been just outside the city walls," says Theodore Schurr, a professor in the Department of Anthropology at the University of Pennsylvania. "The city hired archeologists and forensic anthropologists to excavate and evaluate the burials. The researchers realized through their analyses that the burial features and the skeletal characteristics of the individuals meant they were probably persons of African descent."
For recommendations on how to most appropriately handle the remains, Charleston city officials sought the expertise of The Gullah Society, a nonprofit focused on reclaiming African and African American burial sites in and around Charleston. With support from members of Charleston's African American community, the Society's leaders, Ade Ofunniyin and Joanna Gilmore, decided to undertake research on what had been found to better understand the lives, health, and history of the unknown individuals.
Starting in late 2013, researchers there began recording and analyzing skeletal and dental characteristics of the 36 people and studying the archeological site where they had been found. In late 2017, they contacted Schurr, a biological anthropologist, and his doctoral student, Raquel Fleskes, to partner in the work. Beginning in 2018, Schurr and Fleskes sequenced the mitochondrial genomes, creating the largest DNA study of its kind to date. They recently published this research in the American Journal of Physical Anthropology.
The team learned from the work that an infant as young as six months shared the burial ground with one other infant, six children and adolescents, and 28 adults, the oldest age 40. There were both male and female skeletal remains, and only two were related, likely a mother and child. Most originated from either Charleston or sub-Saharan Africa, most likely west-central Africa given their maternal lineages, and one person's mitochondrial DNA suggested Native American ancestry. The researchers shared with the community each new piece of information that emerged.
"This has significant implications for how we understand the history of African-descended people in this time period," Schurr says. "It's been a collaborative project with a significant amount of community engagement, including from individuals interested in learning about their own ancestry. It has been both a scientific and educational learning process."
Expanding the story
Schurr has used this type of DNA analysis to study ancestry around the world, so when Ofunniyin reached out Schurr understood both the nature and sensitivity of the project. Soon after, he and Fleskes met with officials in Charleston and members of the African American community.
They'd been brought in because of their expertise, but the researchers soon got involved in many other aspects of the project. "There's enthusiasm for this kind of research and a desire to know what's going on here, especially in the context of Charleston's current history," Schurr says. "We're doing work that's extremely relevant to the current political moment but also historically important because it expands our understanding of the lives of African-descended persons in Charleston. The whole story has not been told."
In this unmarked set of graves, set in four equally spaced rows, that hidden story encompasses the lives of people who were likely enslaved, a conclusion the scientists drew for several reasons.
City archival maps included no graveyard in that spot at that time, but did clearly delineate burial spots for white people and formerly enslaved Africans who were later freed. The discovery location also sat at an intersection of streets where white slaveholders likely forced enslaved Africans to work as laborers.
Beyond that, analysis of the bones showed evidence of stress from repetitive activity and dental analysis revealed lesions, abscesses, and tooth loss comparable to other 17th- and 18th-century enslaved Africans in North America and the Caribbean. Finally, stable isotopes in dental remains leave behind a signature indicating where a person was born and a picture of dietary health; examination of these showed that most individuals in the group were born in Charleston, with others likely born in Africa.
The researchers confirmed that last point by sequencing mitochondrial DNA, which is passed from mother to child. "This type of DNA contains a number of mutations that provide a certain kind of historical signature of the place of origin or the derivation of maternal lineages and show how they've evolved," Schurr says. "We know the lineages present in various parts of the world, so for this project we tried to figure out to which ones the ancestors' mitochondrial DNAs matched."
The majority of people in the burial site had mitochondrial DNA signatures that mirrored those affiliated with present-day populations in central and west Africa, a finding the researchers say aligns with historical records showing that, during the trans-Atlantic slave trade, many of Charleston's enslaved people had been forcibly taken from those regions.
"Why were they buried here? There may be many reasons, but it's not clear from any kind of historical evidence. We don't know who these people are. In the historical record, they were not named," Schurr says.
Traditional names
One local high school student prompted that to change.
Part of the burial ground project included conversations and tutorials with middle- and high schoolers about how this kind of anthropological research works and the implications of the findings. During a 2019 community engagement event at North Charleston High School, a student asked whether the people buried at the site had names.
To that point, the answer had been no; given the lack of historical documentation about the site, their given names would have been nearly impossible to find. "Yet without names, it's hard to really see them as people," Schurr says. "We realized that, if part of what we were trying to do was bring recognition to their lives, then they needed names."
In response, three Yoruba priests, including Ofunniyin, conducted a naming ceremony traditional to the Yoruba people of West Africa, to acknowledge the deceased's "personhood and historical legacy" and to "ensure that their remains were returned to the ground with African names and not burial numbers," according to the paper. All subsequent work on the site and manuscripts about it referred to the individuals by their names.
A traditional procession and reinterment ceremony also took place in May 2019, with individuals laid in reinforced boxes wrapped in indigo cloth. They were brought to their final burial site in a horse-drawn hearse accompanied by an Egungun Masquerade—a traditional dance used by the Yoruba to mark the connection between the living and the dead—as well as spiritual leaders and community members.
"This is the kind of story that people want to understand, and it's a process of reconnection for many. Even though we're doing this work as biological anthropologists, you can't help but get involved in this process; you can't help but try and create a much more in-depth picture of these people in the city's history," Schurr says.
"Charleston is fascinating, historically interesting, and architecturally rich," he adds, "but people forget how important African-descended people were in building the city and its culture. Our study is one of many trying to enlarge our understanding of African people in Charleston and, beyond that, the role of slavery in this country."
Funding for this research came from The City of Charleston, the National Geographic Society (grants NGS-52378R- 18 and NGS-54324E-18), The Gullah Society Inc., the University of Pennsylvania, and the University of Tennessee.
Theodore Schurr is a professor in the Department of Anthropology in the School of Arts & Sciences at the University of Pennsylvania. He is also a consulting curator in the Physical Anthropology and American sections of the University of Pennsylvania Museum of Archaeology and Anthropology, director of the North American Regional Center of the Genographic Project, and head of the Laboratory of Molecular Anthropology at Penn.
Other contributors to the work include Raquel Fleskes, a doctoral student in the Department of Anthropology at the University of Pennsylvania; Ade Ofunniyin and Joanna Gilmore of The Gullah Society and The College of Charleston; Eric Poplin of Brockington and Associates Inc.; Suzanne Abel and Wolf Bueschgen of the Charleston County Coroner's Office; Chelsey Juarez of California State University; Nic Butler of the Charleston County Public Library; Grant Mishoe and La'Sheia Oubré of The Gullah Society; and Graciela Cabana of the University of Tennessee.