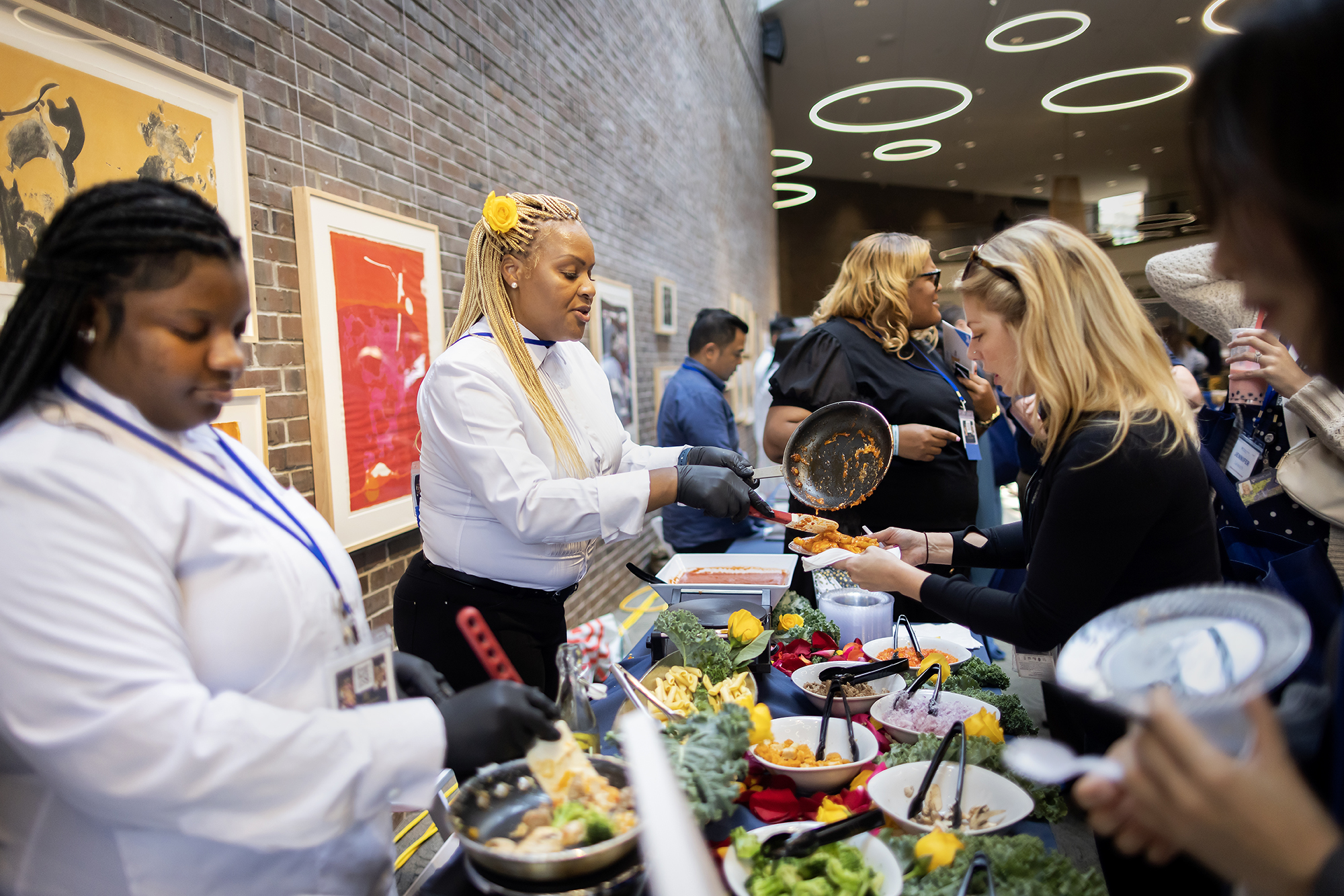 Each year, for the past six years, the Office of the Executive Vice President, the Office of Government and Community Affairs, the Divisions of Business Services and Facilities & Real Estate Services (FRES) hosts the Penn Supplier Diversity Forum & Expo as an opportunity to, yes, facilitate new procurements between University buyers and suppliers in the Philadelphia region—but also to help build relationships.
"I want to double-underline the importance of community," said Penn President Liz Magill in opening remarks at the forum. "The truth is that together we're able to do a lot more and realize our greatest potential as individuals and institutions."
Magill went on to echo sentiments she expressed at Penn's 267th Commencement about community and the possibilities that comes from bringing skills and insights together. She also thanked those gathered as "Penn's essential partners" in their shared work.
Magill was introduced by Senior Executive Vice President Craig Carnaroli, who praised the event as one that shows "Penn at its best." He noted the University's progress in growing the diversity of its suppliers, stating that Penn has engaged with 100 new suppliers in the first 10 months of the fiscal year, breaking last year's record-setting level of diverse spending. For this fiscal year, Penn is also on target to spend more than $150 million with diverse suppliers, whether owned by African American, LGBTQ, veteran, women, or other diverse entrepreneurs.
"Our spending with diverse-owned businesses from six years ago to today has made a lasting impact," Carnaroli said. "Ripples are turning into waves of local impact across the city of Philadelphia and the region."
Joann Mitchell, senior vice president for institutional affairs and chief diversity officer, followed with remarks about diversity and inclusion as a "bedrock value" of Penn in all that it does, whether instruction, research, or in recruiting and retaining faculty and staff. She described the forum and expo as one example of Penn's commitment to forging strong relationships locally and globally, among many others.
Chief Procurement Officer Mark Mills then introduced the event's panelists by reflecting on the appreciation of differences. He recalled—with humor—the values of "Sesame Street," and the significance of holding those fundamental principles of understanding difference in mind while navigating the complexities of economic disadvantage and segregation.
Joining for a brief discussion on the state of supplier diversity and procurement was Lee Huang, president and principal of Econsult Solutions; Tiffanie Stanard, CEO and founder of Stimulus; and Christopher Wailoo, associate dean for business services and chief financial officer at the Penn Carey Law School. Together, they addressed a range of topics, from helping companies understand supplier diversity to making space for AI in procurement processes.
"We do a lot of utilizing AI, increasingly," said Stanard, whose service-company software helps companies build relationships with diverse suppliers. "… [We're] allowing this AI to be their assistant to say, 'You haven't worked with this company in five years, you should work with them.'"
Stanard also cautioned against complacency, highlighting the need for continued pressure for companies to maintain progress made since 2020 in expanding supplier diversity and noting that she's seen companies backpedal on those efforts or, at the first sign of financial downturn, cut diverse supplier procurement teams or diversity officers. She encourages companies not to simply set purchasing goals for three years, but five, 10, 20, or indefinitely.
Huang, meanwhile, advocated for collective decision-making on setting supplier diversity goals, highlighting the strength that comes with the density of a community like Philadelphia. He articulated that while city leadership is important, it will take the larger business ecosystem in Philadelphia to come together and rebuild relationships in the fallout of the COVID-19 pandemic.
"And so, having anchors like Penn bringing together in an expo format businesses and leaders to formally and informally collide with one another is part of our how the city is going to recover, and I remain bullish that is going to happen," Huang said.
Wailoo, meanwhile, stressed mindful procurement as a skill that transcends industries and can be taught. Students, he says, are often the most open to increasing diversity among supplies, but often don't understand the procurement process. He also mentioned the use of data as "actionable intelligence" and the success he's seen in implementing data-based decision-making, calling for an increase in real-time access to data.
In closing the forum, Colleen Rearden, senior director of strategic sourcing & sustainability, and Glen Bryan, assistant vice president of community affairs, awarded the Supplier Diversity Impact Award to Karoline Prosperi, senior manager of procurement in FRES. An honorable mention award was issued to Yoosun Park, an associate professor in the School of Social Policy & Practice.
Following the forum was an expo hosted in the Arts Lounge of the Annenberg Center for the Performing Arts, where people from the local business community—caterers, designers, translators, and more—could be found sipping boba tea, making connections with local agencies and organizations, and perusing various wares and swag.
"To have a powerhouse like Penn put this together—they have such a far reach into the community, and to have them recognize not only the value of diversity and bringing diverse suppliers together and throwing their influence behind it, it's amazing," says Colette Flagg, who was there as a representative for L&L Print and Copy Service, which has supplied printing and graphic design to the University for nearly four decades.
"I think it's just such a statement about their commitment to diversity on a broad scale."