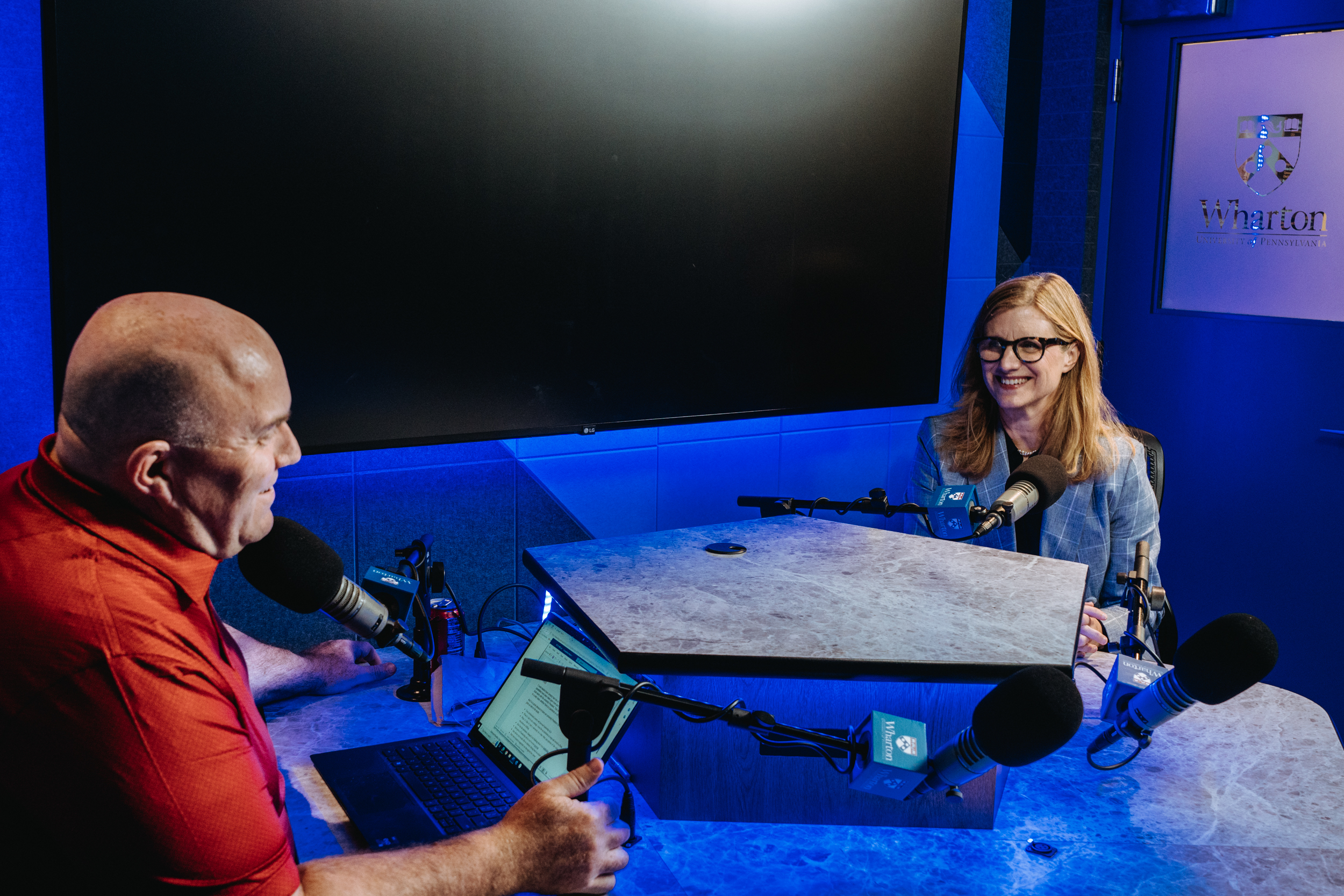 Penn President Liz Magill made an appearance on Wharton Business Daily, joining with the show's host Dan Loney to discuss topics of leadership.
Wharton Business Daily is a radio show from the Wharton School that airs on SiriusXM Channel 132, in addition to major streaming platforms. The show frequently features top business leaders and innovators, including Wharton faculty.
"I start from the view that leadership is a rare privilege and opportunity," said Magill, when asked about her leadership style since coming to Penn. "Even on those hardest days, my starting point is I have the ability to have so much impact as a leader and I always have that at the forefront of my mind."
Magill, who began as Penn's ninth president on July 1, 2022, previously served as Executive Vice President and Provost at the University of Virginia and as dean of Stanford Law School. In those roles and others, she noted how she's always taken seriously the leadership responsibilities of setting a strategic direction, articulating a vision that people can be part of, pushing the organization to constantly accomplish more, confidently making tough decisions, and staying calm during crises.
She added that she's a big believer that excellent leaders must be devoted to cultivating other leaders. "A great leader and something I try to do is build other people up, bring out the best in them, seek ways to help them improve and thrive," Magill said. "And I think this makes for the most satisfying teams, but I also think it makes for the most high-performing organizations."
When Loney inquired about what it's been like to form a strategic vision at an institution the size of Penn, Magill talked about the importance of the broad participatory process that underpinned "Tomorrow, Together" and the work of the Red and Blue Committee, led by now-Provost John Jackson, Jr. "People were really hungering for that," she said. "And I think those who worked on the Committee that fanned out across the Penn family validated that people were very excited to come to the table and offer their thoughts." A broad framework based on this work will be released later this fall.
Magill also reflected on the conversations surrounding the value of higher education, and the lessons learned while leading during the COVID-19 pandemic. She described the latter to be somewhat like "an ongoing hurricane that evolved for months," presenting constant new features and challenges, all of which were "an incredible test of leadership."
"It really required, I think at the start, a clarity about what the values were that we were going to abide by as we made important decisions," Magill said, adding the lessons of staying nimble as an organization and being a strong communicator through all the pandemic's twists and turns.
Bouncing from lessons she's learned on the job to the best guidance she has received from her very own mentors, Magill said a key piece of advice she's never forgotten was about listening: "If you speak first, you may not hear things that you wish you had known after the meeting is over."
In closing, Magill expressed optimism about the future, particularly when thinking about the resilience of this generation of students.
"We are going to have an enormous flowering of creativity and new ideas and new ways of looking at things that are really going to change society for the better," Magill said. "I'm absolutely confident that this really searing experience for these students at a formative age is going to lead to a better society in the coming years."