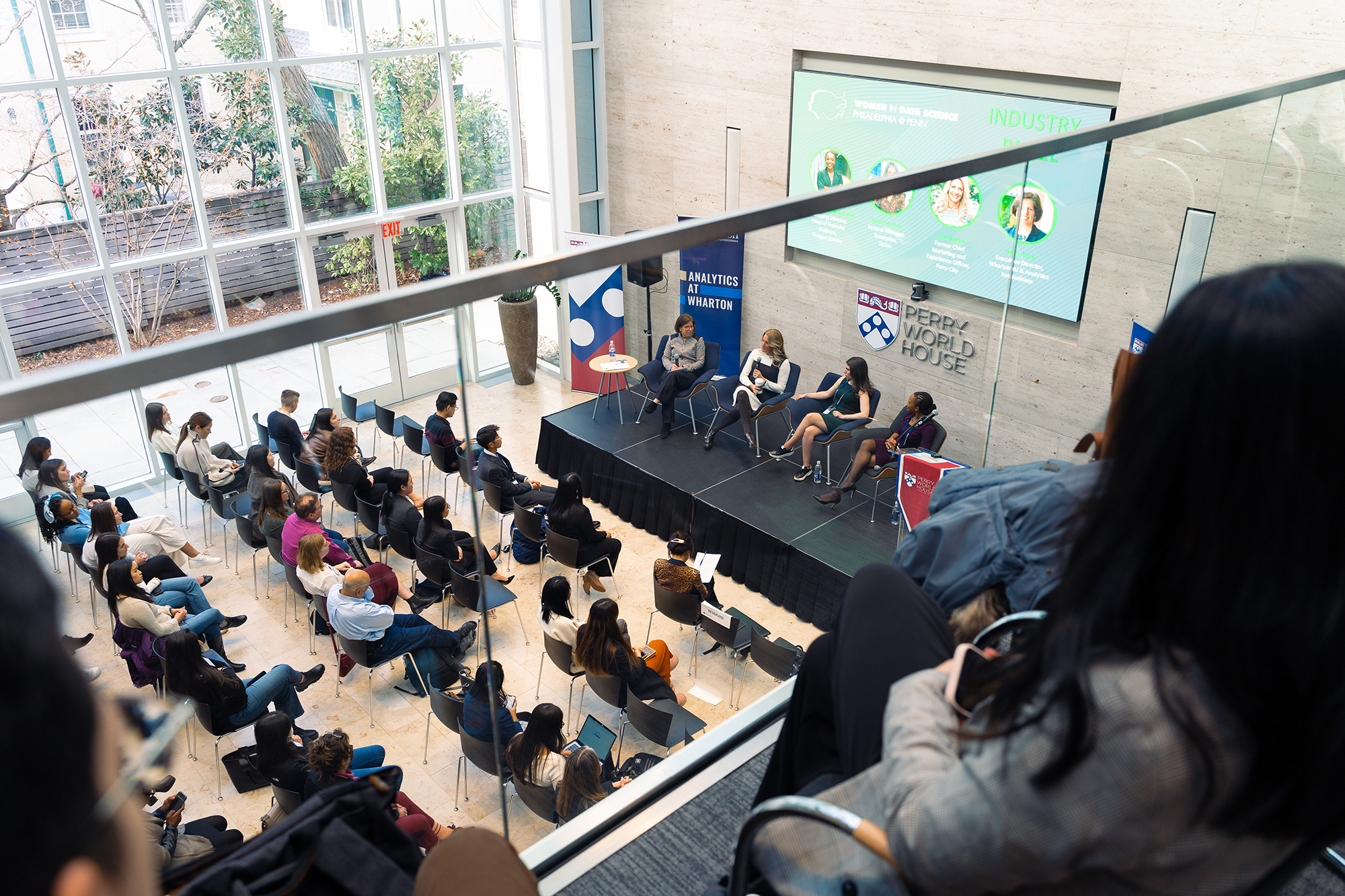 The Wharton School and the School of Engineering and Applied Science hosted the fourth annual Women in Data Science (WiDS) @ Penn conference on Feb 3. For the first time since the pandemic, attendees joined together on campus at the Perry World House for in-person talks showcasing the latest advances in data science, speaker Q&A sessions, and networking opportunities.
A celebrated interdisciplinary event, WiDS @ Penn welcomed academic, industry, and student speakers from across the data science landscape to celebrate its diversity, both in subject matter and personnel.
Wharton Deputy Dean and Professor of management Nancy Rothbard and Penn Engineering Senior Associate Dean David Meaney kicked off the event with welcoming remarks.
"As one of the world's leading business schools, Wharton's focus is on preparing the business leaders of tomorrow through our world-class, evidence-based curriculum," Rothbard said. "We take deliberate strides to address societal concerns and inequities in the workplace. And for the first time in our 150-year history, our graduating MBA class of 2023 features a majority female population."
Meaney pointed out the importance of data science in engineering, how data is changing what engineers are doing in ways that may not be as well-known, and the physical space being created on campus that will serve as a "hub" for data science.
"We have a long-standing history in our computer science department of beating the average of female representation in our field. Our faculty have done an outstanding job of nearly doubling the percentage of females taking the major in computer science," Meaney said. "And one of the things we have done to help build the diversity of the field is we have built online master's programs that allow people during their career to acquire skills in data science. It is a very strong tool to improve the diversity in the field; we have about 40% females in that program."
He also discussed what's known as the 30% tipping point. "The 30% statistic that was mentioned," Meaney said, "is what the sociologists tell us that when you reach above that percentage, the dynamics change, you have a more creative group, and a group that considers principles more fairly."
Homa Hosseinmardi is a senior research scientist with Analytics at Wharton's Computational Social Science Lab, studying misleading and biased information, political radicalization, and algorithmic bias.
During the conference, Homa revealed the impacts of segregation in American television news consumption, offering key insights as to whether partisan segregation occurs, where it might happen, and just how significant this phenomenon appears to be.
"Where do people get their news? How much of it is fake?" Homa said. "When you compare TV with online, you see that consumption on TV is five times higher. It seems like TV is still the major source of news for Americans, and fake news is only about 1% of the news."
Google and Apple's Exposure Notifications System (ENS) was developed early in the COVID-19 pandemic to complement existing contact tracing efforts while protecting user privacy. An analysis by the Associated Press released in December 2020 estimated that approximately 1 in 14 people had downloaded apps in states where one was available.
In a study, Sukanya Joshi, who is pursuing her Master of Science in Engineering (MSE) in Data Science at Penn Engineering, and a team assessed the motivation and experience of individuals who downloaded ENS apps from the Google Play and Apple App Stores. Joshi shared her findings on the COVID-19 contact tracing app and how the reviews revealed concerns and motivations around adoption.
The industry panel discussion was led by co-chair of the event Mary Purk, executive director of Wharton AI & Analytics for Business, who discussed data science in finance, retail, and tech.
"A few years back, we were hearing 'data translator,' now we are hearing 'data storytelling,'" Purk said. "I hope storytelling stays with us. Storytelling has been around for millions of years. Hieroglyphics are an example. I think storytelling is one of the most key things you can do whether you are a data scientist or in business intelligence."
Joanna Yang, an undergraduate student in the Wharton Analytics Accelerator program, presented insights from complaint data from fast food giant McDonald's using sentiment analysis, keyword extraction, and topic modeling. After using the language analyses, Yang and her team provided McDonald's with clusters of customer complaints to help guide complaint management and handling.
Petra Todd, the Edmund J. And Louise W. Kahn Term Professor of Economics, studies the efficacy of conditional cash payment programs, initiatives that grant families money provided they satisfy certain conditions, such as enrolling their children in schools. During WiDS @ Penn 2023, Petra revealed brand new, yet-to-be-published outcomes of these programs.
"We examined the effects of the program not only on enrollment and educational attainment, but also on academic achievement in mathematics and Spanish," Todd said. "These conditional cash transfer programs provide money to poor families contingent on certain behavior: investments in human capital, such as sending children to school or bringing them to health clinics."
The WiDS @ Penn Committee has been dedicated to creating equitable opportunities to educate the next generation of women data scientists and analytics leaders. As a part of this commitment, all 2023 registration fees will be donated to the Wharton Data Science Academy scholarship fund to support need-based scholarships for female high school students.
These scholarships will enable students, regardless of their background, to participate in summer courses at Wharton that expose young talent to the field of data science and analytics.
Video by Kyle Kearns.