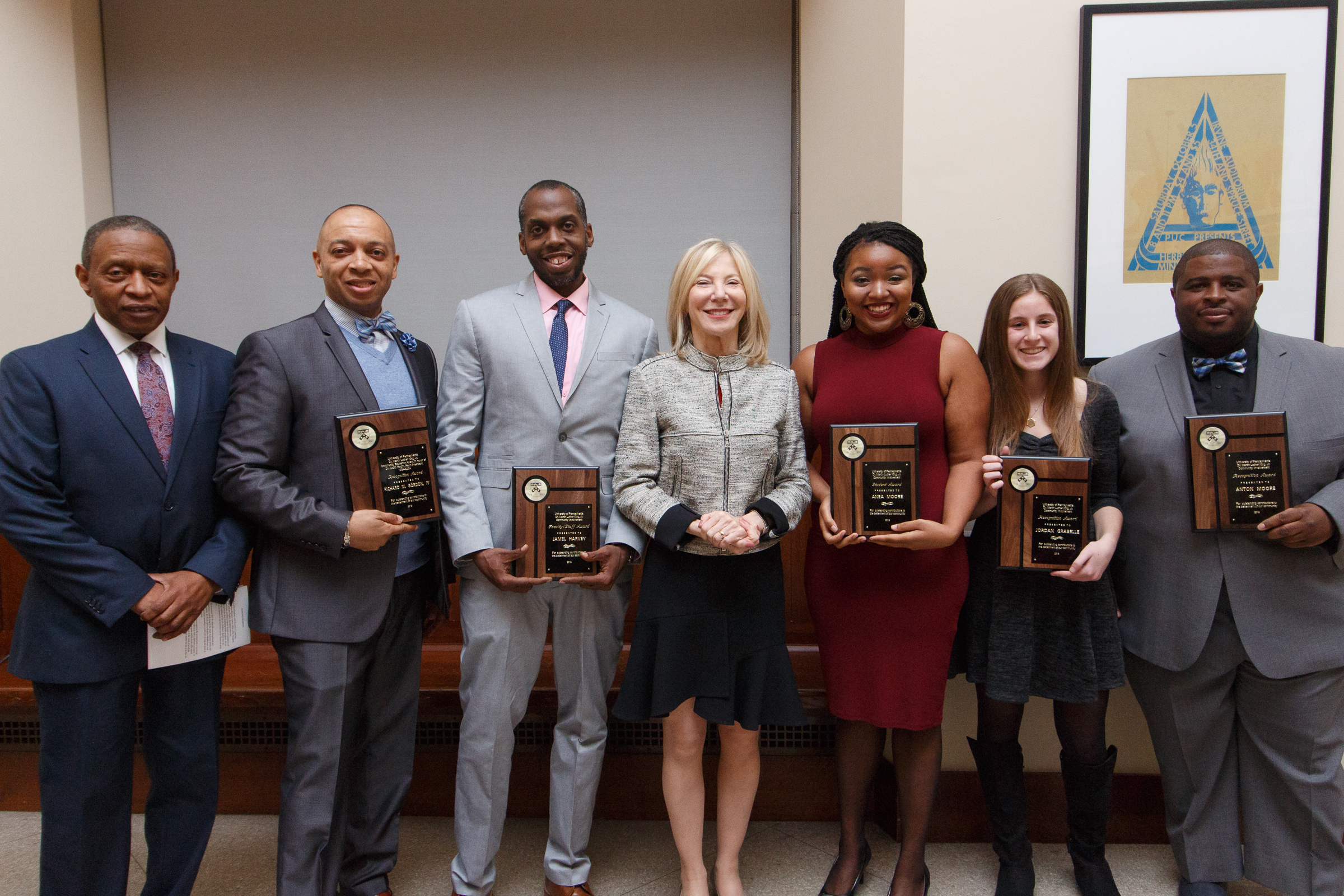 Five members of the Penn and Philadelphia community were honored Jan. 23 with the Martin Luther King Jr. Community Involvement Awards. 
Penn President Amy Gutmann presented the awards, part of the Commemorative Symposium on Social Change, which is held annually to honor King's work and legacy. 
The awards recognize students, staff, and local activists whose community engagement embodies King's legacy. This year's honorees are:
Penn senior Anea Moore, a Philadelphia native whose community service spans many years. A first-generation, low-income student, Moore has been a resource and advocate for other Penn First students. She's also worked with the Netter Center for Community Partnerships, Ase Academy, the West Philadelphia Tutoring Project, and the Philadelphia School District's office of Family and Community Engagement at Lea Elementary School. She won a prestigious Rhodes Scholarship, and will study for her doctorate at Oxford University.
Jamel Harvey, an enrollment coordinator in medical affairs at the University of Pennsylvania Health System. Harvey co-founded Project ReBorn USA, a grassroots community organization aimed at assisting the homeless. He used a Penn Medicine CAREs grant to assemble and hand out care bags for homeless people around 30th Street Station, and handed out 60 over Thanksgiving weekend. 
Anton Moore, the founder and CEO of Unity in the Community, a South Philadelphia non-profit. He's also at work on a documentary about gun violence in Philadelphia. 
Jordan Grabelle, a New Jersey high school student and the creator of Love Letters for Literacy, which gives lower-income families packets of homemade alphabet learning cards to help kids learn to read. She's also the founder of Bracelets for Bosnia, which sends handmade friendship bracelets to Bosnian orphans. 
Richard M. Gordon IV, the recipient of the Dr. Judith Rodin Community Education Award. Gordon is the principal of Paul Robeson High School for Human Services in West Philadelphia, which was recognized as the most improved high school in Philadelphia in 2017. During his five-year tenure, the school has developed a model program for college and career readiness and hit a 95 percent graduation rate.  
Anyone could make a nomination to Penn's African-American Resource Center, which organizes the symposium. 
"Community servants are the very foundation of our society. They speak for those who cannot speak for themselves, take on the jobs that others avoid, and work constantly to make our world a better place," says Valerie Allen, director of the African-American Resource Center. "To celebrate these individuals is to celebrate the very best and brightest of our society."
The award ceremony preceded the Interfaith Commemoration and Conversation in Social Justice, a key part of the symposium. 
This year's conversation featured William Barber II and Camille Z. Charles, the Walter H. and Leonore C. Annenberg Professor in the Social Sciences, professor of sociology and Africana studies, and education director of the Center for Africana Studies at Penn.
Barber, a pastor and social-justice advocate, founded the grassroots group Repairers of the Breach and won a MacArthur Foundation "genius grant" last fall.
Symposium events run through Feb. 1.