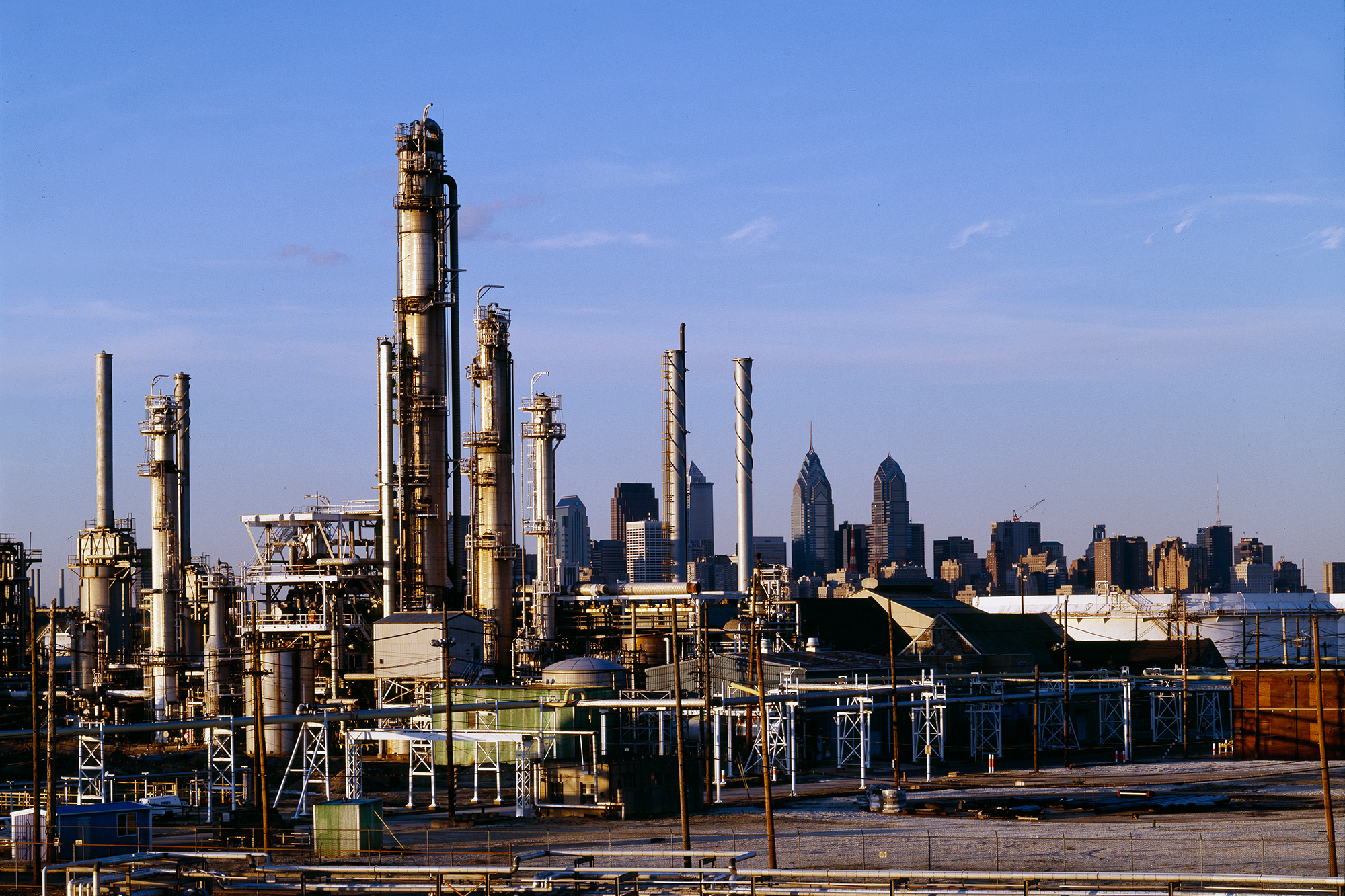 As part of the Penn Undergraduate Research Mentoring (PURM) program, junior Kingsley Song, a political science major from the San Francisco Bay Area, and sophomore Sage Basri, an environmental studies major from Rumson, New Jersey, spent their summer working with Franca Trubiano on research that connects social and environmental justice with human health and architecture. Focused on studying the impacts of the Philadelphia Energy Solutions (PES) refinery, their work is a starting point for empowering community members and the building industry to better understand the long-lasting legacies and wide-ranging impacts of petroleum on the built environment. 
Trubiano is an architect and educator with an interest in the health impacts of human-made chemicals, such as plastics, when they are incorporated into building structures and surfaces, including furniture and home fixtures. "Many building components are created and constructed with plastics, and petroleum is at the origin of most of these products," says Trubiano. "My question was, How is human health a factor in the life cycle of these materials, given they originate from toxic petroleum products, gas products, and refining processes?"
Then, after the PES explosion and five-alarm fire in June 2019, Trubiano realized that the source of these plastics was in her own backyard. As a major refinery along the Eastern seaboard, PES was the source of the raw material for producing plastics, and Trubiano recognized that the impacts of fossil fuel production would be felt not only within the local community but also in places where petroleum is incorporated into products used in everyday life. 
With the overarching goal of delving deeper into the life cycle of plastics in the built environment, Trubiano recruited Basri and Song through PURM to continue this work while also zeroing in on the impacts of the chemicals produced at the PES refinery specifically. The students spent the summer focused on answering questions from fields from architecture, chemistry, and social policy, in order to better understand the broad impacts of plastics and petroleum products.
Combining a background in political science with an interest in how public policies impact communities, Song's project focused on health disparities around the PES refinery. Alongside reading scientific papers, evaluating environmental justice metrics, and looking at census data to evaluate the proportion of homeowners and renters in ZIP codes around PES, Song also spent part of the summer identifying people in the community and conducting online interviews. Song and the team spoke with staff at the Clean Air Council as well as with Marilyn Howarth from Penn's Center of Excellence in Environmental Toxicology. "We are trying to culminate all the knowledge that we have to manifest into this huge research project, a lot of work that's largely been spearheaded by local Black community leaders," says Song, emphasizing the importance of previous work by front-line environmental activist organizations like the Clean Air Council. 
Basri was attracted to this research experience because of her interests in the environmental impacts of PES and the chemicals produced there and the project's connections to urban studies, environmental science, and public health. She spent her summer collating information about PES, including data on EPA violations and tracking materials coming into and out of the refinery. "The most unexpected thing for me is finding out how ubiquitous plastics are in our homes," Basri says. "These chemicals are often unavoidable and when they are avoidable it's cost prohibitive to remove the hazard, and that's why we're working towards awareness."
While there were aspects of the work that were made more challenging due to the pandemic, including the inability to study Philadelphia's built environment or visit the PES site together, the group was still able to stay connected and work effectively over the summer. Basri says that collaborating with others was a great learning experience at this stage of her undergraduate career. "We had our nice long meeting every Monday, and after that I would be ready with a game plan for the whole week," she says. "I was able to learn things in a new way with increased independence while also having a team experience."
While this project is still in the beginning stages, Trubiano says that Basri and Song have done crucial groundwork that now allows them to evaluate a wide range of research questions in the future. "Part of the next steps would be trying to connect with the communities at both ends," says Trubiano. "At one end, the design community, which needs to confront the fact that most of this knowledge about material toxicity is blind to them, and then trying to understand how best to support empowering communities that are living close to PES." 
Thanks in part to her summer research experience, Basri is now interested in exploring possible future careers within urban planning, a field that would allow her to combine her interests in both environmental studies and urban studies. "I can definitely use this knowledge to boost communities from an urban planning standpoint and make them more sustainable and healthier," she says. 
Song is thankful for the opportunity to "dip their toes" into research through PURM and says that working with Trubiano and Basri this summer helped deepen the understanding of social and environmental justice. "Doing this research has encouraged me to continue to look at the environment as a political landscape, from a systemic perspective to the communal and individual perspective," says Song. "It's definitely made me more interested in Black and indigenous sovereignty, self-determination, all these things that I'd known about but that this research has given me more context of, specifically in Philadelphia."
After her first summer of working with two committed and full-time PURM students, Trubiano is pleased with how Basri and Song's dedicated efforts have enabled this work to expand. "It was a great experience, notwithstanding that it had to be virtual," she says. "It was one of the best experiences I've had working with students in my time at Penn." 
Franca Trubiano is an associate professor in the Department of Architecture in the Stuart Weitzman School of Design at the University of Pennsylvania. 
The Penn Undergraduate Research Mentoring (PURM) program, administered by Penn's Center for Undergraduate Research & Fellowships, provides students completing their first or second undergraduate year the opportunity to spend a summer conducting 10-week research projects with Penn faculty. Since its inception in 2007, PURM has funded more than 800 Penn faculty members to provide more than 1,000 undergraduates with cutting-edge research experiences. 
This project was initially funded by Penn's Kleinman Center for Energy Policy. A summary of this work, conducted by alumni Chloe Onbargi, Antonio Rinaldi, and Zachary Whitlock under the supervision of Trubiano, is available as an online digest titled "Fossil Fuels, the Building Industry, and Human Health: Evaluating Toxicity in Architectural Plastics."