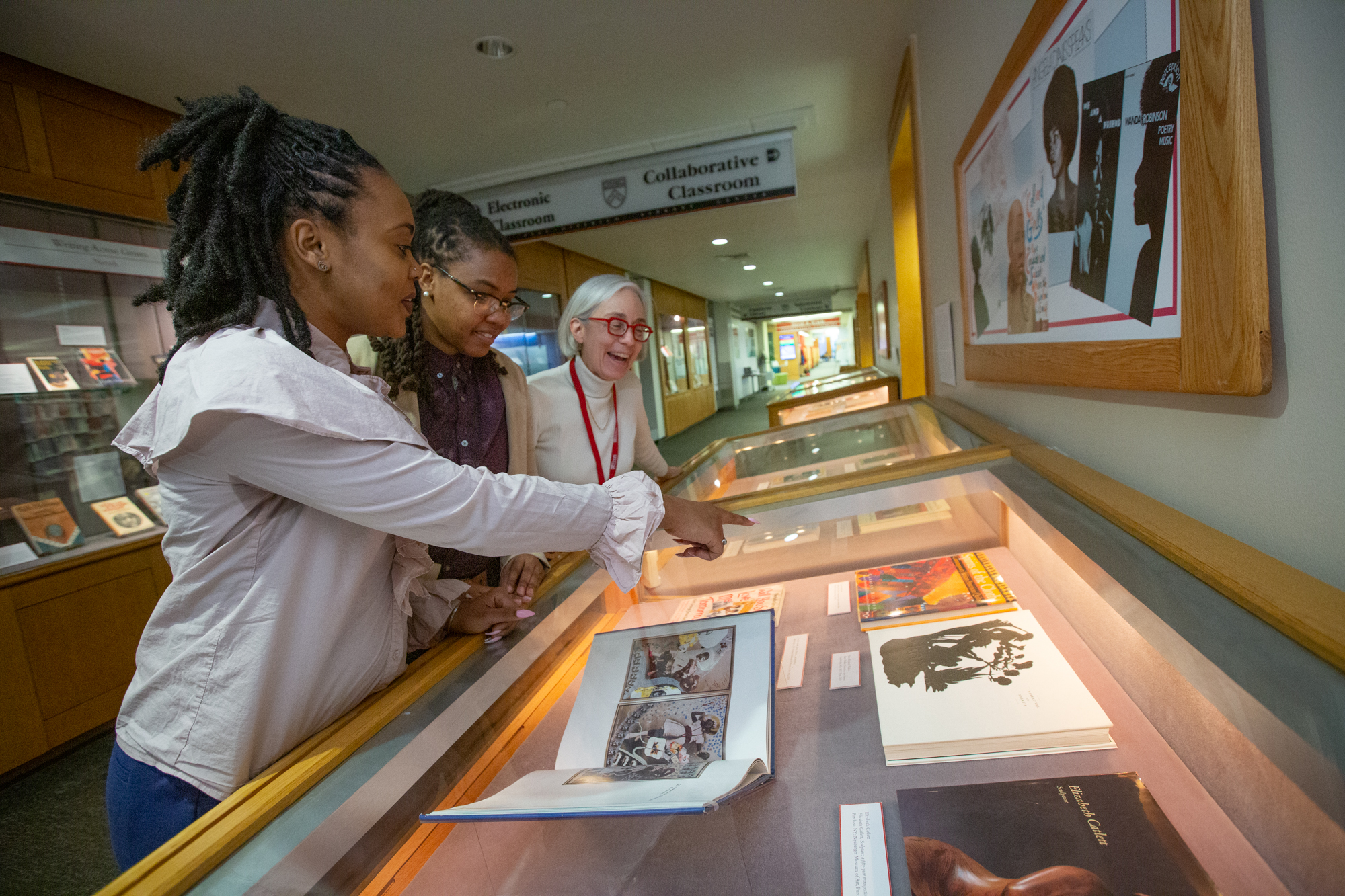 A major exhibition highlighting African American women's literature is open in the Penn Libraries' Kamin Gallery, and a symposium exploring aspects of the collection and literary culture of the late 20th century is planned for this week.
The exhibit and symposium celebrate the 2018 gift from collector Joanna Banks of her library of African American literature, specifically focused on women, children's books, and cookbooks. The exhibition is titled "Writing Across Genres: African American Women Writers in the Joanna Banks Collection."
On Feb. 20 and 21, the 2020 Jay I. Kislak Symposium "Black Women Writing Across Genres in the Late 20th Century" will look at the flourishing of Black women writers as a cultural force in late 20th century America. The program will take place on the first and sixth floors of the Van Pelt-Dietrich Library Center.
Lynne Farrington, senior curator in the Kislak Center for Special Collections, Rare Books and Manuscripts at the Penn Libraries, says the event will combine panel discussions and readings with scholars and artists examining topics ranging from activist writing to theorizing the archive and the role of bibliographies in the making of the collection. 
"The symposium seeks to inspire new work in the discipline while honoring the important work that has already been done on many of the authors in the collection," says Farrington. 
Banks, a Washington, D.C.-based book collector, began her collection in 1965 after reading "The Langston Hughes Reader." Reading Hughes built a desire in Banks to find other work by Black writers, and it was the thrill of making new discoveries in used and new bookstores that fueled her decadeslong collecting journey.
"This is an exciting collection," says Farrington. "It complements our current holdings in children's literature and cookery while simultaneously expanding our holdings of works by African American women, many of which were from publishers outside the mainstream and for that reason not widely collected."
The Joanna Banks Collection may be understood as a collection of collections. In its totality, it represents a broad selection of African-American book production, covering many subjects, published primarily from the mid-1960s to present day.
Walking through the exhibit, one can feel a powerful distillation both of the new collection and of the varieties of Black women's intellectual production through print. The work is captured in the artistry of book covers, photographs, and printed pages. It is clear Banks had an astute eye as a reader and collector. 
Banks first reached out to Barbara Savage, the Geraldine R. Segal Professor of American Social Thought in the Department of Africana Studies, for help placing her collection at the Penn Libraries. 
"Penn students and faculty, as well as scholars from around the world, are the real beneficiaries of this generous gift," says Savage. "And helping to bring this collection to Penn means so much to me personally because Joanna and I met in a reading group for Black women in Washington, D.C., in 1984. That group helped me find my voice and gave me the courage in midlife to study to become a scholar of African American history. Joanna's generous gift brings our friendship full circle, resting as it always has on a shared love of books by and about Black people."
Savage contacted Farrington about bringing the collection to Penn. 
"She and I traveled to Joanna's home so they could meet, and later, Joanna visited the Kislak Center," says Savage. "Lynne and a colleague of hers, John Pollack [curator at Kislak], literally packed up the collection in Joanna's house in late May 2018."
The collection filled 150 boxes with a major trove of more than 10,000 books, periodicals, recordings, and photographs. Farrington thought this would be a wonderful collection for Penn graduate students to engage with in their scholarly work.
Two graduate students (pictured below), Destiny Crockett, a second-year Ph.D. student in Africana studies and Kiana Murphy, a fifth-year doctoral student in English, have been instrumental in pulling it all together, according to Farrington.
Crockett recalls a feeling of being overwhelmed "in a good way" upon first seeing the collection.
"It was a reminder of how little I have read even though I read so much as a student," says Crockett. "I felt a sense of curiosity at how much more is out there for me to read and that was very exciting to look forward to."
Murphy says one of the things that the collection reminded her of was the richness and abundance in engaging with the archive.
"It shifted my focus from talking about absence in the archives to considering how to account for so many Black women writing across genres for decades," says Murphy.
Both hope the exhibition, in conjunction with the symposium, will invite more people to come and engage with other special collections and spark an interest to start a collection of their own. 
As the friendship of Joanna Banks and Barbara Savage came full circle over African American literature, so did the friendship between the two graduate students.
"I honestly think that Destiny and I have grown closer as friends through the archival practice," says Murphy. "Laughing, disagreements, and conversations about some of the items we found in the collection has strengthened our friendship and that is the beauty of what the Joanna Banks collection has curated for us personally."
Crockett hopes the conversation about "Black Women Writing Across Genres" continues in people's everyday lives after seeing the exhibition, as it did for her. 
"I've talked about this experience with my mother and grandmother," she says. "I grew up watching the Food Channel and my family is always talking about food. So, I shared a lot about the cookbooks by Black women with my family." 
Among the confirmed speakers are Lorene Cary, a senior lecturer in the Department of English; poet, essayist, and Black feminist activist Cheryl Clarke, Columbia Professor Farah Jasmine Griffin, and Rutgers Professor Cheryl Wall, along with exhibition co-curators, Crockett and Murphy. Banks will also be joining the conversation.
Registration for the symposium is appreciated.