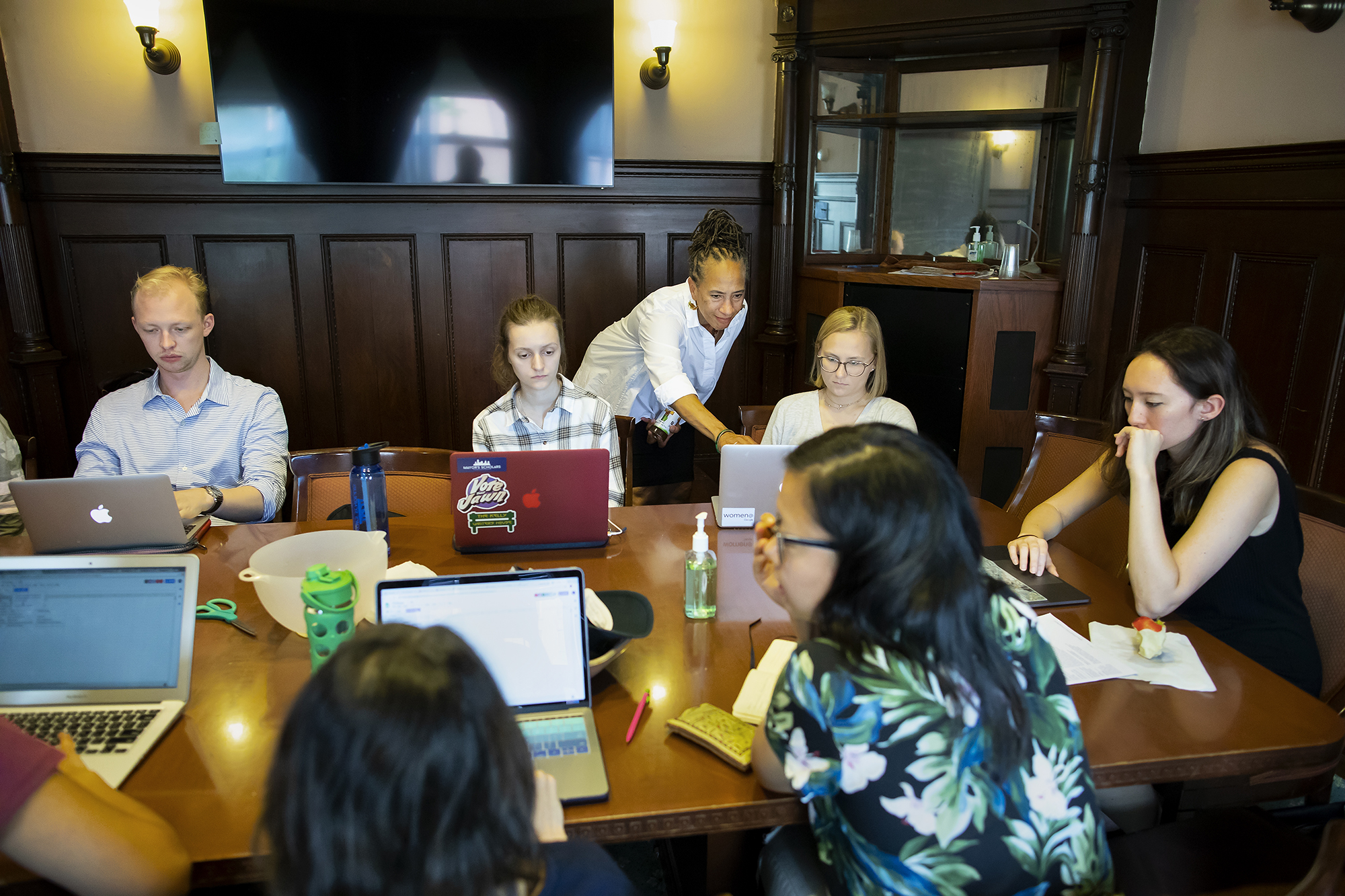 Creative writing, yes, but with a purpose, for publication, and a connection to community—that is what English professor Lorene Cary's courses are all about.
This semester's "Essay, Blog, Tweet, Nonfiction now!" has been focused on encouraging young people in Philadelphia to register to vote and go to the polls in the midterm elections. Also, for the nine students in Cary's course, it is a chance to reflect and write about the views of others, as well as their own.
"It's not about just writing pretty sentences. I want to get them out in the world," says Cary. "Voting is so important, but our job is to do the writing, to build the platform to connect and amplify youth voices."
The class led a community event, Vote That Jawn, an initiative created by Cary to connect schools and organizations across Philadelphia and give them a platform before the Nov. 6 election. ("Jawn" is Philadelphia slang for an undefined thing.)
Also integral to the class is the online publication Cary founded in 2015, with guidance from Penn Professor Emeritus Peter Conn, SafeKidsStories.com. Students' work is published there, along with work by other students in Philadelphia. The class also publishes work through a partnership with The Philadelphia Citizen, and radio stations WHYY and WURD.
These constellations of community collaborations distinguish Cary's classes. Al Filreis, director of Penn's Center for Programs in Contemporary Writing and faculty director of the Kelly Writers House, has been a colleague in the English Department with Cary for two decades.
"Lorene Cary believes in the convergence of writing and reality, of writing and doing, and she successfully conveys that to her students through a series of remarkable innovations," says Filreis, also the Kelly Family Professor of English. "This class, with its emphasis on the 'now' in 'non-fiction now,' is a timely intervention against the idea that writing is irrelevant."
The community service component is one of the elements that draws students to the class, Cary says. "Sometimes the work it takes to get to Penn gives students strong feelings about their privilege, and that is the self-selection I get in my class: students who are reflecting on their own sense of privilege and are passionate about using it well."
Passion for writing with purpose is evident for freshman Sonali Deliwala, of Yardley, Pa., in the School of Engineering and Applied Science. "I wanted to do something to inform people, to do something bigger than myself," she says, describing why she chose to take the course.
"I want to write in a way that can impact people. So that purpose of mine, my drive, is all about engaging with the community, social-impact volunteering," she continues. "That's one reason why I chose engineering; we are told you can build something that helps people."
One common thread in the students' experiences is their recent personal immigration stories; either they themselves are citizens of another country, or their parents or grandparents are immigrants to the United States. Their countries of origin are scattered across the globe: Albania, Australia, India, Pakistan, several parts of China. "This group, they have different perspectives," Cary says.
Senior James Meadows was born in Melbourne, Australia. His parents moved to Philadelphia when he was an infant and raised him here, so he is one of the students in the class who cannot vote in the Nov. 6 election.
"I can't participate in it personally, but I do feel strongly about it," says Meadows, a communications major who intends to be a journalist. "Even if I can't vote, if I can aid people my age to get to the polls I want to take part in the effort."
"Youth voice"
The author of several books of fiction and nonfiction, as well as many other published works, Cary has taught the "Nonfiction now!" class since she started as a lecturer at Penn 20 years ago. The academic focus has changed, but "literary justice" has always been a component, as well as connecting to community. Previously, the course partnered with another nonprofit Cary founded, Art Sanctuary, to advance black art and artists.
For the past three years, the course has been connected with SafeKidsStories.com, edited by Rebecca Sinkler, past editor of The New York Times Book Review. Cary created the publication after her experience on the Philadelphia School Reform Commission as chair of the safety committee, to give Philadelphia school students, and Penn students in her courses, a place to write stories about "youth wholeness and resiliency."
The idea to focus on voting for the fall semester course came from students in her spring class. To prepare, Cary enlisted the help of several partners and youth volunteers over the summer to create Vote That Jawn, and the accompanying website and social media channels.
"It's about youth voice," Cary says. "It's not a political organization. What we are doing is creating an online platform to support people who are doing peer-to-peer registration initiatives. We want to talk about what are they doing, and support them, and write about it."
A key partner in the project has been David W. Brown, assistant professor of instruction at Temple University's Klein College of Media and Communication. The nine undergraduates in his capstone public relations course this semester focused their coursework on creating campaigns for Vote That Jawn.
"It's been wonderful. The Penn kids got to know the Temple kids at the Vote That Jawn kickoff. I've been interviewed by one of Lorene's students," Brown says. "The Temple kids have preconceived notions about the Penn kids, and vice-versa. It's been a great way to break down barriers and work for the common good."
The Penn and Temple students worked together on the Vote That Jawn event on Sept. 22 at public radio station WHYY, which drew more than 100 students from Philadelphia public schools, colleges, and community groups to organize strategies for registering newly eligible voters. Mayor Jim Kenney and the youth poet laureate Wes Matthews stopped by to support the effort.
The Penn students wrote about their experiences at the event for the class. Several were published in SafeKidsStories.com, including "When Philly Gives Its Best, It's the Place to Be," by freshman Erinda Sheno from Philadelphia, and freshman Hannah Yusef, also from Philadelphia, who wrote "When Young People Don't Vote, It Matters." "It is clear that young people have power — that the young vote does indeed count," Yusef wrote. "It's not just our votes that count: As a demographic, we count."
"Magical class"
Cary's class meets once a week, for three hours on Wednesday afternoons. The nine students usually take the same seats around a dark wood conference table in the center of what was the formal dining room in the historic house now home to Penn's Creative Writing Program. The room has wainscoting, crown moulding, built-in corner cupboards, and an expansive window looking out over 38th street.
"For me it's almost like a magical class. It's being removed from classes where I'm constantly taking notes. It's a class where you can speak your mind," Deliwala says.
Collaboration is key to her course, Cary says, not competition. She makes sure the students know each other's names, first and last, going over them before every class in those first weeks.
"It's been very cool for me, to be able to work with people who are so different from me," says freshman Anna Duan, an urban studies major from China. "It's been a really interesting process and helped me grapple with the work, because there are these people I can talk to."
On a Wednesday in October, the class together discussed the groups they would contact who were at the Vote That Jawn event to ask about how their strategies were working. They would then go on to write about those groups and their responses, one of the six blog posts on different topics they are required to write for the course.
Meadows wrote about the Philadelphia chapter of March for Our Lives, and Girls, Inc. Duan wrote about Next Stop Democracy, and Deliwala about The Center for Returning Citizens. Other pieces included senior Joyce Xu on Penn Leads the Vote and freshman Serena Martinez's piece about a street artist with Mural Arts Philadelphia.
"Being able to see your writing as a mobilizing force is really energizing for me as someone who wants to be a professional writer," says Meadows, a reporter for The Daily Pennsylvanian who has had several journalism internships, including at The Philadelphia Inquirer and the BBC. "The class not only provides the opportunity to learn, but also to write more and to publish more."
Duan says that the class makes her "step out of my comfort zone," because there are "so many more interactions" than she expected. "It's more real-world than other classes, like tracking down this person and talking with them," she says.
"Write better"
"My students do the reporting and they write," Cary says. "And I teach them to write better."
A 1978 graduate of Penn with both a B.A. and M.A., Cary is a celebrated author and social activist, the 2003 recipient of the city's Philadelphia Award for her leadership in the arts communities. Her historical novel about a young female slave, "The Price of a Child," was the first selected for the Free Library's One Book, One Philadelphia project to promote reading and literacy. She has twice won Penn's Provost Award for Teaching Excellence.
But in addition to Cary's guidance, part of the writing process involves the students critiquing each other's work as well. "They have to read each other like writers, which is different than a critic, in a way so they can help each other not just find fault; they make assessments as opposed to simple judgment," Cary says.
Deliwala says she was "really scared" to have other students in the class read her writing. "But it's actually really cool. Because when you read someone else's writing and you see them being personal and transparent on paper as you are that it makes you comfortable with it," she says. "Other people have such powerful stories, also immigrants or children of immigrants. I was so moved by their stories."
Samira Mehta, a sophomore from Southlake, Texas, studying biochemistry and chemistry, wrote about her grandparents, who fled India as religious refugees, eventually settling in the U.S., in "A Beaten and Penniless Dreamer: How My Grandfather's Story Will Get Me to the Polls."
Deliwala also wrote about her family's story of assimilation in the U.S. in "How Anger and Doubt Made Me Realize I'm an American." She describes coming to terms with her belief that her parents, immigrants from Mumbai, India, are discriminated against, although her parents do not share that view. Even though she was born and raised here, she did not feel like she fit in growing up in suburban Philadelphia. "I was torn between the notion that on my birth certificate, on paper, I was American, and the throbbing conviction that I could not belong in America," she wrote.
Writing for SafeKidsStories.com in the class has empowered her and helped her find her voice, she says, and also helped her feel more at home, especially in the international community at Penn. "It just challenges me in a way that I've not been challenged with my writing before," she says.
Which is just what Cary wants her students to take with them from her classes.
"I hope they have a new understanding of what it means to be students of their own minds. Writing is mining your own capacity and then taking out those stones and cutting the diamond," Cary says. "I also want them to have experiences touching other people—and writing about them and about ideas with integrity and beauty."
SafeKidsStories has been supported by John Jackson, Jr., dean of the School of Social Policy and Practice, and this year, by the Office of the Provost, Wendell Pritchett.
Homepage photo: A Penn alumna, Cary is known in her native Philadelphia for her passion for education, the arts and community engagement. She won the city's prestigious Philadelphia Award for her leadership.