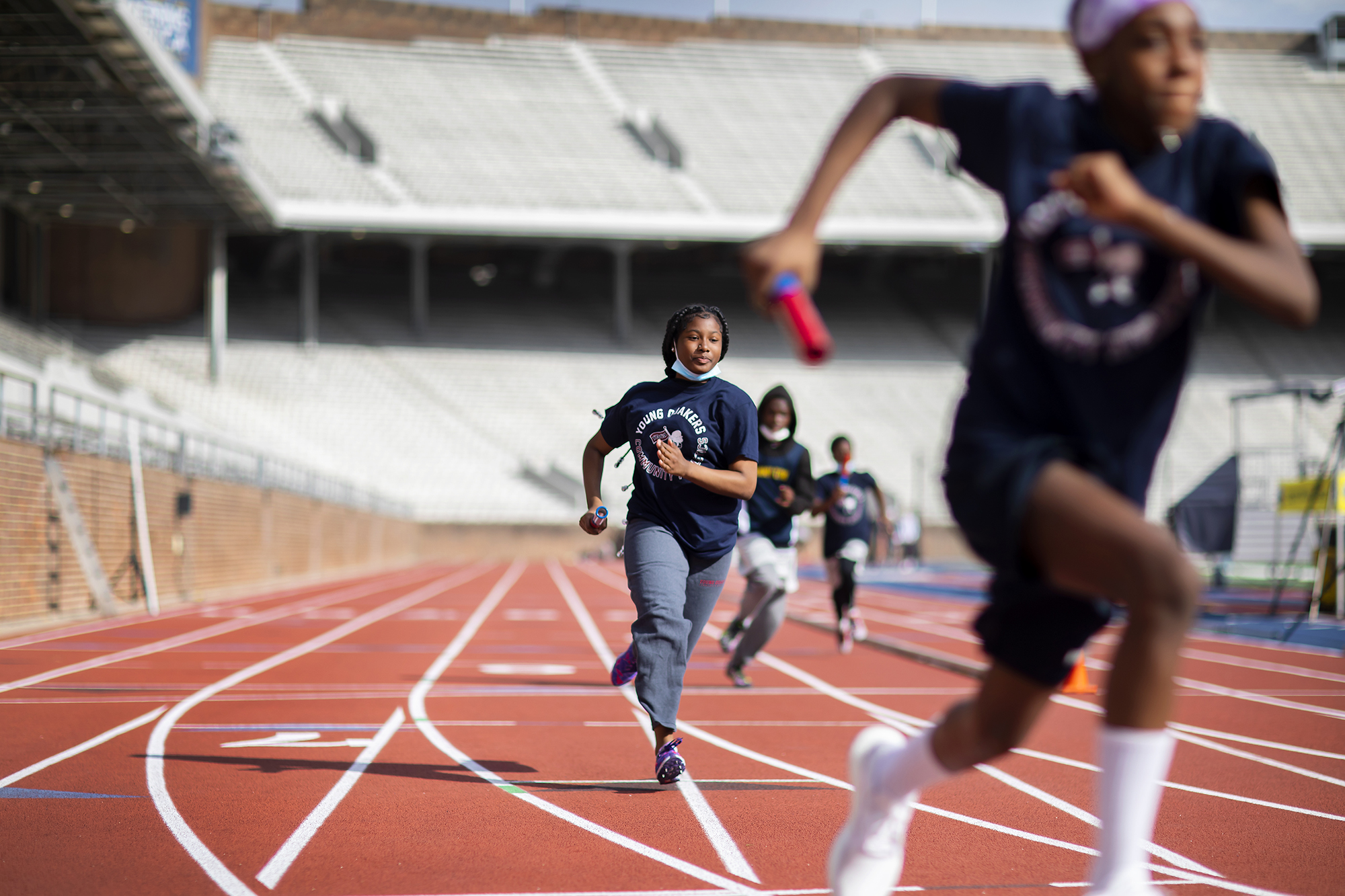 On a windy Thursday afternoon on Franklin Field, grade-school students are spread out around the track, poised for take-off. The runners are watching their teammates sprint toward them, waiting for their moment.
These are the Young Quakers, practicing for the April 29 4x100 relay event in the Penn Relays. They're part of Young Quakers Community Athletics, an after-school program run by the Netter Center for Community Partnerships and Penn Athletics. The program pairs "Big Quakers," Penn student athletes, in track, lacrosse, and basketball, with fourth- through eighth-grade students from three public schools in West Philadelphia, the "Young Quakers."
It is first time that the Young Quakers will participate in the Penn Relays since 2019's pre-pandemic event. Three middle school teams qualified for the 4x100 relay this year—two from Henry C. Lea Elementary School and one from Andrew Hamilton School. In addition to the three 4x100 Relay teams that qualified, fourth- through sixth-grade students from Hamilton, Lea, and Benjamin B. Comegys will participate in the 300 yard shuttle run.
The students have been practicing, says Paige Lombard, the program's associate director. Many of the track students have been doing extra work, coming on the lacrosse days in addition to their own practices, she says. "We're very lucky because their home field is the track that they will run on in Penn Relays, so they got lots of practice," says Lombard.
Running is all about focus, says Isaiah Green, an eighth-grade student at Lea Elementary. "I just block out everything, around, you know? Being fast to me is about moving your legs and arms." Green, along with his classmate Kynnedy Taylor, have been involved with the Young Quakers since the fourth grade, participating in both track and basketball. "It feels great," says Taylor. "We gon' run!"
"The Relays are a highlight for our Young Quakers and something they look forward to all year long," says Jennifer Chu, the program's director. "We are delighted that, with the support of Penn Athletics, Steve Dolan, Penn Track & Field Head Coach and Director of the Penn Relays, Penn Track & Field head coach and director of the Penn Relays, and the Track & Field Big Quaker volunteers, the Young Quakers program has been able to enter West Philadelphia students in the Penn Relays since 2014."
The program creates "opportunities for our middle school students to be in the Penn Relays, to be playing lacrosse games, getting to be on the Palestra floor," Chu says. "Just getting to see both Young Quakers and Big Quakers grow alongside each other is awesome."
"Effective partnerships between Penn and our local community are extraordinarily important," says Ira Harkavy, associate vice president and founding director at the Netter Center. "Young Quakers is an inspiring example of how, by working together, university students and public school students in West Philadelphia can both benefit."
Caleb Johnson, a pole vaulter on the men's track and field team, is one of the Big Quaker volunteers. A junior from Willow Grove, Pennsylvania, majoring in cognitive neuroscience, sports were "a big part of my life," he says. "I know how influential [sports] can be. It opened a lot of doors for me."
Twenty-some track and field athletes serve as Big Quakers, he says, meeting the students at Franklin Field on Thursday afternoons. "We always need more volunteers," Johnson says. "There's always more kids to reach. We're looking for help, whether or not you see a sign."
"The kids love this. They really have a good time and look forward to it each week," Johnson says. "We have a responsibility to the kids, to give back to the community."