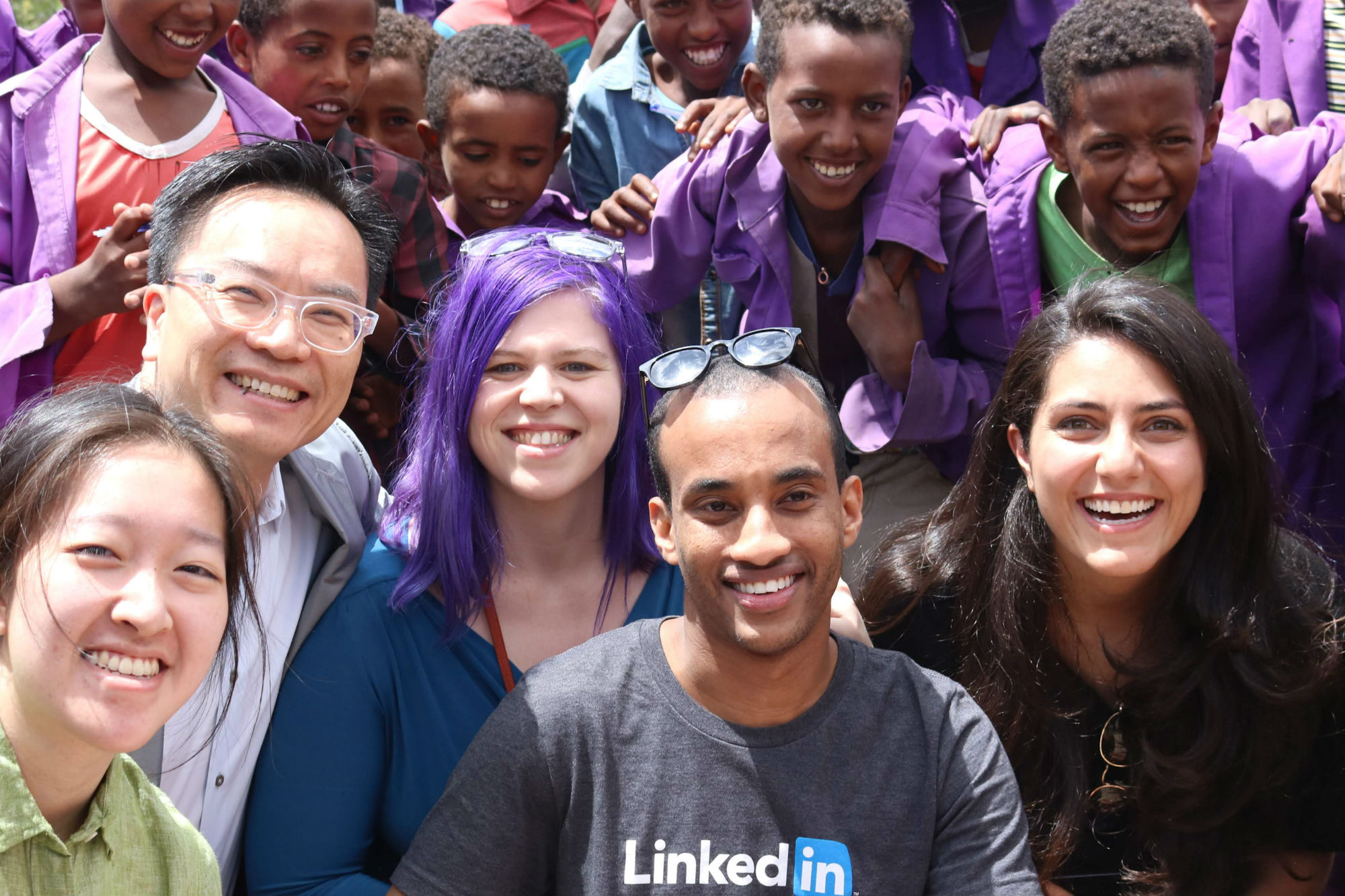 In the weeks leading up to her arrival in Ethiopia, Shuaiqing Liu read plenty about the transportation challenges in the African nation. She still wasn't prepared for the sheer scale of the difficulty getting even small distances outside the capital, Addis Ababa, her Wharton Global Modular Course group's home base during their four-day visit. 
"We could have covered 10 activities in one day, and contributed more to the local economy," says Liu, a first-year MBA student. "Instead, we covered only three. It made me think about how the local people might want to travel to a bank or to get health care and, because of the limitations of the transportation, they can't."
That's exactly the type of impression Penn Integrates Knowledge (PIK) Professor Ezekiel Emanuel, who's leading the course with Assistant Professor Heather Schofield, wanted the students to get. Both are affiliated with the Perelman School of Medicine and the Wharton School.  
Emanuel has run the Challenges and Opportunities in Africa: Health Care and Business of Ethiopia course three times in the last four years. He says he's focused on Ethiopia because it's very much still a developing country, but one that has made major political and economic changes in the past few years, and has also had success bringing health care to the largely rural population. 
The country is twice the size of Texas, with a population of more than 100 million; the birth rate is the 17th highest in the world. Income nationally remains very low—about $1,000 per capita—but things are changing in Ethiopia, Emanuel says. And the nation's health care outcomes are improving dramatically, even though the country spends far less per capita than the United States. 
That's why the group visited a health extension worker program, local health post, and a hospital in the countryside. 
"You have this very rural health post, and you have two women working who've just been trained for a year each," Emanuel says of the visit to the Dobi center. "And they have data up on the walls: How many people got malaria, how many women delivered their baby in a health facility, how many people died in the area which they're responsible for. 
"I think it's pretty amazing that they have performance data, it's public for everyone to see, and they know how they're doing, with the resources they have."
He also wanted the group to see the growing pains of a place in the early phase of industrialization, from building manufacturing plants to training a workforce to adhere to a schedule that's not based on the planting cycles. 
So they went to an Addis Ababa industrial park, meeting with officials from garment and shoe factories. They visited Afriflora, a huge rose farm previously owned by an American equity firm, and spent an evening hearing pitches and networking at blueMoon, an agribusiness and agritech incubator. 
"You go back and read the history of spinning factories from the early 1800s in Lowell, Massachusetts, and it's pretty similar in Addis Ababa today," Emanuel says. "And here you can see it in a developing country, and it's happening in real time. There are also lots of positives, and they saw the entrepreneurs and the people who are making things happen." 
Still, getting around Addis Ababa, and then into the countryside and back, highlighted some of the basic challenges, including travel. Students used to traversing a continent in an afternoon found themselves spending hours going only a couple dozen kilometers.  
"I don't think I've ever been in an area with infrastructure that bad," Vasanth Subramanian, a second-year MBA student, says. 
Yet, in meeting with Ethiopian business leaders who've worked inside and outside the country, the group learned how challenges such as poor infrastructure may lead to unexpected opportunities for growth. 
As Schofield notes, the panel of business leaders highlighted the potential to leapfrog technologies in this context. For example, despite the remote and highly rural nature of the country, it is well connected by a mobile phone network, rather than reliant on expensive and limited landline networks. 
Separately, the students learned about the history of Ethiopia and its recent political developments. Not long before they departed for the country, they spent an evening at Perry World House with Taye Atske Selassie Amde, Ethiopia's permanent representative to the United Nations. 
"One of the most important things I think for Wharton students is the connection between the politics and the economics," Emanuel says. "Frequently, when I've taken Wharton students on trips like this, they think it's all about the business and economics. They don't necessarily understand how politics is essential to foster economic development, what kind of political conditions are necessary to get a country to become successful economically." 
The group also explored press freedom in Ethiopia through a visit to Kana Television and a conversation with Washington Post journalist Paul Schemm, who is based in Addis Ababa. 
Global Modular Courses like this one give Wharton students—undergraduates, MBAs, and executive MBAs—the chance to see topics they're studying first-hand through brief but intense visits to business hubs. Some of the other courses this year included trips to Spain, Israel, India, and Brazil. 
Schofield says one of her favorite parts of co-leading the GMC is the different, more personal level of understanding that the students can take away from the course. 
"Teaching this course allows you to discuss concepts and then immediately see them in action while also getting a sense of the challenges that are less likely to come up in a classroom setting," she says. "For example, the CEO at the floral farm discussed the need to develop strong relationships with airport personnel to ensure that their flowers are always able to make it from the greenhouse to the shelves in Europe in under three days despite flight disruptions."
Students say the trip was eye-opening, from the transportation difficulties to the value of networks in cultivating dialogue and implementing change.
"It sank in in a way it hadn't just sitting in a classroom," says Amanda Morrison, a first-year MBA student. 
Ya-Ting Chuang, in her second year in the MBA program, is originally from Taiwan. She and Liu, who was born in China but moved to the U.S. when she was 18, say their conversations with the business leaders and managers they met drove home the power of connections in making deals. They appreciate how Ezekiel's own connections let them meet people and see things they wouldn't have otherwise.  
"No matter how many articles I read or how many pictures I saw, it's different," Chuang says. "Because we are there, we are able to see and interact with people there, and we were actually part of their daily life. I think that's important to feel how they feel and see what they see. That was really eye-opening for me, and that totally changes some of my perspectives."
Ezekiel J. Emanuel is a Penn Integrates Knowledge Professor, vice provost for global initiatives, and the Diane v.S. Levy and Robert M. Levy University Professor, Professor of Health Care Management, and Professor of Medical Ethics and Health Policy at the University of Pennsylvania, with appointments in the Wharton School and the Perelman School of Medicine, where he chairs of the Department of Medical Ethics and Health Policy. 
Heather Schofield is an assistant professor in the Department of Medical Ethics and Health Policy with appointments in the Perelman School of Medicine and the Wharton School at the University of Pennsylvania.