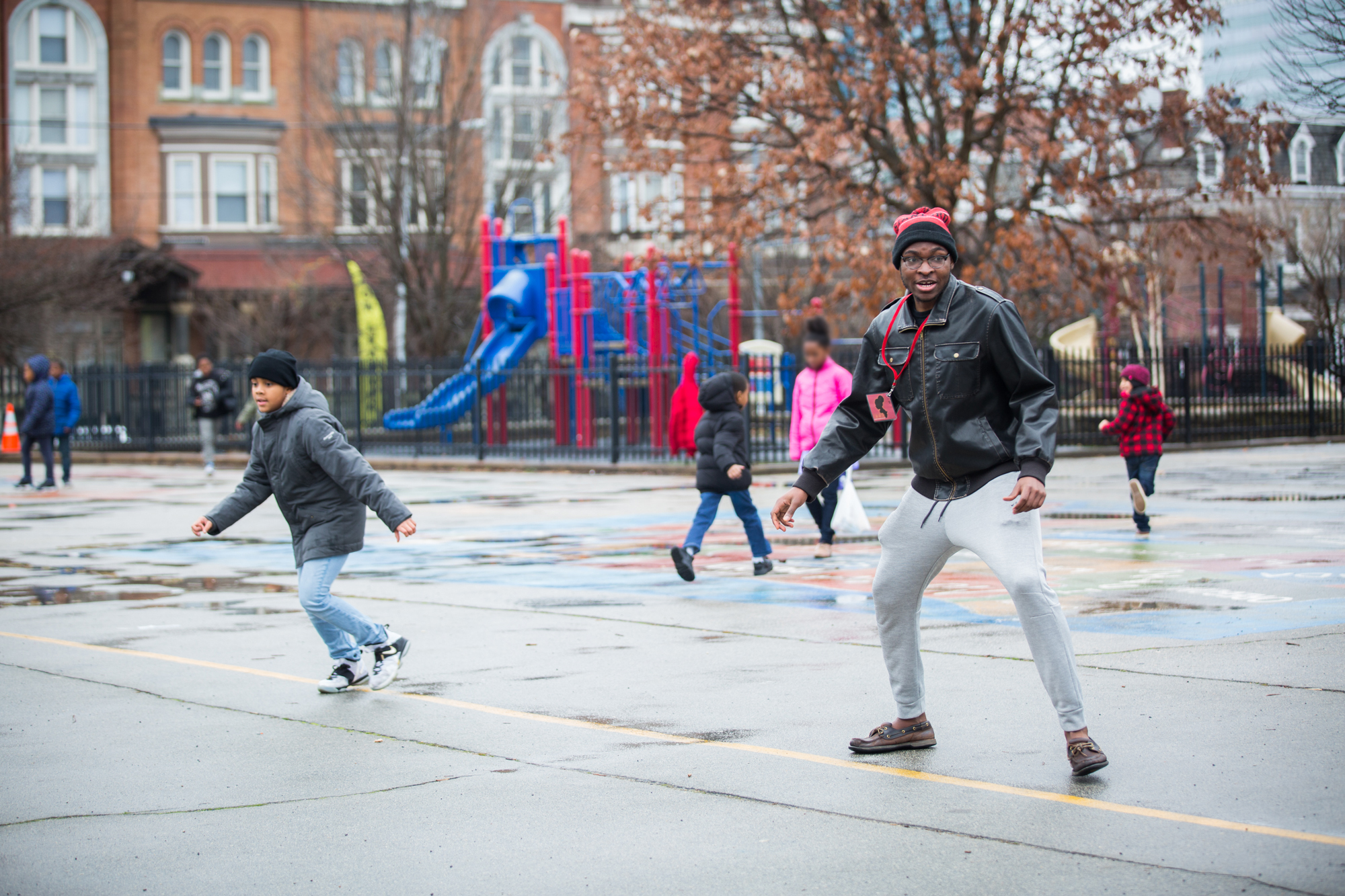 Funded by College Houses and Academic Services and a Campaign for Community grant, the HERstory/HIStory mentorship program was founded during the 2016-17 academic year by Penn students, faculty, and staff at W.E.B. Du Bois College House. Students of color at the House serve as mentors to African-American schoolchildren at Samuel Powel Elementary School, a K-4 public elementary school in West Philadelphia.
Co-founder Robin C. Stevens, an assistant professor in the School of Nursing and faculty fellow at Du Bois, says the program grew out of a meeting of minds between African-American undergraduate women who were interested in building a relationship with local girls, and Powel teachers and administers in search of black students at Penn to mentor the school's black students in order to show them the diversity of college students and the accessibility of the Ivy League.
"During childhood, the people who represent 'college' and academic success matter," says Stevens, who is also a Powel parent. "This program partners students with mentors who look like them, so [Powel students] can see how great they can be. In the mentors, we hope some students can envision a version of their future selves."
The program originated as HERstory, a mentorship program for young black girls at Powel.
Boys were added this academic year. Twenty students at Du Bois take part, 13 women and 7 men. Weekly or bi-weekly, they visit Powel and meet with their mentees, usually on Friday during their recess and lunch.
Erin Bussey, 19, a sophomore from Westchester, N.Y., has for two years been mentoring Deanna Drummond, 10, a fourth-grader at Powel.
"We play outside, and play kickball and stuff like that, and catch, and jump rope, and tetherball," Deanna says. "She teaches me to do good and play fair. And also, after that, we go inside and we eat lunch."
Bussey, a history major, says she was drawn to the program after Stevens, her floormate, told her of her plan to start a mentorship initiative for girls of color, a population Bussey says "is close to my heart."
"Personally, I went to a predominately white school, and although some of my best friends are women of color, I felt like I was lacking someone who could give me advice on different roads to take or things to consider while going through specific moments in my academic career," she says. "For me, being a black woman, I wanted to be able to come to Penn and use my experience and make sure that other girls wouldn't have to go through the same thing."
Her mentee, Deanna, wants to be a doctor and go to Penn.
"She said she wanted to be a doctor right away," Bussey says. "It was great to see that she already knew her capabilities, and knew that she could accomplish that and didn't even second guess it at all. It was great to be shown that these kids know who they are, and know what they're capable of at such a young age, which I thought was really empowering for them."
Anye Wanki, 21, a senior in the Wharton School, mentors third-grader Caleb Devastey, 8.
"We play, he talks to me, he helps me with my work," Caleb says. He says his favorite part about spending time with Wanki is how nice his is.
"He's really calm," Caleb says. "And tall."
Wanki says applied for the HIStory program because he wanted to mentor young boys, and especially young boys of color.
"I feel like them getting to see a role model that goes to college is extremely important," he says.
Stevens, who is also director of the Health Equity & Media Lab and a senior fellow at the Center for Public Health Initiatives, says Powel staff specifically requested that the program focus on mentorship in lieu of tutoring.
Pam Bunyon, school counselor at Powel, says the HERstory/HIStory mentors serve as additional voices to give the elementary students advice, offer wisdom and friendship from people close to their own age, and help them with their decision-making.
"If you were to see us on a different day when the mentors aren't here, you could really see the difference because having all of the college students here just adds an energy to the school," she says. "It's like having a special day," she says.
Bunyon says the fact that the Penn students look like the Powel students has a huge impact as well.
"They're seeing people that are in college, and can therefore then see themselves in that place," she says. "Not all of our kids have exposure to that."
Stevens says the program is equally valuable to both mentor and mentee. She says Powel students benefit by spending time with college students, "but at the same time, the college students are growing from being in a relationship, and being pushed and challenged from being in a relationship with really spunky, second, third, and fourth graders."
Photo at top: Wharton senior Anye Wanki plays with his mentee Caleb Devastey during recess at Powel Elementary School.