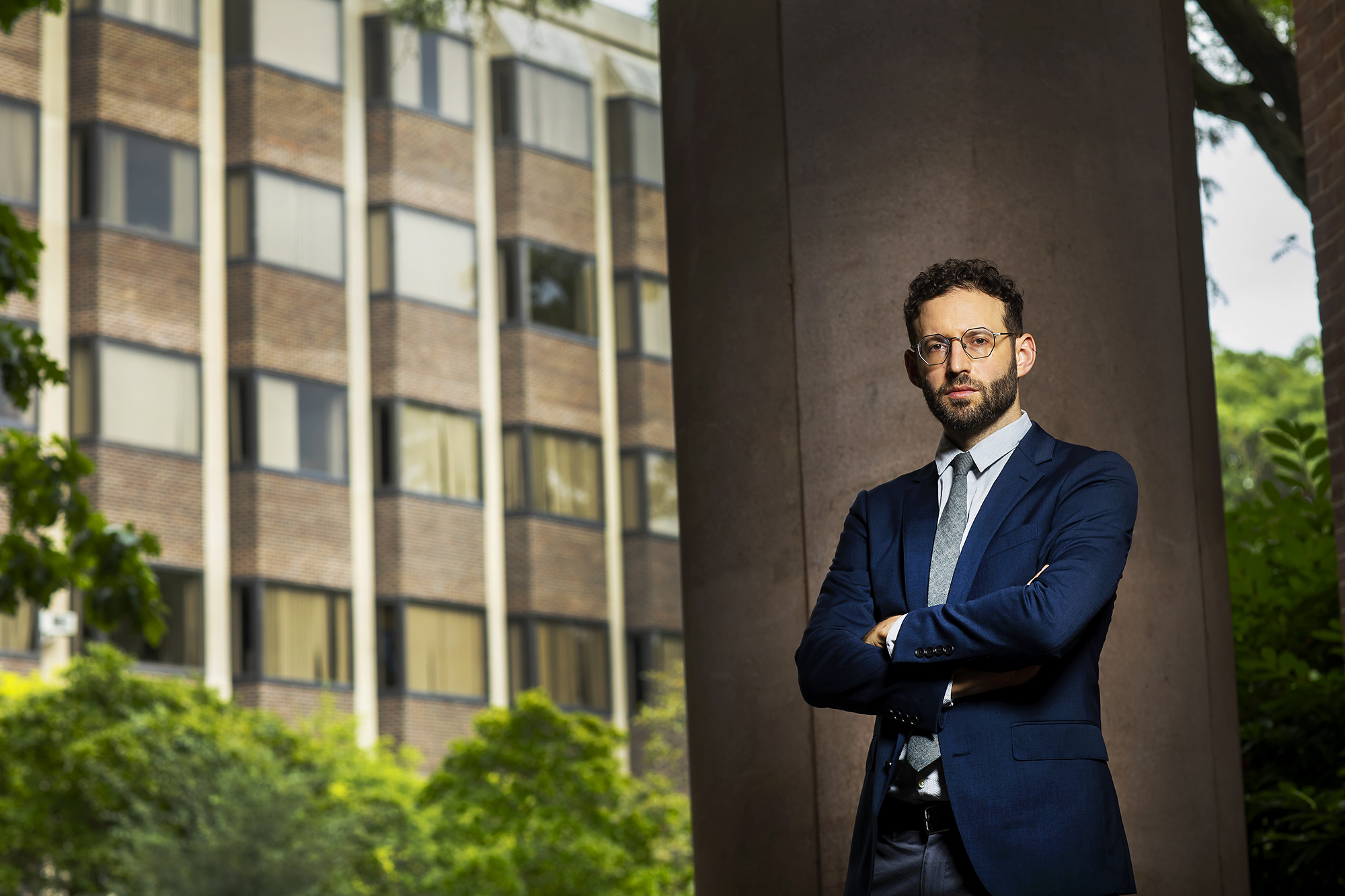 When Hurricane Sandy made landfall just north of Atlantic City on the evening of Oct. 29, 2012, 80-mile-per-hour storm-force winds extended 1,000 miles. New York got hit hard, with 17% of the city's landmass flooding, surging several feet above ground level in some places. Recovery would take months. Yet in the aftermath, how did climate politics change in New York City? 
In a paper published in Environmental Politics, Penn sociologist Daniel Aldana Cohen describes a significant shift from a focus on reducing greenhouse gas emissions to one centered around protection from future weather-related calamities. He calls this a "fortress of solitude" mentality: All parties accepted the idea that climate policy should center around defensive fortification, with social movements focused on making that as equitable as possible. 
"What really struck me was how many people said that the most obvious response was to fortify New York so the next climate-fueled disaster wouldn't have the same impact," says Cohen, an assistant professor in the Department of Sociology and director of the Socio-Spatial Climate Collaborative (SC)2. "That shift can't be explained by a lack of knowledge about climate change; everyone agreed that the storm was caused by climate change. It was just more convenient to focus on fortification." 
Cohen concludes that simply establishing that climate change exacerbated a climate disaster isn't sufficient to prompt low-carbon policies aimed at the root of the problem. 
Interviewing New Yorkers
In 2012, Cohen was a doctoral candidate at New York University. About a month after Sandy, he co-founded the Superstorm Research Lab with a dozen colleagues, and they set out to interview New Yorkers about their viewpoint following the storm. In total, they spoke with 75 people from four groups: senior responders at the city and state level, leaders of community-based organizations and justice-oriented groups, volunteer responders, and people directly affected by Sandy. 
"I was interested in the ways that these different groups reacted to the storm," Cohen says. 
Public opinion surveys make up the bulk of current research on extreme weather and climate politics, but they provide only a snapshot, often glossing over climate policy and garnering surface-level answers from respondents. For this work, Cohen used a case-study approach, focusing on different groups of people over time. 
He analyzed the data from the interviews to better understand what citywide policy changes occurred in the 14 months post-Sandy, during what remained of Michael Bloomberg's term as mayor. Cohen also wanted a clear picture of how senior disaster responders interpreted the implications of new policies and how activists addressed social inequities. 
As Cohen discovered, all players involved in New York climate politics at the time either facilitated or accepted the dramatic shift from decarbonization to adaptation, starting with the words and actions of those at the highest level of city government. 
A new trajectory
In the 2007 sustainability plan PlaNYC, the Bloomberg administration told city residents they had a duty to the world to decarbonize. Just four years later, the mayor's office released "A Stronger, More Resilient New York," which declared that people there had a responsibility to "future generations of New Yorkers." 
"That's a very different responsibility when you're talking about a global city whose banks are funding polluting activities all over the globe and whose affluent residents have some of the highest carbon footprints in the country," Cohen says. "And it's a grim way to think about climate change."
The Bloomberg administration also increased development along the waterfront. Though greater attention was paid to the ability of structures to withstand flooding, the action itself signaled a striking shift, Cohen says. "In the Far Rockaways, Queens, it led to the construction of a luxury hotel in one of the most vulnerable parts of the city." 
Community organizations opted to work within the new norm's scaffolding, fighting for fair wages and local hiring for jobs created by the redevelopment, rather than against the pivot to fortification. Even those physically responding to climate disasters did not emphasize strong climate action. Cohen found a distinction between adaptation to lessen climate damages and low-carbon policymaking. 
In New York, for example, disaster responders didn't argue against the realities of climate change or for the need to fix the root cause but instead commented on the necessity to do the job at hand. "They would say, 'Whether this is this climate change with a capital C is not my problem. My problem is to make sure we don't get hit this hard the next time,'" says Cohen. "The people hit the hardest are fundamentally worried about getting hit again." Plus, he adds, "at the end of the day, really rapid political change is always difficult because change is traumatic." 
Escaping the fortress
Yet the idea that the city could and should reduce greenhouse gas emissions hadn't disappeared. On the Bloomberg administration's final day in December 2013, the mayor's Office of Long-Term Planning and Responsibility uploaded a plan to its website outlining an 80% reduction in such emissions by 2050. 
It received little attention at the time, but in September 2014, new Mayor Bill De Blasio announced the same goal, repurposing the plan Bloomberg had quietly released. This had nothing to do with Sandy, Cohen says, but rather with the United Nations summit on climate change, which prompted the People's Climate March and De Blasio's desire to look like a climate leader.
Five years later, the city passed the nation's most aggressive low-carbon buildings bill. 
"People will trace New York City's low-carbon success back to Sandy, but that's not what happened. Undoubtedly the memory of Sandy contributed, but there's not a straight line between the storm and the 2019 bill," Cohen says. "Weather doesn't do the work of politics." 
In other words, weather events may indeed reshape policy, but those changes don't always involve addressing the environmental damages that worsen those disasters. The implications reach far beyond the city's five boroughs. 
"Recently, there's been all this extreme weather. The key question isn't whether a climate-linked disaster is broadly believed to be caused by climate change," Cohen says. "The key is whether political actors actually attempt to tackle the root causes of climate change: carbon emissions and inequality. Unless they do, we can't solve this problem." 
Funding for this research came from the New York University Office of Sustainability and Institute for Public Knowledge.
Daniel Aldana Cohen directs the Socio-Spatial Climate Collaborative and is an assistant professor in the Department of Sociology in the School of Arts & Sciences at the University of Pennsylvania.