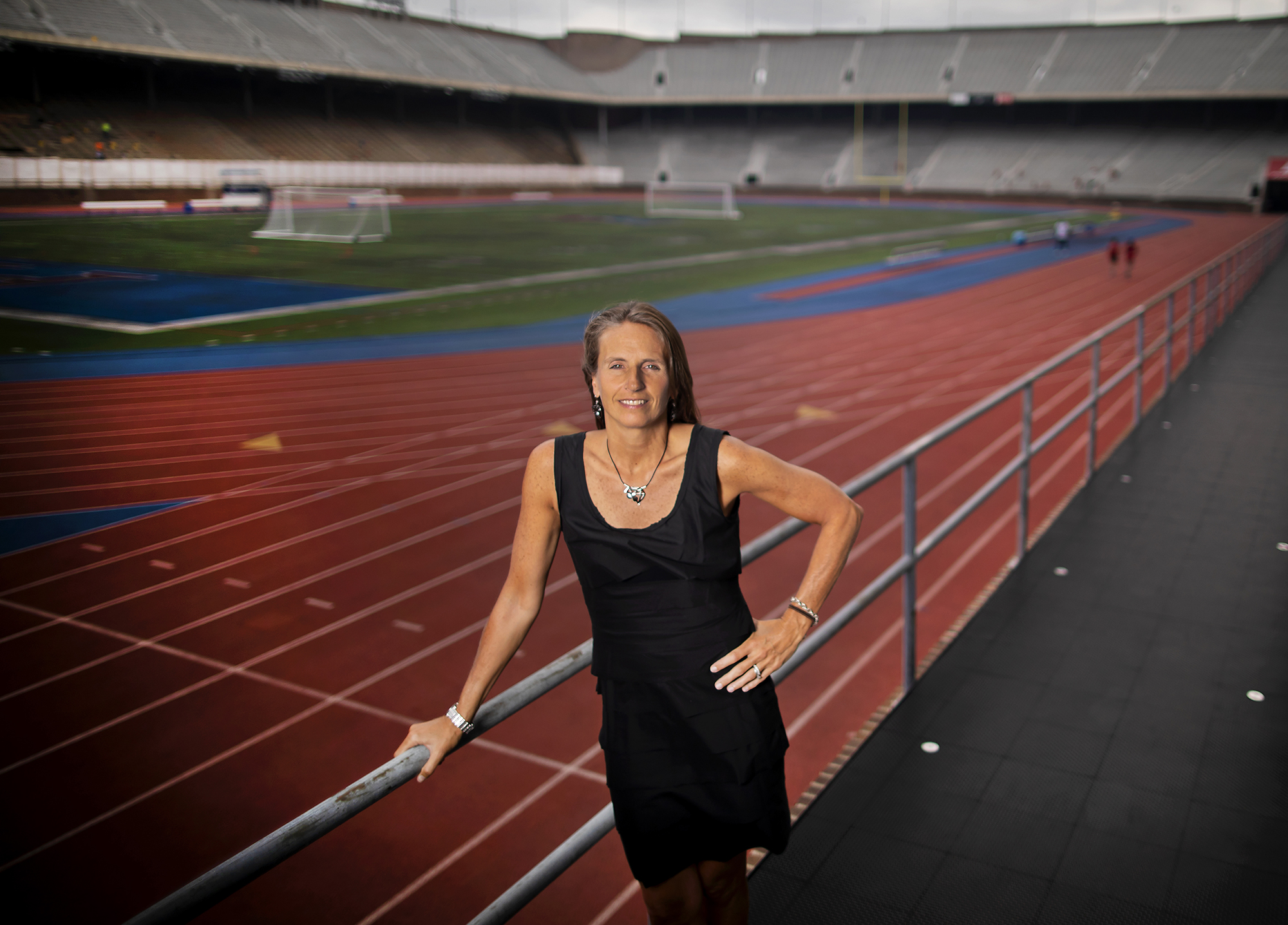 Throughout the past three decades, Alanna Shanahan has occupied practically every position imaginable within the Department of Recreation and Intercollegiate Athletics. She started out as a player on the women's lacrosse team while an undergraduate student and then worked as an intern at Penn Athletics after she received her degree. Subsequently, she served as assistant women's lacrosse coach, interim head women's lacrosse coach, assistant athletic director, associate athletic director, senior associate athletic director, executive director of the Penn Relays, senior woman administrator, and deputy director of athletics.
In June, after a five-year stint as athletic director and vice provost at John Hopkins University, Shanahan returned to Penn as the T. Gibbs Kane, Jr. W'69 Director of Athletics and Recreation—a post she calls her dream job.
A first-generation college student, Shanahan, who graduated from the College of Arts & Sciences in 1996 and received her doctorate of education from the Graduate School of Education, says the University provided her with a transformative life experience as an undergrad and is a place with deep personal meaning.
"It's a place that always put people in front of me who cared for me and tried to grow me as both a person and as a professional," she says. "It's a place that consistently provided opportunities, whether that was to come here as an undergrad, or to continue my education, or to grow my professional career. It will always have a special place in my heart, beyond just being my alma mater. It's a place that has consistently opened doors, and thankfully chose to welcome me back."
Penn Today sat down with Shanahan in Weightman Hall to discuss her journey from intern to AD, navigating sports during the pandemic, her goals as athletic director, and the everchanging world of college athletics.
You grew up in Upper Darby and attended Episcopal Academy for high school before coming to Penn. How does it feel to be back in the area and back on campus?
It really has been wonderful. It's been incredibly energizing. It's been wonderful to come back when most of the challenges of COVID are behind us, and we have student-athletes and coaches who are back doing what they love. Obviously, we're worried about a few hiccups here and there with new variants surfacing and we're hopeful we can stay disciplined in our public health approaches, but it's been great. It's been wonderful to come back to people I admired during my first time at Penn, and work with compelling colleagues, and meet some new folks that have joined the fold that are great Penn fits. It's been a great few months.
Was there something you saw or experienced as an undergrad that made you know that athletics administration was something you wanted to pursue?
No. I was one of those students who had no idea what I wanted to do. And probably even upon graduation, I still had no sense of what I wanted to do, which made my parents very nervous. I was about to graduate and I had a friend who worked in the Athletic Department. He said to me, 'You don't really know what you want to do, why don't you hang around and be an intern in the Athletic Department? You can consider pursing a graduate degree.' I had no idea what I wanted a graduate degree in, but I was like, 'OK, that doesn't sound bad.' I graduated and made a thousand dollars a month being an intern. Interning in the Athletic Department was when I probably first started to realize that people actually do this for a living.
Did your time as deputy director of athletics help ease the transition to athletic director? I imagine the two jobs are not that much different, or am I wrong about that?
What's wonderful about my experience at Penn, broadly, is that throughout my 20-year career, I really was exposed to everything. At different times of my career, I was more focused on fundraising, more focused on external relations, more focused on working directly with coaches, so I think, over the course of my career, I really did have insight into how an athletic department works in a comprehensive sense. And then being the deputy AD, you leverage that skillset where you're really kind of running the day-to-day operations of the division and the athletic director is left to work on the strategic decision-making and aspirational goal-setting. I think it was really helpful to be the deputy athletic director in many respects, but I think what was more helpful was just having a career that really did touch a lot of the significant units and divisions within Athletics.
How has it been navigating the return to sports during the pandemic. All of the players and coaches I have spoken with are elated to be back. Everything seems to have gone fairly smoothly so far.
So far, so good. I just feel a lot of gratitude for how prepared we were at the start of the fall semester, with a comprehensive plan in place for our fall teams, in particular. And, knock on wood, it really has gone extremely well. We've had modest hiccups, at worst. We haven't had to cancel or postpone competition in any meaningful way, and our athlete positivity rates have been consistently low, much like the University. So, we're really excited. We appreciate the thoughtful behavior of our community. It has allowed us to get back to doing what we love. I'm hopeful winter sports can hold steady and we can continue to have the success that we saw through the fall.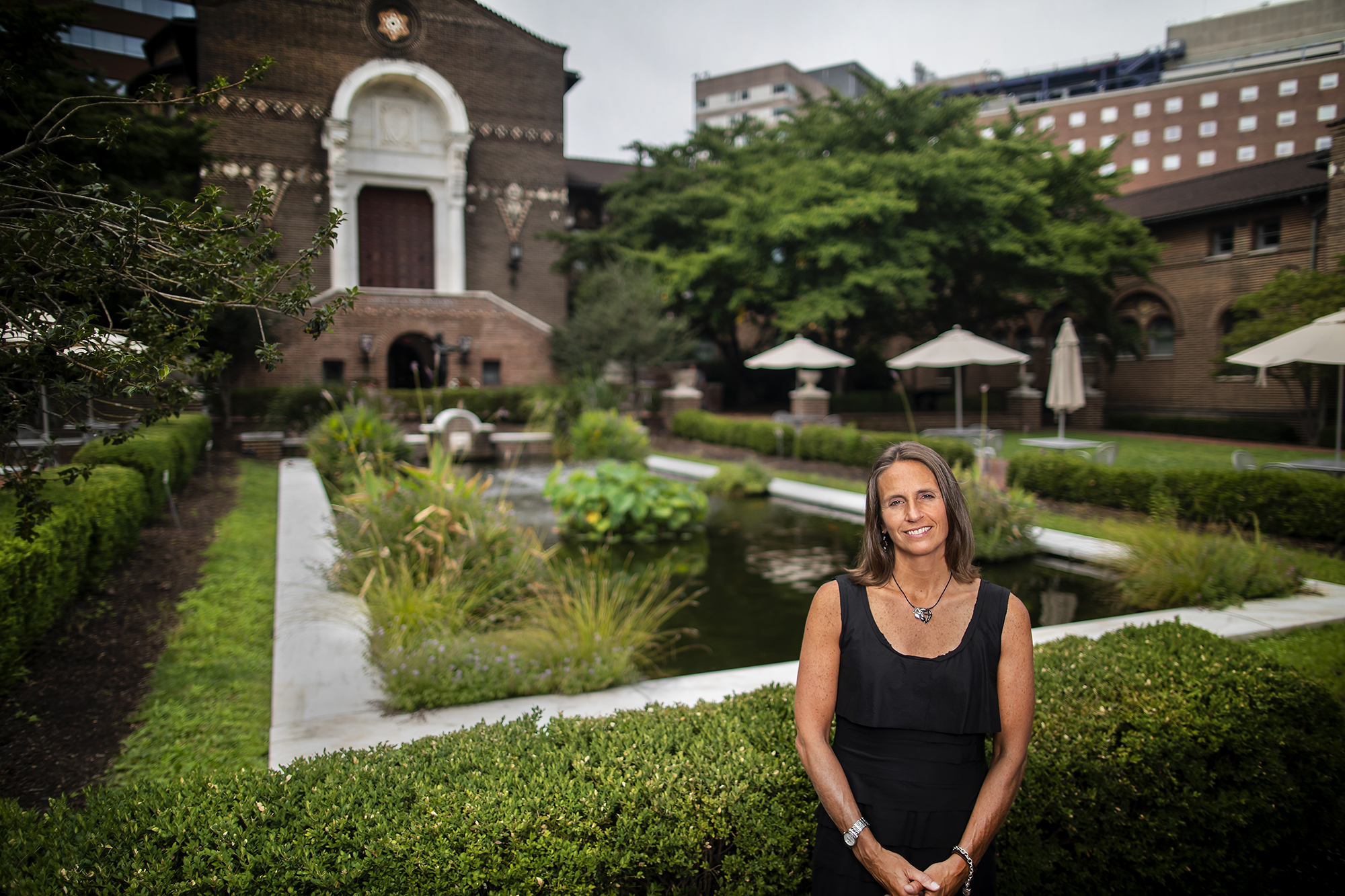 What are some of your goals as AD moving forward?
I have two deep aspirations. The first is competitive success and competitive excellence. The other one, not surprisingly, is providing a first-class, student-athlete experience. We're really trying to dig into what that means and where we have to elevate our game to stay true to those two aspirational goals. We've spent a lot of time internally talking about investments in women's programs, which has been a lot of fun. I think we've made a lot of significant progress in a short period of time. We're spending some time talking about the concept of a women's athletics fundraising campaign, which I think would be wonderful to solidify the financial future of our women's programs.
We're very excited to onboard our first imbedded mental health professional in the spring. We will have a mental health professional who is dedicated to serving our 1,000 athletes, and we're doing that in partnership with Wellness at Penn. We're very excited for that partnership, but also for having a dedicated resource, somebody our athletes can get to know on a personal level and feel they have great accessibility to as a resource that helps them navigate any challenges they may face.
Do you think that the fact that you are a former Division I athlete helps you better relate to what student-athletes at Penn are going through, especially since you were a student-athlete at Penn and have firsthand knowledge about the academic and athletic demands?
I think there's no question that it helps. It's not necessary, clearly, but I do feel as though having lived the experience of a student-athlete at Penn—and honestly, also having lived the experience of a coach—I really do feel as though our student-athletes and our coaches likely feel a level of connectivity, but also a level of appreciation around the fact that I do know the challenges they face. I've lived them myself. I know how hard, particularly for our coaches, those jobs are, and how difficult it is to build success and sustain success. And for our athletes, it's fun engaging with them because we have a lot of shared experience, whether that is time management, or, for those of us who had to work as students, how you balance work and a bit of a social life, and the academic rigors, and the athletic pursuits. I do feel that it's helpful to come to the table with an immediate common ground and launching point for conversation about their experience. I think it allows me to be a bit more in tune with how we improve the experience across the board. I think you can be very successful in my role without those experiences, but I'm thankful I have them.
The Pottruck Center is probably my favorite space on campus. What can the campus community expect from a Campus Recreation standpoint?
When I was at Johns Hopkins, I was really excited about my work on the recreation side. We had the opportunity to renovate and expand what was an existing rec center. I was able to partner with the vice provost for student wellbeing—he was comparable to [Chief Wellness Officer] Benoit Dubé's job here—on renovating and expanding the building with a much broader focus. It focused more so on student wellbeing than just being a place where you play pickup basketball or take a spin class. We also wanted it to be a community building opportunity. There's a small café, there are socialization spaces spread throughout the building, its offers classes like mindfulness and meditation, things that stretched outside your typical rec center.
It's been fun starting to build collaboration here with people like Mamta [Motwani Accapadi, the vice provost for University Life] and Benoit in Wellness at Penn to see what the possibilities are for partnership on Penn's campus to really booster student wellbeing and the holistic student experience. The mental health piece in Athletics is clearly a specific example of that, but there's more I loved to see us build into the general campus population and for our students more broadly. How do we help to provide some preventative opportunities around wellness so that more students are engaging in our programming and less students feel the need to go to CAPS? How can we leverage the Pottruck Center to improve the holistic wellbeing of our students? That's something that I'm beginning to explore.
Moving to college sports in general, college athletics has seen a lot of big changes in the past few years. One of the major transformations has been the changes to the transfer rules and new term 'transfer portal.' Is this something we are seeing in the Ivy League, or does the Ivy League have rules in place that prohibit yearly transfers?
We don't have rules that prevent it. The students are just as able to transfer into an Ivy as they are anywhere else. The men's basketball team played Arkansas recently and I think a minimum of three of Arkansas' five starters were transfers. We're obviously not seeing that level of transfer in our environments—at Penn or I think across the Ivy League, generally—but there is the opportunity. I think that maybe, with time, we'll see a bit more. But at this point, it has not had the impact in the Ivies that it's had nationally.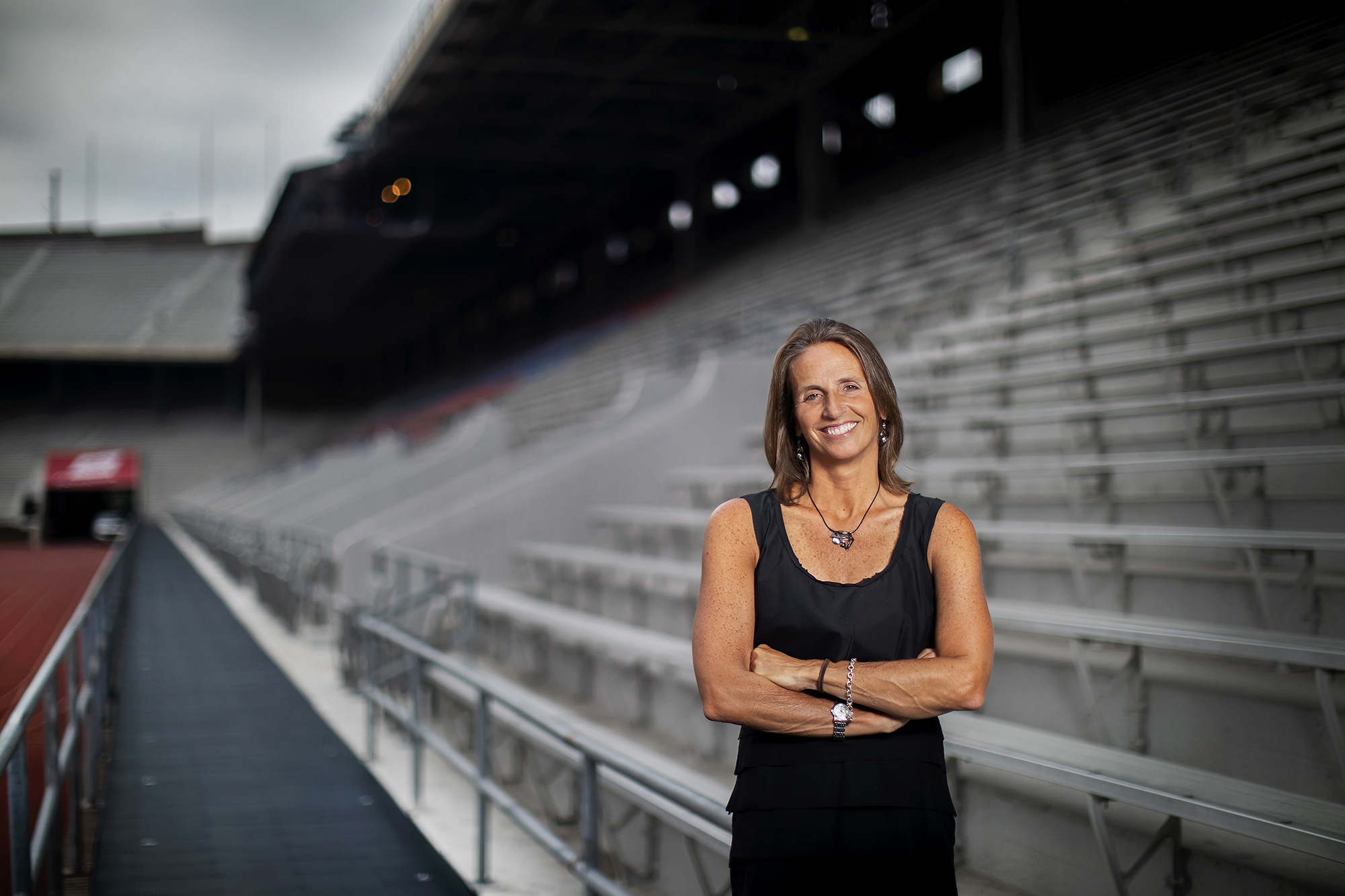 What do you think of the transfer portal and the more liberal transfer rules? When I was growing up, players had to sit out a year if they wanted to transfer, and coaches could prohibit players from transferring to certain schools. Proponents of the new rules say it gives players empowerment, which I presume most people support, but critics say the new rules cause players to leave at the first sign of trouble, such as when his or her playing time is reduced.
I think there are pros and cons to this model. I think college is a time when it's really helpful to learn how to be resilient, and sometimes that means sticking it out under less than ideal conditions, or sticking it out when maybe you're not getting as much playing time as you expected, and asking yourself if you are prepared to work that much harder. But I do think there's an athletics empowerment opportunity that our student-athletes do deserve as well. If they're really unhappy and there's a challenge in that program that has less to do with them and more to do with the environment, then absolutely you want them to have every opportunity to change. I see it both ways. But I'd love to see students not leave because it gets a little challenging or a little hard in places where they would really benefit if they dug in and tried to stick it out.
College athletes now being allowed to profit off of their Name, Image, and Likeness has been another big change. How has Penn Athletics adjusted with the times, and how are you assisting students?
For us, we've had a heavy focus on education. Name, Image, and Likeness is a space where we do want our athletes to take advantage. We think it can be a wonderfully positive experience, from both a brand perspective and, potentially, a financial prospective. Our Compliance Office, in combination with the Pottruck Center for Student-Athlete Success, has so far offered five or six educational sessions to our student-athletes. One was focused on international students because we do have an international student population and international students have slightly different rules and regulations they have to follow. We had a session called 'The Business of Me' with Brandon Copeland, who's a Penn alum and NFL player, and is big in this sort of space. We had a session with the Venture Lab around entrepreneurship and how to think about entrepreneurship in the context of NIL. We did one on intellectual property with Penn Law. We're really trying to leverage University assets that can help our athletes grow in this space, find partners that can help our student-athletes think about what this can mean for them, and make sure they stay abreast of the rules.
I know Kayla Padilla of women's basketball team signed a NIL deal. Do you know of any other student-athletes who signed NIL deals?
We probably have close to 300 athletes that are engaged with NIL, but most of them are doing more of what I would call ambassador work. They support or endorse a particular product and, in return, they get a discount code or free product.
What do you think of Texas and Oklahoma leaving for the SEC? I guess it's surprising but not that surprising.
It's the crazy carousel of conference realignment. I think for them, it's smart. I think it benefits the conference, I think it benefits the institutions. I think this is just the beginning. I think you've seen in the last few months a lot of frustration, a lot of people being really annoyed and upset that schools are leaving certain conferences and joining another, and then there's the exit fees and the current conference championship bans. I have to say, for somebody like me, sitting in an Ivy institution, where I'm convinced we will never go through realignment, it's sort of entertaining at a distance. In many respects, I'm glad that that's something I'm not sweating on a daily basis because it does require incredibly holistic and comprehensive thought process to determine and understand how your institution and your athletic department is best positioned and what a new conference can offer in terms of revenue, traditions, relationships, and geography. There are just so many different pieces that come into play as you contemplate and move along those lines. I'm thankful I get to stand on the sidelines and watch it as compared to worried that it's looming with our conference. Your heart breaks for some of the traditional rivalries that will fall away as part of realignment. That's probably the hardest part as a bystander.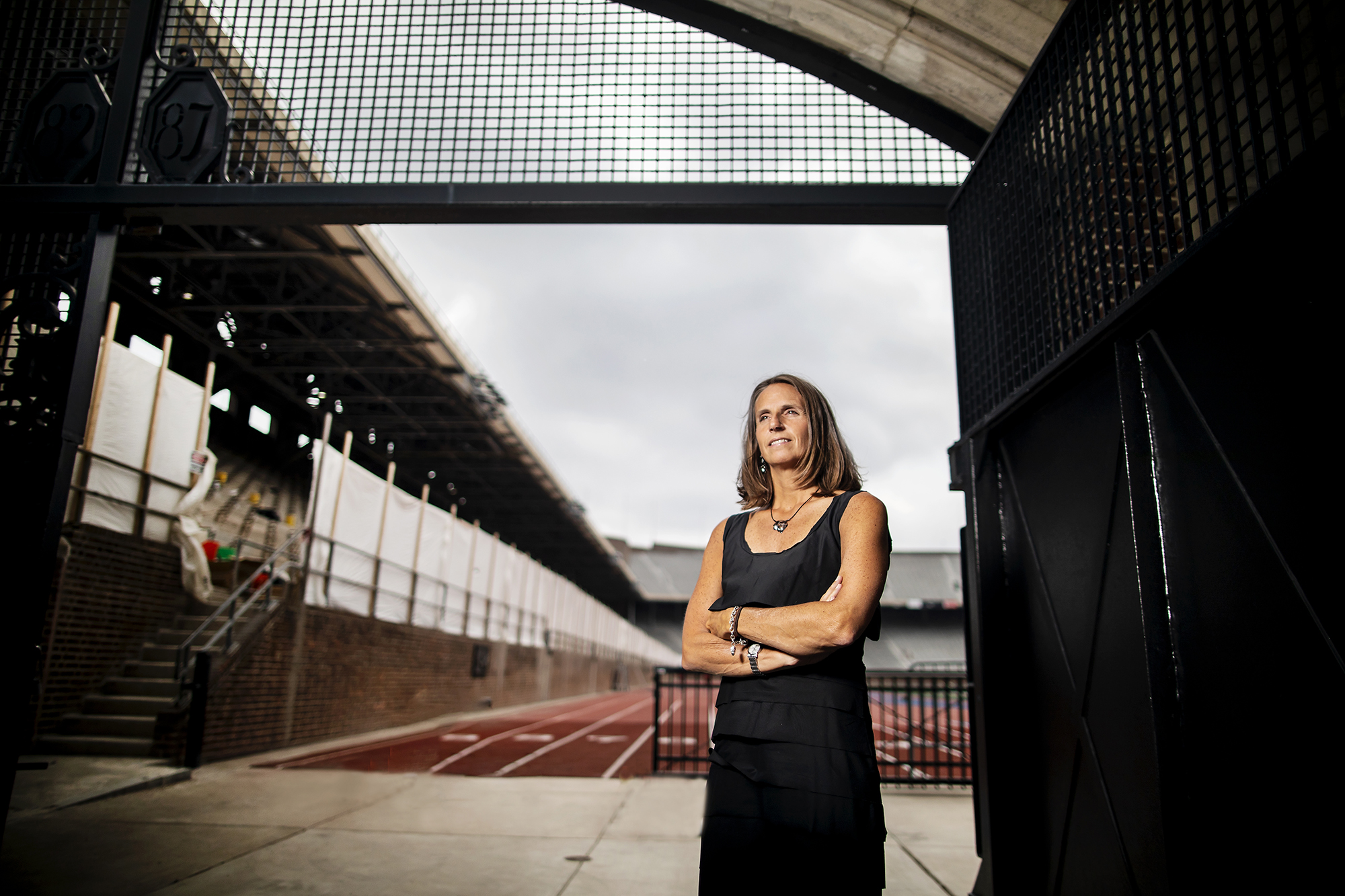 It seems like every time the SEC expands, there is talk of there one day being one, giant 32-team superconference. Do you think that is a realistic possibility?
It's not impossible. I think the NCAA convention this January will tell us a lot about our historic model and what it can mean moving forward. Is it still helpful in today's context, or do the aspirations and the tensions of different divisions, conferences, et cetera of the NCAA limit one another? Should we just approach it in an entirely different way? It's hard to predict. I feel like we had a relatively productive conversation in November, but I think January is where the rubber hits the road as far as what this is really going to look like as we march forward. But a lot of people talk about the concept of a superconference often, so it's not far-fetched.
You were previously the senior woman administrator at Penn Athletics from 2012-2016. Are you encouraged by some of the steps the NCAA is taking to bring about equality between men's sports and women's sports?
I want to be encouraged. What we saw play out at the basketball championships this past year was incredibly disappointing, to think that that could still happen in 2021. It's just heartbreaking. I want to be optimistic. It does feel as though the NCAA asked really hard questions in November and will likely continue to ask really hard questions in January. But they have to continue to ask really hard questions in the equity space. And not just around how we're going to restructure the NCAA broadly, but how they are going to ensure that something like what happened in the basketball championships never happens again. I still have a level of anxiety, but I am thankful that they've chosen to at least tackle the basketball issue head on. I'm just hopeful they don't see that as, 'OK, we solved that issue, now we're finished.' Because their work is far from finished.
What do you like to do when you are not working?
I enjoy running. It's clearly more of a slow jog than it is a run, but for me, it is my equivalent of meditation. That's my decompression time. I don't really have time for a lot of hobbies, so it's really just family time when I'm not working. I have two boys, 12 and 14, so when I'm not here, chances are I'm running somebody to and from a practice, or running somebody to and from a piano lesson, or doing the typical mom chaos thing for middle school boys.