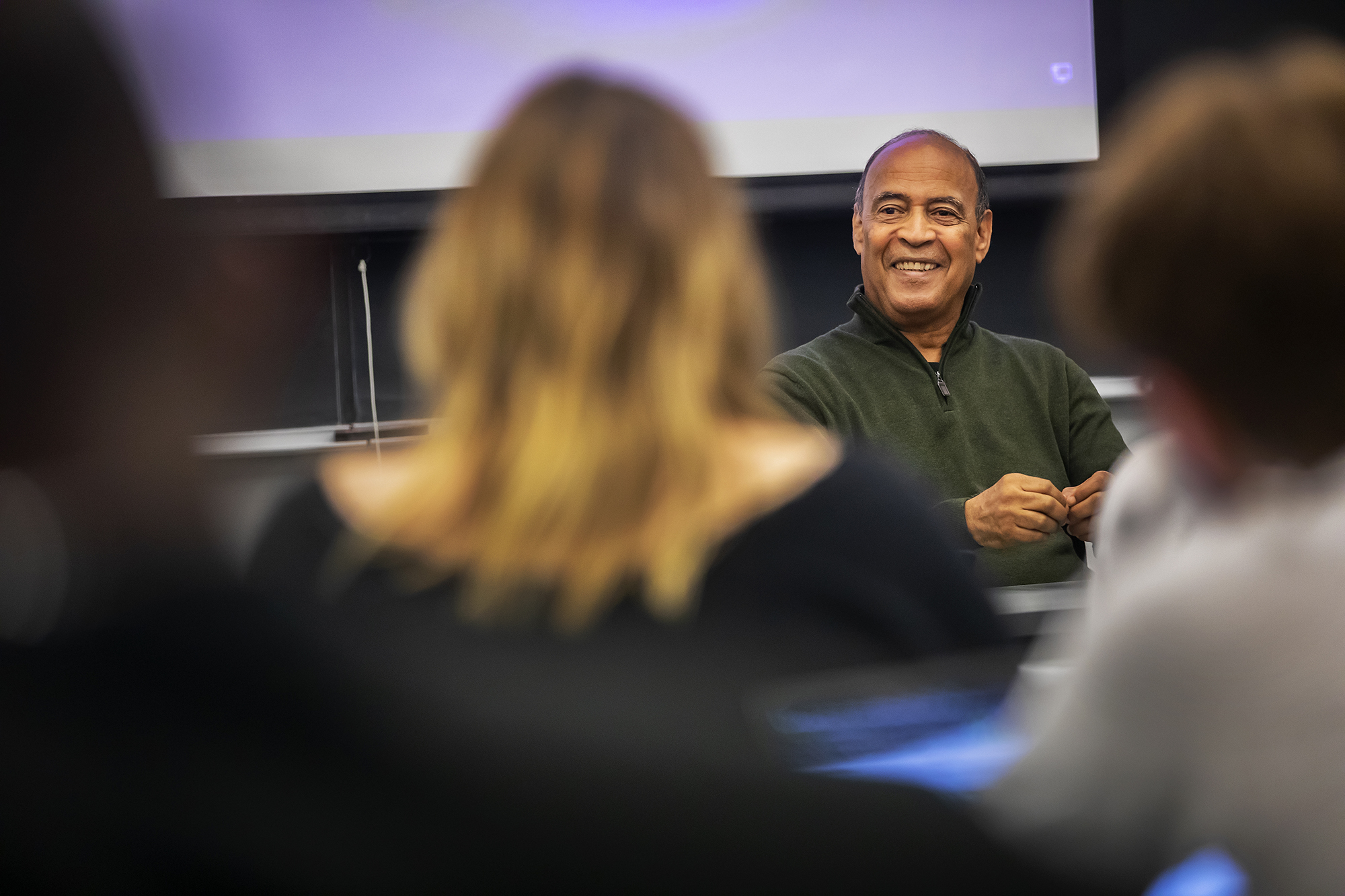 Growing up as the son of academics, Adolph Reed Jr. just assumed that everyone went to school for a Ph.D. 
"When I was a little kid—5, 6, 7—people asked me what I wanted to be when I grew up," he says. "I would say, 'Well, I'm going to go to high school, and I'm going to go to college, and then I'm going to get a Ph.D., and then I'm going to be a fireman."
Politics was another element of the Reed family business: He remembers that on the day of his First Communion, the adults were talking about the seminal Brown v. Board of Education school desegregation case—and the U.S. Supreme Court handed down a decision the next day. 
Like so many others who came of age in the late 1960s, Reed gravitated toward activism. As an undergraduate at the University of North Carolina, he was involved in the anti-war and civil rights movements, as well as a bitter strike by university cafeteria workers. He spent three years organizing in eastern North Carolina after that but felt the momentum sputtering.
"Within a couple of years, I ascertained that from the standpoint of what I considered the objectives of the insurgent movements of the late '60s and early '70s, we'd pretty much lost already," he says. "I went to study political science, in a way, to try to figure out what had happened and how to do it better next time. 
"And I've just kind of been there ever since."
Over more than 40 years as a political scientist, including the last 15 at Penn, his work has been deeply rooted in the intricacies of policy, and the messier business of politics. While still in graduate school at what's now Clark Atlanta University, he worked as a policy adviser to Maynard Jackson, Atlanta's first black mayor. 
In the 1990s, he helped found the Labor Party, championed by some of the country's largest labor unions. During the 2016 campaign, he was a vocal supporter of and organizer for U.S. Sen. Bernie Sanders' presidential campaign, a role he's playing again leading up to the 2020 elections. 
"I'm not a Pollyanna-type person. I think anybody who knows me would laugh at the suggestion," he says. "I do tend to approach politics the way they teach kids to play a deep fly ball in the outfield: You go to the wall first, and then you work your way back in. You need, at every point, to imagine the worst possible thing that could happen and figure out how you can deal with that. 
"To me, that seems quite optimistic, because the real despair is when people pretend to have options and possibilities that they don't."
As he heads into retirement, what Reed wants out of today's politics are the same things he wanted when he began organizing in the early 1970s. For example, everybody who is willing and able to work should have the right to a job, he says—and that job should pay them enough to live on. And necessities of life like health care, education at all levels, adequate housing, and secure retirement, as well collective goods like utilities and transportation, should be publicly provided and decommodified.
Some might call that socialism, he says, but the meaning of the word has been muddied by years of its use as a pejorative. What's important is the policy, not the catchphrase. 
"The most significant divide in the country isn't a fracture over race, or for that matter even over gender. It's between people who are likely to benefit from the current regime of inequality and those who are hurt by it," he says. "If we as progressives can't find plausible and convincing alternative interpretations of why people are hurting and anxious, and plausible approaches to making their lives better, then really ugly and dangerous forces out there in the society are ready with superficially internally consistent explanations that hinge on scapegoating somebody. 
"I think that's what happened in 2016."
A deep and lasting impact
That visceral connection to the nitty gritty of politics is a large part of what has made him such an influential scholar, mentor, and commentator, colleagues and former students say. 
"Many of our students want to do political science in a way that they think contributes to constructive change in the world," says Rogers Smith, who became a close friend of Reed's in the 1980s, when both were young professors at Yale—and first-time fathers—and helped recruit Reed to come to Penn in 2004. 
"Adolph has been a role model and an inspiration for many, many such students," Smith says. "And I think he has been more so than anyone else we've had at Penn, and he's been more so than most people in the political science profession."  
Along the way, Reed has built a reputation as a sharp—sometimes sharp-elbowed—debater and essayist, serving up withering critiques of Jesse Jackson, Barack Obama, and even the larger concept of the American left-wing movement. 
Much of his work has focused on race and politics. 
"Adolph has always been against all forms of elitist leadership, which he felt served elite interests and not mass interests," Smith says. "And in this regard, he has been a kind of searing conscience for many, many black scholars and other scholars and people involved in political leadership positions."  
That's what makes him so bracing, and effective, says Gordon Lafer, who worked with Reed as a Yale graduate student.  
"He was the first person I met in the field of political science who treated politics like it mattered enough to get angry over," says Lafer, who's now a professor at the University of Oregon. "At Yale, when people would trot out 'culture of poverty' theories, for instance, nearly everyone believed that even if you disagree, you should disagree politely and with an attitude that assumed the best of intentions by those on the other side of the issue. As if politics is a gentleman's tennis match.  
"Adolph's harsher reaction was a breath of fresh air, a welcome wake-up call that these things matter in real life, that it's not a gentlemen's debating society."
Lafer says Reed showed him, and countless others, how to be academics and still remain committed to causes and social change. When other faculty members derided his dissertation as insufficiently quantitative, he says, Reed and Smith stood up for an approach that was more of a real-world analysis of power.
"In all of graduate school, there are a lot of things that you learn and master, but only a handful that really open your eyes to a new way of understanding reality," Lafer says. "Adolph's classes were like that for me."
After Yale, Reed served on the faculty at Northwestern University, the University of Illinois at Chicago, and the New School for Social Research. Smith, who left Yale to come to Penn in 2001, became the chair of the political science department two years later and reached out to his old friend. 
"We had fun when we were at Yale. We were on a lot of dissertation committees together and we enjoyed it," says Smith, whose son is named after Reed and is also his godson.  "We wanted to see if we could recreate that here, and we've produced some great students. I think that's been a great source of satisfaction for both of us." 
Jennifer Stepp Breen was an early beneficiary. When she visited Penn as a prospective grad student, she discovered Reed was joining the faculty and was "starstruck" at the idea. 
"I took a class with him my very first semester in grad school and just kept following him around after that," she says.
He became her dissertation adviser, giving her the space to work through tough problems on her own while constantly blowing her away with the depth and breadth of his knowledge. 
"He managed to both respect my intellectual autonomy while offering the types of recommendations and advice that profoundly shaped the substance of my work," says Breen. "It is truly an art form to balance all those things so well." 
Many political scientists tend to view politics and policy in the abstract, or a puzzle to be solved, Breen says. She came to Penn thinking she would study political theory, but Reed's approach showed her she could ask the questions she wanted to ask within the parameters of politics, too. 
Ultimately, that led her down a different academic path: law school, two years of practicing immigration law, and a federal clerkship before she returned to academia. Breen starts a tenure-track job at the Syracuse University College of Law this fall. 
"Adolph doesn't write about anything that doesn't matter. He understands that politics is not a game, but a particular approach to sorting power and decision-making and resources that has real life consequences for the people subject to those decisions," she says. "He is a powerful example of how to do rigorous and grounded research that asks big questions and offers big answers. 
"I can't think of anyone else who manages to do all those things with such clear vision and profound results."
Reed is an advocate for his students long after they finish their degrees. Breen graduated eight years ago, but he still gives her comments on her scholarly work, and has been unfailingly supportive of her career trajectory. 
Reed recognizes that his students are human beings, and treats them with kindness, Breen says. That has earned him a devoted following, and a great influence on generations of researchers—not just in political science, but other disciplines, too.  
"As a teacher, whenever I feel myself getting annoyed at the time teaching takes away from other endeavors, I remember the countless hours he has spent reading my writing, responding to my emails, and talking with me about anything and everything," Breen says. 
That, she hopes, will in turn make her a better teacher. 
"I've been fortunate to work with some really, really good, smart students. This is going back to Yale in the early '80s and everyplace else, but at Penn especially," Reed says. "There's a little of a mother hen thing about it—I don't fully exhale about any one of them until they get tenure. 
"It's been invigorating to be part of and to be able to watch the intellectual development of so many fine people."
Retired, not retiring
Now, the time has come for Reed to focus on his own work. He may no longer be teaching—at least not full time, although he doesn't rule out the occasional future course—he has plenty more to say. 
Since he was in college, he has had a habit of making lists of books on scraps of paper. It started with books he wants to read, and eventually expanded to books he wants to write. Close to two decades ago, in a hotel room in Beirut, he came to a startling realization: He had more ideas than he probably had time left to produce. 
"So, I guess what I'm going to do is keep working," he says. "This is like a vocation, it really is. It's not just your job, it's what you do. Now I have the idea that this is finally the time to actually get the books done right." 
And, of course, there will be more time for activism, on behalf of labor unions and working people, and the candidates who will fight for them. 
Reed recounts his time canvassing for Sanders in South Carolina during the 2016 primaries, when black voters would ask him why the Vermont senator wasn't trying to appeal to voters of color. Reed says he went down the list of Sanders' positions, from universal health care to better wages. 
"I don't recall a single instance of a working person whom I talked to who didn't say, 'Yeah, well, that makes sense. I see your point,'" Reed says. 
That's the message candidates need to be spreading in order to defeat Trump in 2020, he says. He's struck, and concerned, that he's seeing establishment Democrats scramble to contain the left, "which they seem to fear more than they do the prospect of Trump's re-election. 
"It's particularly galling to see the Wall Street, Clintonite wing of the party attempt simultaneously to red-bait and race-bait the left instead of participating in honest debate over policy approaches that would improve the lives of all working people of whatever race, gender, or sexual orientation and lead the country forward."   
The label on the policy—"you can call it Teddy Pendergrass if you want," he says—shouldn't matter. What's important is how it affects people's lives. 
"This may sound kind of pie-in-the-sky, but I'm convinced that ultimately, most people in this society are motivated by the concerns that they feel in their daily lives," he says. "And I think it's possible to ask people, in effect, 'Are you more concerned with having health care than with making sure no woman has the right to control her own body? Are you more concerned about being able to send your kids to college, or about the right to own a gun?' 
"I think if we have versions of those conversations with people, from a standpoint of mutual understanding, I'm convinced we can win it. Maybe that makes me a ridiculous optimist."
Adolph Reed is a professor of political science at the University of Pennsylvania. 
Rogers Smith is the Christopher H. Browne Distinguished Professor of Political Science at Penn.