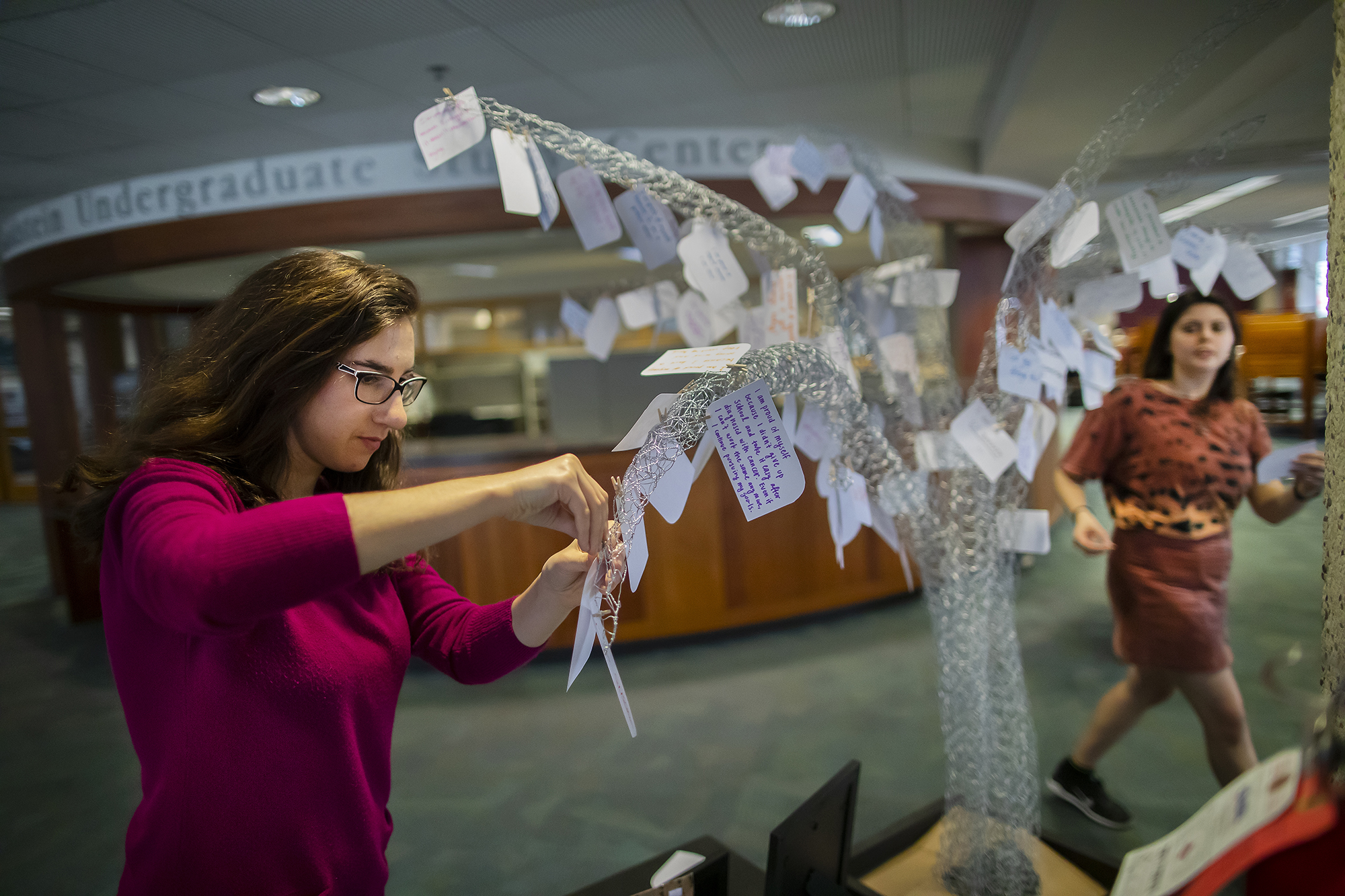 "I love myself for who I am right now, and I have nothing to prove."
This is the affirmation that got Elana Burack, a senior religious studies major, through the trying years of middle school, particularly as she shrank into all the pre-teen insecurities that accompany eighth grade.
"It all revolves around middle school lunch tables, really," she says, recalling the incidents of bullying that first sparked her interest in affirmations. "Gossiping and who is sitting where and, 'You're not allowed to sit there,' and, 'We don't like you anymore,' and that whole shenanigans of middle school. It made it a really difficult year."
To cope, her mother brought home a series of tapes that read aloud affirmations and encouraged meditation. At first, Burack recalls, she thought the concept was ridiculous. Daft.
"But they were really helpful for me and made a big difference," she says. "And just learning what self-affirmations are was a powerful concept."
In short, affirmations—personal statements said aloud or written down that reflect on personal values—are based on a psychological theory popularized by Claude Steele in the 1980s and continue to be studied. More recent evaluations look at how self-affirmations can allow people to better manage stressful encounters, and, according to a study published in 2014 in the Annual Review of Psychology, make individuals less defensive to challenges made to their conventional thinking. 
Entering her senior year at Penn in the fall, Burack was reminded of the affirmations and decided to decorate her dorm room with them. Then she considered what it might look like to make the affirmations a more public project in a community where students may, for example, flunk a math test and need an outlet to healthily remind themselves they're also excellent siblings, friends, or caretakers.
For inspiration, she looked to alumna Rebecca Brown's "Wall of Rejection" project, involving a white board that traveled campus in 2017 and invited students to share moments of rejection—to normalize the experience. 
After consulting with Brown and giving the concept more thought, she settled on the "Affirmation Tree," a sculptural tree that travels campus, collecting affirmations written by members of the University community, students or otherwise. Trees have always held spiritual meaning for her, Burack says; her name, in Hebrew, can be interpreted to mean "tree" ("ilan").
The project is funded by The Sachs Program for Arts Innovation and Penn Wellness. The proposal was to engage campus by touring the tree to different buildings, passively inviting passersby to jot down their own self-affirmations—spurred by a four-bullet-point prompt next to the tree—and place them inside a box. Burack monitors the box and hangs most cards on the tree for the public to view, absorb, and reflect upon.
"One of the reasons I wanted to do it is Penn is just a very intense, fast-paced, and sometimes competitive environment, and I think we rarely pause and say something positive to ourselves," she says. "I wanted to give people a space to do that."
The sculpture was put together collaboratively with senior Julia Magidson, from Ardmore, Pennsylvania, an acquaintance Burack met through a friend. With some feedback from Burack, Magidson, a sculptor who is part of a dual degree program with the Pennsylvania Academy of the Fine Arts, brought her idea to life.
"I met with Elana and she told me about her idea, and I really liked the idea of affirmations. Mental health is something I like [to include] in my own art," she says. "It was right up my alley and I was excited to help."
The sculpture is made using a combination of chicken wire and concrete. Burack says she certainly never imagined she'd apply for an arts grant as a religious studies student, but was grateful for the support and how easy the process to apply was.
"With the Affirmation Tree, we appreciated how Elana was taking an idea and practice that was helpful to her during a trying time and thoughtfully developing a project that would promote wellness amongst Penn's student body through engaging with a piece of sculpture," says Chloe Reison, associate director of The Sachs Program. "We believe that the arts can be a powerful force for wellness and mindfulness, and the Affirmation Tree is a great example of this."
That grant was part of a Ben Art Bucks program that supports students' independent creative projects. (Note: That program has since ended for the academic year but will return in the fall.)
The Affirmation Tree has so far lived in Fisher Fine Arts Library and the Van Pelt-Dietrich Library Center. To keep up with its location, see the tree's Facebook page.
Burack's hope is that the tree will live on indefinitely, even after she graduates. She's looking for volunteers to keep the tree in rotation once the semester ends.
"I want people to not just engage in self-affirmations as they're writing their notecard, but see it as a resource they can take with them throughout life," Burack says. "Everyone from young students to CEOs use self-affirmations and I hope the student body will begin to use them as well."